Hollywood on the Tiber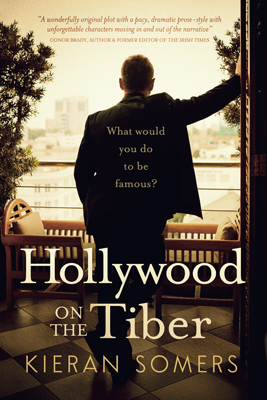 "Bright lights. Awards and film festivals. Glittering premieres."
It's never been that kind of life for Max Pellegrino, a little-known Italian actor who plies his trade in the dubbing industry and secretly pines for a film career that has never been realised. But when one of the Hollywood stars he voices arrives in the Eternal City to shoot his new film at Cinecittà  studios, Max finds himself unexpectedly thrust into the limelight and glare of publicity on both sides of the Atlantic. He gets a shot at stardom, a chance to experience what Hollywood on the Tiber is truly like. Can Max pull off this one-time-only shot at fame and fortune? Or will his dreams be dashed at the moment he comes closest to them? Will he have no more than his fifteen minutes of fame?
About the Author
Kieran Somers is from County Laois, Ireland and studied at Cistercian College Roscrea and University College Dublin. He worked as an English teacher in Sardinia, Italy where he got the original idea for this novel. He currently divides his time between Laois and Dublin. He is a confirmed film buff.
Sample from book:
At first, Max went to the peplums which were the most popular cinema entertainment throughout Italy from the late 1950's to mid-1960's. These flamboyant attractions set in a classical past involved stories and variations on the perennial theme of good versus evil/hero versus villain. They were mostly populated by supernaturally strong musclemen, captive princesses and mythological creatures. Max saw films such as Son of Spartacus, Samson in King Solomon's Mines, Hercules the Avenger, The Beast of Babylon against the Son of Hercules, Goliath and the Sins of Babylon, The Terror of Rome against the Son of Hercules, Son of Hercules in the Land of Darkness, Samson and His Mighty Challenge, and the memorably titled Hercules against the Sons of the Sun. The peplums played out in luscious colours and widescreen techniques of the day. The young Max was awestruck by the splendour he saw. For him the pictures playing in the movie house offered distraction in his small town where not a whole lot happened from day to day. The movie house was a panacea for such tedium. A diversion from the familiar. In the spring of 1965 a spaghetti western called Per un Pugno di Dollari arrived in Ariccia. The first instalment of the Dollars Trilogy had in fact been released the previous September, but its arrival at the terza visione theatre was delayed longer than normal owing to its box office success. Max's father, who worked in the nearby town of Albano Laziale on the train service, had put a firm restriction on his son's cinema-going. He said that Max's trips to the movie house had become too frequent; that he ought to devote more time to his school work. A portion of his free time should also be given to regular everyday things boys his age got up to, whatever they were, he added. One of the restrictions decreed that Max could not attend his beloved movie house for at least six weeks, or until such time as his reports from school improved. The nine-year old quickly recognised the seriousness of the situation. He might not get to see Per un Pugno di Dollari. In spite of its popularity, the western would be gone before the time was up and, certainly, long before the surly Professore Badalamenti would see fit to write him a positive report. Action was called for. In the absence of monetary wherewithal (Max's grandmother had been warned not to give her grandson any), the boy knew a degree of resourcefulness would have to be employed. The admission fee for the movie house in 1965 was not a great amount of money, but it still represented a sum Max did not have; nor was he likely to have it unless a suitable scheme could be planned. He came up with one quickly. A central feature of it involved his voice. On the third Saturday of March 1965, Max went to the movie house early in the afternoon, long before anyone would be turning up to attend the first performance of the day. He chose this particular Saturday knowing his father had been called for manual work at Roma Termini. He would not return until much later that same night. His mother and sister were also occupied for the day. Antonia's confirmation was not far off. There was a dress to be bought, other matters to take care of. Positioning himself in a strategic spot, just to the left of the entrance door, Max put on a discarded garment of his mother's. He'd crudely fashioned it to appear like a toga. This he wrapped around his frame by holding it under his right arm, half behind, half in front. The back part he folded over his left shoulder; the front part he folded over his left shoulder as well. Now properly turned out like an ancient Roman citizen, or as close as he could manage, the boy waited for the first patrons to arrive. As soon as they did, he began to recite some of the lines he'd heard in the peplums. For added effect his performance was reinforced by a piece of leaden pipe he'd found on the street. This doubled as a sword, though hardly the kind Hercules or Spartacus would have used. Max swung it about flamboyantly, mimicking the Italian bodybuilders who starred in the peplums. The key weapon in his dramatic armoury though was his voice. His repertoire included impressions of Maciste, Hercules, Ursus, Samson, Spartacus, Goliath, Ulysses, and the Cyclops, whose caricature he further amplified by putting one hand over his right eye. His voice soared as he performed scenes of confrontation and combat. It plummeted as he enacted the more heartfelt, philosophical. It deepened, to the great amusement of his audience, when a more sombre, morose tone was required. He was an instant hit. Those present clapped and cheered. Max held out his palm and they expressed their admiration in hard currency. Grateful, he told them how much he wanted to see the film playing, with this American actor called Clint Eastwood. In a very short time, he'd put together the required sum. He disposed of the leaden pipe which had served as his first prop. He removed the improvised toga, doubling it over several times until it was nothing more than a baggy mass of fabric. Entering the movie house then, he left behind the peplum characters for ever. A new kind of hero waited inside. One who didn't care. One who did things his own way.
Praise for Hollywood on the Tiber
"Kieran Somers' "Hollywood on the Tiber" offers a wonderfully original plot with a pacy, dramatic prose-style with unforgettable characters moving in and out of the narrative" – Conor Brady, author and former editor of The Irish Times
"The intertwining fates of Italian voice actor Max Pellegrino and his avatar, Hollywood star Don Taylor, are explored in this panoramic entertainment set in the Eternal City (with a few necessary detours to Los Angeles and Cannes). Filled with an abundance of atmospheric detail and suffused with witty references to all those famous movies we know and love, shot when Hollywood removed itself to the ancient cosmopolis, this is a deftly woven tale of movie-making, performance and that old saw about grabbing opportunity when it finally falls your way after years of trying. Both Max and Don are sympathetic and part of the fun is trying to figure who Taylor might really be (there are several candidates). This is a book filled with love for cinema: the behind the scenes drama, the unusual post-production practices of Italian filmmaking, as well as the egotistical monsters who create the follies that make their way into theatres. It is as stylish, and beguiling as Rome itself." "" Elaine Lennon
"Very rich in detail and well developed tale- Mr Somers knowledge of cinema production and the era in question feels very comprehensive..at times the read had an almost non-fiction feel- as the brief back stories of characters read so vividly! I enjoyed the myriad of personalities introduced throughout the book- be they charming, precocious, ambitious, aggressive, engaging, enigmatic and sometimes downright sinister. The writing was articulate and engaging and the storyline progressed through many amusing turns and twists to a most satisfactory end…maybe even leaving room for a possible sequel..an enjoyable read!" "" AK
"Great read, really liked the characters and learned a lot about the dubbing industry that no one ever hears about. Loved the location too, the Eternal City, want to book my next holiday there! Really enjoyed the book and would highly recommend it!" "" Anne Marie Somers
"A lively and entertaining read…this book will be enjoyed by all lovers of cinematic arts and the eternal city." "" Leonard Mangan
"This is an excellent read – well researched, by an author who obviously knows and loves the cinema. Keeps you in suspense for a long time." "" Pat Hanratty, Editor of the Roscrea Review
"Well researched and written, with great character back-stories and a plot that really draws you along!" "" Sinbad Wilmot
"An assured and accomplished debut. The richly textured backdrop of the eternal city is a character itself in a narrative suffused with memorable characters. The nuances of the Italian and Hollywood film industry are keenly observed in an engaging and compelling story which maintains its momentum throughout. Highly recommended." "" Pat Somers, Editor of the Leinster Express