2017 Summer Movie Preview – Part 2
How many of the big summer releases have you seen so far?  Were you on the edge of your seat as director Ridley Scott unleashed yet another plethora of those pesky aliens with corrosive blood?  Did the returning Guardians of the Galaxy suitably enthral you?  What about those Pirates of the Caribbean and members of team Baywatch?  Or Wonder Woman and her Lasso of Truth?  Or – truth being told – has blockbuster fatigue already set in for you?  In the past few days I passed by a prominent cinema here in Dublin and realised that five of the six posters on display concerned films as mentioned above.  There's just no escaping the onslaught of advertising and marketing that accompanies these tent-pole movies and – just for good measure – here are some more which will be coming our way between early June and late July, 2017.  So fasten your seat belts.  The theatrical ride that is Summer 2017 is far from over just yet.  Below are six reasons why.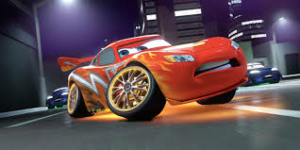 Cars 3 (Brian Fee)
You have to hand it to the good people at Pixar in terms of their sheer persistence with the Cars franchise.  The first installment in the series (2006's Cars) received generally okay reviews, but its sequel (2011's Cars 2) is the only Pixar film to date to have received a 'rotten' certification on Rotten Tomatoes; incidentally, it was also the first Pixar effort not to be nominated for an Oscar and not to be nominated in the Best Animated Feature category.  But the figures do stack up to a certain extent.  Cars did $462 million worldwide and its follow-up fared some $100 million better with an eventual haul of $562 million.  And so – for better or worse – we have this third entry directed by Brian Fee, a storyboard artist who has served duties on both previous films and is, therefore, perhaps somewhat of an unknown quantity at this level.  On the plus side of things though, this is a formula which has worked commercially to date, even if the critics have derided it as being among the least imaginative to emerge from the Pixar cradle.  The plot, from what I can establish, sounds slightly akin to a Rocky movie.  Lightning McQueen (Owen Wilson) has lost a series of races to a new kid-on-the-block named Jackson Storm (Armie Hammer) and is at a low ebb career-wise.  The Piston Cup veteran's fortunes are dealt a further blow when he suffers a horrific crash which appears to deliver the coup de gras.  But all is not lost as the resilient racer, supported by his friends and a new trainer, determines to rise to the top once again and compete in the Florida 500.  Sound familiar to anyone?  Returning cast members include Wilson, Larry the Cable Guy, Bonnie Hunt, Cheech Martin, John Ratzenberger and Tony Shalhoub.  Engines are set to rev up on the 16th June as the film goes coast-to-coast in the United States.  The studio's new short film titled Lou will accompany it on theatrical release.  Expect a fairly spectacular hit as the kids and parents flock to it in their droves.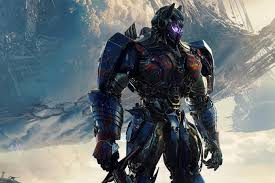 Transformers: The Last Knight (Michael Bay)
Now here is a franchise that has surely been flogged to death, but, as with so many others, the figures of its predecessor inform executive decisions, and so we have the fifth entry in the franchise based on the popular Hasbro toy line.  2014's Transformers: Age of Extinction did a colossal $1.104 billion at the international box office and Michael Bay is in the director's chair once again (though, apparently, he has gone on the record stating this will be his last involvement in the series).  Mark Wahlberg reprises his role from part 4 as Cade Yeager, but there is no Jack Reynor or Nicola Peltz this time around.  John Turturro, Tyrese Gibson and Josh Duhamel, all who appeared in the first three films, but not the fourth, return in their respective roles.  Anthony Hopkins is a new addition as Sir Edmund Burton, an astronomer and historian who seems to know a great deal about the history of the transformers engagements down through the years with Mother Earth.  No doubt whatsoever that the visual and special effects will be impressive and the attendant noise at decibel-screeching levels, but will those alien robots deliver yet again?  To date, the franchise has accumulated a most impressive $3.773 billion worldwide and, currently, there is nothing to suggest that this one won't perform in a similar fashion.  An estimated budget of $260 million certainly means that nothing less than a smash will do.  Opens on the 23rd June in 2D, 3D and IMAX 3D formats.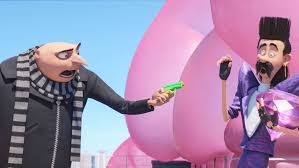 Despicable Me 3 (Pierre Coffin, Kyle Balda and Eric Guillon)
Gru is back and this one is also to feature his long-lost twin brother Dru (also to be voiced by Steve Carrell) in a tale involving some sibling rivalry and a former child star Balthazar Bratt (voiced by South Park's Trey Parker) who, evidently, has not moved on since his days of stardom way back in the 1980s.  Director Pierre Coffin – who has co-directed the two previous installments and 2015's Minions – is back in the chair and is joined by Kyle Balda and Eric Guillon.  Returning cast members include Kristen Wiig, Miranda Cosgrove and Dana Gaier.  Julie Andrews and Steve Coogan are also mentioned in the cast, but it is not yet clear who or what type of characters they are playing.  The first Despicable Me film posted an impressive $543 million at the international box office, and its 2013 sequel did even better with an eventual $970 million haul.  But consider the even greater commercial success attained by those loveable Minions in their stand-alone movie: $1.159 billion on a worldwide basis which – currently at time of posting – stands as the 13th highest grossing film of all time and the second highest-grossing animated film.  As with the above-mentioned Cars 3, it's hard to imagine anything else but another smash hit here with Dru, his friends and adversaries delivering the goods.  Scheduled to debut in the United States on the 30th June, 2017.  Minions 2 is set to be with us in July 2020.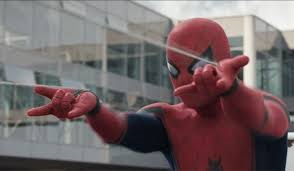 Spider-Man: Homecoming (Jon Watts)
Just how many times can you re-boot a film franchise?  The good people of the Marvel Cinematic Universe are evidently intent on asking that question, and so we have the sixth Spidey film in 15 years with English actor Tom Holland set to follow (and cling and soar) in the footsteps of Tobey Maguire and Andrew Garfield.  Holland, and the re-boot for that matter, have an advantage of sorts in that the new kid-on-the-block appeared in 2016's Captain America: Civil War (in which he fought on the side of Tony Stark and his buddies).  The young actor demonstrated enough vim and vigour to suggest that he can fill out the role, particularly in his moments with Robert Downey Jr. (who is set to appear again as billionaire Tony Stark/Iron Man) and Marisa Tomei (who will be playing Aunt May).  Other cast members that we know about include the resurgent Michael Keaton as the villian of the piece Adrian Toomes/Vulture and actress/singer Zendaya as one of Peter Parker's classmates.  Chris Evans is also set to cameo as Captain America and there will no doubt be the customary appearance of the great Stan Lee.  We come back then to the taxing question of this being a second reboot of the webbed superhero and how might such a second reboot possibly fare?  Producer (and president of Marvel Studios) Kevin Feige apparently fought hard to have Spidey included in the MCU and the Boston-born man has had the Midas Touch so far with respect to his films amassing a worldwide box office gross of $10 billion.  Holland, as I previously suggested, certainly looks the part and one would expect the supporting cast to amplify what at the current time appears like a somewhat vague plot – Spider-Man seeking to position himself between his dual role as geeky high school student and that of his crime-fighting alter ego.  The unknown quantity here may well be director Jon Watts who has only two previous directorial credits to his name in terms of feature films – 2014's horror flick Clown and 2015's Cop Car, which starred Kevin Bacon.  But, on the other hand, he has the heavy artillery that is the MCU in terms of marketing and promotion and the appearances of the likes of Downey Jr., Evans, Tomei and Keaton should be more than enough to get this one over the line.  Expect Spidey to rise to the challenge in more ways than one.  Should be one of the bigger hits of Summer 2017.  Scheduled for release in the United States on the 7th July, 2017 in 3D, IMAX and IMAX 3D.  A sequel is already said to be in the works and is slated for a July 2019 release.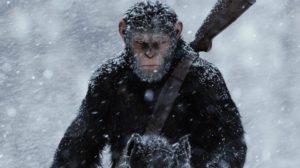 War for the Planet of the Apes (Matt Reeves)
Now here is a re-booted film franchise with real heart and soul.  2011's Rise of the Planet of the Apes did something that a lot of us cynics were not expecting.  It delivered a series origins story which was intelligent, profound and, in Andy Serkis's Caesar, gave us a chimpanzee character who we were willing to root for at all times – how often can one say that about a major motion picture?  2014's Dawn of the Planet of the Apes was even better and, as well as near-universal critical praise, grossed an eventual $710 million at the box office against its $170 million budget.  Matt Reeves, who helmed Dawn, is back behind the camera and Andy Serkis returns in the central part of Caesar.  Joining him in the ape cast are Steve Zahn and Judy Greer (who reprises her role as Cornelia, Caesar's wife).  The ever-busy Woody Harrelson is the most noteworthy member of the human cast playing a character simply known as The Colonel.  Reeves and co-writer Mark Bomback are on script-writing duties – Bomback previously collaborated on Dawn.  There is, therefore, a good feeling of continuity about this one with so many of the previous cast and crew coming back and it would not be too much of a stretch to anticipate here one of the stronger and more resonant of the crop of Summer 2017.  Andy Serkis has already hinted at more films in the series and indeed a fourth Planet film was apparently announced towards the end of 2016.  The powers-that-be at 20th Century Fox are evidently confident in this particular product and why wouldn't they be given the success and plaudits enjoyed by the first two installments.  Could well be the best marquee film of Summer 2017.  Scheduled to be released on the 14th July in the United States.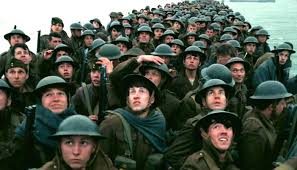 Dunkirk (Christopher Nolan)
Christopher Nolan's latest offering concerns itself with the famous WWII Allied evacuation which took place between the 26th May and the 4th June 1940.  Churchill referred to this rescue mission as 'a miracle of deliverance' in his seminal 'We shall fight them on the beaches' speech and the Dark Knight/Interstellar helmer will surely be aiming to portray the wider historical significance as well as chronicling some of the smaller, more personal, stories.  To that end, he has assembled a fine cast which includes the likes of Nolan regulars Cillian Murphy and Tom Hardy, as well as Kenneth Branagh, Mark Rylance and James D'Arcy.  One Direction's Harry Styles also features among the support.  On camera duties is Hoyte van Hoytema, who previously collaborated with Nolan on 2014's Interstellar.  Hans Zimmer – who has scored five of the director's previous feature films – is responsible once again for the orchestral arrangements.  Nolan's nine feature films to date (from 1998's Following to 2014's Interstellar) have grossed a total of $4.2 billion worldwide and Warner Brothers will certainly be hoping that his rich vein of form continues.  The director secured for himself a deal of $20 million plus 20% box office gross, a highly remunerative deal (especially if the film does well) and one that has been unheard of since 2005 when Peter Jackson had a similar arrangement for King Kong.  World War II films have had mixed fortunes of recent times it has to be said.  2008's Valkyrie, which starred Tom Cruise, did so-so business grossing $200 million against a $75 million budget.  That same year the Edward Zwick/Daniel Craig effort Defiance, an account of the Bielski partisans in German-occupied Poland/western Belarus, did only $51 million worldwide against its $32 million budget.  Quentin Tarantino's 2009 'bunch-of-guys-on-a-mission' Inglorious Basterds did far better realising an eventual $321 million versus its $70 million expenditure.  2014's Fury – which also starred Brad Pitt – was a definite commercial success when one considers its worldwide take of $211 million, but that same year's Unbroken (incidentally, directed by one Angelina Jolie) did not fare quite as well with its final haul of $163 million worldwide.  But this is a Christopher Nolan flick ultimately and I, personally, would be surprised if the English director doesn't continue his fine run of form.  No rescue mission required here methinks.