2018 Summer Movie Preview – Part 1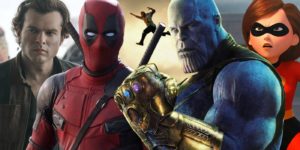 It's May already and it's time for us to consider the summer blockbusters which 2018 has to offer.  At time of posting Part 1 of this summer movie preview, Marvel's Avengers: Infinity War has set all sorts of records on its opening weekend of theatrical release.  The 19th film in the Marvel Cinematic Universe has officially smashed the records for the highest-grossing openings worldwide and for the United States and Canada and has already passed the $700 million mark after just four days of release.  It seems highly unlikely that any other film this year will come close to it with respect to this sort of bow, but, of course, there will be much focus on how Iron Man, Thor, Hulk, Captain America and their many superhero pals will fare on the second week of release and thereafter.  Whatever sort of fall-off in revenue there may be, it seems reasonable at this particular juncture to predict that Infinity War is likely to be the most successful film of 2018 generally; currently, it already occupies the number 2 position in this regard to Marvel's Black Panther which was released in February.  So where exactly does that leave the other entries and hopefuls for the summer season which lies ahead?  One thing that occurs to this writer at least is that the field does not appear to be as crowded as previous years.  Cast your mind back to 2017 for example.  This time last year we were offered films such as Guardians of the Galaxy Vol.2, Alien: Covenant, Pirates of the Caribbean Part 5, Wonder Woman and The Mummy.  In July and August there followed yet another ghastly Transformers sequel, the delightful Spider-Man: Homecoming, the excellent War for the Planet of the Apes and the Oscar-nominated Dunkirk.  The first half of this year's summer movie preview takes us to mid-July and assesses the prospects for the Deadpool sequel (which debuts soon after Infinity War), the somewhat troubled Solo: A Star Wars Story, the sequel to 2015's Jurassic World, the all-female spin-off that is Ocean's 8 and Pixar's Incredibles 2 (the long-awaited sequel to 2004's excellent and Oscar-winning The Incredibles).  Can these five films live with the high bar already set by Infinity War?  Which ones will emerge with more-than respectable box office returns?  Which ones might under-perform or, potentially, flop to a similar extent as 2017's The Mummy and Baywatch?  Read on as I share my thoughts and strive to offer some reasonable predictions in this regard.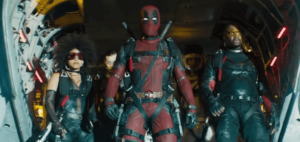 Deadpool 2 (16th May)
2016's Deadpool was a huge commercial hit (a worldwide box office haul of $783 million against a $58 million budget) and hopes will be high that the sequel will deliver in a similar vein.  The good news of course is that the eminently likable Ryan Reynolds is returning as the titular character and he is joined by Morena Baccarin and T.J. Miller who also featured in the 2016 film.  David Leitch (John Wick and Atomic Blonde) is helming on this occasion and he replaces Tim Miller with whom Reynolds apparently had creative differences.  Reynolds himself appears to have a writing credit along with Rhett Reese and Paul Wernick (who also penned Deadpool) and he's also on producing duties with Simon Kinberg and Lauren Shuler Donner.  The premise for the film refers tentatively to the formation of a team of mutants called the X-Force who are led by Deadpool in their conflict with a time-travelling soldier named Cable.  Josh Brolin – who also features in Avengers: Infinity War – plays the aforementioned Cable and there's reference to Bill Skarsgard appearing in an undisclosed role.  The first Deadpool film was replete with in-jokes and constant breaking of the fourth wall and it remains to be seen if its sequel can emulate its considerable success from a critical and box office point of view.  Principal photography – which took place in Canada during 2017 – was shut down briefly after the tragic death of stunt woman Joi "SJ" Harris and there were subsequent reports that the film's crew had to endure an exhausting schedule which included up to 15-plus-hour days.  Reshoots in early 2018 might suggest some post-production difficulties, but the prospects seem relatively good for this one in spite of initial reports of poor test screenings.  Reynolds is very popular and if the jokes aren't overcooked, then it should play and pay well.  20th Century Fox evidently think so because Deadpool 3 is already said to be in the works.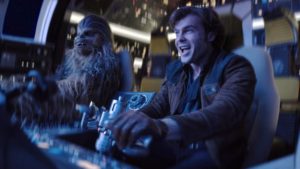 Solo: A Star Wars Story (25th May)
This one made trade headlines in June 2017 when the original directors Phil Lord and Christopher Miller (21 Jump Street, The Lego Movie) left the project after reportedly being fired over 'creative differences' with Lucasfilm.  Lord and Miller had shot four-and-a-half months of footage at that stage and they were replaced by Ron Howard who filmed the remaining three-and-a-half weeks of principal photography, as well as an additional five weeks of reshoots.  Lucasfilm also hired an acting coach for lead actor Alden Ehrenreich at about the same time as they apparently were unhappy with his performance as the young Han Solo.  So how do such production troubles augur for the film's commercial prospects?  Since its resumption in 2015 (with The Force Awakens), the Star Wars franchise has delivered three films which have grossed over a billion dollars at the international box office.  For fans of the long-running space opera (and there are many of them), this is their fix for 2018 and it's difficult to see this one under-performing in spite of problems during principal photography.  As if to confirm this very point, the sneak peek TV spot which was released during the Super Bowl in February 2018 became the most popular Super Bowl trailer on Youtube with over 8 million views.  The official trailer, which has recently been released, certainly suggests that the film plays like a space western and there appears to be a good smattering of humour which should keep the tone agreeably light as well.  Joining Ehrenreich in the cast are notable names such as Woody Harrelson, Paul Bettany, Thandie Newton, Emilia Clarke and Donald Glover (who will be playing the young Lando Calrissian).  Lawrence Kasdan (who also co-wrote The Empire Strikes Back, Return of the Jedi and The Force Awakens) is on script duties along with his son Jonathan.  Receives its world premiere at the 2018 Cannes Film Festival and goes wide shortly thereafter.  Personally, I'm betting on another cool billion dollars in the vaults of Lucasfilm and Disney.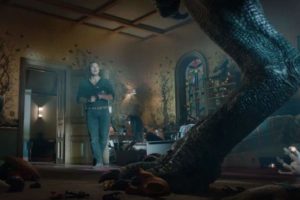 Jurassic World: Fallen Kingdom (8th June)
2015's Jurassic World was – well – a monster hit with an international box office haul of $1.672 billion which currently ranks it as the fourth highest grossing film of all time.  Chris Pratt, Bryce Dallas Howard and B.D. Wong will all be reprising their roles from the previous film and they are joined by James Cromwell, Ted Levine, Toby Jones, Rafe Spall and Jeff Goldblum (appearing in the franchise for the first time since 1997's The Lost World).  Spanish director J.A. Bayona (A Monster Calls) is on helming duties for this one with Jurassic World director Colin Trevorrow collaborating on the screenplay with Derek Connolly.  Steven Spielberg is one of the executive producers.  A direct sequel to the 2015 film, Kingdom is once again set on the fictional island of Isla Nublar where an impending volcanic eruption threatens to kill all the dinosaurs who now roam free there.  The official trailer is suitably action-packed and suggests once again an array of jaw-dropping visual effects.  Principal photography took place in England and Hawaii during 2017 and the resulting product is said to feature more dinosaurs than any other previous film in the series thus far.  A plethora of marketing tie-ins include Lego sets, a video game and Barbie dolls featuring the likeness of Pratt and Howard.  But what of the film's commercial prospects?  Bayona is a talented director who has delivered some very fine films in the past including the aforementioned A Monster Calls, as well as 2007's The Orphanage and 2012's The Impossible.  He's in a very different ball game here with this particular one of course and expectations will be high at Universal for another monster hit (I just did it again).  I don't see this being quite as big a hit as its predecessor, but the tills at the Comcast-owned studio should ring vigorously enough nonetheless.  An untitled sequel, simply known as Jurassic World 3, is scheduled for release in June 2021.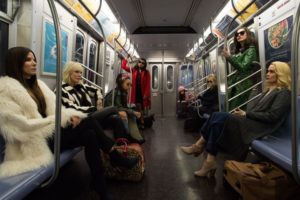 Ocean's 8 (22nd June)
An all-female spin-off of the Ocean's Eleven films should hardly come as a surprise given that we've had the recent Ghostbusters of 2016 which – similarly – featured a cast of plucky ladies.  The central premise here is that Danny Ocean's estranged sister Debbie (Sandra Bullock) assembles a crew to pull off a daring heist at New York's annual met gala.  Fellow members of the group include notable names such as Cate Blanchett, Sarah Paulson, Rihanna and Helena Bonham Carter.  A host of cameo appearances are said to be made by the likes of Kim Kardashian, Maria Sharapova, Katie Holmes and Serena Williams.  An element of continuity with the aforementioned Ocean's Eleven is offered by way of Matt Damon and Carl Reiner who are reprising their respective roles.  Steven Soderbergh sits in the producer's chair along with Susan Ekins.  Gary Ross (Seabiscuit, The Hunger Games) is on directing duties.  An impressive cast should prove attractive to audiences and an estimated budget of $70 million should ensure that this one will make a tidy profit at the box office and then some.  The three Ocean's Eleven films, which were released between 2001 and 2007, realised almost $1.125 billion at the international box office and this augurs well for the spin-off which is set to be with us in late June in this part of the world.  One word of caution however; despite generally favourable reviews, the aforementioned 2016 Ghostbusters did not set the box office alight and, with a meagre $230 million take (set against its budget of $144 million), qualified as something of a financial bomb.  An absolute sure-fire hit?  I would not go as far as this, but methinks the lady heisters should fare better than those who ventured to follow in the footsteps of Murray, Aykroyd, Ramis and Hudson.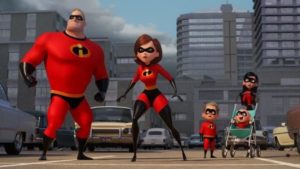 Incredibles 2 (13th July)
The annual Pixar summer offering is a sequel to 2004's The Incredibles which, for me, is one of the very best the American computer animation film studio has released since it began to produce feature films with 1995's Toy Story.  Incredibles 2 – which is again written and directed by Brad Bird – was originally scheduled for a June 2019 release, but was moved up to the summer of 2018 when Toy Story 4 fell behind schedule.  As well as the returning Bird, cast members reprising their roles from the first film are Craig T. Nelson, Holly Hunter, Sarah Vowell, Samuel L. Jackson, John Ratzenberger and Bird himself.  New cast members include Bob Odenkirk, Catherine Keener and Isabella Rossellini.  Pixar regular Michael Giacchino provides the music.  The Incredibles posted an impressive $633 million worldwide haul at the box office against a $92 million budget and, given that this is a Pixar film, it's very difficult to see this one under-performing.  The fact that so many of the artistic talents who contributed to the first film's success (including Academy Awards for Best Animated Feature and Best Sound Editing) augurs extremely well and suggests that the very high standard set by the original will be maintained.  2017's Coco was a commercial and critical triumph and, personally, I'm expecting more of the same here.  Yet another hit for the good people of Pixar and Disney methinks.