2018 Summer Movie Preview – Part 2
Our preview of the summer movies of 2018 resumes as we consider five more releases which will be coming our way between now and the middle of August.  The 2018 World Cup in Russia – which is on-going at the present time – has occasioned a delay in some of these theatrical releases (including Pixar's Incredibles 2 which I previewed in Part 1), but we have already seen the likes of Ocean's 8, Jurassic World: Fallen Kingdom, Solo: A Star Wars Story and Deadpool 2 on these shores.  As I predicted previously, the box office behemoth that is Marvel's Avengers: Infinity War (over $2 billion worldwide to date) has had something of an influence on the fortunes of some of these other films.  Jurassic World: Fallen Kingdom has grossed over $700 million so far, but looks unlikely to come close to the $1.6 billion posted by its predecessor.  The disappointing returns of the stand-alone Han Solo film are more evident in this respect.  The Star Wars anthology film (intended to be the first in a trilogy) has posted $355 million worldwide to date which must surely rank as a let-down for the Walt Disney Studio.  Is this a minor blip for the planned series of films which we are told will follow in the coming years?  Certainly, it more than ups the stakes for Episode IX which is due to be released in December 2019.  And, meantime, the Marvel template shows no sign of waning.  The 20th film in that particular series – Ant-Man and the Wasp – is due to be released here in early August.  For the latter half of summer 2018, it will be joined by many other theatrical releases, including the four others as previewed below: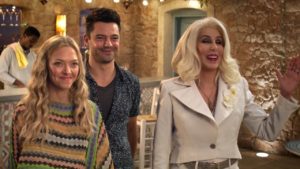 Mamma Mia! Here We Go Again (20th July)
The 2008 film did not exactly garner rave reviews, but it did record a worldwide box office take of $615 million (against its $52 million budget) and hence we have this sequel which is due to be released almost 10 years exactly after the original.  English writer and director Ol Parker (Imagine Me & You and Now Is Good) is on helming duties this time around and returning cast members include Meryl Streep, Amanda Seyfried, Dominic Cooper, Stellan Skarsgard, Colin Firth, Pierce Brosnan and Julie Walters.  Notable names added to this one are Andy Garcia, Lily James and Cher, who makes her first on-screen film appearance since 2010.  The story – which is said to be about a pregnant Sophie (Seyfried) learning more about her mother's past – matters very little really; inevitably it will be the songs and dance sequences which will attract ABBA fans who flocked to the first film.  Well-known songs by the Swedish pop group will include Dancing Queen, Fernando, Waterloo and – surprise surprise – the titular Mamma Mia.  Principal photography took place in Croatia, including the Adriatic island of Vis, so expect many more sun-kissed images as per the 2008 film.  Should be a hit in the region of $500 – $700 million once again I would imagine.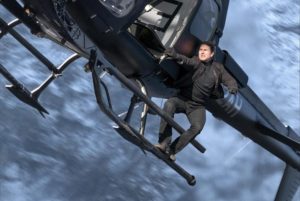 Mission: Impossible – Fallout (26th July)
The Mission: Impossible film series has fared very well with its two most recent installments (2011's Ghost Protocol and 2015's Rogue Nation) and expectations will be high when the sixth film goes on general release towards the end of July.  Tom Cruise returns in the role of Ethan Hunt (a part he first played way back in 1996) and he's joined by the likes of Rebecca Ferguson, Simon Pegg, Ving Rhames, Michelle Monaghan and Alec Baldwin who, similarly, will be reprising characters they have played in previous IMF films.  Sean Harris, meantime, is back as the baddie Solomon Lane; newcomers to the franchise include Henry Cavill and Wes Bentley.  Rogue Nation grossed a very respectable $682 million at the international box office and garnered critical acclaim and there's a sense of continuity here with the cast and returning writer-director Christopher McQuarrie (who, for the record, becomes the first director to helm two films in the series).  Principal photography was delayed for a number of weeks when Cruise broke his ankle during filming, but the filmmakers have stuck to their planned release date nonetheless and the number of locations employed (which include Paris, Norway and New Zealand) suggest a globe-trotting plot in keeping with previous IMF adventures.  The theatrical trailer is suitably action-packed and augurs well for the film's box office prospects.  Expect a more-than solid hit from Tom and his intrepid gang.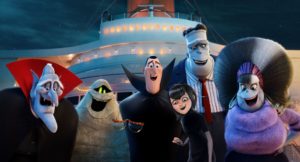 Hotel Transylvania 3: A Monster Vacation (27th July)
The third installment in the Hotel Transylvania franchise will be titled A Monster Vacation in this part of the world and is set to follow the further exploits of Count Dracula and his family and friends as they spend a vacation on a luxury monster cruise ship.  Adam Sandler, Selena Gomez, Steve Buscemi, Fran Drescher and Mel Brooks are all reprising their roles and they will be joined by Genndy Tartakovsky who is once again on directing duties.  2012's Hotel Transylvania almost grossed $360 million at the international box office and 2015's Hotel Transylvania fared even better with its $473 million haul.  The previous two films have not exactly inspired rave reviews among the critics, but audiences have voted with their feet and so we have this further entry.  Austin Powers and The Boss Baby's Michael McCullers has collaborated on the script with Tartakovsky.  This is the first of the Hotel Transylvania films to be released during the summer vacation period (hence its title in America) so hopes at Sony Pictures will be high for the biggest hit so far in the franchise.  A video game adaptation called Hotel Transylvania 3: Monsters Overboard is one of several merchandising tie-ins which will be released at approximately the same time.  Should do well, but I can't see it generating as much excitement or revenue as Pixar's Incredibles 2.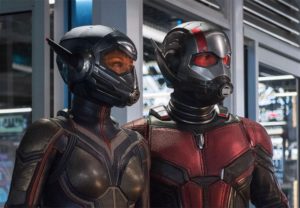 Ant-Man and the Wasp (3rd August)
The 20th film in the Marvel Cinematic Universe also serves as the sequel to 2015's Ant-Man which grossed a more than respectable $520 million at the international box office.  Paul Rudd returns as the central character Scott Lang and he's joined once again by Michael Douglas, Bobby Cannavale, Michael Pena and Evangeline Lilly (who will take on the title of the Wasp in this film); new cast members will include Walton Goggins, Laurence Fishburne and Michelle Pfeiffer.  Continuity with the spirit and tone of the first film should be maintained by the returning leads, the director Peyton Reed (who – if you will remember – replaced the original director Edgar Wright on the first film) and the writing team which includes Rudd himself.  Set between the events of Captain America: Civil War (in which Rudd featured) and Avengers: Infinity War, Ant-Man and the Wasp is again centred on the character of Scott Lang, the former criminal who possesses a suit which allows him to shrink or grow larger as the occasion requires.  Scheduled for a 6th July theatrical release in the United States, the latest MCU movie is being deliberately delayed on these shores in order to avoid competition with the 2018 World Cup.  Given the huge business done by Avengers: Infinity War (currently only the fourth film to pass the 2 billion mark at the box office), it's quite possible the producers were being overly cautious I would suggest.  Either way, expect a tidy hit which should surpass its predecessor's financial haul.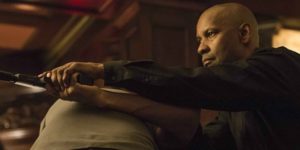 The Equalizer 2 (17th August)
Denzel Washington returns as Robert McCall in this sequel to the 2014 film which was based on the popular television show starring Edward Woodward which aired between 1985 and 1989.  The 2014 film received middling reviews if the truth be told, but it turned a respectable enough profit at the box office and – let's face it – Washington is usually good value for whatever film he is in.  The Oscar-winning actor is joined in the cast by Narcos's Pedro Pascal and Moonlight's Ashton Sanders; Bill Pullman and Melissa Leo reprise their respective roles as Brian and Susan Plummer from the first film.  Antoine Fuqua, who has collaborated with Washington on three previous occasions (including The Equalizer), returns to duties behind the camera and Harry Gregson-Williams is once again the man responsible for the score.  Described quite aptly as a vigilante thriller, the film is scheduled for a 20th July release date in the United States, but has been pushed back to the 17th August on these shores – one can only assume because of the backlog of delayed releases occasioned by the World Cup.  In terms of its box office prospects, I would again emphasise the Denzel factor and predict a more than decent return.  The 63-year-old still does this type of film like few others; he's a class act and I wouldn't discount a third film if this performs to the studio's satisfaction.