A Game of Two Halves – Five of the Best Soccer Movies
With Leicester City's recent remarkable ascent to the pinnacle of the English Premiership, and the looming 2016 European Championships, we consider five of the best movies about soccer and commend them for your potential viewing.  The soccer movie genre (can I really even call it that?) is a slightly strange beast.  There isn't a vast canon of soccer movies out there, truth be told, and there's even more of a dearth of really good soccer movies.  Whereas other sports – most notably, in my humble opinion, baseball and boxing – have enjoyed a fairly steady line of good, quality iterations, the soccer movie hasn't.  A key factor here I would suggest is that soccer, up until now, has not taken off in widespread popularity in that key cinematic market place, the United States.  Recent indicators tell us this may be changing for the better, and perhaps we may well see more footie-inspired tales on the silver screen in the future.  A source of optimism here is America's love affair with baseball.  That particular sport has indeed spawned some great films such as Field of Dreams, The Natural, Bull Durham and Moneyball.  Boxing is even more intriguing in this regard.  The pugilist sport has inspired some bona fide classics of the big screen such as Raging Bull, Rocky, The Set-Up and When We Were Kings.  As an aside here, I would suggest that boxing has proven particularly fertile ground for filmmakers because the (often true-life) characters who are portrayed experience even more tumultuous lives outside the relatively controlled environment of the ring (I will return to this subject matter in a forthcoming post on the boxing movie so stay tuned).
Meantime, let's consider the below five movies which are soccer-themed or soccer-related.  Apologies in advance if I've left out any outstanding documentaries.  I recall one such in particular which concerned the memorable 1982 World Cup Finals in Spain – the first full soccer tournament I ever watched as a kid.  The name of that documentary escapes me now, but memories of Espana 82 certainly do not.  That particular tournament featured two of the greatest soccer matches of all time: Italy versus Brazil, and West Germany versus France.  The latter match, an all-European affair, could have the makings of a movie in itself with Toni Schumacher's infamous foul on Patrick Battiston (which bizarrely went unpunished) and the eventual penalty shoot-out (which went all the way to sudden-death).  Perhaps Hollywood will come around to considering such stories.  There certainly are plenty of them.  I can think of one which took place recently in the East Midlands of England.  No need to elaborate on that.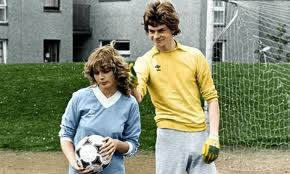 Gregory's Girl (Bill Forsyth 1981)
This 1981 offering from Bill Forsyth (Local Hero and Housekeeping) is an absolute delight from first to last.  It tells the story of one Gregory Underwood, an awkward but loveable teen, who plays for the football team at his school.  He finds himself demoted (as he sees it) to goalkeeper when Dorothy (Dee Hepburn) takes his place as centre forward (a position Gregory has been entirely inept at).  All is not lost however because Gregory has a huge crush on Dorothy and is not afraid of making his feelings for her known.  There are umpteen pleasures to be had in watching this thoroughly enjoyable film, particularly in the penultimate sequence in which Gregory is taken on a number of dates by various girls who are leading him to the one who, in fact fancies him – Susan (played by Clare Grogan of Altered Images fame).  John Gordon Sinclair is perfectly cast as Gregory and displays an uncanny sense of comic timing.  Co-star Dee Hepburn underwent six weeks of intensive training with Patrick Thistle for her role as the skilled Dorothy.  As with so many sports films, Gregory's Girl has less to do with the actual sport in question, and more to do with the central character's own journey of self-discovery.  The one Gregory embarks upon – or is rather guided along – is a hilarious and ultimately touching one which will soften even the most hardened viewer at its conclusion.  The film is also a wonderful examination of youth and some of the pitfalls it entails.  A gem.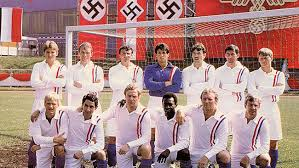 Escape to Victory (John Huston 1981)
Yes, it's utter nonsense, but dare I suggest that John Huston's WWII prisoner-of -war/soccer movie has a certain nostalgia factor in the present day, particularly for those of us who can still recall its much publicised release.  It borrows heavily from the much-superior The Great Escape of course, but there is a novelty element here as well in terms of picking out the real soccer players who populate the sizeable cast.  These include Pele himself, Bobby Moore, Ossie Ardiles, John Wark and several other members of the then-successful Ipswich Town team (yes, 1981 is that long ago!).  Elsewhere, Michael Caine, as the English captain, gets to bellyache a lot; Sylvester Stallone grunts in slow-motion whilst saving penalties; and Max Von Sydow appears vaguely bemused by proceedings generally.  Based on the 1962 Hungarian war drama Two Half Times in Hell this, of course, is a much more softly-softly approach to the POW experience.  Hey it's Hollywood so naturally there's a happy ending at the final whistle.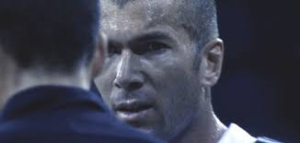 Zidane: A 21st Century Portrait (Douglas Gordon and Philippe Parreno 2006)
This 2006 documentary is centred on the great French playmaker and takes place over the course of a match between Zidane's then club Real Madrid and Villareal at the Bernabeu stadium.  The documentary is as true to life (or sport in this case) as you can get as it was filmed using 17 synchronised cameras in real time.  The stirring soundtrack is provided by Scottish group Mogwai and the film featured at the 2006 Edinburgh Film Festival.  A year before the infamous head-butting incident during the 2006 World Cup Final, and which marred the end of his career, Zizou is also sent off in the dying minutes of this particular game for his part in a brawl.  Sadly prophetic you might suggest, the 2006 incident was certainly more of a provocation.  In this one it seems evident the great one goes looking for trouble.  It was a side to his game that came to the boil every so often.  In total he was sent off 14 times during his illustrious career.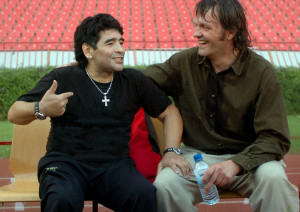 Maradona (Emir Kusturica 2008)
Whatever your opinion about Diego Maradona the individual, there is little doubt about the near-limitless skills he possessed as a footballer, and, additionally, what is most resonant in this documentary (by two-time Palme d'Or winning Serbian director Emir Kusturica) is the incredible passion he has for the beautiful game.  Kusturica's film features conversations with the diminutive one and, of course, many excerpts from his illustrious career, as well as some of the more unseemly moments.  Highlights include the hand of God goal, and also the goal of the century in that game against England in 1986.  Kusturica playfully intersperses the Sex Pistols version of 'God Save the Queen' throughout.  Interesting to note that Senna and Amy director Asif Kapadia is now also planning a film about Maradona.  At the present time the film is said to be unveiled at the next Berlin Film Festival.  One to look forward to I think.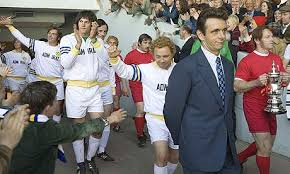 The Damned United (Tom Hooper 2009)
Based on David Peace's novel of the same name, this both chronicles Brian Clough's ill-fated 44 days in charge of Leeds United, and also his former, more prosperous spell, as manager of Derby County.  Michael Sheen is terrific as the egotistical but driven Clough and he is well supported by a cast which includes Timothy Spall as Peter Taylor and Colm Meaney as Don Revie.  Peter Morgan (The Queen, Frost/Nixon and Rush) does his usual very commendable job on scriptwriting duties.  Tom Hooper of The King's Speech is behind the camera.  The Damned United dramatises relationships between the key individuals, particularly Clough and Taylor, very well and also serves as a reminder of the pressures intrinsic with the job of football management (though, of course, this world has vastly changed since the time of the 1970s).  And the film does have a happy ending of sorts – despite his very short tenure at Leeds, we are informed in a postscript of Clough and Taylor's subsequent success with Nottingham Forest, winning back-to-back European Cups amongst other honours.  And so now we await the inevitable film on Leicester.  I wonder what the title for that will be – The Not-So-Damned City perchance?