And The Oscar Doesn't Go To…Bizzare Moments At The 89th Academy Awards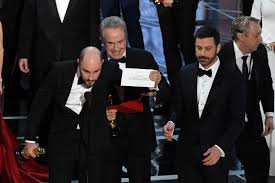 Oh dear!! Did that really just happen??  The 89th Academy Awards descended into near-farce in the early hours of Monday morning as La La Land was incorrectly named Best Picture of 2016.  Co-presenters Warren Beatty and Faye Dunaway announced the film that most people were expecting to hear at the end of the night, but it wasn't to be for the hit musical.  Some commotion appeared at the very edge of the group which had taken to the stage at the Dolby Theatre on Hollywood Boulevard.  The Damien Chazelle-directed film had not prevailed after all.  Barry Jenkins' very fine and thought-provoking Moonlight had triumphed in the most important category of them all.  Several drawn smiles and well-timed euphemisms later and the Moonlight cast and crew had replaced the La La Land team.  When all was said and done, one of the most bizzare moments in live television history had passed before our very eyes.  It most certainly was the biggest blunder in Oscar history.  Come back Sacheen Littlefeather, all is forgiven.  Not even the streaker from an early 1970s Academy Award ceremony could possibly steal a march on this!!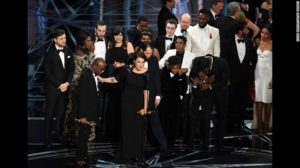 So what happened and where did it all go so horribly wrong on this night of nights for Tinseltown??  The full story has not quite emerged yet (perhaps we'll never know the entire truth), but it seems apparent that Bonnie and Clyde stars Beatty and Dunaway were handed the envelope for the Best Actress category as they took centre stage.  Emma Stone had just won that particular award – as expected – but the Oscar organisers apparently have a back-up envelope in case of one getting mislaid I understand.  They might want to think about revising this practice in light of what happened last night.  Beatty was visibly baffled by what he read inside the envelope and procrastinated as one might well do in such a situation.  To many it seemed like a feint of sorts – a classic bit of Warren-theatre perhaps.  But the actor-director was genuinely confused.  He showed the card to Dunaway who proceeded to read not Stone's name, but that of the film appearing below.  A few minutes passed before the good people from PricewaterhouseCoopers (who tally the results) intervened.  By then a substantial amount of damage had been done.  Acceptance speeches had been started.  La La Land producers were taking this (possibly) once-in-a-lifetime opportunity to thank their nearest and dearest.  But let's remind ourselves that it could have been far worse.  The telecast might have concluded before the unholy mess was brought to light.  Conspiracy theories would have had more traction in such a scenario.  Let's not forget there are those out there who still believe that Marisa Tomei was not the Best Supporting Actress winner way back in 1992.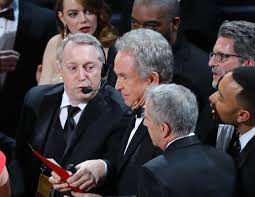 Details aside, this was a moment the Academy will not be allowed to forget forever.  The awards have been around almost 90 years now and gaffes of this monumental proportion are simply not supposed to happen.  A ceremony of this type which is watched by millions worldwide has a reputation and is expected to be a well-oiled machine.  And yet here we are talking about the worst possible blunder in connection with the show's biggest moment and centrepiece award.  Let's spare a thought for those poor people related to La La Land.  They were gracious in defeat and then some.  The Moonlight cast and crew similarly carried themselves with great dignity in the moment.  Director Barry Jenkins (himself a winner on the night for Best Adapted Screenplay) admitted to a pang of guilt at a moment when he should have been in absolute ecstasy.  When the dust has finally settled though (after much time and head-scratching methinks) Jenkins and his worthy team deserve to pat each other on the back.  Moonlight, a low-budget drama concerning a homosexual African-American at various stages of his life, is an atypical choice for the normally conservative Academy.  But a very deserved one it has to be said.  Those filmmakers should hold their heads high indeed.  But what brought about Moonlight's unexpected win and La La Land's downfall?  Like many I had predicted the LA-based musical to prevail at the end of the night.  It had momentum.  It had dominated awards season up to now.  It had two great stars and a cultured feel.  It was set in LA itself where so many Academy voters reside.  Talk of a backlash was dismissed by myself and others in the run up to the Oscars.  Surely it wouldn't lose.  A shock did not appear to be on the cards.  There may have been a number of factors, but a pivotal one could be the preferential ballot system which the Academy moved the Best Picture category to a number of years ago.  In all other categories it's a simple matter of who gets the most votes.  In Best Picture, however, second and third choices may count as well.  La La Land might well have got the most first-choice preferences, but in the absence of a clear winner in this first round, second and third choices come into play and may eventually displace the would-be winner.  Maybe there was a backlash against the film which had won seven Golden Globe awards and a plethora of other such accolades.  Maybe the Academy voters preferred the more thoughtful Moonlight and its low-key but tenderly relayed narrative.  One thing for sure is that speculation will be rife for some time to come.  Many souls were upset when Crash sensationally beat Brokeback Mountain to Best Picture more than a decade ago.  This is a very different scenario to that of course, but expect much chat and not a few misplaced rumours.  And once again the Academy have split Best Picture and Best Director.  Such a phenomenon at the awards ceremony is becoming more and more commonplace.  Are they actually no longer sure of what the Best Picture of the year is?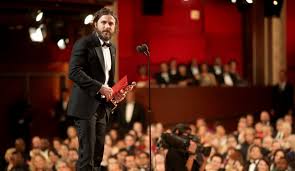 In other news on the night, it was genuinely good to see Casey Affleck win Best Actor for his excellent turn in Kenneth Lonergan's Manchester by the Sea.  I, for one, had been predicting Denzel Washington to win for Fences in light of his recent win at the SAG awards, but in the end Ben's younger brother came from behind to post his first Oscar victory.  It was the best performance of the year and heartening to see the Academy honouring just that and not paying attention to any of the accusations that have been directed the actor's way in the past.  Along with Moonlight's Best Picture win, this was one of the braver awards if I can call it that.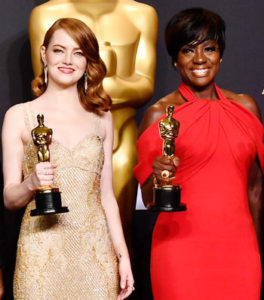 The Best Actress and Best Supporting Actress awards posed no such surprises on the night.  As fully expected the wonderful Viola Davis finally got her overdue nod for some sterling work in the Denzel Washington-directed Fences.  Emma Stone romped home to a suitably well-received Oscar win for La La Land.  The possibilities at the feet of the very talented young actress from Arizona seem pretty much limitless at this point in time.  Let's hope she goes on to greater and greater things.  A very popular winner in the Dolby Theatre – one could almost feel the collective love for her.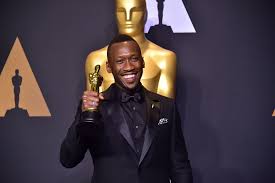 Moonlight's Mahershala Ali (best known perhaps to you and me as House of Cards' Remy Danton) was always favoured to scoop Best Supporting Actor for his moving turn in Moonlight.  In the process he became the first Muslim actor to win an Oscar in a major category.  I wonder if there's any famous person out there who might wish to tweet about that?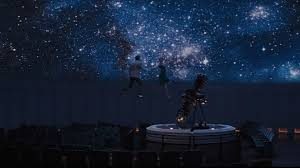 Another noticeable feature on the night was that La La Land did not dominate the technical categories as had been expected.  Out of 14 nominations, it only converted a disappointing 6 in total.  True that Damien Chazelle became the youngest ever recipient of the Best Director award.  But what happened to the predicted haul of some 10 or 11 awards.  It lost Best Editing and Best Sound Mixing to Hacksaw Ridge.  Kenneth Lonergan won Best Original Screenplay for his Manchester by the Sea.  Best Sound Editing went the way of Arrival's Sylvain Bellemare.  Best Costume Design saw a win for Harry Potter spin-off Fantastic Beasts and Where to Find Them.  Justin Hurwitz's wins for Best Original Score and Best Original Song (for City of Stars) were entirely expected and transpired on the night.  La La Land also won Best Cinematography and Best Production Design.  Other non-La La Land categories included Best Animated Feature Film and Best Foreign Language Film – here the pre-ceremony favourites Zootopia and The Salesman came good.  Suicide Squad meantime won Best Makeup and Hairstyling.  Another Disney film – The Jungle Book – won in the Best Visual Effects category.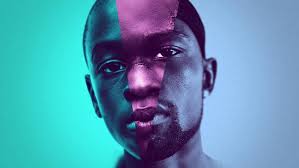 But the 2017 Academy Awards will live long in the memory for a few unforgettable moments of confusion and all-round weirdness.  Whoever gets to host the 90th awards ceremony (could well be Jimmy Kimmel again perhaps) has already sufficient material at his or her disposal this time next year.  It's unlikely we'll see Warren Beatty and Faye Dunaway coming back on stage to name the Best Picture winner in 12 months' time.  Whoever gets that onerous task had better make sure they're given the correct envelope.  The Oscars don't need a disaster of this scale two years in a row.  That would be very much not to script in a town where they pride themselves on getting such shows and spectacles down to a fine art.  Not such a glorious night for the Oscars after all.