George Miller Is President Of The Jury At The 69th Cannes Film Festival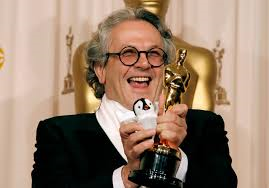 We are very glad to hear and report that the great George Miller has recently been named president of the Cannes Film Festival main competition jury for its upcoming 69th edition (11th May to 22nd May 2016).  Miller has been on the Cannes jury before – he was there in 1988 when Pelle the Conqueror deservedly won the Palme d'Or – but his selection as president for this year is yet another indication as to the high regard and esteem he enjoys within the industry.  Miller, of course, is best known in most recent times for having helmed Mad Max: Fury Road which, incidentally, screened out of competition at the festival last year.  He's also the director of all three previous Max instalments starring Mel Gibson.  But lets also recall some of his other notable achievements.  A formal medical doctor, Miller has multi-tasked on many of his projects as director, producer and screenwriter.  He co-wrote and produced the absolutely wonderful Babe in 1995 and went on to direct its sequel Babe: Pig in the City in 1998.  He won an Oscar for Best Animated Feature for Happy Feet in 2006 and also directed its sequel in 2011.  He's been Mr. Diversity over the years in terms of his production and direction credits – just think of projects such as Lorenzo's Oil, The Witches of Eastwick, Dead Calm, Twilight Zone: The Movie (segment titled Nightmare at 20,000 Feet) and Flirting.  Then there's a certain franchise featuring the somewhat sullen, but man-of-action, Max Rockatansky.  Miller finally revisited this post-apocalyptic milieu after a 30-year gap and the wait was more than worth it.  2015's Mad Max: Fury Road garnered critical and audience acclaim in equal measures and has been rightly hailed as one of the best in its genre of all time.
Below I've selected five of my favourites of his that he's directed.  I would have Babe (1995) included on this list, but Miller did not direct it.  In any case, lets appreciate the great man and the considerable body of work he has put out since he made his directorial debut in 1979.  That particular film is the starting point for this list: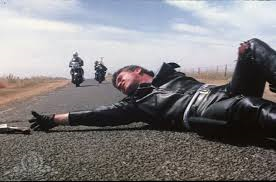 Mad Max (1979)
Miller's directorial debut and the film that launched the career of the then largely unknown Mel Gibson.  The story was largely inspired by the director's own experiences of working in a hospital emergency room where he saw many casualties and fatalities resulting from road collisions.  He collaborated with business partner Byron Kennedy in raising the financing and cast Gibson in the central role after his original first choice opted out.  Principal photography for the dystopian treatise took place largely in and around Melbourne and lasted for six weeks on a budget of up to 400,000 Australian dollars.  Miller would later recall the haphazard approach to filming on the shoestring budget (often in the absence of required permits) as 'guerrilla filmmaking', but he reaped the rewards later on.  Mad Max held the record as the most profitable film when compared to its budget from 1980 to 1999 and helped spark international interest in Australian cinema generally.  Miller said his technique throughout was to make a 'silent film with sound' and the approach he employs here is indeed to favour action and set-piece over broad narrative thrust.  It works very well and is a very kinetic visual piece.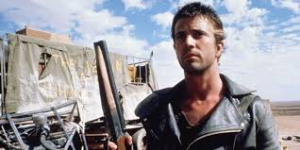 Mad Max 2: The Road Warrior (1981)
My own personal favourite of all the Max films, this terrific post-apocalyptic sequel has not a wasted frame or a single set-piece that feels askew.  It's a re-imagined western in the best possible sense with Gibson in the role of the cynical outsider who comes to the rescue, and respect, of the community of settlers defending themselves against the marauding bandits.  The final chase sequence in which Gibson leads the belligerents on a merry decoy run is without doubt one of the greatest of its kind ever committed to celluloid.  Dean Semler's photography of the Australian desert is one of many highlights.  As with its predecessor, the dialogue in this one is tough and sparse.  Miller has always backed himself as a visual storyteller and his strengths in this department shine though once again.  Mel Gibson solidified his growing status as a leading man in the process.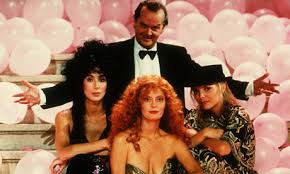 The Witches of Eastwick (1987)
Following the Mad Max trilogy, Miller turned his attention to the John Updike novel concerning a coven of separated ladies in New England who acquire supernatural powers and come into contact with the demonic-like Daryl Van Horne.  Jack Nicholson dominates proceedings as the lusty and voracious Van Horne, but he is more than ably supported by Cher, Susan Sarandon and Michelle Pfeiffer.  The final sequence in which the three women torture Nicholson by means of a Voodoo doll is an absolute hoot and it's entirely plausible that Jack was subsequently cast as the Joker in Batman on the basis of his performance in this.  As for Miller himself, the production of a major Hollywood studio film (Warner Brothers) was not a great personal experience and he considered quitting a number of times.  He credits Nicholson for making him stick with the film and later said that, 'I learnt more from him than anybody else I think I'd worked for – he was extraordinary.'  High praise indeed.  It was worth it as the film was a box office success.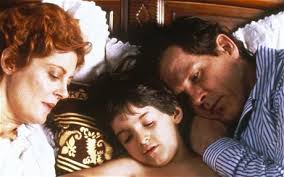 Lorenzo's Oil (1992)
It's not difficult to imagine where Miller got his inspiration for this one in terms of his own medical background.  The film was based on the true story of Augusto and Michaela Odone and their search for a cure for their son Lorenzo, who suffers from the degenerative ALD.  Miller co-wrote the screenplay with Australian playwright Nick Enright, but the film did not ultimately fare well at the box office.  It's a real shame because it's a film bereft of hollow emotion and has several finely-tuned performances, even if Nick Nolte's accent is a little on the bizarre side.  Susan Sarandon deservedly got an Oscar nomination for Best Actress.  Miller and Enright were nominated in the Best Original Screenplay category.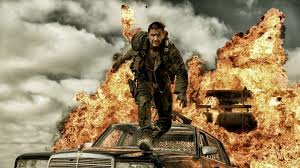 Mad Max: Fury Road (2015)
It's hard to believe that it's almost a year since it screened out of competition at the 2015 Cannes Film Festival, and quite honestly few knew what to expect back then given the long and troubled production history it had had.  But who could have predicted the near-universal acclaim and six Oscars a year later, with nominations in the Best Picture and Best Director categories as well?  Few I think.  Truth be told, this is a very fine action film, and Miller – no longer a young man lets remember – has set the bar high once again for future so-called wunderkinds wishing to approach the action/adventure genre.  The only unfortunate thing is that this fourth instalment in the series took so long to come to fruition.  There was a thirty-year gap between it and Thunderdome and the eventual production of Fury Road was no picnic by any stretch of the imagination when one factors in such matters as the necessary change in locations (Namibia replaced Broken Hill in New South Wales after an unexpected deluge caused wildflowers to grow in the desert), numerous and complicated visual effects and set-ups, and not a little strife occasionally between the director and his leading man.  One just fervently hopes that Miller will get to make some of the sequels he has alluded to in connection with Fury Road.  One of these is provisionally titled The Wasteland at this moment in time.  Lets hope it gets well beyond conception stage.