Gregory Peck's Centenary – A Great Star and a True Gentleman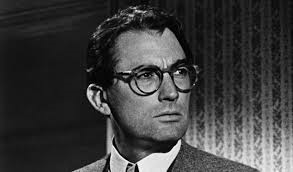 Gregory Peck was born 100 years ago on the 5th April, 1916.  Active in terms of his film work from 1944 (Days of Glory and The Keys of the Kingdom), he was one of the most popular stars of the 1940s, 1950s and 1960s and continued to take major parts right up to the 1980s, as well as one or two notable cameos in the 1990s.  He acted in some key films of his time and traversed a wide range of genres.  He reached the pinnacle of his career perhaps in 1962 when he won the Best Actor Oscar for portraying Atticus Finch in Robert Mulligan's screen adaptation of Harper Lee's To Kill a Mockingbird.  Other notable films included Twelve O'Clock High, Roman Holiday, The Guns of Navarone, Cape Fear, Gentleman's Agreement, How The West Was Won, The Omen and The Boys From Brazil.  From an Irish perspective it is worth noting that Peck's paternal grandmother, Catherine Ashe, hailed from Minard, just outside Dingle, and that a relative of his, Thomas Ashe, played a major part in the Easter 1916 Rising.  Peck himself was born just a few short weeks prior to this seminal moment in Irish history.
On a purely personal level I had the great honour of meeting the late actor one time.  It was the mid-1990s and Gregory Peck had come to Dublin to, among other things, address the University College Dublin Film School.  He was suitably debonair and every inch a star even in his later years.  He told us some cracking yarns about films such as Roman Holiday and Martin Scorsese's remake of Cape Fear, in which he himself had a cameo.  One of these anecdotes I mention below in relation to To Kill a Mockingbird.
As a way of personally remembering the actor and honouring the centenary of his birth, I've selected below what for me are ten significant films/roles in Gregory Peck's illustrious career.  Try to catch one of these yourselves over the coming days.  And let's recall the great work done by one of Hollywood's great stars and an absolute gentleman.  Here's to you Gregory!!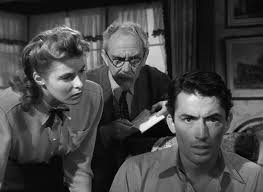 Spellbound (Alfred Hitchcock 1945)
This psychological thriller from the master of suspense provided Peck with one of his best screen roles to date.  He plays Anthony Edwardes, the incoming head of a mental asylum, who is not quite what he seems, or even who he claims to be for that matter.  Ingrid Bergman plays Dr. Constance Petersen who seeks to unravel the mystery behind Edwardes and discovers a complex personal history that has led to amnesia and an underlying guilt complex.  Fine performances all round and this was one of two films that Peck made with Hitchcock – the other being the slightly lesser The Paradine Case (1947).  Salvador Dali collaborated with Hitchcock on the film's dream sequence in which Bergman and a colleague seek to unlock Peck's distraught mind.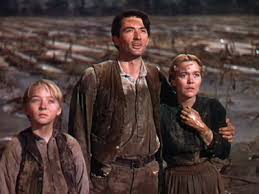 The Yearling (Clarence Brown 1946)
Spencer Tracy was originally cast as the lead for this one, but he was replaced by Gregory just prior to principal photography, and the actor went on to receive the second of his five Academy Award nominations.  He plays Ezra "Penny" Baxter, a one-time confederate soldier who is now toiling in Florida as a farmer with his only surviving son and somewhat estranged wife (played by Jane Wyman).  His son's adoption of an orphaned fawn causes strife in the family, particularly when the fawn gets older (the yearling of the title) and begins to devour crops on a much-too regular basis.  This film is about a damaged family gradually coming to terms with their troubled past and it features a particularly heart-breaking scene in which Peck's character has to implore his son to put his beloved pet out of its misery.  It was MGM's most successful film of the year and earned a total of 7 Academy Award nominations, with wins for Art Direction and Cinematography.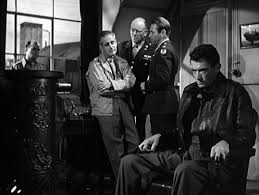 Twelve O'Clock High (Henry King 1949)
Highly regarded war film in which Peck plays Brigadier General Frank Savage, a stern leader who takes command of a bomb group which is suffering from poor morale and heavy losses to enemy aircraft.  Initially his iron rule is not popular amongst his men, but their position softens as they see his own depth of commitment and bravery in the common cause.  This was a considerable multi-layered performance on Peck's part as his character was not a straightforward hero, but rather a battle-fatigued commander who has endured far too many harrowing missions, which eventually take their toll in the form of a near-catatonic state.  It earned him another Oscar nomination and enhanced his growing reputation as an all-round leading man.  His co-star Dean Jagger won the Academy Award for Best Supporting Actor.  The film has been frequently praised amongst veterans for its realistic depiction of combat experience.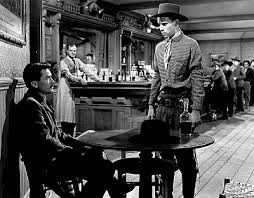 The Gunfighter (Henry King 1950)
This was the second of six collaborations involving Peck and King and it's notable again for the darker role the actor inhabits, just as he'd done in their previous effort together.  Jimmy Ringo, an infamous gunfighter, is weighed down by his notorious past and jaded by the here-and-now in which every hot gunslinger wants to become the man to best him on the draw.  He seeks to reconcile himself with his estranged wife and son, but, of course, there is the perpetual threat of the next hothead keen to establish his own legend, and Ringo must eventually pay the price of his own inflated myth.  This fine meditation on a harsh and unforgiving west was not a box office success in its day, and it has more than a few similarities with John Wayne's swansong The Shootist.  The head of production at Twentieth Century Fox had his own particular theory for the disappointing returns of the film – he laid it squarely on the moustache which Peck sports throughout its 85-minute duration.  Afterwards, he apparently remarked to the actor that the offending facial hair had cost the studio millions.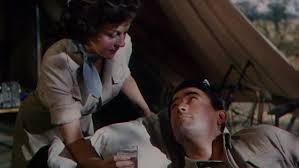 The Snows of Kilimanjaro (Henry King 1952)
Based on the short story of the same name by Ernest Hemingway, this one has Peck in the role of Harry Street, a disenchanted writer who, suffering from an infected wound on safari in Africa, contemplates his life and loves as he approaches his expected demise.  The three great loves of his life are played by Ava Gardner, Hildegard Knef and Susan Hayward.  Shot in Technicolor, the film employs great use of its locations in Kenya, Egypt and the French Riviera, and proved to be a significant box office success on its release in the latter half of 1952.  Peck is excellent in the central role of Street, a man at variance with himself as he ponders a less-than idyllic past.  The actor displayed his considerable range here again with deft moments of rage, romance and desolation.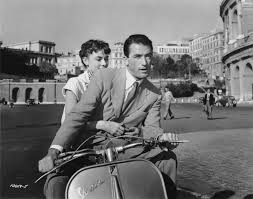 Roman Holiday (William Wyler 1953)
This was one of the actor's personal favourites and it's easy to see why.  Peck plays reporter Joe Bradley to Audrey Hepburn's Princess Ann.  The latter craves freedom from her regal duties and takes advantage of an opportunity to see the Eternal City first-hand for herself.  Peck's character initially does not recognise her, but when he does he toys with the notion of capturing an exclusive scoop for himself; one that will advance his own career in the process.  There is so much to enjoy in this quite beautiful romantic comedy, not least the central performances, and of course the locations employed around Rome itself.  Watch out particularly for the Spanish Steps, and the "Mouth of Truth" scene in which Peck played a real gag on his leading lady which remains in the film.  Hepburn won the Academy Award for Best Actress.  She and Peck remained friends for life until her own untimely death in 1993.  Peck paid tribute to her on camera by reciting her favourite poem "Unending Love."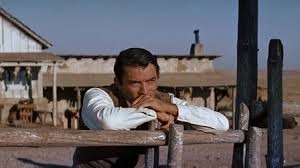 The Big Country (William Wyler 1958)
Peck plays James McKay, a wealthy sea captain who travels to the American West to join his intended and her father on their enormous ranch.  There he discovers a country in which he is initially out of place and perplexed at the personal feuds and land wrangling which he sees taking place, all of this against the backdrop of an expansive, and sometimes bewildering, terrain.  Combining elements of melodrama with its overall epic thrust, The Big Country portrays a West that is necessarily in transition, and one in which there is no longer a place for characters such as Henry Terrill and Rufus Hannassey – the bickering ranchers.  The latter role netted Burl Ives an Oscar for Best Supporting Actor and a fine supporting cast includes Jean Simmons, Carroll Baker and Charles Bickford.  The score composed by Jerome Moross remains suitably iconic to this very day.  Peck and his co-star Charlton Heston give it their all in a particularly memorable fight scene.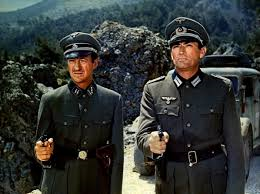 The Guns of Navarone (J. Lee Thompson 1961)
Classic men-on-a-mission film that was based on Alistair MacLean's 1957 novel of the same name, this one has Peck as part of a team of commandos tasked to infiltrate the island of Navarone and destroy the superguns there which are, amongst other things, hampering the rescue of allied soldiers.  A fine supporting cast includes David Niven, Anthony Quinn, Stanley Baker and Anthony Quayle.  Peck's character, Captain Keith Mallory, was supposed to be fluent in German and a slight problem arose when it became obvious the actor could not affect the accent convincingly.  His German lines were subsequently dubbed by voice actor Robert Rietty.  Many marvellous action sequences and set pieces to admire in this, though one of my own favourite scenes is a relatively sedate one in which Peck reveals Anthony Quinn's character's intention to kill him after the war owing to the fact that he was inadvertently responsible for the deaths of his wife and children.  A lesser sequel Force 10 From Navarone starring Harrison Ford, Robert Shaw and Edward Fox followed in 1978.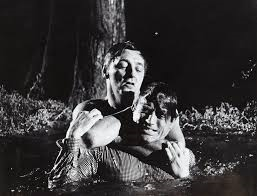 Cape Fear (J. Lee Thompson 1962)
Yes, Martin Scorsese's 1991 remake has its fine points, but it pales in comparison to this the original adaptation of The Executioners by John D. Macdonald.  Peck plays Sam Bowden, an honourable lawyer, who finds himself and his family targeted by Max Cady (Robert Mitchum), a recently released criminal who holds Bowden primarily responsible for his 8-year incarceration.  Interesting to note that Peck's Big Country co-star Charlton Heston was originally cast for the central role of Bowden; Peck himself was actually an eleventh-hour replacement.  The actor went on to appear in a cameo role in Scorsese's 1991 remake playing a bible-quoting lawyer who represents Max Cady (Robert De Niro) in that film.  He must have really enjoyed that because he hammed up his few minutes onscreen to great effect.  In this 1962 version he is much more the straight man with an air of gravitas about him.  His co-stars Mitchum and Martin Balsam also reappeared in cameos in the Scorsese remake.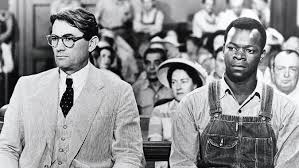 To Kill a Mockingbird (Robert Mulligan 1962)
Unquestionably the great actor's most famous role, this 1962 adaptation of Harper Lee's 1960 Pulitzer Prize-winning novel is as fine a realisation of that great story that one could hope for, and then some more.  Peck won the Oscar for Best Actor (his fifth nomination) for his beloved portrayal of Atticus Finch and it's worth noting that in 2003 (the same year as Peck's passing) the American Film Institute ranked the character as the greatest movie hero of the 20th Century ahead of action men such as Indiana Jones, James Bond and Rocky Balboa.  Speaking about the film itself Peck said that more people had reminded him about it than any other one he'd ever done.  He also commented at a later time as to how lucky he was to be cast in the film, and that it reminded him greatly of his time growing up in La Jolla, California.  When the actor visited the UCD Film School and addressed us in the mid-90s, he told us a very amusing story concerning his interaction with Harper Lee on the first day of filming.  During the shooting of one of his first scenes as Atticus Finch, Peck glanced over at the novelist to see if he could gauge her reaction.  To his own personal delight, he was certain he could detect a tear or two in her eyes.  He thought to himself, this is great, the writer is moved by the way I'm interpreting the role; I have her approval.  At the end of that day's shoot he approached her and asked her how she'd found the filming process generally.  It was a ruse of sorts.  What he really wanted to ask about was the emotion he was sure he'd spotted earlier.  And so he did.  He said, Harper, I couldn't help but notice that you seemed a little affected by my performance.  Lee nodded her head and responded.  Oh yes Gregory, she said, your pot belly reminds me just of my father's!  So much for garnering praise.  But what a great story.  And what a truly great star.