Happy 100th Birthday Kirk Douglas – 10 Of His Best Films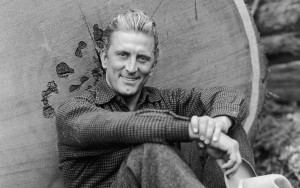 The great Kirk Douglas turns 100 on the 9th December, 2016.  One of the last remaining stars of the Golden Age of Hollywood, Douglas was born in humble beginnings, the son of Jewish immigrants from present-day Belarus, in the city of Amsterdam in Montgomery County, New York.  After an early determination to rise above his environs and become an actor, Kirk made his screen debut in the 1946 film The Strange Love of Martha Ivers, lending able support to established players Barbara Stanwyck and Van Heflin.  To coin a phrase it was the beginning of a beautiful friendship which has lasted these past 70 years between actor and audience.  Kirk Douglas has played a wide variety of screen characters and acted in some 90 movies during the lengthy span of his active career.  Below, I've selected 10 films ranging from 1949 to 1978 which, for me at least, typify the star's robust and deeply felt screen presence.  In doing so, let's also not forget some of Kirk's other notable achievements off the screen and in the sphere of writing, producing and philanthropy generally.  Douglas was instrumental in breaking the dreaded Hollywood Blacklist in the early 1960s, by way of Spartacus and his support of screenwriter Dalton Trumbo.  In terms of penmanship himself, the actor has written a number of novels and memoirs over the years, the most recent being 2014's aptly titled Life Could Be Verse.  The great man is a great survivor as well having being involved in a near-fatal helicopter accident in 1991 and suffering a debilitating stroke in 1996.  Happily, that latter occurrence did not curtail him from having the bravery to make a speech when accepting a long overdue honourary Academy Award in March of that same year.  To this day he and his wife of 60 years Anne continue to make extremely generous donations to causes ranging from education to health care.  He is the father of actor Michael Douglas, himself a Best Actor Oscar winner for 1987's Wall Street.
And so to the below 10 films which weren't an easy selection as I had to omit a few notables which many of you might argue merit inclusion in such a list.  Kirk Douglas has long been applauded by critics and audiences alike for his intense acting approach backed by a strong physical prowess which informs performances such as Spartacus, Champion and Paths of Glory.  There are also shades of the method actor about him as evidenced in Minnelli's Lust for Life and Wilder's Ace in the Hole.  His own personal favourite film, from what I've garnered, is a wonderful and deeply-moving contemporary western from 1962 called Lonely Are the Brave.  The remainder of my list is composed of some recognisable titles, including one of his several collaborations with screen legend and close friend Burt Lancaster.  So have a look at the selections below and see if you agree with my choices as this most venerable of stars approaches the milestone of his centenary.  Happy 100th birthday Kirk.  Thank you for all those wonderful films over the years and your many memorable performances.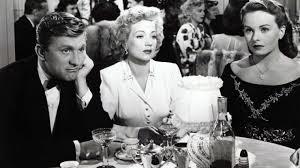 A Letter to Three Wives (Joseph L. Mankiewicz 1949)
An early role for the great man in which he plays George Phipps husband to Rita Phipps (Ann Sothern), one of the three wives of the title.  Adapted from the 1946 novel A Letter to Five Wives by John Klempner, the number of wives in the story was reduced at the suggestion of studio head Darryl F. Zanuck and other changes brought about by Mankiewicz and his co-writer Vera Caspary.  The central premise remained the same insofar that the wives are informed by a letter from the unseen Addie Ross (Celeste Holm providing the voice) that she has left town with one of their husbands.  But which one could it be?  In flashback scenes we learn that all three marriages have their own particular pressure points.  Douglas's character George, for example, is a lowly schoolteacher who resents the fact that his wife earns more money than he does.  He is none too happy with the nature of her work either (writing rather flimsy soap operas for radio) and the seeming hold her employer Mrs. Manleigh has over her and her time for family.  In his early thirties at the time, Kirk already looked the part of a movie star, albeit in a supporting role.  Mankiewicz's superb romantic-drama netted the director the first two of four Oscars he won between 1949 and 1950 (All About Eve followed a mere year later).  Paul Douglas – no relation by the way – shines as one of the other husbands, Porter Hollingsway.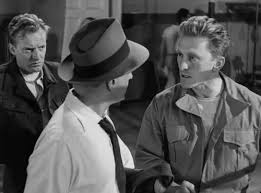 Champion (Mark Robson 1949)
Douglas received the first Academy Award nomination of his career for this one in which he plays Michael 'Midge' Kelly, a down-on-his-luck fellow who enters the pugilist profession when a business venture falls through.  Mark Robson's tight film examines some of the more sordid aspects of the sport, such as match-fixing, and Douglas is quite superb in the central role as his character steadily loses his moral bearing.  Arthur Kennedy is also in fine form as Midge's brother Connie; the women in Midge's turbulent romantic life are played by Ruth Roman and Marilyn Maxwell.  Clips from the film were put to good use in 1999's Diamonds in which Kirk played a one-time welterweight champion seeking to reconnect with his estranged son.  Lauren Bacall also appeared in that latter film marking her first screen appearance with Douglas since 1950's Young Man with a Horn.  Based on a short story by sports columnist and writer Ring Lardner, Champion was adapted for the screen by Carl Foreman (High Noon and The Bridge on the River Kwai) who received an Oscar nomination for Best Adapted Screenplay.  Kirk's for Best Actor was thoroughly deserved as well.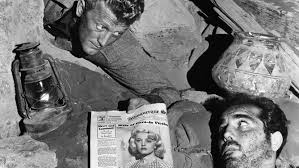 Ace in the Hole (Billy Wilder 1951)
Also titled The Big Carnival, Ace is without doubt one of director Billy Wilder's most cynical works as it examines a very unwholesome side of journalism and the attendant public frenzy which sensationalist reporting can whip up.  Douglas plays Chuck Tatum, an ambitious newsman who is his own worst enemy.  His career shenanigans and heavy drinking have seen him fired from a whole plethora of newspapers, and Tatum now finds himself working at the lowly Albuquerque Sun-Bulletin.  This won't do of course and when Tatum stumbles upon the story of Leo Minosa, a hapless individual who has become trapped in a cave, he sees the opportunity for a much-needed jolt to his own stagnant career.  Before long he's successfully manipulated the situation and turned Leo's miserable plight into a behemoth of national interest.  Critically scorned and a box-office disappointment at the time of its release, Ace has quite rightly been re-appraised with the passing years and has its place as one of Wilder and Douglas's most famous films.  As for the actor himself, it has to be said that his performance here is one of fierce and sustaining raw energy as his character pursues his egocentric goals.  Jan Sterling is his equal in this regard as Leo's wholly opportunistic wife.  Richard Benedict plays the doomed victim of their machinations.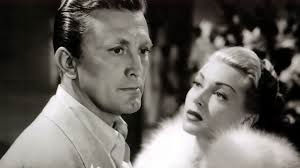 The Bad and the Beautiful (Vincente Minnelli 1952)
Douglas was in top form here again (and deservedly Oscar-nominated for his efforts) as Jonathan Shields, the son of a former studio head who is so detested that he has to hire extras to make up the numbers at his funeral.  Determined to step out from that particular shadow, and forge his own destiny, Jonathan befriends an aspiring director (Barry Sullivan), a talented but wayward actress (Lana Turner) and a bestselling author (Dick Powell).  Each of their stories and particular liaisons (including falling-outs) with Shields is told in flashback throughout the film as producer Harry Pebbel (Walter Pidgeon) attempts to convince them to work with the down-on-his-luck movie mogul once again.  Although it is shown that Shields has alienated these three people with his heavy-handed ambition and single-mindedness, it is also quite clear that each of them has prospered as a result of his particular influence.  Nominated for six Academy Awards in 1952, The Bad and the Beautiful triumphed in five of those categories, with the one exception of Douglas for Best Actor.  He never actually won a competitive Oscar, but was deservedly awarded an honourary one in 1996.  The character of Jonathan Shields is said to be a composite of real-life producer David O. Selznick, Orson Welles and Val Lewton.  Watch this terrific Hollywood-about-Hollywood film and see if you can spot any other egotistical types in there.  Douglas and Minnelli re-teamed 10 years later for the similar, if somewhat lesser, Two Weeks in Another Town.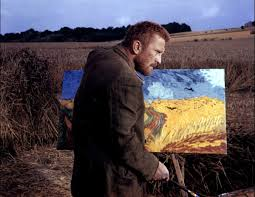 Lust for Life (Vincente Minnelli 1956)
Douglas joined forces with director Minnelli again for this very fine and studied biopic about the life of the famous Dutch painter Vincent van Gogh.  In the central role Douglas conveys the troubled artist's many obsessions and deliriums of shortcomings and he was once again nominated for the Academy Award for Best Actor (Yul Brynner subsequently won for The King and I).  He practiced painting crows for the part so that he could imitate the artist at work at his canvas as plausibly as possible.  In a supporting role, Anthony Quinn won one of his Best Supporting Actor Oscars for his portrayal of the French artist Paul Gauguin.  Other notables among the cast are James Donald as Theo van Gogh, Everett Sloane and Pamela Brown.  Irish actors Noel Purcell and Niall MacGinnis also feature in support.  Douglas later noted that, in spite of his critically-acclaimed performance, the film was a painful experience for him.  'Not only did I look like van Gogh, I was the same age he was when he committed suicide,' he said.  His wife agreed with this and noted how indeed he closely resembled the painter and stayed in character throughout much of the shoot.  It was well worth the effort though and is perhaps his greatest work onscreen.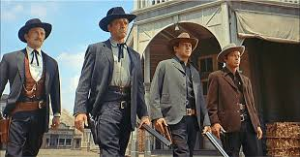 Gunfight at the O.K. Corral (John Sturges 1957)
Douglas took on the iconic role of Doc Holliday for this one and his onscreen pairing with Burt Lancaster (playing Wyatt Earp) is more than reason enough to watch this film.  Although it contains several historical inaccuracies (including the nature and extent of the climactic shootout between the lawmen and outlaws), Sturges's historical drama is a rousing piece in itself with a well-observed momentum and terrific Dimitri Tiomkin score and song to boot.  A stellar cast includes the aforementioned Douglas and Lancaster, as well as John Ireland, Dennis Hopper, Lee Van Cleef and Jack Elam.  Future Star Trek cast member DeForest Kelley turns up as Morgan Earp.  The screenplay adaptation was provided by novelist Leon Uris.  Incidentally, Sturges would revisit this particular story again by way of his 1967 film Hour of the Gun in which James Garner played Wyatt Earp and Jason Robards Doc Holliday.  That particular film focuses more so on the aftermath of the famous gunfight, whilst this one is centered firmly on the events leading up to it.  Possible companion pieces for a western evening-in given John Sturges's talent behind the camera and his innate ability to handle large numbers of actors in a historic context and on an epic scale.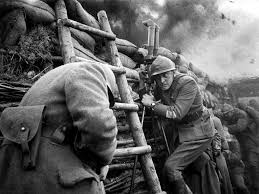 Paths of Glory (Stanley Kubrick 1957)
Douglas was very well cast as Colonel Dax, the commanding officer in an offensive against a German fortification (known as the Anthill) which doesn't go accordingly to plan, and who is subsequently drafted in to defend three men chosen as effective scapegoats for the military failure.  Kubrick's anti-war film has grown in reputation over the years and justifiably so – it depicts both the pathos of the innocent men sacrificed for the so-called cause, in direct and ironic contrast to their commanding officers who believe in notional, and ultimately meaningless, concepts such as duty and honour.  Kirk Douglas himself was instrumental in getting this one made insofar that Kubrick and producer James B. Harris were able to cite his keen interest in the project as a chief reason for United Artists to make it.  The film subsequently did moderate business at the box office, but, more significantly, further enhanced the growing reputation of its wunderkind helmsman.  This was the first of two films Douglas and Kubrick worked on together.  The actor may have subsequently referred to his director as 'a talented shit', but there is little doubting the high regard he held for him given that Kubrick's next source of employment was provided directly by Douglas himself.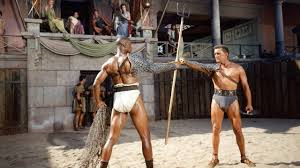 Spartacus (Stanley Kubrick 1960)
Widely regarded (and quite rightly so) as one of the very best of the epic-historical dramas, filming on this one was just a week old when Douglas decided to fire the original director Anthony Mann following the opening sequence shot at Death Valley, Nevada.  Kubrick was brought in to replace Mann and with a budget of some $12 million and a cast of thousands (resources he had never had at his disposal up to this point in time), it can be reasonably argued that Kirk Douglas played a substantial part in the director's cinematic advancement.  Much credit must also be accorded the actor in respect of the way he bravely insisted that blacklisted screenwriter Dalton Trumbo – one of the Hollywood Ten – be properly credited for his work.  This and the attendance of then-President John F. Kennedy at a subsequent screening went some way towards breaking the blacklist which had plagued the film industry for years.  As for Douglas himself, it is said that his own substantial involvement in the project was brought about by his disappointment in not securing the central role in 1959's Ben-Hur.  He purchased an option on the book of the same name by Howard Fast and persuaded actors such as Charles Laughton, Peter Ustinov and Laurence Olivier to take part.  Ustinov went on to win the Best Supporting Actor Oscar for his Lentulus Batiatus.  Other notables in the cast include Tony Curtis, Herbert Lom, John Ireland, John Gavin and Jean Simmons.  The 1991 restoration version of the film – courtesy of Robert A. Harris – includes the infamous snails and oysters scene between Curtis and Olivier.  The climactic 'I'm Spartacus' scene however is the most memorable one here.  Notwithstanding its likely analogy to the repressive McCarthy era, and the solidarity of those standing together accused, this is one of the most deeply affecting moments in all of epic cinema and it's anchored by a remarkably physical and typically expressive performance from the great man himself.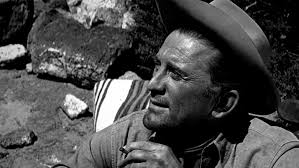 Lonely Are the Brave (David Miller 1962)
Douglas has referred to this as his personal favourite film and he'll find few arguments from me in that respect.  Based on the 1956 novel The Brave Cowboy by Edward Abbey, this one concerns itself with John W. 'Jack' Burns, a roaming ranch hand who is at a chosen remove from modern society, and its attendant intricacies, and is perfectly happy to remain in this vein.  Deciding to help a friend break out of jail, Jack finds himself on the wrong end of the law and on the run.  He beats a path towards the Mexican border, but has various obstacles to surmount, not all of them just physical.  A beautifully-realised relationship between him and his horse Whiskey is one of several elements here which contribute to this nostalgic and bittersweet modern Western.  This is one of Kirk's very best performances and he's surrounded by a wonderful cast which includes Gena Rowlands, Walter Matthau, Carroll O'Connor and George Kennedy in a very early role.  Bill Raisch plays a one-armed man who Douglas picks a fight with in a bar.  Raisch would famously go on to play the subject of Dr. Richard Kimble's lengthy pursuit in the TV series The Fugitive.  Dalton Trumbo, who'd worked with Douglas on Spartacus a few years before, adapted the screenplay.  Described by its star as a story about 'the difficulty of being an individual today', this is an absolute must if you haven't already seen it.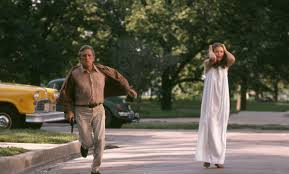 The Fury (Brian De Palma 1978)
A wonderful slice of hokum from director De Palma, this one was adapted by John Farris from the source material of his own novel.  Douglas plays Peter Sandza, a former CIA agent, whose gifted son Robin (Andrew Stevens) is abducted by a secret intelligence organisation intent on optimising his psychic abilities.  To further his pursuit of Robin, and the man he holds responsible for his abduction Ben Childress (John Cassavetes), Sandza makes contact with another like individual, Gillian Bellaver (Amy Irving), who has comparable powers to his son.  The two of them eventually locate Robin in Chicago where Childress's unrelenting experimentation has exacted its toll on the unfortunate young man.  There was a fair smattering of supernatural and psychological thrillers in 1970s American cinema as a whole and De Palma made his own telling contribution with films such as Sisters, Obsession, Carrie and this particular one.  Trademark tricks of the director to admire here include unorthodox camera angles, slow-motion sequences and flashback scenes, culminating in the final moment when John Cassavetes's character literally explodes.  Other non-erupting cast members include Charles Durning and Carrie Snodgress.  Dennis Franz and Daryl Hannah made their respective screen debuts.  A suitably eerie accompanying score comes courtesy of the great John Williams.  Kirk is in fine form too as the devoted father intent on rescuing his precious son.