Happy 75th Birthday Robert De Niro – 12 Of The Actor's Best Roles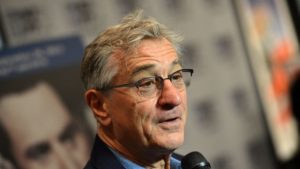 Robert De Niro turns 75 on the 17th August, 2018 and we celebrate the Oscar-winning actor's life and work thus far by considering 12 of his best films and greatest performances.  Born in New York City on the 17th August, 1943, De Niro is long regarded as one of the greatest actors of his generation whose body of work includes such seminal films as The Godfather Part II, Taxi Driver, The Deer Hunter, Raging Bull and Goodfellas.  His first film role came at the age of 20, by way of Brian De Palma's 1963 The Wedding Party, and his upcoming The Irishman, directed by Martin Scorsese and co-starring Al Pacino and Joe Pesci, is already one of the most-anticipated films of 2019.  The Irishman will mark De Niro's ninth feature film collaboration with Scorsese and their most recent since 1995's Casino.  He has also worked with other prominent names in the industry such as Francis Ford Coppola, Bernardo Bertolucci, Michael Cimino, Sergio Leone, Michael Mann and Barry Levinson.  He has won two Oscars in his career to date (Best Supporting Actor for The Godfather Part II and Best Actor for Raging Bull) and has received much critical acclaim for his work in a range of genres in the cinematic field.  Deserved praise has focused on his fierce commitment to specific roles, which has included gaining weight for films such as Raging Bull and The Untouchables, working as a cab driver for Taxi Driver and learning to play the saxophone for New York, New York.  In this retrospective on the actor's career to date, we have selected 12 films which we hope encapsulate his considerable contribution to the profession which he has been involved in for several decades now.  Happy birthday Bobby.  Hope there are many more memorable years to come for you on the silver screen.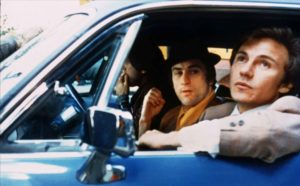 Mean Streets (Martin Scorsese 1973)
De Niro's first screen collaboration with Scorsese was released just two months after Bang the Drum Slowly and marked a breakout year for the up-and-coming actor.  He's not the central character in this one, but there's little doubt as to the impression he leaves as the erratic and sometime-volatile Johnny Boy.  Johnny Boy owes money all over town and appears to enjoy living life on the edge.  In contrast to this, Scorsese and his co-screenwriter Mardik Martin present us with Charlie (Harvey Keitel), an essentially decent young Italian-American who collects debts for his powerful uncle and is constantly plagued by his sense of Catholic guilt.  Charlie tries to keep his friend on the straight and narrow as best he can, but Johnny Boy's impetuous attitude constantly frustrates his best efforts.  The titular Mean Streets refer to the urban milieu in which Scorsese grew up, and the New York City which the film depicts is one laden with disreputable characters and unethical opportunities.  A superb cast includes Richard Romanus, Amy Robinson, David Proval and Scorsese himself (briefly) as a henchman and would-be assassin named Jimmy Shorts.  Memorable scenes involving De Niro include the 'mook' segment and the tense encounter between Johnny and Michael (Romanus) as the former taunts the latter for lending him money ('I fuck you right where you breathe, because I don't give two shits about you or nobody else').  The then thirty-year old actor had truly announced his arrival to the cinema world and the following year would see him make good on the promise shown here.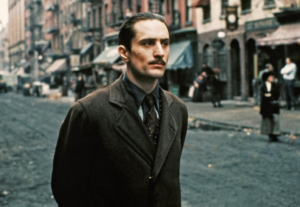 The Godfather Part II (Francis Ford Coppola 1974)
De Niro won the Best Supporting Actor Academy Award in Coppola's follow-up to his ground-breaking 1972 The Godfather.  He plays the young Vito Corleone in this (Marlon Brando's character in the first film), a Sicilian emigrant who rises steadily in his New York City community by means of his criminal daring and ambitious frame of mind.  De Niro's scenes (largely set in the 1920s) are set in contrast to the present-day of the narrative as his son Michael (Al Pacino) seeks to expand his business horizons in Cuba and fends off a Senate committee investigation into his links to organised crime.  The two stories of father in the past and son in the latter-day (Coppola described his intent as a portrayal of the 'ascension of the family under Vito Corleone with the decline of the family under his son Michael') make for a complex film which is quite brilliant in its execution and boasts several stunning sequences including Vito's stalking and killing of the local Don as he moves up in the New York underworld.  A particularly memorable (and comic) scene involves a previously obstinate landlord agreeing to lower the rent for a friend of Vito's wife.  One of the very best American films of the second half of the 20th Century, The Godfather Part II became the first sequel to win the Oscar for Best Picture, as well as five other categories at the 47th Academy Awards.  Remarkably, three of its cast members – including De Niro – were nominated for Best Supporting Actor; the other two were Michael V. Gazzo as Frank ('Frankie Five Angels') Pentangeli and Lee Strasberg as Hyman Roth.  In any other year, Gazzo or Strasberg might well have taken the golden statuette home, but the performance of De Niro as the dedicated family man, who is relentless in his pursuit of material advancement, set him apart from the other two.  For the record, Marlon Brando and himself are the only actors to have won Oscars for portraying the same fictional character.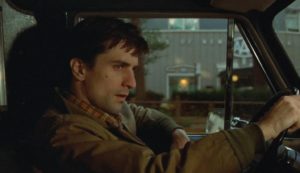 Taxi Driver (Martin Scorsese 1976)
To say that this is one of De Niro's most intense performances is something of an understatement I think.  In his second collaboration with Martin Scorsese, the actor plays Travis Bickle, a former U.S. Marine who cannot sleep at night and decides to drive a taxi cab as a sort of countermeasure to his chronic insomnia.  Travis is generally disgusted by the world he sees before him (New York City at its most gritty) and his sense of despair is further pronounced as he is rebuffed by the gorgeous campaign volunteer Betsy (Cybill Shepherd) and his encounters with the wisecracking pimp Sport (Harvey Keitel).  A semblance of hope in all this is represented by the adolescent prostitute Iris (Jodie Foster) whom Travis determines to rescue from the clutches of the deplorable Sport.  The extreme course of action which he follows in the film's climactic sequence is an unforgettable one of course and the film drew much attention and comment in relation to its graphic violence and bloodletting.  Taxi Driver's other famous scene surely is the 'You talkin' to me?  You talkin' to me?' moment in which De Niro challenges an imaginary figure in a mirror.  Nominated for four Academy Awards – including a nod for Best Actor for De Niro himself (he lost to Peter Finch for Network) – Taxi Driver remains one of the most seminal American films of the 1970s and certainly one of the actor's very best in my opinion.  And it's quite something to see De Niro sporting a Mohawk haircut as he contemplates the assassination of a presidential candidate.  Watch out for another cameo appearance by Scorsese himself as he plays an exceptionally disgruntled husband who reveals his violent plans for his cheating wife to Travis.  God's lonely man indeed.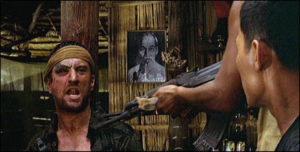 The Deer Hunter (Michael Cimino 1978)
One of the first major motion pictures to be critical of America's involvement in the Vietnam War, this 1978 epic drama film tells the story of a trio of Russian-American steelworkers, whose lives are changed forever by their service in the theatre of conflict.  De Niro plays the lead character Michael 'Mike' Vronsky, a somewhat enigmatic figure who is part of the group dynamic, yet also distinctly set apart from it.  A superb supporting cast includes Meryl Streep, John Cazale (who died from lung cancer shortly after principal photography), John Savage and Christopher Walken.  A film of three distinct acts, The Deer Hunter opens with a lengthy wedding sequence and hunting escapade (the camaraderie of the group and community spirit of the small Pennsylvanian town emphasised by director Cimino) and is followed by the grueling scenes which take place in Vietnam.  The Russian roulette segment probably remains the film's most indelible (and certainly controversial one), but I would also draw your attention to some of The Deer Hunter's quieter and more understated moments including De Niro's allowing the deer to go free on his first hunting trip after the war and Walken's emotional breakdown in the military hospital in Saigon.  It was little surprise to anyone that Walken won the Best Supporting Actor Oscar at the Academy Awards that year and The Deer Hunter also triumphed in the categories of Best Picture, Best Director, Best Film Editing and Best Sound Mixing.  Nominated again for Best Actor, De Niro lost out on this occasion to Jon Voight who, himself, played a paraplegic Vietnam veteran in Hal Ashby's Coming Home.  As part of his preparation for the role, the typically-meticulous actor socialised with real-life steelworkers in local bars and in their domestic settings.  Memorable moments of dialogue include the 'This is this' exchange between De Niro and John Cazale.  The use of God Bless America in the very final scene still raises questions as to the film's view of the patriotic spirit underpinning this.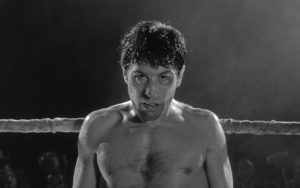 Raging Bull (Martin Scorsese 1980)
De Niro won the sole Academy Award for Best Actor of his career to date for this one and there are many compelling reasons to argue that this may well be the greatest screen performance of all time.  The actor is simply hypnotic and intensity personified in the central role of middleweight boxer Jake LaMotta, a man who has more than his fair share of demons outside the ring.  De Niro himself was instrumental in the inception of this project – having read LaMotta's warts and all autobiography Raging Bull: My Story – and prevailed upon his friend and frequent director Martin Scorsese to helm this dark sports biography.  For the fight scenes in the film, De Niro was in the peak of physical fitness and, in typical form, approached his craft with a methodical bent of mind.  This sort of commitment on the actor's part was taken to an even higher (and almost extreme level) for the film's later scenes as he portrays the retired boxer; De Niro embarked upon an eating binge in Northern Italy and France in order to gain some seventy pounds and the resulting transformation is one of the most striking in all of cinema.  Memorable scenes include LaMotta allowing himself to be pummeled by Sugar Ray Robinson in a seeming act of contrition regarding his estranged brother Joey (Joe Pesci) – 'You never got me down Ray.  You never got me down man.' – and the jail cell head-banging scene in which an overweight and pitiable LaMotta cries following his incarceration – 'I'm not an animal.'  Joe Pesci and Cathy Moriarty excel in their supporting roles and the film provided both De Niro and Scorsese with high points in their respective roles.  Rightly regarded as one of the greatest films of all time, Raging Bull also tops the American Film Institute's list of greatest sports movies.  It's an uncompromising and unputdownable piece featuring the actor in his best performance and the Oscar he won for it was more than deserved.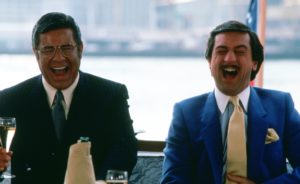 The King of Comedy (Martin Scorsese 1982)
Essential viewing for fans of De Niro and Scorsese, this one may not have been widely acclaimed on its initial release, but it now deservedly ranks high in their canon.  A superbly in-form De Niro plays Rupert Pupkin, an aspiring stand-up comedian who has delusions of fame and fortune.  The chief object of his fantasy world is one Jerry Langford (Jerry Lewis), a popular talk show host with whom Rupert imagines he has a personal and professional bond.  Both Langford and his staff are understandably uneasy as Pupkin hangs out at their office expecting a meeting, and the celebrity becomes all the more irked when the wannabe star shows up uninvited at his country house.  Aided by the similarly obsessed Masha (Sandra Bernhard), Rupert settles upon an extreme course of action and kidnaps Langford.  In exchange for the safe return of the television personality, the persistent Pupkin requests that he be given his fifteen minutes of fame – a slot for his own comic routine on that evening's show hosted by Tony Randall.  The themes of celebrity worship and the power of media culture are explored in this wonderful satire which is bolstered by the performances of De Niro, Lewis and Bernhard.  Watch out in particular for the aforementioned country house scene in which the irate Langford tells Pupkin in no uncertain terms to leave his property and desist from further such acts of feigned solidarity.  In order to elicit a suitably enraged response from his co-star Lewis, De Niro apparently hurled a plethora of anti-Semitic remarks his way.  The tactic worked a treat and the scene remains one of the film's most memorable moments.  The director's mother – Catherine Scorsese – provides the voice of Rupert's unseen mother.  Scorsese himself cameos also playing – appropriately – the part of a director on the Jerry Langford Show.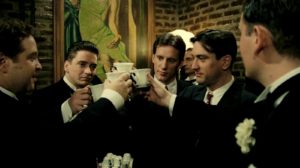 Once Upon a Time in America (Sergio Leone 1984)
De Niro plays David 'Noodles' Aaronson in Sergio Leone's sprawling epic crime drama which first premiered at the Cannes Film Festival in 1984.  Considered a box office flop at the time – and the subject of a drastic 139-minute cut to accommodate its American wide release – Once Upon a Time in America is now rightly regarded as one of the very best of the gangster genre.  But be warned that it takes time and is almost quite ponderous in its approach.  The restored version (which first screened at the 2012 Cannes Film Festival) is some 250 minutes in length, but benefits greatly from a lucid story-line which – when all is said and done – effectively focuses on the relationship between De Niro's 'Noodles' and James Woods' Max Bercovicz as they grow up together and rise to prominence in New York City's underworld.  Based on the novel The Hoods by Harry Grey, this is a story which encompasses several themes including friendship, betrayal, corruption and the inexorable rise of organised crime in modern-day America.  De Niro and Woods are excellent in the central roles and a terrific supporting cast includes Jennifer Connelly, Elizabeth McGovern, Burt Young, Joe Pesci and Danny Aiello.  Leone pulls no punches with the level of violence he presents us with and the film was controversial for two rape scenes.  His regular music collaborator Ennio Morricone provides a typically scintillating score.  Tonino Delli Colli's cinematography meantime is characteristically peerless and captures the ambience of the various eras in which the film is set.  The final image – in which an opium-high Noodles smiles broadly in a close-up – has been the subject of some speculation.  On a personal level, I'm not quite certain what the implication of this parting shot is, but I don't buy into the theory offered by some that much of the preceding narrative is nothing more than a drug-induced dream.  Sadly, this was Leone's final feature film – the great Italian film director died of a heart attack in 1989; however, marvel at the artistic ambition and expanse of this one, his only screen collaboration with Robert De Niro.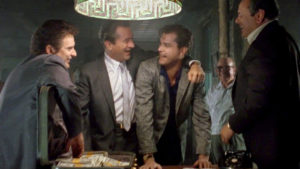 Goodfellas (Martin Scorsese 1990)
De Niro plays James 'Jimmy the Gent' Conway in this screen adaptation of the 1986 non-fiction book Wiseguy by author Nicholas Pileggi (who also collaborated on the script with director Scorsese).  Chronicling the life and illegal escapades of mob associate Henry Hill (Ray Liotta) over a 25-year period, Goodfellas is quite simply one of the very best of the gangster/crime genre and represents career highs for the likes of Liotta, Lorraine Bracco and, of course, Joe Pesci who won an Academy Award for Best Supporting Actor for his highly memorable turn as the volatile Tommy DeVito ('Funny how?').  De Niro is effectively a supporting player in all of this, but the Oscar-winning actor constantly reminds us of how perfect he is in such a genre and working for the sixth time with Scorsese.  One of my own personal favourite scenes from the film involves him berating several members of the Lufthansa heist for purchasing expensive items in the wake of the crime.  Other standout moments include the Billy Batts murder scene, the aforementioned 'Funny how?' exchange between Liotta and Pesci and the lengthy tracking shot which takes place outside and leads into the Copacabana Nightclub.  In typical form, De Niro approached his work with consummate dedication by consulting extensively with author Pileggi and often calling the real-life Henry Hill in order to gain greater insight into his own character.  No great surprise that this 1990 classic is ranked by the American Film Institute as the second-best gangster film of all time, just one place behind 1972's The Godfather.  This is movie-making of the highest order and the impeccable cast – which includes De Niro and the aforementioned actors (including Frank Vincent and Paul Sorvino) – coupled with the masterly direction of Scorsese, and rapid-fire editing of Thelma Schoonmaker, deliver a crime entertainment for the ages.  'As far back as I can remember I always wanted to be a gangster.'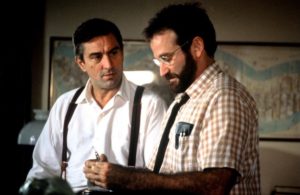 Awakenings (Penny Marshall 1990)
Based on Oliver Sacks's 1973 memoir of the same name, this 1990 drama directed by Penny Marshall (Big, A League of Their Own) is perhaps a tad on the sentimental side, but benefits nonetheless from some terrific central performances and a well-observed script by Stephen Zaillian (Schindler's List).  In an Academy Award nominated performance for Best Actor, De Niro plays Leonard Lowe, a fully grown man who has spent much of his life in a catatonic state in a New York City hospital.  The arrival of one Dr. Malcolm Sayer (Robin Williams) offers Leonard and others like him much hope as Sayer begins a trial run of a drug named L-Dopa at the hospital.  The drug has dramatic effects and pulls Leonard and others like him out of their catatonic state (hence the Awakenings of the title) and Sayer is cautiously praised by his colleagues.  Much of the resulting drama in the film concerns itself with Leonard's attempts to re-connect with reality and loved ones and a world that has changed quite substantively since he succumbed to his condition.  There is a romantic angle in the story provided by Penelope Ann Miller and a fine supporting cast includes Julie Kavner, John Heard and Max von Sydow.  If you haven't seen Awakenings, you won't be surprised to learn that the latter third of the film sees the effects of the previously successful drug begin to wear off and the patients – including Leonard – returning to their previous physical situation.  De Niro's performance is excellent in these scenes as he plays a man all too aware of the affliction which is catching up on him once again.  With regard to the way in which he captured the physical tics and spasms which were returning to plague his character, author Oliver Sacks commented, 'I think in an uncanny way, De Niro did somehow feel his way into being Parkinsonian.  So much so that sometimes when we were having dinner afterwards I would see his foot curl or he would be leaning to one side, as if he couldn't seem to get out of it.'  De Niro won the Best Actor Award at the New York Film Critics Circle Awards.  Awakenings was also nominated for Best Picture and Best Adapted Screenplay at the 63rd Academy Awards.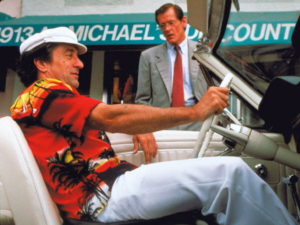 Cape Fear (Martin Scorsese 1991)
The seventh of eight collaborations to date with director Martin Scorsese has De Niro back on more familiar ground and one suspects that the actor had quite a bit of fun with this.  He plays Max Cady, a once illiterate and convicted rapist who – upon his release following 14 years incarceration – is intent upon exacting revenge upon his defense lawyer Sam Bowden (Nick Nolte) whom he has discovered withheld crucial evidence which might have led to his release.  A remake of the 1962 film of the same name, Cape Fear provided Scorsese with an opportunity to venture into the realms of the psychological-thriller genre and the director more than tips his hat to the likes of Alfred Hitchcock in this respect.  Cameo appearances by original Cape Fear stars Robert Mitchum, Gregory Peck and Martin Balsam serve well in this regard, as does the employment of the original score by Bernard Herrmann.  De Niro is in fine and somewhat over-the-top form as the compulsively-driven Cady (he was nominated for Best Actor at the 64th Academy Awards, but lost out to Anthony Hopkins in The Silence of the Lambs) and he's well supported by Nolte, Jessica Lange and the young Juliette Lewis (who received an Oscar nomination for Best Supporting Actress).  Although not De Niro and Scorsese's greatest film together by any stretch of the imagination, this one nevertheless delivers in terms of entertainment and stylish suspense.  The climactic storm sequence no doubt helped the film to become a box office success.  You also just have to love The Simpsons 1993 parody of the film which was appropriately titled Cape Feare.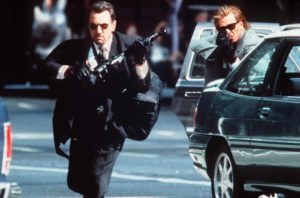 Heat (Michael Mann 1995)
A superb crime film of near-epic proportions, this one sees De Niro play Neil McCauley, a career criminal who runs a dedicated and tight crew, but who has definite aspirations of retiring to a quieter, more family-oriented life.  The Heat of the film's title refers to the police force personified by Al Pacino's Lieutenant Vincent Hanna and much was made of the fact that the two heavyweight actors shared screen time together for the first time in their respective careers (De Niro and Pacino had starred of course in The Godfather Part II, but did not appear in the same timeline of the narrative for obvious reasons).  An excellent face-to-face diner scene between the two men – professional thief and law enforcement agent – is one of the most memorable scenes in Michael Mann's 170-minute long film, but there are other superb sequences including the climactic gun battle which takes place in Downtown L.A.  A certain poignancy informs the final moments of the film which are set at LAX ('Told you I'm never going back') and the two stars are on top form generally, ably supported by a cast which includes Val Kilmer, Jon Voight and Tom Sizemore.  Written and directed by Mann (and based on his previous 1989 television film L.A. Takedown), Heat opened in mid-December 1995 to critical acclaim and box office success.  Much praise was reserved for Mann's astute direction and script and the performance of the two leading men.  It was truly wonderful to see De Niro and Pacino up on the big screen as they faced off whilst expressing mutual admiration; the only real pity was that they didn't make more films together.  Nonetheless we shall take this one and express our gratitude to Mr. Mann.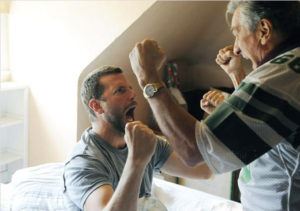 Silver Linings Playbook (David O. Russell 2012)
De Niro has a supporting role in this one in which he plays the father of Pat Solitano Jr. (Bradley Cooper), a man who suffers from bi-polar disorder and who moves back in with his parents following his release from a psychiatric hospital.  Adapted from the novel by Matthew Quick, Silver Linings Playbook deservedly garnered praise for its cast and the deft direction of David O. Russell, striking as it did a balance between humour and compassion as regards its sensitive subject matter (namely mental illness).  One of the central pivots of the film is the gradual reconciliation between father and son, as played by De Niro and Cooper; the older man has aspirations to open his own restaurant and has resorted to illegal bookmaking in the hope of furthering his ambition and is also betting heavily on the Philadelphia Eagles – his eventual all-or-nothing bet is tied into the dance competition which involves his recovering son and new on-off love interest Tiffany (Jennifer Lawrence).  Silver Linings Playbook received a total of eight Oscar nominations at the 85th Academy Awards (Lawrence won for Best Actress) and became the first film since 1981's Reds to be nominated in all four acting categories.  De Niro was nominated for Best Supporting Actor, but lost out to Django Unchained's Christoph Waltz.  The following year De Niro appeared in Russell's American Hustle (which also featured Cooper and Lawrence) playing a Mafia boss by the name of Victor Tellegio.  Although it was a lesser role in terms of screen time, the actor nonetheless made his inimitable presence felt in characteristic fashion.