Happy 80th Birthday Anthony Hopkins – 10 Of His Best Films
The great Welsh actor Anthony Hopkins turns 80 on the 31st December, 2017 and we look back fondly on his career to date with a selection of ten of his best films.  Considered by many to be one of the most talented living actors, Hopkins is well known for his performances in period pieces such as The Remains of the Day and Howard's End, as well as his Oscar-winning performance in 1991's The Silence of the Lambs.  Check out the films referenced below as we pay tribute to Sir Anthony on his 80th birthday and recall some of his great screen contributions.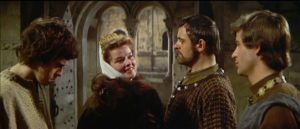 The Lion in Winter (Anthony Harvey 1968)
Based on the 1966 play of the same name by James Goldman (who also adapted his own work here), this was Hopkins's first major screen role and he took his opportunity with great aplomb playing the future Richard I of England, better known to many as Richard the Lionheart.  Set during a fictional Christmas court at Chinon, France in 1183, the matter of political intrigue is to the forefront as the reigning King Henry II (Peter O'Toole) contemplates a successor whilst engaging in a tactical battle with his estranged and imprisoned wife Eleanor of Aquitaine (Katherine Hepburn) and the young King Philip II of France (Timothy Dalton).  Playing the couple's oldest surviving son (whom Eleanor favours for the throne), Hopkins is suitably surly as Richard and he garnered a BAFTA nomination for Best Supporting Actor for his performance.  The other two brothers being considered for the throne are played by John Castle (as Geoffrey II, Duke of Brittany) and Nigel Terry (as John, King of England from 1199 to 1216).  Devious machinations and counter-plots are the order of the day here, but The Lion in Winter is also informed by a subtle steak of humour and some terrific turns by its cast.  Shot at Ardmore Studios in Bray and on location in Ireland, Wales and France, the 1968 historical-drama received rave reviews on its release and won Oscars for Goldman (Best Adapted Screenplay), John Barry (Best Music Score) and Hepburn (who tied Best Actress with Barbra Streisand for Funny Girl).  The film itself and O'Toole were also respectively nominated in the Best Picture and Best Actor categories.  From a professional point of view, The Lion in Winter represented a major breakthrough for Hopkins and – though continuing his work in theatre – he gravitated towards film on an increased basis.  A 2003 television remake (starring Patrick Stewart and Glenn Close) saw fellow Welsh actor Andrew Howard take on the role of Richard the Lionheart.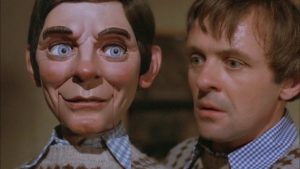 Magic (Richard Attenborough 1978)
Actor-director Richard Attenborough once described Hopkins as, 'unquestionably the greatest actor of his generation,' and this 1978 psychological-horror was their third collaboration together (following on from 1972's Young Winston and 1977's A Bridge Too Far).  Hopkins plays Charles 'Corky' Withers, a rather withdrawn and affected magician whose humdrum career gets a much-needed shot in the arm when he adds a foul-mouthed ventriloquist dummy to his act.  Known simply as Fats, the said dummy soon comes to represent Corky's id (his instinctive impulses and uninhibited thoughts) and matters take a distinctly dramatic turn as the latter flees to the Catskill Mountains on the premise that he is afraid of success.  Becoming romantically involved with an old high-school crush (played by Ann-Margret), Corky soon comes under increased personal and professional pressure as his veteran agent Ben Greene (Burgess Meredith) turns up and deduces his inner turmoil.  Murder – as you might guess – ensues and questions abound as to its true perpetrator.  Is the act solely the responsibility of Fats's part of Corky's mind?  Is the conflicted magician so far gone that he cannot distinguish his own part in this heinous act?  And will Fats strike again as his inherent jealousy begins to ominously fix on Ann-Margret's character?  Adapted by William Goldman from his 1976 novel of the same name, Magic is a suitably eerie tale of inner turmoil and deep-seated instability which features a bravura turn by Hopkins.  The rising actor effectively plays two parts here – the sensitive and vulnerable Corky and the toxic-minded and constantly-berating Fats; all in all, it's a terrific dual performance which received deserved praise and earned him Golden Globe and BAFTA nominations for his work.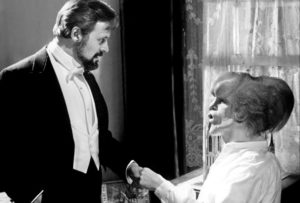 The Elephant Man (David Lynch 1980)
Hopkins plays London Hospital surgeon Frederick Treves, a skilled and compassionate doctor who takes an especial interest in one John Merrick (John Hurt), a severely deformed young man who has been dubbed The Elephant Man owing to the nature of his hideous appearance.  Suffering from a rare congenital disorder, Merrick has been forced to earn a living in a Victorian freak show in London's East End under the brutish custodianship of a Mr. Bytes (Freddie Jones).  Seeking out the grievously afflicted man on the basis of medical curiosity, Treves soon learns of Merrick's intelligence and benevolent disposition and the cruel treatment meted out to him by Bytes.  Based on the true story of Joseph Merrick, and directed by David Lynch, The Elephant Man is a beautifully weighted story with themes of depravity, tolerance and eventual redemption informing its narrative.  Notable contributions on the technical side of things include the atmospheric cinematography of Freddie Francis and a haunting score by John Morris.  The supporting cast includes the aforementioned Jones, Wendy Hiller, John Gielgud, Hannah Gordon and Anne Bancroft (who, incidentally, was married to the film's producer Mel Brooks).  More closely associated with broad film farces and comedic parodies, such as Blazing Saddles and Young Frankenstein, Brooks chose to remain uncredited believing that the film might be mistaken for a comedy.  The Elephant Man is certainly anything but a comedy and its deserved critical standing to this day can be largely attributed to the work of Lynch behind the camera and the central performances of Hurt and Hopkins.  Hurt received an Oscar nomination for Best Actor and it is indeed his work here which lingers long in the memory; however, Hopkins also merited much praise for his role.  Scenes which are particularly affecting in this regard include his first viewing of The Elephant Man (as tears trickle down his face) and a later meditation as he considers how he may himself have turned Merrick into an attraction all over again ('Am I a good man?  Or a bad man?').  Nominated for a total of eight Academy Awards (including Best Picture and Best Director), The Elephant Man won none, but led indirectly to the establishment of Best Makeup as a competitive category at the Oscars.  In its introductory year (at the 54th ceremony), this was won by An American Werewolf in London.  The film's most indelible line – 'I am not an animal!  I am a human being' – remains intensely poignant to this very day.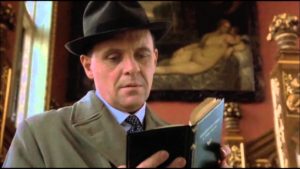 84 Charing Cross Road (David Jones 1987)
This one may not spring to mind for many, but for me it's an utterly charming drama which chronicles the long-distance relationship between a candid American writer and a more restrained London bookseller.  Anne Bancroft plays Helene Hanff, a New York-based writer in search of obscure titles and first-edition classics.  When she comes upon an ad in the Saturday Review of Literature by antiquarian booksellers Marks & Co. – located at the titular London address – Hanff soon enters into regular transactions and correspondence with its employees.  Chief amongst these is Frank Doel (Hopkins), a dedicated professional who comes to tolerate Hanff's whims and occasionally mild broadsides.  The David Jones-directed film is based on a play by James Roose-Evans which, itself, was a stage adaptation of the 1970 book 84, Charing Cross Road by Hanff.  Doel and Hanff's transatlantic communications began in 1949 and ended in 1968 with his untimely death; the two never actually met and Hanff only made it to London in the summer of 1971, by which time the bookshop had sadly closed.  True to the actual facts of the story, Hopkins and Bancroft never appear on screen together, but their peerless performances capture the wit and noble-minded qualities of their respective characters.  Produced again by Mel Brooks, and written by Hugh Whitemore, 84 Charing Cross Road has some great touches of humour and more than a few observations to make on the subject of cultural difference.  Hanff's large-hearted nature is perfectly captured as – cognisant of on-going food shortages in the aftermath of the war – we see her send food packages to the ordinary staff members of Marks & Co.  Hopkins, for his part, is perfectly cast as the meticulous and attentive Doel.  Judi Dench features in a supporting role as his quietly-spoken wife Nora.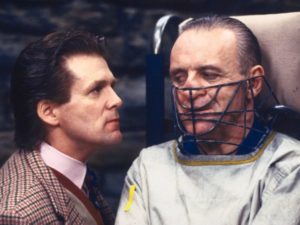 The Silence of the Lambs (Jonathan Demme 1991)
Hopkins portrayed Dr. Hannibal Lecter for the first time in director Jonathan Demme's big screen adaptation from the 1988 novel of the same name by Thomas Harris.  A forensic psychiatrist of no small talent and a cannibalistic serial killer, the incarcerated Lecter is approached by an FBI trainee Clarice Starling (Jodie Foster) in the hope that his unique insight may assist the powers-that-be in their pursuit of a serial killer nicknamed Buffalo Bill.  Seeing through the design of Starling's assignment and dismissive of this initially ('A census taker once tried to test me.  I ate his liver with some fava beans and a nice Chianti'), Lecter soon warms to the young woman whose integrity and forthrightness he perceives.  The fourth highest grossing film of 1991, The Silence of the Lambs drew rave reviews as its reputation grew and was especially lauded for the central performances of Foster and Hopkins.  Truth be told, the Welsh actor does not spend a great deal of time onscreen compared to his co-star, but the interactions which occur between them are what make this film so memorable over a quarter of a century later – the aforementioned first encounter and the quid pro quo are especially resonant in this regard.  A finely balanced act of mannered politeness and callous eeriness, Hopkins's Lecter is one of the great screen villains and it should come as no great surprise that he tops the American Film Institute's list in this latter respect.  The Silence of the Lambs is also noteworthy as the only horror film to date to win the Best Picture gong at the Academy Awards; it remains one of only three films to win the Big Five at the Oscars.  In his own acceptance speech, the actor paid tribute to his father who had passed away 11 years before on that very same date.  He received a standing ovation which was more than deserved and, subsequently, went on to reprise the role in a 2001 sequel Hannibal and also in a 2002 prequel Red Dragon based on the 1981 novel of the same name by Harris.  The character – whom he has referred to as 'the Robin Hood of Killers' – is still his most famous part.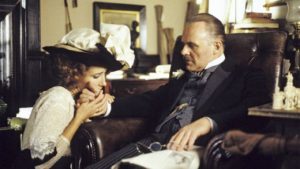 Howard's End (James Ivory 1992)
Hopkins plays Henry Wilcox, the somewhat unsentimental head of a wealthy family whose ailing wife Ruth (Vanessa Redgrave) befriends a woman by the name of Margaret Schlegel (Emma Thompson).  The friendship between the two ladies is of no great consequence to Henry or his family, but Ruth's decision to bequeath her beloved Howard's End to Margaret causes much dismay and leads to a decision by the Wilcoxes to ignore her final wish.  Matters take a further dramatic turn as Henry develops an attraction to Margaret (who was oblivious to Ruth's instruction) and proposes marriage.  Helena Bonham Carter plays Margaret's strong-willed younger sister Helen.  Based on the 1910 E.M. Forster novel of the same name, Howard's End is a fine study of class relations and how these impinge upon personal relationships in turn-of-the-century England.  The impeccable production values we associate with a Merchant-Ivory film are on full display here, as is a peerless cast which includes the aforementioned Hopkins, Redgrave, Bonham Carter and Thompson (who won an Oscar for Best Actress for her performance).  A four-part miniseries starring Hayley Atwell and Matthew Macfadyen is also based on the original source material and has been adapted by Academy Award winner Kenneth Lonergan (Manchester by the Sea).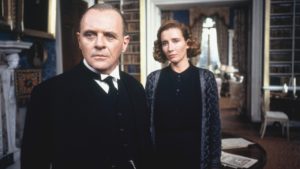 The Remains of the Day (James Ivory 1993)
Based on the 1989 novel of the same name by Kazuo Ishiguro, this is my own personal favourite of the Merchant Ivory productions.  Hopkins plays Stevens, a butler who has invested most of his working life in the service to the great detriment of his personal existence.  One of the sole employees still remaining in Darlington Hall, an ageing Stevens hopes to rectify some of his past mistakes by way of an excursion to the West Country where Miss Kenton (Emma Thompson), a former co-worker, now resides.  Through extended flashbacks, we learn much about their previous relationship and an unmistakable latent passion which Stevens refused to openly acknowledge.  Directed with consummate skill by James Ivory, The Remains of the Day has much to say about class divisions and the dangers of stiff-upper-lip service and unquestioning loyalty.  A superb supporting cast includes Hugh Grant, Peter Vaughan, Christopher Reeve and Edward Fox as the somewhat tragic and misguided Lord Darlington.  The production values and period feel are precisely what one would expect from the makers of films such as A Room With A View and the previously mentioned Howard's End.  In a performance context however this is Hopkins and Thompson's film first and foremost and both were nominated for Oscars in their respective categories.  Memorable scenes and exchanges between the two include the Chinaman and book scene ('It's just a sentimental old love story').  The farewell scene – which takes place on a rainy night at a bus shelter – is surely one of the most heartbreaking in all of cinema.  One of the best films of the 1990s and included in this reviewer's personal 100 favourite films of all time.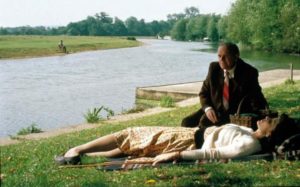 Shadowlands (Richard Attenborough 1993)
1993 was most definitely a pivotal year in Hopkins's career generally as he starred in this first-rate biographical drama opposite Debra Winger and under the helmsmanship, once again, of Richard Attenborough.  Hopkins plays The Chronicles of Narnia author C.S. Lewis who, in the middle age of his life, struck up a friendship with the American poet and writer Joy Davidman (Winger).  A marriage of convenience follows, but eventually blossoms into genuine passion as Davidman is diagnosed with cancer.  Based on William Nicholson's 1985 television film and 1989 stage play of the same name, Shadowlands is an intensely moving piece concerning two people who find love in the most unexpected of ways and in the context of a deeply traumatic circumstance.  In the lead roles Hopkins and Winger excel respectively as the reserved Lewis and the candid Davidman.  Winger received an Academy Award nomination for Best Actress for her efforts; Hopkins won the BAFTA Award for Best Actor in a Leading Role (beating himself in The Remains of the Day in the process).  The penultimate scene in which he grieves the loss of Davidman with her son Douglas (Joseph Mazzello) is one which even the hardest of hearts would surely find difficult to resist.  A fine supporting cast includes the likes of Edward Hardwicke and Downton Abbey creator Julian Fellowes.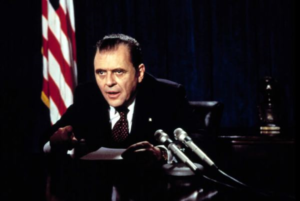 Nixon (Oliver Stone 1995)
The political and personal life of Richard Nixon, the only US President to date to resign from office, is examined in this biographical drama courtesy of writer-director Oliver Stone.  Hopkins plays the titular character in a typically fine performance and, as preparation for the role, spent a good deal of time watching documentary footage on the real-life character himself (he even played it as he slept in order to better immerse himself).  The actor subsequently received an Academy Award nomination for Best Actor for his immensely studied and complex interpretation of the troubled president.  The supporting cast includes Joan Allen (as Pat Nixon), Bob Hoskins (as J. Edgar Hoover), Ed Harris (as Howard Hunt), Paul Sorvino (as Henry Kissinger) and James Woods (as H.R. Haldeman).  Never one to be shy of controversy and attendant debate, Stone responded to some of the criticism the film received upon release countering with the argument that it was an attempt to gain a 'fuller understanding of the life and career of Richard Nixon – the good and the bad, the triumphs and the tragedies, and the legacy he left his nation and the world.'  Much of the film's success as a political and biographical piece is down to Hopkins's excellent central performance.  We get to say that quite often about the actor whatever the genre of the film or the specific era essayed.  In all such cases, such praise is, indeed, well deserved.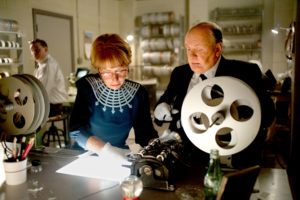 Hitchcock (Sacha Gervasi 2012)
Hopkins plays the famous English director and producer in this biographical film based on Stephen Rebello's non-fiction book titled Alfred Hitchcock and the Making of Psycho.  Considered by many to be one of his greatest achievements, Psycho was the occasion for much experimentation by the filmmaker and the meticulous attention to detail which he brought to bear is evident in Hopkins's studied performance.  Of great import also is the examination of his personal and professional relationship with his wife Alma Reville with whom he collaborated on many films.  Hopkins is well matched here with Helen Mirren who plays Alma and a fine supporting cast includes Danny Huston, Toni Collette, Michael Stuhlbarg, Jessica Biel and Scarlett Johansson as Janet Leigh.  The performances of Hopkins and Mirren are the standout features of this film, but there are also some very witty and astute touches by director Sacha Gervasi which include a visual allusion to Hitchcock's next film – we're left in little doubt as to the title of this as a raven playfully lands on Hopkins's shoulder.  The Welsh actor never got to work with the Vertigo and Psycho director during their respective careers, but I suspect the master of suspense would have generally approved of his performance.  The Oscar winner perfectly captures the gait and disposition of the director as he listens to the audience's reaction to the infamous shower sequence during the film's premiere.  His ability to naturally step into the shoes of the character he is portraying is, as always, one of his strongest suits as an actor.