Happy 80th Birthday Ridley Scott – 10 Of His Best Films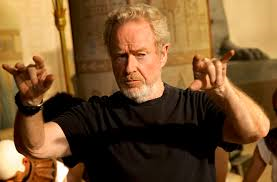 Ridley Scott celebrates his 80th birthday on the 30th November, 2017 and we look back on the career of the English director and producer who has made some memorable feature films over the years, including Alien, Blade Runner, Thelma & Louise, Gladiator and The Martian.  Scott began his work behind the camera in the highly demanding field of advertising before making his feature film debut with 1977's The Duellists, a historical drama starring Harvey Keitel and Keith Carradine.  His second feature – 1979's Alien – provided him with a breakout hit which garnered significant critical acclaim and launched the Alien franchise generally.  Winner of the Academy Award for Best Visual Effects, Alien established the distinctive visual style of the director which is most notable in his forays into the science fiction genre.  Now regarded as a classic, it was followed by the even more remarkable Blade Runner in 1982 starring Harrison Ford.  More about that particular masterpiece below.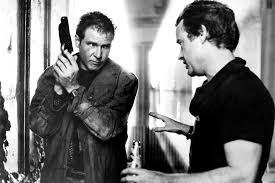 Popular themes which run through the work of Ridley Scott include the general reduction of the individual and the pervading debasement of humanity in the face of the industrial or corporate machine.  This is evident in Alien, for example, as the human crew are designated expendable in the name of so-called scientific advancement.  In Blade Runner, the all-encompassing and extremely bleak cityscape is depicted as an overarching force which is surely to the detriment of mankind.  This is a society which appears uncaring; an interminable pall of darkness hangs over the Los Angeles of the future; pollution is everywhere and the streets are dank and inhospitable.  One of Scott's most critically acclaimed films – 1991's Thelma & Louise – embraces the wide vistas of western America on the other hand.  The titular characters, who are on the run from the law, may literally run out of road at the film's conclusion, but have attained a higher purpose in the interim.  Along with films such as this and the aforementioned Alien, Scott has been praised for the strong female characters that feature in his cinematic work.  Thelma and Louise gained him the first of his three Academy Award nominations for Best Director.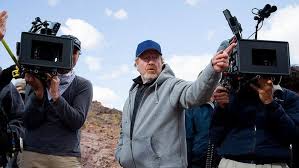 Scott is strongly associated with science fiction generally by way of his three Alien films, Blade Runner and 2015's The Martian, but it is also notable how he has more than dabbled in the area of period pieces and historical epics.  2000's Gladiator – which won the Oscar for Best Picture – is certainly such a case in point; the same can also be said of 1992's 1492: Conquest of Paradise, 2005's Kingdom of Heaven, 2010's Robin Hood and 2014's Exodus: Gods and Kings.  Works in other quite diverse genres include 2001's Hannibal and the war film Black Hawk Down of the same year.  In more recent years, the director has concentrated more of his energies in the realm of science fiction once again with 2012's Prometheus, 2015's The Martian and 2017's Alien: Covenant.  The upcoming All the Money in the World, in contrast to these, is a biographical crime drama which focuses on the kidnapping of John Paul Getty III in 1973.  I've endeavoured to select my 10 favourite Ridley Scott films below as a tribute to the director as he reaches this significant milestone in his life.  See if you agree with my choices, or perhaps come up with your own personal selection.  Happy 80th birthday Ridley and thanks for some truly memorable movies over the last four decades.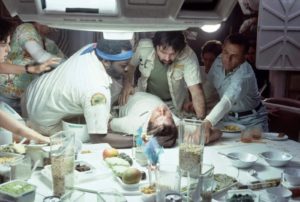 Alien (Ridley Scott 1979)
Scott was not the original first-choice director for this science-fiction horror classic, but producers Walter Hill, Gordon Carroll and David Giler were sufficiently impressed by his feature debut The Duellists (1977) to offer him the job.  Employing his typically meticulous approach, Scott created detailed storyboards which met with the approval of 20th Century Fox and encouraged the powers-that-be at the studio to double the film's production budget.  Originally pitched by writers Dan O'Bannon and Ronald Shusett as 'Jaws in space', the story of a deadly extraterrestrial creatures which plagues the crew of a spaceship greatly appealed to Scott who wished to place a marked emphasis on the horror aspect of the tale.  Describing it as 'The Texas Chain Saw Massacre of science fiction,' Scott was heavily involved in the casting of the film and he and his casting directors assembled an exemplary group of actors in this regard.  Sigourney Weaver – then a relative unknown – was cast in the pivotal role of Ellen Ripley and became an international star on the basis of this film and its three sequels between 1986 and 1997.  The infamous and much discussed chestburster scene involving John Hurt's unfortunate character has been hailed as one of the most iconic moments in cinema history, but is most certainly not one for the squeamish or easily upset.  The titular Alien itself was designed by Swiss artist H.R. Giger; Giger and his fellow artists and designers subsequently won the Academy Award for Best Visual Effects.  Promoted with the memorable tagline 'In space, no one can hear you scream', Alien has been rightly lauded as one of the very best of its genre seamlessly infusing, as it does, elements of shock horror and general science fiction.  Ranked as the seventh best science fiction film by the American Film Institute (just one place below Scott's own Blade Runner), Alien was a substantial success at the contemporary box office and demonstrated Scott's skills behind the camera in terms of visual storytelling, character development and employment of special effects.  The director's career moved up several notches and he would go on, of course, to make further significant forays into the science fiction genre, including 2012's Alien prequel Prometheus and its sequel Alien: Covenant in 2017.  A restoration and Director's Cut of the original film (which included some previously deleted scenes) was released in 2003.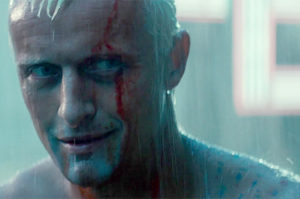 Blade Runner (Ridley Scott 1982)
Following the success of Alien, Scott was hired by producer Dino De Laurentiis to work on a film version of Frank Herbert's epic science fiction novel Dune.  Scott intended to split the lengthy book into two films, but, subsequently, dropped out after realising the enormity of the task and – more pertinently – following the death of his older brother Frank from cancer.  Themes of mortality and the meaning of existence abound in Blade Runner and, given this personal background (which Scott also references in the 2007 documentary Dangerous Days), it's little wonder that the director has since referred to it as his 'most complete and personal film.'  But it was not an easy shoot and Scott clashed frequently with lead actor Harrison Ford who was already well on his way to mega-stardom following his involvement in the first two Star Wars films and 1981's Raiders of the Lost Ark.  On-going tensions on the Los Angeles set between the English director and mostly American crew also led to the famous T-shirt war which Scott now jokingly reminisces upon in the aforementioned Dangerous Days.  Based on the 1968 novel Do Androids Dream of Electric Sheep? by Philip K. Dick, Blade Runner has a most definite noirish feel about it with respect to its world-weary protagonist (Deckard – Ford), its femme fatale (Rachael – Sean Young) and its general vision of a future Los Angeles (set in 2019), a dimly-lit and dystopian metropolis in which technology has apparently supplanted humanity as an omnipresent force.  A commercial disappointment in its day, the film quite rightly enjoys its exalted status in the science fiction genre and has been assessed and reappraised with regard to its complex thematic undertones.  One of these relates to the character of Deckard himself and poses the question as to his origins – is it possible that the special police operative who euphemistically 'retires' outlawed replicants on Earth is himself an artificial being?  The Final Cut of the film (released in 2007) and other alternative versions certainly suggest as much and the director has gone on the record stating his own personal opinion which inclines towards such an interpretation.  Rutger Hauer's unforgettable 'tears in the rain' speech still manages to raise goosebumps to this very day.  A critically-praised sequel – Blade Runner 2049, with Scott attached as executive producer – has finally seen the light of day as of October 2017.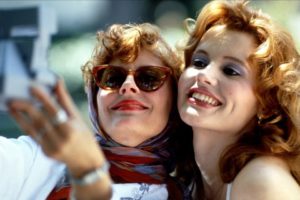 Thelma & Louise (Ridley Scott 1991)
A road movie involving two central female characters with strong feminist overtones did not seem a likely project for Scott, but the director embraced this cross-genre piece with typical gusto and visual flair.  Based on an original screenplay by Texas writer-director Callie Khouri, Thelma & Louise relates the story of Louise Sawyer (Susan Sarandon) and Thelma Dickinson (Geena Davis) two Arkansas ladies who set off on an entirely innocuous weekend vacation.  Both are seeking escape from their monotonous lives (Thelma trapped in a loveless marriage and Louise a lowly waitress) and matters take a distinctly dramatic twist when Louise guns down a sleazy roadhouse bar regular who is attempting to rape Thelma.  A desperate dash from the forces of law ensues bringing the two friends closer together as they discover a commonality of purpose and identity.  Beautifully photographed by Adrian Biddle in locations such as Moab, Utah and the Grand Canyon, Arizona, Thelma & Louise is served well by Scott's deft direction and the central performances of Sarandon and Davis – who were both nominated for the Academy Award for Best Actress in a Leading Role (they lost out to Jodie Foster in The Silence of the Lambs).  The supporting cast includes Harvey Keitel, Michael Madsen and Brad Pitt.  Scott received his first Oscar nomination for Best Director and the film has since been hailed as pivotal film in terms of its themes and overall empowerment of women (one prominent critic designating it a 'neo-feminist road movie').  The final scene – in which the titular characters decide in unison to drive to their deaths in the Grand Canyon – is surely one of the most indelible images of 1990s cinema.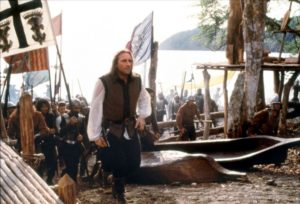 1492: Conquest of Paradise (Ridley Scott 1992)
Released by Paramount Pictures to celebrate the 500th anniversary of Christopher Columbus's famous voyage, 1492: Conquest of Paradise is far from being Scott's most critically praised film (nor did it perform well at the international box office for that matter), but it nevertheless has its merits and is deserving of some reappraisal.  Chronicling Columbus's pioneering spirit and innate desire to explore, the 1992 epic historical drama examines the politics and material interests which informed his voyage as he is funded by both the Queen of Castile, Isabella I (Sigourney Weaver) and Luis de Santangel (Frank Langella), finance minister to Ferdinand II of Aragon.  Gerard Depardieu portrays the Italian explorer and navigator with a fitting sense of gravity and purpose and the screenplay by Roselyne Bosch has more than a little to say about the subsequent colonisation of the New World and the subjugation of its indigenous people.  For some the highlight of 1492 in general is the original music by Greek composer Vangelis (who also scored Blade Runner), but – should you decide to watch this underrated film – then I would also direct your attention to the fine performances of Depardieu and the supporting cast, the superb cinematography by Adrian Biddle and Scott's typically controlled orchestration of all aspects of this ambitious epic.  Not to be confused with Christopher Columbus: The Discovery or Carry On Columbus, both of which were released the same year.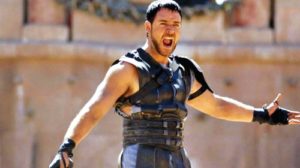 Gladiator (Ridley Scott 2000)
Scott received his second Best Director nomination for this epic historical film which is set in Ancient Rome during the latter half of the 2nd Century AD and involves a story of honour, betrayal, vengeance and fellowship.  A suitably pumped-up Russell Crowe plays Maximus Decimus Meridius, a Roman legatus whose family are slaughtered and who is sold into slavery after he refuses to pledge his loyalty to the new Emperor Commodus (Joaquin Phoenix) who has proven himself to be entirely treacherous with regard to the murder of his own father Marcus Aurelius (Richard Harris in one of his final roles).  Maximus is hell-bent on revenge and gratefully accepts the opportunity to fight in Rome's Colosseum when he is taken under the wing of a brusque but essentially decent gladiator trainer by the name of Antonius Proximo (Oliver Reed).  Revealing himself to Commodus after a successful battle in the arena, Maximus articulates his desire to right the wrong done to his family and the former Emperor who had wanted him to rule as his successor.  Political intrigue and mortal combat are effectively juxtaposed in the screenplay by David Franzoni, John Logan and William Nicholson and Gladiator bears more than a passing resemblance to 1964's The Fall of the Roman Empire which also featured Commodus (Christopher Plummer), Marcus Aurelius (Alec Guinness)and Livius (Stephen Boyd) who was effectively the Maximus character in the earlier film.  Scott acknowledged his debt to films such as 1959's Ben-Hur and 1960's Spartacus citing them as key influences which were 'part of my cinema-going youth.'  His interest in the project was piqued from an early time on account of his interest in filming the world of Ancient Rome; the superbly choreographed set-pieces and general challenge of the piece must surely also have appealed to his meticulous disposition.  And Gladiator was certainly no easy shoot by all account with Russell Crowe constantly complaining about the script, the intricacies of principal photography (in locations such as Morocco and Malta), the complex visual effects (which were laid in at post production stage) and the unexpected passing of Oliver Reed during filming.  The finished film – which is dedicated to Reed's memory – proved to be a box office success for Scott and went on to win five Oscars at the 73rd Academy Awards (Best Picture, Best Actor for Crowe, Best Sound, Best Costume Design and Best Visual Effects).  Scott lost out to Steven Soderbergh (Traffic) in the Best Director category, but, once again, the Englishman had shown how adept he was when working on a broad canvas with monumental themes and grand visuals.  The film is also quite rightly credited with beginning a revival of the historical epic genre by way of entertainments which followed such as Troy, Alexander, 300 and Scott's own Kingdom of Heaven.  The New York Times has termed this the 'Gladiator Effect.'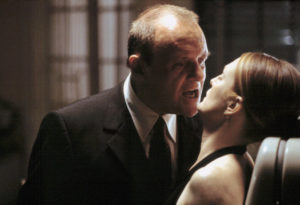 Hannibal (Ridley Scott 2001)
A sequel to the 1991 Oscar-winning The Silence of the Lambs was never going to be an easy task, but Scott took up the challenge with typical gusto and committed attention.  Based on the novel of the same name by Thomas Harris, the project was first proposed to Scott by veteran producer Dino De Laurentiis as he visited the former on the set of Gladiator.  Quickly reading the manuscript he was presented with, the director signed on willingly to follow in the footsteps of Michael Mann and Jonathan Demme.  Set ten years after the events of Silence, Hannibal's locations include Italy's Florence and Washington D.C's Union Station; the plot principally focuses on Lecter himself, Clarice Starling and a surviving victim of the doctor's named Mason Verger (Gary Oldman) who is intent on exacting revenge and using Starling to lure Lecter into his trap.  Refusing to reprise her Oscar-winning role, Jodie Foster was replaced by Julianne Moore with Anthony Hopkins – thankfully – returning as Hannibal.  Other notable cast members include the aforementioned Oldman, Ray Liotta and Giancarlo Giannini.  A box office success, Hannibal was met with generally tepid reviews, but to my mind it is not an altogether bad film.  Topping the standard of Silence was never going to be possible and critics may have had unrealistic expectations.  Cutting down on some of the novel's more extreme moments, the film nonetheless contains its fair share of violence including a graphic sequence in which Lecter feeds a victim part of his own prefrontal cortex.  Certainly not one for the squeamish despite Scott's suggestion that the underlying emotion of the piece is one of 'affection.'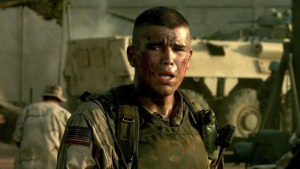 Black Hawk Down (Ridley Scott 2001)
Based on the 1999 non-fiction book of the same name by Mark Bowden, Black Hawk Down essays the events of an October 1993 raid in Mogadishu, Somalia by U.S. military personnel which was aimed at capturing faction leader Mohamed Farrah Aidid.  The ensuing and bloody firefight which subsequently became known as the Battle of Mogadishu achieved its mission objective of capturing certain Aidid lieutenants, but the fallout generally in its aftermath was quite sizable and led to an eventual U.S. withdrawal from the region.  Employing his technical prowess behind the camera as always, Scott presents us with a visceral portrait of war that is not pretty to look at in its close-up moments, but is undeniable in its overall design.  The ensemble cast includes notables such as Eric Bana, Sam Shepard, Tom Sizemore, Ewan McGregor and Josh Hartnett.  A modern-day reflection on conflict and carnage, Black Hawk Down does not pull its punches with regard to the brutality on display here and there is a distinct lack of sentiment and sermon; some viewers may even be disappointed by the decision of Scott and his scriptwriter Ken Nolan to focus on the overall effort of the engagement as opposed to the more personal and inward.  Nominated again for the Academy Award for Best Director (he lost to Ron Howard for A Beautiful Mind), Scott came up with the idea of having his characters wear helmets with their surnames blazoned across them; although historically inaccurate, the director sensibly reasoned that this device would help audiences identify them more readily.  A ferocious depiction of war which is most definitely not for the faint-hearted.  Winner of two Oscars for Best Sound and Best Film Editing.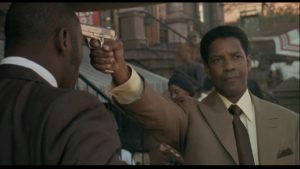 American Gangster (Ridley Scott 2007)
Scott added his own entry to the gangster-crime genre by way of this 2007 film fictionally based on the career of one Frank Lucas, a mobster who eked out a notorious reputation for himself in 1970s New York by cutting out the middle man and smuggling heroin into the country on American service planes.  Denzel Washington portrays Lucas and Scott regular Russell Crowe shares top billing with him as Richie Roberts, the Newark detective who sought to dismantle Lucas's empire.  An excellent supporting cast includes Josh Brolin, Chiwetel Ejiofor, Cuba Gooding Jr. and Ruby Dee.  Adapted from a New York magazine story called The Return of Superfly by Mark Jacobson, American Gangster is remarkable for its period feel and authentic settings and, with over 180 different locations employed during principal photography, set a record at the time for the highest number of filming locations.  Washington and Crowe are excellent in their respective roles, but a central problem which the plot threw up was the fact that their characters do not meet until very late in the film, a major issue it seemed when one considers the central premise of the story.  Expanding on their personal and private spheres, Scott counterpoints Lucas's and Roberts's worlds to great effect and emphasises how none of his characters are entirely pristine or without fault.  A tad overlong perhaps, and not quite in the same league as some of the iconic gangster films of the decade in question, American Gangster is nonetheless enjoyable and it certainly pulls no punches with respect to its depiction of the gritty world inhabited by many of it characters.  Supporting cast member Ruby Dee earned an Oscar nomination for playing Lucas's mother Mahalee.  Scott himself received deserved praise for his visual and narrative representation of a bygone era in New York City's crime history.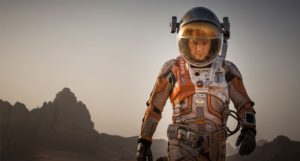 The Martian (Ridley Scott 2015)
Based on Andy Weir's 2011 novel of the same name, The Martian is without doubt one of Scott's most entertaining films in recent years with a marvellous central performance by leading man Matt Damon and a streak of self-referential humour that is not at variance with its subject matter.  Left for dead on the inhospitable surface of Mars (like a modern-day Robinson Crusoe), Mark Watney (Damon) calls upon all his skills as a botanist and manages to survive against the odds.  Far from home and loved ones, he determines upon a plan to return to Earth with the help of a functional rover, an out-of-use probe and the brainpower of NASA.  But is time on his side?  Will he manage to rendezvous with his crew mates who are returning to rescue him?  Scott's highest grossing film to date was the subject of much critical praise particularly for his robust direction, the playful script by Drew Goddard and the performance of the aforementioned Damon.  On a purely personal note, the director said that he was attracted to the project because of its emphasis on science and also because of his conviction that information could be balanced with entertainment.  The Martian certainly succeeds in this respect blending as it does many thought-provoking passages (and some touching meditations on isolation and loneliness) with a genuine warmth and, at times, breezy tone.  Winner of the Golden Globe for Best Motion Picture – Musical or Comedy, it was nominated for seven Academy Awards, including nods for Best Picture and Best Actor for Damon.  Scott himself missed out on a nomination for Best Director in one of the most glaring omissions of that year.  A stellar supporting cast includes the likes of Sean Bean, Chiwetel Ejiofor, Jeff Daniels, Kate Mara and Jessica Chastain.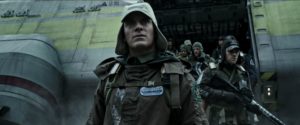 Alien: Covenant (Ridley Scott 2017)
The sixth installment in the Alien film series generally, this sequel to 2012's Prometheus was Scott's third such entry overall and continues his keen interest and association with the science fiction genre.  Intended to combine the horror and shock elements of the original Alien with the more philosophical line that was manifest in Prometheus, Alien: Covenant certainly delivers some high-octane action as well as advancing the backstory of the engineers and the pesky xenomorph aliens who have a willing benefactor in the form of Michael Fassbender's David.  The main returning cast member from Prometheus, Fassbender plays two synthetic androids in this film – the perfidious David and the unwavering Walter.  First-time actors to the franchise include Katherine Waterston, Billy Crudup and Danny McBride.  Described by The Guardian's Peter Bradshaw as, 'a greatest-hits compilation of the other Alien films freaky moments,' Alien: Covenant is, for me at least, a better-paced piece which – though not perfect – realises a satisfying balance of horror, action, visual aesthetic, peerless production design and, as always, Scott's steady hand at the helm.  It must, however, have come as a disappointment to the director that this one largely under-performed at the international box office (a $240 million return against its $97 million budget).  Scott himself has made no secret in recent years of his desire to produce (and one would assume direct) further sequels to Prometheus with an eventual lead in to the events of 1979's Alien.  On foot of Alien: Covenant's mediocre commercial performance, 20th Century Fox is said to be currently reassessing the future of the franchise.  Let's hope in earnest that this is not the last of these films and that Ridley gets to steer the ship at least one more time.  The veteran director, who has contributed so much to the science fiction genre as a whole, deserves no less.  Such a decision by the powers-that-be at the studio would certainly make for an appropriate and timely birthday present.