Happy 80th Birthday Warren Beatty – A Selection of His Best Films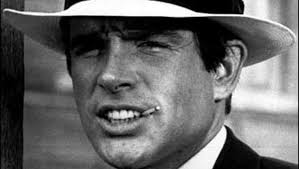 Actor, director, producer and screenwriter of some six decades of fame (and counting) Warren Beatty turns 80 on the 30th March, 2017 and we celebrate his life and career thus far by selecting 10 of his very best films.  Born in Richmond, Virginia in 1937 – the younger brother of actress Shirley MacLaine – Beatty began his career appearing in television shows in the late 1950s and graduated to the big screen by way of Elia Kazan's 1961 film Splendor in the Grass in which he appeared alongside Natalie Wood.  The 1960s provided the young man with a learning curve in his chosen trade as he appeared in seven more films that same decade playing opposite fellow thespians such as Vivien Leigh, Karl Malden, Peter Fonda, Leslie Caron and Gene Hackman.  Directors included the aforementioned Kazan, Arthur Hiller, Arthur Penn, Robert Rossen and John Frankenheimer.  Then in 1967 Beatty hit box office gold with Bonnie and Clyde, a biographical crime film about the real-life couple who gained a particular notoriety (and quasi-celebrity status) during the early 1930s as they robbed and killed their way through depression-hit America.  The film was a critical success garnering several Academy Award nominations and is regularly held up as the inception point of the new wave in American cinema.  The 1970s led to further acclaimed roles in significant pieces such as Robert Altman's McCabe and Mrs. Miller (1971), Alan J. Pakula's The Parallax View (1974) and Hal Ashby's Shampoo (1975) – a role the actor is often closely identified with.  Beatty moved into directing with 1978's Heaven Can Wait and – based on this latter film's considerable success – realised one of his long-in-gestation projects when he delivered Reds in 1981.  The historical epic concerning American Communist journalist John Reed won him the Best Director Oscar at the 54th Academy Awards whilst also winning in the Best Supporting Actress and Best Cinematography categories.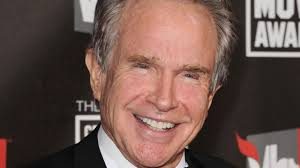 He did not make another film until 1987's disastrous Ishtar, but fortunately got back on track in the early 1990s with his adaptation of comic strip-based detective Dick Tracy (1990) and then Barry Levinson's Bugsy (1991), in which he played real-life gangster Benjamin 'Bugsy' Siegel.  The less said about 1994's Love Affair, the better perhaps, but the actor-director finished the 20th century on a relative high with the sharp political satire Bulworth (1998).  I don't personally claim to have seen 2001's Town and Country, directed by Peter Chelsom, but suffice to say that it was a huge box office failure and critical turkey which, sadly, was the actor's last appearance on screen prior to 2016's Rules Don't Apply, in which he plays legendary eccentric billionaire and philanthropist Howard Hughes.
In his heyday Beatty was quite simply one of the brightest and must astute producers in the business and it's quite a testament to his powers that the aforementioned Bonnie and Clyde came out the same year that he celebrated his thirtieth birthday.  In terms of accolades, the star has secured some fourteen Oscar nominations in his time and has the unique distinction of being the only individual ever to have been twice nominated for acting, directing, producing and writing the same film – Heaven Can Wait and Reds.  As well as his Best Director gong for Reds, he is the recipient of the 1999 Irving G. Thalberg Award from the Academy.  Beatty married his Bugsy co-star Annette Bening in 1992 and was recently the subject of many headlines when, at the 89th Academy Awards, he and his Bonnie and Clyde co-star Faye Dunaway incorrectly named the Best Picture winner having been handed the wrong envelope.  In fairness to the actor it wasn't his fault and he did well to remain magnanimous in spite of the rather embarrassing circumstances.  The only real pity – in what has been a terrific career in front of and behind the camera – is that he wasn't as prolific as he might have been in, say, the mould of his Hollywood friends and contemporaries Gene Hackman and Jack Nicholson.  As I mentioned previously, there was a six-year gap between Reds and Ishtar; a decade-and-a-half passed him by from the time of Town and Country and Rules Don't Apply.  The star had several other pipe-dreams which did not come to fruition despite his high-standing during the 1970s generally and early 1980s.  To this day he still speaks of making a sequel to Dick Tracy.  But that latter film is some 27 years old now.  The mind cannot help but think there could have been even greater things in his lengthy career.  Such a sentiment aside, it has to be acknowledged nonetheless that Warren Beatty fully deserves his place in Hollywood history.  He has contributed greatly to the industry over the years and inspired many others with his transitioning from pretty boy leading man to powerful producer and gifted writer-director.  We hail him below with the following 10 selections from his filmography.  Happy 80th Birthday Warren Beatty!!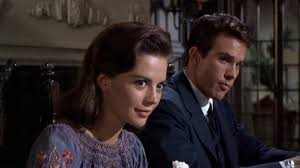 Splendor in The Grass (Elia Kazan 1961)
Beatty made his feature film debut in this one, an adaptation of playwright-novelist William Inge's novel concerning a young woman, 'Deanie' Loomis (Natalie Wood), who is instructed by her rather austere mother to resist the physical allure of her handsome boyfriend Bud Stamper (Beatty) and all the sexual desires this attraction engenders.  The two go their separate ways on this very point which leads to a whole host of melodramatic incidents ranging from institutionalisation to suicide.  Just for good measure the stock market crash of 1929 is thrown into the mix as well.  Small-town mores and the concomitant social hypocrisy that sometimes accompanies these was a theme both Kazan (East of Eden, On the Waterfront) and Inge (Picnic, Bus Stop) had examined in the past, but never perhaps to such pointed effect as here.  Supporting cast members include Pat Hingle, Gary Lockwood and Sandy Dennis.  Wood received an Oscar nomination for Best Actress at the 34th Academy Awards, but Beatty also makes a notable early impression as the conflicted and ultimately dispirited Bud.  Commenting on the performance of the twenty-something, prominent New York Times critic Bosley Crowther wrote that the actor is a 'surprising newcomer,' and an 'amiable, decent, sturdy lad whose emotional exhaustion and defeat are the deep pathos in the film.'  Indeed the young Beatty gives us more than a fleeting promise of great things to come.  There is a palpable ruggedness in his performance married with an undertow of vulnerability, particularly in Splendor's closing few moments.  A strong debut all round and the young star-in-the-making was firmly on the map.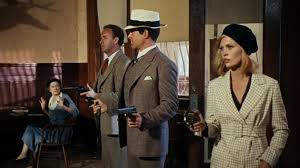 Bonnie and Clyde (Arthur Penn 1967)
New Hollywood received a deft shot in the arm with this one and Beatty became a recognisable star overnight in the process.  Quite rightly regarded as a landmark movie far ahead of its time, it's still quite a thought to consider that Beatty was a mere 30 years old when he produced and starred in this, receiving Academy Award nominations in the process for Best Picture and Best Actor in a Leading Role.  The production and subsequent release of Bonnie and Clyde is something of Hollywood lore now in that Warner Brothers was extremely reticent about promoting it, confining the film in the main to regional distribution and doing even less in the way of marketing it.  Jack L. Warner rather derisively considered it an undesired reversion to that studio's plethora of gangster films from the 1930s whilst others voiced concern at the level of graphic violence depicted.  The most famous instance of this of course is the climatic ambushing of the outlaw couple in which director Penn employed slow-motion and jump editing to emphasise the hail of bullets and their bloody effect.  Cinema-goers would become well used to such realism in subsequent years, with films such as Peckinpah's The Wild Bunch and Coppola's The Godfather, but at the time this was quite a departure in terms of tone and technique.  An exemplary cast includes Estelle Parsons (who won a Best Supporting Actress Oscar) as Blanche Barrow, Gene Hackman as Buck Barrow, Michael J. Pollard as C.W. Moss and, briefly, the late great Gene Wilder as Eugene Grizzard.  As for the titular roles, Faye Dunaway and Beatty were perfect in their respective parts.  From the opening scene – in which Clyde attempts to steal Bonnie's mother's car – to that infamous denouement, there is a potent chemistry between the two in spite of reported friction on the set.  Beatty's performance in particular is appropriately energy-filled, but there is also a significant poignancy in his quieter moments, most especially when confronting the somewhat embarrassing matter of his inherent weakness in that certain physical department ('I told you I was no lover boy').  A classic of the nouvelle vague which would come to full fruition in the Hollywood of the late 1960s and 1970s.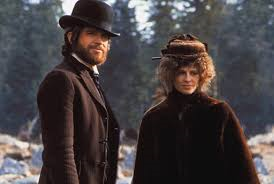 McCabe and Mrs. Miller (Robert Altman 1971)
Based on the 1959 novel McCabe by Edmund Naughton, this one has quite rightly been recognised as an anti-western film in the best possible sense with respect to its premise and central character, John McCabe (a heavily-bearded and mumbling Beatty).  His first onscreen pairing with on-off love Julie Christie (who plays the Mrs. Miller of the title, a savvy lady with a head for business, but a predilection for opium), this film was also notable for the arguments the actor had with director Altman during the shoot.  Warren Beatty's preference as a director has always been for a multiple-take approach to filming (as clearly evidenced by Reds) and Altman's minimalist style in this respect brought the two into conflict.  It's been rumoured that as revenge towards the end of principal photography (McCabe was pretty much shot sequentially) Altman deliberately prolonged the final shootout in the snow so as to make Beatty physically suffer in the harsh conditions.  Whether this is true or not, McCabe and Mrs. Miller more than re-pays repeated viewing with its atmospheric cinematography, fine performances from the two leads and an astute story-line which touches on a variety of themes such as emerging capitalism in the old west.  At the centre of this narrative is Beatty's McCabe, a mysterious individual (rumoured to be a gunfighter, which he most likely is not) who is a wily protagonist, but a most reluctant hero.  A splendid supporting cast includes Keith Carradine and Shelley Duvall.  Listen out also for a few fine Leonard Cohen songs as part of the film's soundtrack.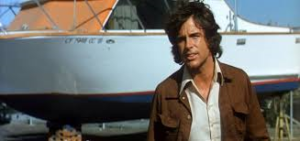 The Parallax View (Alan J. Pakula 1974)
The seismic implications of the Watergate scandal were being played out when this film was released in the early summer of 1974 and it's no great surprise that it's often referred to as part of the so-called Pakula political paranoia trilogy (the other two being 1971's Klute and 1976's All the President's Men).  The subject matter here is political assassination as Beatty's journalist Joe Frady investigates a shady organisation known as the Parallax Corporation which recruits natural born killers to target senators and presidential hopefuls.  Frady foils a number of such attempts and seeks to expose the clandestine network by presenting himself as a potential candidate for recruitment.  A memorable sequence ensues in which he views a concatenation of images (some of them of historical figures) on a movie screen.  But Frady is in grave danger himself and Pakula's expert direction, Gordon Willis's slick cinematography, and an eerie score by Michael Small, all serve to heighten the tension of the piece.  A very solid performance by Beatty himself is unshowy and serves the overall disquieting design.  Watch out in particular for a scene in which he pretends to be an unhinged sociopath whilst being interviewed by a Parallax recruiter.  William Daniels, Paula Prentiss and Hume Cronyn co-star.  Seattle's famous Space Needle also plays a substantial part in the dramatic proceedings.  Comparisons to the earlier The Manchurian Candidate are well founded.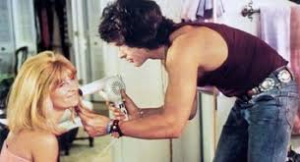 Shampoo (Hal Ashby 1975)
Did art imitate life here with respect to Warren's much talked-about Lothario antics off-screen?  The actor plays a hairdresser named George Roundy who is most certainly not averse to employing his charms and charisma outside the confines of the salon in which he works.  But George has business aspirations and is shown to have quite a ruthless streak in his efforts to achieve them.  When his overarching ambition brings him into close contact with a former girlfriend Jackie (Julie Christie), George realises far too late that he cannot have it both ways, namely personal contentment and professional progression.  Shampoo has been described in some quarters as a modern-day comedy of manners.  The fact that it's set on election day 1968, when Nixon was first elected to office, is no small coincidence and there is a certain sense of play here in that the audience has the benefit of hindsight which the onscreen characters do not possess.  The screenplay by Beatty buddy Robert Towne and the star-producer himself points to an overall malaise and vacuousness at the heart of the American dream.  Director Hal Ashby (The Last Detail, Being There) and cinematographer Laszlo Kovacs offer visual signposts of how this flimsy world appears and operates.  Co-star Lee Grant won an Oscar for Best Supporting Actress.  The late Carrie Fisher made her screen debut.  Jack Warden and Goldie Hawn also feature among the cast.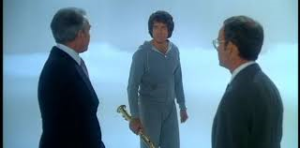 Heaven Can Wait (Warren Beatty and Buck Henry 1978)
Beatty had wanted to cast Muhammad Ali in the central role, but owing to the great one's unavailability he took it on himself changing the character from a boxer to an American football player.  Harry Segall's play of the same name had been filmed before, as 1941's Here Comes Mr. Jordan, and Beatty and co-writer Elaine May stuck with many of the motifs and elements from the play and previous film adaptation.  In this version Beatty's Joe Pendleton is a quarterback with the Los Angeles Rams who are vying to reach the prestigious Super Bowl.  Following a serious cycling accident, Pendleton is taken to a midway station between heaven and earth where it is discovered that a guardian angel assigned to him had plucked him out of his predicament far too early (he would have survived and enjoyed a long life).  And so Joe is taken on a journey to view prospective candidates for his new body – as his remains on earth have been cremated.  He fixes on that of a millionaire-industrialist named Leo Farnsworth who has been murdered by his cheating wife and personal secretary; this brings him into contact with Betty Logan (Julie Christie) an outspoken environmental activist.  His romantic side suitably piqued, Joe pursues Betty as Farnsworth whilst purchasing his old football team in the hope of leading them to the Super Bowl.  Beatty displayed a fine sense of comic timing in this one and was recognised with an Oscar nomination for Best Actor.  All in all the film received nine Academy Award nominations in total, including further nods for Beatty in the categories of Best Film, Best Director and Best Adapted Screenplay (he was the first individual to achieve the rare feat of four nominations in the same year for the same film and would repeat this again with 1981's Reds).  An excellent supporting cast includes Christie, Dyan Cannon, Jack Warden, Charles Grodin and James Mason as Mr. Jordan.  I've always found the ending of this one a little hard to digest.  If Joe has indeed been promised a new life by Mr. Jordan, then why is his identity, memories etc. entirely erased when he becomes Tom Jarrett at the film's conclusion.  Doesn't this effectively mean that he has really died and been denied the full life he should have had?  Just something to think about.  Otherwise, a very fine fantasy-comedy with Warren in top form.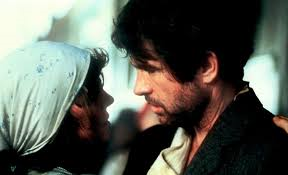 Reds (Warren Beatty 1981)
In my estimation this is the actor-director's masterpiece and it certainly represented a labour of love in terms of time and epic vision.  Beatty had first heard of the story of American journalist and social activist John Reed (best known for his first-hand account of the 1917 Russian Revolution titled Ten Days That Shook the World) as far back as the 1960s, but did not approach a cinematic realisation of the tale until the late 1970s.  The significant box office success of Heaven Can Wait played its part in this respect.  Principal photography took over a year to complete and Warren put himself and his fellow actors through the mill with his multiple-take approach.  Several apparently suffered in this regard, including then off-screen love and co-star Diane Keaton.  When all was finished Beatty and his editors had to trim down 2.5 million feet of film to a 195-minute running time.  Such gruelling dedication paid off, however, because Reds truly is one of the great epic films of all time.  Particular kudos are due to Beatty's work in front of and behind the camera, the cinematography of Vittorio Storaro and a stellar cast which includes Maureen Stapleton (in Oscar-winning mode), Paul Sorvino, Jerzy Kosinski, Gene Hackman and Jack Nicholson as playwright Eugene O'Neill.  Particular mention should also be made of the framing device that is the witnesses (real-life people giving their unique perspectives on the story to camera) which Beatty employs throughout.  This was quite a departure in terms of American narrative cinema at the time and features such famous faces as writer Henry Miller, film producer Arthur Mayer, painter Andrew Dasburg, historian William Durant, and Oleg Kerensky, son of Alexander Kerensky.  Twelve Oscar nominations ensued and Beatty personally nabbed four of these again, winning the Best Director Academy Award in the process.  A classic chronicle in terms of its visual storytelling and richly-textured performances.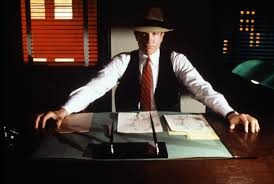 Dick Tracy (Warren Beatty 1990)
After the critical and commercial debacle that was 1987's Ishtar, Beatty needed a hit badly and this, his cinematic adaptation of Chester Gould's 1930s comic strip character, provided him with that.  Beatty had long been a fan and had circled the project ever since the mid-1970s.  He saw himself playing the titular character, but, reportedly, had no firm intention of directing Tracy until the screenplay by Jim Cash and Jack Epps Jr. came his way again in the late 1980s.  Disney tentatively backed the star-director, wary somewhat of his propensity for time and budgetary overruns.  The initial budget of $25 million dollars soon jumped and an additional $54 million was spent on a high-concept marketing campaign modelled on Batman's success from a year before.  As a comic strip adaptation Dick Tracy is visually stunning with the work of such talents as Vittorio Storaro on cinematography and Richard Sylbert and Rick Simpson in their respective roles as production designer and set decorator.  For the look of Tracy, Beatty insisted that the production team evoke an ambience that would closely resemble Gould's original concept design.  Sylbert and Simpson subsequently won an Oscar at the 63rd Academy Awards for Best Art Direction.  Dick Tracy also won gold statuettes for Best Makeup and Best Original Song (Sooner or Later (I Always Get My Man)) as performed by Beatty's co-star Madonna.  As well as Ms. Ciccone the supporting cast is made up of a host of famous names which include Al Pacino, Dustin Hoffman, Paul Sorvino, James Caan, Kathy Bates and Glenne Headly.  In his early 50s at the time, Beatty made for a suitably laconic Tracy who, like the actor himself, feels he has seen it all and is ready to settle down in the film's final moments (art imitating life anyone?).  Beatty spoke often of his intention to make a sequel to this one, but two decades of legal wrangling which ensued over the rights to the character effectively nullified any such possibility.  A pity since Beatty himself claimed to have had a great idea for a follow-up film.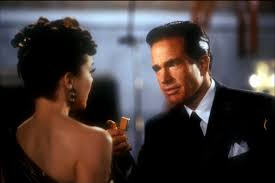 Bugsy (Barry Levinson 1991)
In his 2010 biography Star: How Warren Beatty Seduced America, author Peter Biskind rates this particular film as the actor's best screen performance and one can well see why.  Beatty is quite magnetic as the animated but highly volatile Benjamin 'Bugsy' Siegel who was one of the driving forces behind the development of Las Vegas.  The actor had a longtime fascination with the Jewish-American mobster who, in turn, was heavily associated with Hollywood during his lifetime boasting friendships with actors such as Clark Gable, Gary Cooper, Cary Grant and George Raft.  The main focus of this biopic is on Siegel's intimate relationship with Virginia Hill, after whom the gangster reputedly named the Flamingo hotel/casino in Vegas.  Future wife Annette Bening portrays Hill and the supporting cast includes Elliott Gould, Harvey Keitel and Ben Kingsley.  Nominated for 10 Oscars at the 64th Academy Awards, Bugsy won two for Best Art Direction and Best Costume Design (The Silence of the Lambs was the major winner that particular year).  Beatty lost out to Anthony Hopkins in the Best Actor category, but this is indeed one of his very best performances.  One scene in particular which lives long in the memory is that of Siegel berating a business associate who he believes (quite rightly, as it turns out) has stolen from him and his partners.  Bugsy forces the hapless individual to crawl on the ground and bark like a dog before, mercifully, releasing him.  It's quite a moment of raw humiliation and acted with great aplomb by the in-form Beatty.  The actor subsequently hooked up with his leading lady whom he wed in 1992.  The chemistry which developed on set between the two is both potent and tangible.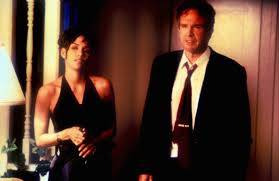 Bulworth (Warren Beatty 1998)
Beatty has always had a keen interest in the political landscape (he supported Bobby Kennedy, George McGovern and Gary Hart in their bids for president, and apparently toyed with the notion of running for office himself) and it's very much in evidence in this razor-sharp satire.  Directing himself in the central role once again, Beatty plays Jay Billington Bulworth a Californian senator who is at a pivotal juncture in his life both professionally and personally.  Facing a less-than-hopeful bid for re-election and feeling generally out of touch with his constituents, along with a myriad of other issues, Bulworth determines to opt out of the race of life generally by contracting a hitman to assassinate him within a matter of days.  A chief incentive in his thinking is that his daughter will in turn benefit from a large life insurance policy payout.  An air of complete freedom and personal licence descends and Bulworth begins to do as he pleases by speaking out liberally and acting with a wanton disposition.  To the bemusement of his colleagues and the media alike he even begins to rap.  The public adore such refreshing outspokenness and Bulworth stages a dramatic comeback in the subsequent primary election.  Along the way he becomes romantically involved with Nina (Halle Berry), a young African-American activist who – as we learn – is much more than she appears.  Playing the part of the liberated senator in a highly energetic way, Beatty once again displayed some deft comic touches with respect to his roles as both actor and director.  He also produced a very shrewd and amusing fable in the process which has more than a few astute things to say about racial relations and politics in contemporary America.  The supporting cast includes Paul Sorvino, Jack Warden, Don Cheadle and Oliver Platt.  Talk show host Larry King gets to play himself.