Little Big Man – Dustin Hoffman at 80 – 10 Of His Best Films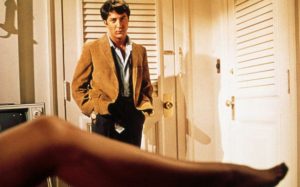 Dustin Hoffman celebrates his 80th birthday on the 8th August, 2017 and we look back upon a career in film which has been marked with great success and achievement by way of the actor's considerable range, talent and versatility.  An untypical leading man when he was first cast in Mike Nichols's The Graduate (1967), Hoffman was an instant sensation as the confused titular character who returns to his parents' home in California with deep reservations about his future.  The role of Benjamin Braddock was a breakthrough for the actor from Los Angeles who'd once been bluntly told by a family relation that he couldn't be an actor because he simply wasn't good-looking enough.  Director Nichols saw something else in the actor – an 'underdog quality' as he put it – and his decision to choose Hoffman for the central part set the young man on the role to stardom.  The Graduate was a monster hit at the box office and garnered his first Academy Award nomination.  Hoffman was described as a 'symbol of youth'; a representation of the 'new breed of actors' which included Gene Hackman and Robert Duvall with whom he'd lived in New York City in the 1960s.  His next major role – as 'Ratso' Rizzo in Midnight Cowboy (1969) – was a notable break from the character he'd played just two years before.  Determined to prove that he was not a one-trick-pony, Hoffman met the film's director John Schlesinger in Times Square dressed essentially as a homeless person.  The improvised audition worked and Schlesinger was won over.  Midnight Cowboy – a tale of an unlikely friendship in a rather insalubrious New York City – drew rave critical reviews and won the Academy Award for Best Picture.  Hoffman and his co-star Jon Voight were both nominated for Best Actor.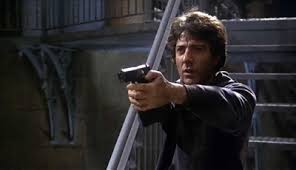 The 1970s proved to be a happy hunting ground for the star as his reputation prospered and the selection of roles he was offered expanded.  In Arthur Penn's Little Big Man (1970) he was superb as Jack Crabb, a character who ages from a teenager to a 121-year-old-man.  In Sam Peckinpah's controversial Straw Dogs (1971), he was perfectly cast as a pacifist mathematician who discovers he has a penchant for violence following the rape of his wife.  1973's Papillon teamed him with fellow screen great Steve McQueen in an adaptation of Henri Charriere's best-selling autobiography.  1974's Lenny was the occasion of one of his greatest screen performances – that of the stand-up comedian, satirist and social critic Lenny Bruce who'd died from an overdose some eight years before.  In stark contrast to this was his role as Washington Post journalist Carl Bernstein in 1976's All the President's Men.  Hoffman and co-star Robert Redford spent months researching their roles at the Post's actual offices.  Such a degree of preparation is one of the hallmarks of Hoffman's career.  He never turned up on a set unprepared or unwilling to give it his all.  1976 also saw the release of Marathon Man – a superior thriller in which his character undergoes an unforgettable torture scene at the hands of Laurence Olivier.  Less memorable perhaps were 1978's Straight Time and 1979's Agatha (in which he played an American reporter pursuing the disappearance of famed crime novelist Agatha Christie).  Of greater import was that same year's Kramer vs. Kramer in which he portrayed a workaholic advertising executive struggling to raise his son.  At the subsequent 52nd Academy Awards in April 1980, the actor won the Oscar for Best Actor in a Leading Role.  The critically-revered drama also won the top prize of the night – Best Picture.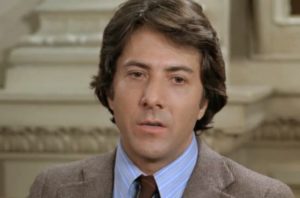 One of his best loved performances came by way of Tootsie in 1982.  Directed by Sydney Pollack, the comedy tells the story of Michael Dorsey a talented but difficult actor who determines to take on the role of a woman in order to land an acting job in a daytime soap.  Playing two different parts and genders, Hoffman perfectly embodied Tootsie's symbiosis of drama, romance and comedy.  It's hard to imagine how any other actor could have made this winning comedy – one of the best of all time – work as well as he did.  He didn't make another feature for five years (a Broadway revival of Arthur Miller's Death of a Salesman and a TV movie of the same intervened), and 1987's Ishtar did him and co-star Warren Beatty few favours.  The adventure comedy – in which the duo played down-on-their-luck songwriters in Morocco – was critically panned and proved to be an abysmal failure at the box office.  Redemption was not far off, however, and it came in the form of 1988's Rain Man in which he played an autistic savant opposite Tom Cruise.  Barry Levinson's heartwarming road movie won four Oscars at the 61st Academy Awards including Best Picture and Best Actor for Hoffman.  In his acceptance speech, the actor graciously paid tribute to the many doctors and patients who had assisted him in researching the role of Raymond Babbit.  1989's Family Business, which co-starred Sean Connery and Matthew Broderick, was not as well received, nor was 1991's Billy Bathgate which re-teamed him with Kramer vs. Kramer director Robert Benton.  He appeared as Mumbles – a fast-talking henchman – in Warren Beatty's Dick Tracy (1990) and had a much more sizeable part playing Captain Hook in Steven Spielberg's 1991 fantasy-adventure Hook which was based on the famous J.M. Barrie novel.  1992's Hero (or Accidental Hero as it was known in some territories) offered him a role which was decidedly lacking in such virtuous attributes; but 1995's Outbreak on the other hand provided a rare action-type role.  He ended the 1990s quite well with Sleepers (1996), Wag the Dog (1997) – for which he was Oscar-nominated – and Sphere (1998) which, for me at least, was somewhat harshly treated by critics.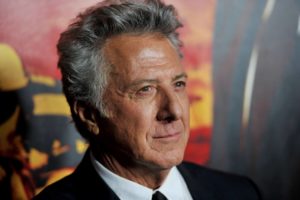 The 21st century has brought its mix of the good and the so-so, but the actor has continued to work steadily and broadened his range into the spheres of comedy and voiceover.  2004's Meet the Fockers may not be a classic in the vein of Tootsie, but it did see Hoffman play his part quite well and in a suitable rhythm with the likes of Ben Stiller and Robert De Niro.  He was delightful in 2008's Kung Fu Panda (as Master Shifu) and its 2011 and 2016 sequels.  2008's Last Chance Harvey meantime allowed him the chance to dip his toes into the romantic-drama genre opposite Emma Thompson.  In 2012 the actor made his feature film directorial debut with the comedy-drama Quartet based on the play of the same name by Ronald Harwood.  In his mid-seventies at this point in time, the film is a testament to his never-ebbing willingness to try his hand at new things.  Like the very best actors of his generation, Dustin Hoffman believes that he is still learning his craft.  There is always a new approach to consider, always a higher level of excellence to aspire to.  To pay tribute to the actor as he turns 80, I've selected 10 of his best films and roles as below.  Many of these have become well-loved classics with the passing of time; all should be familiar to film fans throughout the world.  So happy 80th birthday Dustin Hoffman.  Best wishes and thanks for so many indelible performances.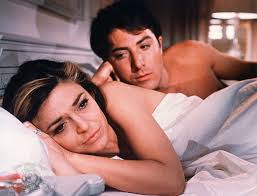 The Graduate (Mike Nichols 1967)
Hoffman had made his film debut by way of a brief appearance in Arthur Hiller's The Tiger Makes Out, but this film, from the same year, was the one which established his face and persona for millions of cinema fans worldwide and set him on the road to stardom.  The Los Angeles-born actor was not the first choice for the role of the graduate of the title (others such as Robert Redford and Warren Beatty were considered), but director Mike Nichols was quite adamant that he be cast on account of the underdog quality he believed his character should possess; paying tribute to his director, Hoffman later remarked that he personally didn't know, 'of another instance of a director at the height of his powers who would take a chance and cast someone like me in that part.  It took tremendous courage.'  The restless and manifestly self-conscious demeanour which the 29-year-old brought to the role benefited him and the production as a whole.  He plays Benjamin Braddock, a young man who has just recently earned his bachelor's degree from Williams College, and has returned to his parents' home in California.  Ben is deeply unsure about his future and no amount of parties or congratulatory expressions can snap him out of this state of inertia.  He embarks on a highly unlikely tryst with the wife of his father's law partner.  Simply known as Mrs. Robinson, the older woman is tired of her lot in life and perhaps views Ben as either a distraction or a project of sorts (her motivation is never entirely made clear).  Mrs. Robinson (Anne Bancroft) is, however, absolutely opposed to the idea of Ben dating her daughter Elaine (Katharine Ross) and the entire affair rapidly unravels as the young man discovers he has a much closer and meaningful rapport with the younger woman.  Released in December 1967, The Graduate quickly became a box office hit (grossing an impressive $104 million dollars) and was a darling of critics and audiences alike.  Hoffman and Bancroft received Academy Award nominations for Best Actor and Best Actress respectively and Mike Nichols won the Oscar for Best Director; the film was also nominated for Best Picture, but lost out to In the Heat of the Night.  Memorable moments – as far as I'm concerned – include the famous seduction scene at the Robinson house ('Mrs. Robinson, you're trying to seduce me'), the advice the visibly uncomfortable Ben receives on getting into plastics, the mad dash to the church in Santa Barbara, and the final (perhaps even slightly ambiguous) scene in which Ben and Elaine depart as passengers on a bus (his appearance disheveled and she still wearing her wedding dress).  The Graduate, of course, is also famous for introducing many to the music of Simon & Garfunkel – most especially the opening scene's The Sound of Silence, April Come She Will, Scarborough Fair and Mrs. Robinson.  That latter song's inclusion came about in a somewhat haphazard fashion and was originally titled Mrs. Roosevelt.  Nichols was over the moon when he first heard it and the rest, including that famous reference to baseball legend Joe DiMaggio, is the stuff of music and screen history; sadly, however, it was not eligible for the Academy Award for Best Song as it had not been written exclusively for the film in which it appeared.  The late Anne Bancroft (who was only six years older than Hoffman) felt that her role as the sullen and rather vampish Mrs. Robinson overshadowed much of her other work and referred to how men often approached her saying, 'You were my first sexual fantasy.'  Bancroft did have a substantial career in the wake of The Graduate (by way of films such as The Turning Point, The Elephant Man, Agnes of God and 84 Charing Cross Road), but there can be little doubt that the film's main beneficiary was Hoffman himself.  Anxious to avoid typecasting, the actor turned down a number of film roles and returned, for a time, to work in the theatre.  But the lure of cinema would prove irresistible when a role which was quite the antithesis of his character in The Graduate came up within two years.  The part was that of 'Ratso' Rizzo.  More about that same film below.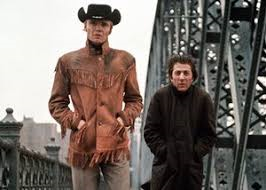 Midnight Cowboy (John Schlesinger 1969)
Hoffman plays Enrico Salvatore 'Ratso' Rizzo (to give him his full title), a street con man suffering from a limp and generally poor health who befriends Jon Voight's Joe Buck.  The slightly naive Buck has come to New York in the hope of making it there as a prostitute ('I ain't a for real cowboy, but I'm one hell of a stud'), but very soon he has struck out and is wandering the streets hungry and without purpose.  'Ratso' – who has previously duped Joe – offers the latter a spot in his apartment which is located in a condemned building.  The two men tentatively form a friendship and determine upon a business arrangement whereby 'Ratso ' seeks to advise Joe on how to prosper in his chosen trade – 'I know enough to know that that great big, dumb cowboy crap of yours don't appeal to nobody.'  'Ratso' has a dream of his own which is to escape his derelict abode (with X's plastered on it) and to head south to the much sunnier climes of Florida.  But the cruel reality of the duo's situation intervenes, of course, as 'Ratso's health further deteriorates and Joe is forced to commit a crime for some much-needed cash.  Based on the 1965 novel of the same name by James Leo Herlihy, Midnight Cowboy is not a comfortable watch depicting, as it does, the squalid side of New York City and the downtrodden who inhabit it.  The adapted screenplay by Waldo Salt (Serpico, Coming Home) puts this theme to the forefront, but also provides telling backstory regarding the two central characters; 'Ratso', for example, describes how his father – an illiterate Italian immigrant – effectively worked himself into an early grave as a shoeshine man in the subway station – 'Stupid bastard coughed his lungs out from breathing in that wax all day.'  On the whole, Midnight Cowboy is an extremely bleak vision of the underside of the American dream which continues right up to the final shot of Joe and a deceased 'Ratso' on the bus to Miami.  X-rated in its day (on account of scenes which would be considered mild by today's standards), the film won three Oscars at the 42nd Academy Awards – Best Picture, Best Director for Schlesinger and Best Adapted Screenplay for Salt.  Both nominated in the Best Actor category, Hoffman and Voight lost out to John Wayne in True Grit, but there's little doubt that their respective performances leave an indelible effect no matter how many times you watch this superb film.  Well-known critic Roger Ebert reflected such an opinion when he wrote, 'I cannot recall a more marvellous pair of acting performances in any one film.'  Hoffman won the award for Best Actor in a Leading Role at the British Academy Film Awards (and also a David di Donatello Award) and his famous 'I'm walking here!  I'm walking here!' scene currently occupies 27th place on the AFI's 100 Years…100 Movie Quotes list.  Lastly, I should also pay reference to the unforgettable version of 'Everybody's Talkin' as performed by Harry Nilsson.  Initially seeming to be an upbeat motif in the context of Joe Buck's dreams and aspirations, the song takes on a more melancholy tone in line with the film's developing narrative and tone.  Not an easy watch, as I suggested, but a highly rewarding one.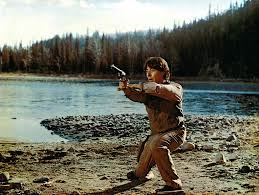 Little Big Man (Arthur Penn 1970)
Based on the picaresque 1964 novel of the same name by Thomas Berger, Little Big Man tells the story of one Jack Crabb, a white man who is raised by the Cheyenne following the massacre of his parents at the hands of the Pawnee.  Recounting the episodic (and perhaps greatly exaggerated) events of his life in a present-day setting, the 121-year-old Crabb relates to a somewhat incredulous historian his wanderings through nineteenth-century western America which includes his interactions with historical figures such as 'Wild Bill' Hickok and George Armstrong Custer.  Claiming to be the sole survivor of the Battle of the Little Bighorn (Custer's Last Stand) in 1876, Crabb depicts a life on the frontier which is at times idyllic and harmonious, but also severe and, potentially, deadly.  The frequent incursions of white troops on native land are especially remarked upon (for example, the 1868 Battle of Washita River), but the unreliable narrator himself is shown to be somewhat self-serving at various times throughout his life when choices are limited and needs must; in an assorted number of occupations during the story's course he is the apprentice to a snake-oil salesman, Allardyce T. Meriweather (Martin Balsam), a gunslinger named the Soda Pop Kid, a general store proprietor, a muleskinner, a trapper and a scout.  The scenes with the conniving Meriweather and the sexually promiscuous Louise Pendrake (Faye Dunaway) provide the film with its many moments of humour, but, on the other hand, there is an undeniable melancholy at the heart of Little Big Man for a simpler way of life which has passed into history and is no more.  Directed with a suitably epic, yet tragic-comic tone, by Arthur Penn (Bonnie and Clyde), this revisionist western boasts a superb supporting cast which includes the aforementioned Balsam, Dunaway, Jeff Corey and Richard Mulligan.  Hoffman is in excellent form himself as the titular character, but the scene-stealing performance here undoubtedly belongs to Chief Dan George (who also featured prominently in Clint Eastwood's The Outlaw Josey Wales) who received a Best Supporting Oscar nomination as Old Lodge Skins, the benevolent Cheyenne tribal leader whom Crabb affectionately calls 'grandfather.'  Of particular note is the previously-mentioned Washita River scene – in which Old Lodge Skins believes himself to be 'invisible' to the marauding white troops – and the film's penultimate scene in which the aged Indian awaits death at the Indian Burial Ground ('It is a good day to die'), only to be disturbed by a shower of rain – 'Sometimes the magic works and sometimes it doesn't.'  For his scenes as the 121-year-old Crabb, Hoffman apparently screamed at the top of his lungs for an hour in order to effect the gravelly sound of his voice.  The make-up for the part was done by the famous Dick Smith (who also created an older Marlon Brando for the part of Don Corleone in The Godfather).  Remarking on the facial prosthetics later on, Hoffman said, 'I defy you to put on that make-up and not feel old.'  Given the age range that he plays here, this was yet another considerable turn on the actor's part.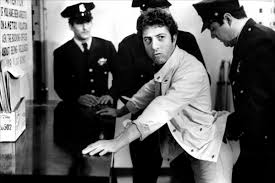 Lenny (Bob Fosse 1974)
Hoffman plays Lenny Bruce, the famous and often infamous Jewish-American stand-up comedian who blazed a trail on the club circuit scene in the late 1950s and early to mid-1960s, only to die of a drug overdose at the much-too-early age of 40 in 1966.  The structure of Bob Fosse's biographical film – based on the Julian Barry play of the same name – is to alternate interviews with key people from Bruce's life (his ex-wife Honey Harlow (Valerie Perrine), his influential mother and his agent) and contrast these bittersweet reminisces with moments from his rise to fame and subsequent decline.  Bruce is first introduced to us as a struggling performer trying desperately hard to distinguish himself from so many similar acts and we learn how and why he honed his technique to become more improvisational and bitingly commentary.  In an Oscar-nominated performance for Best Actor (he lost out to Art Carney in Harry and Tonto), Hoffman is quite superb as the flawed and insecure protagonist who railed against the establishment and regularly found himself on the wrong side of the law for obscenity on stage and drug possession in his personal life.  Branded a 'sick comic' on account of his flagrant style and unashamed language, Bruce increasingly took on the guise of an angry man as he incorporated details and denunciations of his various run-ins with the courts and authorities.  In a framing device, a bearded Bruce is revisited throughout the course of the film as he engages in an on-stage satirical harangue against the powers-that-be; in telling scenes juxtaposed with this Fosse and Barry set out aspects of his life away from the glare of the spotlight such as his turbulent relationship with Honey.  Valerie Perrine deservedly won the award for Best Actress at the 28th Cannes Film Festival (and was also nominated for an Oscar for Best Actress), but there's little doubt that Lenny is most memorable for Hoffman's particular tour de force in the central role.  Positioned as it was between 1973's Papillon and 1976's All the President's Men, this was one of the actor's finest performances of the 1970s and demonstrated how effectively he could immerse himself in the role of a real-life person.  Director Fosse (Cabaret) later referenced his own trials and tribulations of trying to edit this film whilst simultaneously staging the 1975 Broadway production of Chicago in the 1979 musical-drama All That Jazz.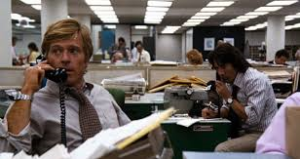 All the President's Men (Alan J. Pakula 1976)
The Watergate scandal and its exposure by the Woodward-Bernstein partnership was the subject of this famous 1976 political thriller in which Hoffman plays Carl Bernstein opposite Robert Redford's Bob Woodward.  Based on the 1974 book of the same name by the two Washington Post journalists, All the President's Man represents the very best of its kind from this particular sub-genre which was especially in vogue in American cinema during the 1970s (other such examples include Klute, The Parallax View, Three Days of the Condor and Winter Kills).  Redford and Hoffman spent months at the offices of the Washington Post in preparation for their respective roles, but the filmmakers were subsequently denied permission to film there and so had to recreate this particular environment at Hollywood's Burbank Studios.  Because both actors were world-famous, a particular arrangement was decided upon as regards their billing – Redford's name appeared over Hoffman's in posters and trailers and Hoffman's name appears ahead of Redford's in the opening credits of the film itself.  The Oscar-winning adapted screenplay by William Goldman actually deals with only the first seven months of the developing scandal itself (from the time of the break-in at the Democratic National Committee Headquarters to Nixon's second inauguration in January 1973) and concludes at a moment when the two journalists appear to have reached an impasse with respect to their investigation.  Although not employed in the original book, the famous phrase 'follow the money' became synonymous with the film; standout scenes include Woodward's meetings with 'Deep Throat' who advises that, 'In a conspiracy like this, you build from the outer edges and go step by step.'  One particularly memorable moment involving Hoffman is his duping of a rather self-important secretary in order to see the chief investigator for the Dade County State Attorney (played by Ned Beatty).  Other notables in the supporting cast include Stephen Collins, Jane Alexander, Jack Warden, Martin Balsam, Hal Holbrook (as 'Deep Throat') and Jason Robards (who won a Best Supporting Actor Oscar for his performance as Washington Post editor Ben Bradlee).  In the main roles Hoffman and Redford are perfectly cast as the investigating duo; on the AFI's 100 years…100 Heroes and Villains list the characters of Bob Woodward and Carl Bernstein occupy 27th place, just one ranking below Christopher Reeve in Superman.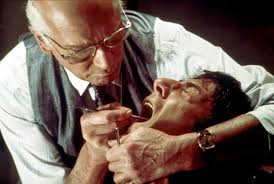 Marathon Man (John Schlesinger 1976)
The aforementioned William Goldman played a substantial part in this one as well.  Released just a few months after All the President's Men, Marathon Man was adapted by the Oscar-winning screenwriter from his 1974 novel of the same name and stars Hoffman in the central role of Thomas Babington 'Babe' Levy.  'Babe' is a rather idealistic history student (as well as a dedicated runner) intent on clearing the name of his father who committed suicide during the era of the McCarthy witch hunts.  When 'Babe's brother 'Doc' (Roy Scheider) – a secret government agent – is killed by an ex-Nazi war criminal, Dr. Christian Szell (an effectively sinister Laurence Olivier), 'Babe' finds himself drawn into a plot involving a cache of diamonds which was accumulated during the Second World War and which Szell now hopes to realise the value on.  Two scenes in particular are most memorable from this film and I will mention them in order of their distinction rather than chronology.  The first is that of Laurence Olivier's Szell on a street in midtown Manhattan as he is recognised by an elderly Jewish lady – 'It's Szell!  Der Weisse Engel!  Der Weisse Engel is here!  Oh my God, stop him!  Stop him!'  It's a remarkably tense piece of cinema in which we the viewers practically plump for the bad guy hoping that he will get away so that a final reckoning can take place with 'Babe.'  The second, and even better-known one, of course, involves Olivier drilling into Hoffman's teeth (a cavity first, followed by a healthy tooth) in the notorious torture sequence and repeatedly asking, 'Is it safe?'  The scene in question led to a much-referenced exchange between the two actors on differing styles of acting technique which Hoffman clarified in later years.  The star of the film confirmed that he did tell Olivier he had stayed up for three nights and three days in order to effect an appearance of total exhaustion which prompted the older man to ask, 'Why don't you just try acting?'  Hoffman acknowledged the legendary status of that simple question, but also went on to say that it was taken ever so slightly out of context.  Whatever the truth of the circumstances, it's a terrific on-set story and further adds to the reputation this wonderful slice of hokum continues to enjoy.  Olivier received an Oscar nomination for Best Supporting Actor for his work as the driven and deadly Szell.  The line 'Is it safe?' – as so synonymous with his character – ranks 70th on the AFI's 100 Years…100 Movie Quotes list.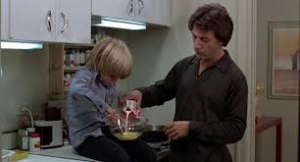 Kramer vs. Kramer (Robert Benton 1979)
Hoffman finally snagged the Best Actor Academy Award (after three previous nominations) for this one in which he plays Ted Kramer, a high-flying advertising executive whose wife Joanna (Meryl Streep) suddenly ups and leaves him.  Departing on the premise that she is desperately unhappy and needs to find herself, Joanna leaves the care of their young son Billy (Justin Henry) to Ted who, initially, does not seem to be up to the task.  But a discernible father-son bond (which, evidently, had not existed before) soon develops and the two learn to cope with occasional resentments, domestic crises and even an accident at the local playground.  The future appears positive on the whole until Joanna returns and a custody battle for Billy ensues.  Directed by Robert Benton (Places in the Heart, Nobody's Fool), Kramer vs. Kramer deservedly garnered praise for its thoughtful and sensitive approach to the subject matters of divorce, familial strife and guardianship; it was also lauded for its non-judgemental presentation of all perspectives to a marriage break-up, including, in this instance, father, mother and child.  The film won a total of five Oscars at the 52nd Academy Awards – Best Picture, Best Director, Best Actor, Best Supporting Actress and Best Adapted Screenplay.  In a very memorable acceptance speech, Hoffman took an initial long pause and then – remarking on the statuette before him said – 'He has no genitalia and he's holding a sword.'  In such a humorous vein, he went on to thank his parents for, 'not practicing birth control,' but also struck a more serious tone as he thanked his fellow actors in the industry as a whole, and paid homage to those who had not been as lucky as he was.  It was a most fitting way to win a first Acting Oscar and one of the all-time best acceptance speeches.  A few years later, he would be onstage again accepting a deserved second such award.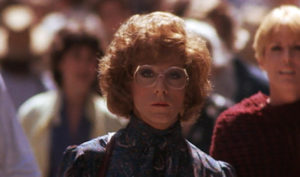 Tootsie (Sydney Pollack 1982)
The role of a struggling actor was something which Hoffman could definitely relate to based on his personal experiences and in this 1982 comedy he plays Michael Dorsey, a perfectionist in his chosen profession who regularly incurs the wrath of producers and directors.  Deemed to be pretty much unemployable by his own agent, George Fields (played by director Sydney Pollack), Michael determines to try out for the part of Emily Kimberly, a new hospital administrator in a popular daytime soap.  Dressing as a woman with a distinctive wig and pearly-white teeth, Michael auditions and successfully lands the part in the belief that his stint on the show will be strictly short-term allowing him to return to other acting pursuits.  Calling himself Dorothy Michaels, Michael begins to make a great deal more of the part of Emily than that envisaged by the script or the soap's womanising director Ron Carlisle (Dabney Coleman).  Portraying a much more feisty, take-charge and feminist character, Dorothy becomes an overnight sensation in the process and something of a paragon for advocates of gender equality, but matters are complicated as Michael begins to fall for his co-star Julie Nichols (Jessica Lange).  The laughs come thick and fast as Dorothy is pursued by both Charles Durning and George Gaynes and there are several memorable comic moments including the tomato commercial exchange between Hoffman and Pollack, and the climactic scene on live television as Dorothy reveals herself to be none other than Michael Dorsey (prompting Gaynes's character to memorably enquire: 'Does Jeff know?').  Hoffman is in terrific form in his multiple roles and received a deserved Golden Globe Award for Best Actor – Motion Picture Musical or Comedy; the film also won the Golden Globe for Best Motion Picture – Musical or Comedy.  Hoffman also received an Oscar nomination for Best Actor (he lost out to Ben Kingsley in Gandhi) and Tootsie received a total of 10 nominations at the 55th Academy Awards; Jessica Lange won the film's sole gold statuette for Best Supporting Actress.  This classic 1980s comedy has inspired other such premises as 1990's Nuns on the Run and 1993's Mrs. Doubtfire and proof positive of its enduring appeal was its placement at number 62 on AFI's 100 Years…100 Movies and number 2 on AFI's 100 Years…100 Laughs.  It of course bears comparison to Billy Wilder's Some Like It Hot as well with respect to the antics Jack Lemmon and Tony Curtis get up to as they seek to avoid 'Spats' Colombo and his deadly crew.  A stellar supporting cast also includes Teri Garr, Bill Murray and Geena Davis (in her screen debut).  Speaking quite emotionally about the part of Dorothy some years later (in an interview with AFI), Hoffman revealed his initial disappointment at how the make-up artists were unable to make him more attractive, but then he subsequently had an epiphany which strengthened his resolve to get the film produced.  He said the make-up tests he conducted in his preparation for Tootsie made him realise that, 'there are too many interesting women I have not had the experience to know in this life, because I have been brainwashed.  And that was never a comedy for me.'  Sounds to me as if he learnt a great deal from making this very funny and thought-provoking film; the experience certainly served to inform one of his very best performances.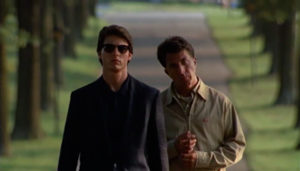 Rain Man (Barry Levinson 1988)
Hoffman won his second Best Actor Academy Award for this one in which he plays Raymond Babbitt, a middle-aged autistic savant who has spent most of his life in an institution.  Capable of extraordinary recall and mathematical skills, Raymond is lacking entirely in terms of social interaction and even the appearance of his younger brother Charlie Babbitt (Tom Cruise) has little discernible effect on him.  The younger man is well peeved on account of the fact that his estranged father, who has recently passed, has left the bulk of his $3 million estate to Raymond, whose existence he was heretofore unaware.  Under considerable business pressure from buyers and a creditor, Charlie lures Raymond away from the institution in the hope of bargaining for half their father's estate in exchange for Raymond's safe return.  His scheme, however, does not going according to plan as the institution refuses to barter with him and his girlfriend Susanna (Valeria Golino) departs upon learning of his motives.  The highly memorable 'Qantas never crashed' scene ensues at the airport and Charlie is forced to take Raymond cross-country in the 1949 Buick Roadmaster, one of the few things his father bequeathed him (along with his prize road bushes).  What follows is a journey of discovery and revelation as Charlie learns who the Rain Man of the title is (a superbly acted scene in a motel bathroom by both Hoffman and Cruise) and begins to appreciate his older brother, emotionally detached as he is.  If anything, Rain Man is ultimately a story of the previously self-centered Charlie's conversion, but kudos to the two leading men who are in superlative form from first to last.  A post-Top Gun Tom Cruise demonstrated that he was much more than a pretty boy, and Hoffman – in typically Hoffman form – inhabits his character, effectively becoming the routine-fixated and statistics-quoting Raymond in the process.  Standout scenes include the aforementioned Qantas moment, Raymond's insistence on watching The People's Court on TV ('10 minutes to Wapner') and generally the Las Vegas segment of the story as he successfully counts into a six-deck shoe and later practices his dance moves with Charlie.  It's interesting to note that the original casting for this film envisaged Hoffman in the Charlie role with his Tootsie co-star Bill Murray set to play Raymond.  Directors also associated with the long-in-gestation project included Steven Spielberg and Sydney Pollack.  Shot mostly on location – as required by its road movie structure – Rain Man proved to be the highest grossing U.S. film of 1988 and, in addition to Hoffman's Best Actor Oscar, won gongs for Best Picture, Best Director and Best Original Screenplay at the 61st Academy Awards.  The only question that arises is does 'Kmart suck' in Raymond's words?  Maybe or maybe not.  But he is most definitely an 'excellent driver.'  And this is a very fine film replete with excellent performances and sensitive touches with respect to its particular subject matter.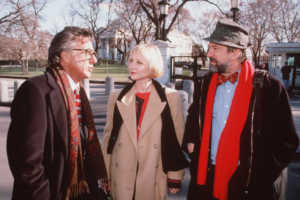 Wag the Dog (Barry Levinson 1997)
Rumour has it that Hoffman based his character Stanley Motss on famous producer Robert Evans (who, incidentally, produced 1976's Marathon Man).  Motss is enlisted by spin doctor Conrad Brean (Robert De Niro) to help him concoct a fake war with Albania in order to divert media and public attention away from a presidential sex scandal.  Motss throws himself into the role with much aplomb generating fake footage from the supposed conflict overseas and having a theme song composed among other things.  Deeming every challenge faced to be surmountable ('This is nothing'), Motss even comes up with the idea of a hero left behind enemy lines who was, 'discarded like an old shoe' (most conveniently his name is indeed Schumann as played by Woody Harrelson).  But Motss has a Hollywood ego, of course, and soon demands due credit for the work he has done bringing him into direct conflict with the coldly pragmatic Brean.  The pleasure of seeing two screen greats facing off in this way is one of the highlights of Wag the Dog, but kudos must also be extended to Levinson for his deft direction, to writers David Mamet and Hilary Henkin for the razor-sharp and witty script, and a terrific supporting cast which includes Harrelson, Kirsten Dunst, William H. Macy, Willie Nelson, Denis Leary and Anne Heche.  For his terrific turn as the trouble-shooting if somewhat self-important Motss, Hoffman received an Academy Award nomination for Best Actor; Mamet and Henkin were also nominated in the Best Adapted Screenplay category (Wag the Dog is loosely based on the 1993 satirical novel American Hero by Larry Beinhart).  In a most curious case of life imitating art, Wag the Dog was released just one month prior to the news of the Monica Lewinsky scandal breaking in Washington.  In August 1998 the Al-Shifa pharmaceutical factory in Sudan was the subject of a missile attack by the U.S. government for alleged processing of VX nerve agent and purported links to Al-Qaeda.  The justification for this strike was subsequently questioned by the Sudanese authorities and other government agencies; critics of the attack drew comparisons to Wag the Dog as they claimed the primary purpose of the offensive in Sudan was to distract attention away from domestic issues such as the Lewinsky affair.  The parallels certainly were uncanny and demonstrate how prescient a piece the film actually was; Wag the Dog is also a telling satire vis-a-vis the interconnecting worlds of politics and show business – just look no further than recent events in this corner of the world.  As regards the similarities between his character and that of Robert Evans (including idiosyncrasies, clothing and glasses), Hoffman has never confirmed one way or the other that his actual intention was to mimic the Chinatown producer.  Evans himself seemed suitably impressed and, in a typically articulate manner, voiced his appreciation for Hoffman's performance – 'I'm magnificent in this film.'