Morgan Freeman Turns 80 – 10 Of His Best Films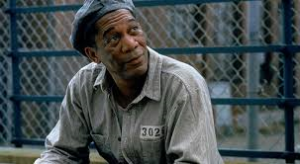 Morgan Freeman turns 80 on the 1st June, 2017 and we take this opportunity to salute a truly great actor who has graced both stage and screen since the 1960s.  Born in Memphis, Tennessee in 1937, Freeman has appeared in a host of fine films over the years, including modern-day classics such as Unforgiven and The Shawshank Redemption, and box office smashes such as Christopher Nolan's The Dark Knight Trilogy, Seven and Robin Hood: Prince of Thieves.  His early professional career involved much treading of the boards (in productions such as Coriolanus, The Gospel at Colonus and the original Off-Broadway production of Driving Miss Daisy) and it was not until 1987's Street Smart – in which he played a volatile pimp named Fast Black – that his screen career received the shot-in-the-arm it needed.  The actor – who received an Oscar nomination for Best Supporting Actor – never looked back and solidified his growing reputation two years later with the American Civil War film Glory and the Oscar-winning comedy-drama Driving Miss Daisy (in which he reprised the stage role of Hoke Colburn).  Blessed with a highly distinctive voice and an innate acting ability, Freeman has often been cast in the worldly-wise role – the man who's seen it all and yet seeks to keep his cynicism in check – and such was the case with 1994's The Shawshank Redemption in which he was memorable as 'Red', the lifetime inmate of the prison who has a benevolent side in spite of the unromantic disposition he tries to maintain.  An Oscar nomination for Best Actor followed and, probably, should have merited even more.  Already in his mid-50s, Morgan Freeman had truly arrived on the scene.  Other 1990s successes included David Fincher's Seven and Steven Spielberg's Amistad.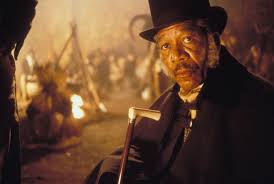 In February 2005 Freeman finally won an overdue Academy Award (for Best Supporting Actor) by way of Clint Eastwood's Million Dollar Baby.  He's made a total of three films with the famous former mayor of Carmel and, in the latter half of the noughties, realised a long-held ambition when he portrayed Nelson Mandela in Eastwood's Invictus.  Other films of note from this decade include the first two installments in The Dark Knight Trilogy, Gone, Baby, Gone and The Bucket List (with Jack Nicholson).  The second decade of the 21st Century has seen him appear in a not inconsiderable number of big screen productions including 2012's The Dark Knight Rises, 2013's Oblivion, 2014's Lucy and 2016's re-imagining of Ben-Hur.  And those famous vocal chords have also been used to good effect in features such as 2014's The Lego Movie, 2005's War of the Worlds and the Oscar-winning documentary March of the Penguins.  Morgan Freeman may have arrived on the big screen at a comparatively later age than most actors, but, in that time, he has provided us with some indelible performances to savour which will endure as long as cinema itself does.  Happy 80th birthday Morgan Freeman.  Long may you continue to grace the silver screen.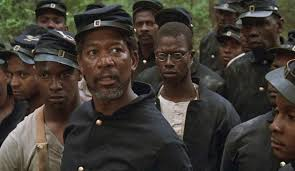 Glory (Edward Zwick 1989)
Edward Zwick's superb Civil War film concerns one of the first military units of the Union Army (the 54th Massachusetts Infantry Regiment) to consist entirely of African-American men and remains surely one of the best and most vivid depictions of that particular conflict.  An excellent ensemble cast includes Matthew Broderick as Colonel Robert Gould Shaw (on whose personal letters the screenplay by Kevin Jarre was based) and Cary Elwes as his second-in-command Major Cabot Forbes.  In terms of acting kudos, Denzel Washington's Oscar-winning turn as the testy recruit private Silas Tripp grabbed most of the attention, but one should not overlook some splendid work by Freeman as well in the role of Sergeant-Major John Rawlins.  A father figure to many of the others, the older man is the very epitome of honour and duty and a wonderfully played scene involves him being promoted to the rank of Sergeant-Major.  Glory benefits greatly from such genuinely moving moments and also from the stirring battle scenes which are mounted by Zwick and director of photography Freddie Francis (who also took home an Oscar for his efforts on the film).  It's difficult not to feel the touching nature of those later scenes which occur the night before the unit's near-impossible assault on Fort Wagner in South Carolina, nor on the following day when many of its members, including Gould Shaw and Tripp, are killed.  Freeman's character's death is not shown on screen, but it most certainly is implied with respect to the heavy casualties the 54th generally incurred.  The final images of the scattered bodies on the beach and in the mass grave are unforgettable and speak volumes of the sacrifice involved.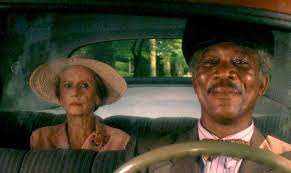 Driving Miss Daisy (Bruce Beresford 1989)
The 1989 Academy Award-winning film would not be high up on my list of best Oscar films of all time, but there's little doubt about the merit which Freeman and his co-star Jessica Tandy brought to it.  Based on the stage play of the same name by Alfred Uhry, Driving Miss Daisy tells the story of the titular character Daisy Werthan (Tandy), a wealthy Jewish widow living in Atlanta who initially balks at the idea of her son Boolie (Dan Aykroyd) to hire her an African-American chauffeur Hoke Colburn (Freeman).  Despite some early tensions and differences, mutual trust is built up between the two over a 23-year period culminating in the early 1970s when Daisy is forced to enter a retirement home.  Tandy won a Best Actress Oscar for her role at the age of 81 and Freeman was also nominated in the Best Actor category (Daniel Day-Lewis won in that particular year for My Left Foot).  It's a note-perfect performance by the actor who was deservedly coming onto the radar in a major way as he entered his early 50s.  He'd already played the part of Hoke in the original Off-Broadway production and this very consistency and calibre which he brought to bear profited the production as a whole and the performances of the other actors.  The film won four Academy gongs in total: Best Film, Best Actress, Best Adapted Screenplay and Best Makeup.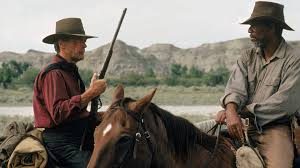 Unforgiven (Clint Eastwood 1992)
Eastwood's revisionist western explores themes of heroism and courage in the old wild west and the myth and folklore which often serves to inflate and fictionalise such supposed values.  It's also a telling meditation on age and survival as encapsulated in Eastwood's own character, the notorious former killer William Munny, and his old friend Ned Logan (Freeman), himself a retired gunfighter.  Asked by the Schofield Kid (Jaimz Woolvett) to assist him in the matter of killing two cowboys who disfigured a prostitute, the reluctant Munny takes up the offer as he sees his pig farm failing around him.  He recruits Ned on the way and the two engage in much reminiscing about a past existence and an illicit way of life they once knew.  The former partners become aware of how much time has passed them by in this harsher, more commercially-oriented environment, as exemplified by the town of Big Whiskey, Wyoming, and embodied by its callous sheriff 'Little' Bill Daggett (Gene Hackman).  Munny is badly beaten by the latter and far worse violence is subsequently inflicted on Logan who is tortured to death.  Munny avenges this brutal murder at the film's end, but the viewer is left in little doubt as to how de-romanticised a vision of frontier life Unforgiven presents us with.  This is a west where honour matters not a jot and the only code is to survive as best you can for as long as you can.  It's also an insightful reflection on the very act of killing itself, which is shown to be neither intrepid nor virtuous.  The scene in which Ned freezes during the killing of the first cowboy is a case in point here; also in the speech Munny makes to the disenchanted Schofield Kid following the second killing – 'It's a hell of a thing killing a man.  You take away all he's got and all he's ever gonna have.'  Gene Hackman's Oscar-winning performance as 'Little' Bill dominates acting proceedings here (and there's also a nicely-embellished performance by Richard Harris as English Bob), but, as usual, Freeman's contribution should not go unnoticed, perfectly weighted as it is in the context of his place in the cast; his scenes with Eastwood are of particular resonance.  Winner of four Oscars at the 65th Academy Awards including Best Film, Best Director, Best Supporting Actor and Best Editing.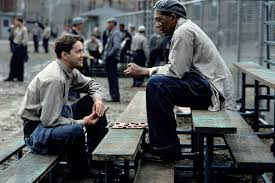 The Shawshank Redemption (Frank Darabont 1994)
This is my own personal favourite performance of Freeman's and it's a film which features in many people's lists for best of the 1990s and even best of all time.  Freeman plays Ellis Boyd 'Red' Redding in this – the self-acknowledged lifer in the Shawshank State Penitentiary who befriends Tim Robbins' convicted banker Andy Dufresne.  Based on the Stephen King novella Rita Hayworth and Shawshank Redemption, the film chronicles the two men's relationship over the years as well as touching on themes of corruption, institutionalisation, hope and – yes – eventual personal redemption.  Tim Robbins has referred to The Shawshank Redemption as depicting a non-sexual love story between two men, and it is indeed this central dynamic which gives the film its heart and soul.  Just consider scenes such as the one in which Andy – just released from a prolonged spell in solitary confinement – tells Red about Zihuatanejo and discreetly implores him to seek out the Mexican coastal town if he is ever released.  Other memorable moments include Andy's playing The Marriage of Figaro over the prison's public address system and Brooks Hatlen's (James Whitmore) time on the outside as the old 'institutional' man realises he has no place in a world which has passed him by.  Nominated for the Best Actor Oscar for his performance (he lost to Tom Hanks for Forrest Gump), it's worth noting that Freeman was not the first choice and others such as Clint Eastwood, Harrison Ford, Paul Newman and Robert Redford were considered before he was.  The part of the Shawshank's chief contraband smuggler was written as a middle-aged Irishman with red hair (as per King's original novella) and, in a humorous reference to this, Freeman's character is asked by Robbins why he is called 'Red.'  'Maybe it's because I'm Irish,' he replies.  A timeless wonderful film which also benefits from Freeman's venerable voice-over narration.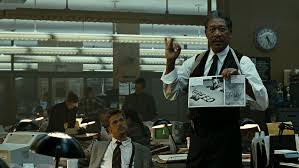 Seven (David Fincher 1995)
Serial killer films were very much in vogue in the aftermath of Jonathan Demme's smash-hit The Silence of the Lambs and this 1995 offering is one of the very best of that particular crop with atmospheric direction courtesy of David Fincher and a well-measured screenplay by Andrew Kevin Walker.  Freeman plays William Somerset in this, a Detective-Lieutenant who is on the cusp of retiring just as he is assigned a younger partner David Mills (Brad Pitt).  The two men examine the grisly setting where an obese man has been forced to eat until his stomach literally burst and the more learned and discerning Somerset senses the beginning of a spate of murders based on the seven deadly sins.  Set in an unnamed American city, Seven is an extremely dark vision of the world generally and the urban milieu it inhabits (rain pours incessantly; Brad Pitt and Gwyneth Paltrow's apartment is subject to frequent noise from passing trains).  A very telling scene concerning Freeman's own character and his perspective on life occurs in a cafe as Mills's wife Tracy (Paltrow) confides in him about her pregnancy.  Somerset tells her of his own past when an ex-girlfriend of his also became pregnant with his child and he talked her into an abortion because he could not bear the thought of bringing another child into such a terrible world.  Pitt and Fincher fought hard to maintain the ending of the head in the box which studio executives feared would hurt the film's box office prospects.  Actor and director won the day and Seven proceeded to become the seventh highest-grossing film of 1995.  Fine performances all around, particularly that of Freeman himself and Kevin Spacey as the meticulous killer John Doe.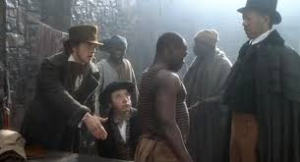 Amistad (Steven Spielberg 1997)
Spielberg's 1997 historical drama concerns the 1839 mutiny which took place on board the two-masted scooner La Amistad, a slave ship with human cargo of 53 which was bound for their purchasers' sugar plantations.  The Mende captives from Sierra Leone took control of the ship en route and a lengthy legal battle ensued as to their fate and freedom which was eventually resolved by way of a Supreme Court ruling in 1841.  Freeman portrays Theodore Joadson, a Boston abolitionist, who is also a former slave himself, and although not the dominating character in this piece by any means, the actor nonetheless acquits himself with a familiar sense of integrity and zeal for the the task in hand.  A fine supporting cast includes Anna Paquin, Pete Postlethwaite, Stellan Skarsgard, Nigel Hawthorne and Matthew McConaughey.  The two outstanding performances of this film belong to Djimon Hounsou as Cinque, the leader of the Africans, and Anthony Hopkins, as former president John Quincy Adams.  Standout moments include Cinque's impassioned plea for release in the courtroom – 'Give us, us free!' – and that of Hopkins's climactic speech to the Supreme Court.  A fine thoughtful film which, even though not necessarily being high up in terms of the director's overall canon, benefits from its fine performances, resplendent production values and several gripping courtroom scenes.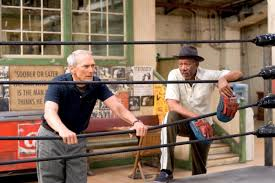 Million Dollar Baby (Clint Eastwood 2004)
Freeman earned his long-overdue Academy Award for this one (Best Supporting Actor) playing Eddie 'Scrap-Irons' Dupris opposite Clint Eastwood's Frankie Dunn and Hilary Swank's Maggie Fitzgerald.  Maggie, a waitress from the wrong side of the tracks, longs to be trained by Frankie, a somewhat brusque elderly boxing trainer, but the latter has serious reservations given her age and lack of professional experience.  Notwithstanding this, the two of them form a partnership inside and outside the ring which eventually develops into a father-daughter-type bond.  Tragedy ensues when Maggie is paralysed by a sucker punch and Frankie must make a decision regarding her request to die.  Dupris – himself an ex-boxer who was blinded in one eye in his final fight – is the film's narrator and once again here is an example of Freeman's authoritative and distinguished narration adding resonance to his own performance as well as that of the picture.  Stuck in development hell for years, Million Dollar Baby (based on short stories by boxing trainer Jerry Boyd) was not an easy sell for its famous actor-director, but Eastwood shot the film in his customary expeditious fashion and it went on to be a box office hit with a worldwide haul of $216 million dollars.  As previously mentioned, Freeman won Best Supporting Actor at the Academy Awards (beating out the likes of Alan Alda and Clive Owen) and the film also took gongs in the categories of Best Film, Best Director and Best Actress.  Described in some quarters as a female Rocky, Million Dollar Baby is by no means an easy watch, particularly with respect to its rather downbeat ending, but it's top-notch film-making nonetheless in terms of its superlative central performances, Freeman's included.  It also provided further evidence of the excellent on-screen rapport between him and Clint Eastwood.  The two would collaborate again on 2009's Invictus, but more about that further down below.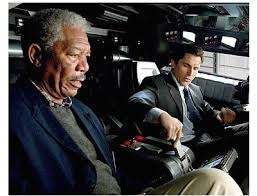 Batman Begins (Christoper Nolan 2005)
The first of writer-director Nolan's Dark Knight trilogy, this one sees Freeman cast in the role of Lucius Fox, a Wayne Enterprises employee who is recruited by Bruce Wayne (Christian Bale) to assist him in his vocation as the masked vigilante.  Fox allows Wayne access to a plethora of technologies which have been developed by the company's Applied Science Division (including the Batsuit and Tumbler), and it is entirely evident from the get-go that he suspects the recently-returned multi-millionaire has more than just a passing interest on his mind.  Such an intuition is proven to be correct when Fox is summoned to Wayne Manor following Batman's exposure to a hallucinogen courtesy of the Scarecrow (Cillian Murphy).  He duly becomes one of Bruce Wayne's inner circle, along with Alfred Pennyworth (Michael Caine), aiding and abetting the crime fighter in his pursuit to save Gotham City from internal evil-doers such as mafia boss Carmine Falcone and external menaces personified by the League of Shadows' Ra's Al Ghul (Liam Neeson).  Performance-wise, Freeman is in typically fine form as the sagely Fox and he's one of a number of stand-outs which include Bale, Gary Oldman, Neeson and Michael Caine.  A particularly memorable scene involving the actor is that of the sacking of current CEO William Earle (Rutger Hauer) by Bruce Wayne towards the film's close and his replacement by Fox.  'Didn't you get the memo?' the actor enquires with more than a faint hint of sarcasm in his voice.  One of the best superhero films of all time – which benefits greatly from Nolan's preference for traditional stunt work and authentic fight scenes as opposed to the artificiality of CGI – it was followed by an even superior sequel three years later as referenced below.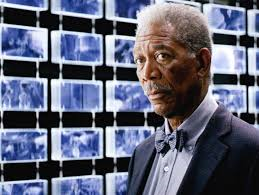 The Dark Knight (Christopher Nolan 2008)
Freeman was one of several returning cast members for the 2008 sequel to Batman Begins (others included Christian Bale, Michael Caine and Gary Oldman) in which a criminal mastermind known as The Joker (Heath Ledger) plagues the city of Gotham and draws the Caped Crusader into a battle of wills with far-reaching repercussions.  The scheming villain with clown make-up and a Glasgow Smile unleashes a wave of chaos in the wake of a tentative alliance formed between Batman, Jim Gordon and rising District Attorney Harvey Dent (Aaron Eckhart).  Some marvellous encounters and set-pieces which follow include the opening scene bank robbery, Batman's capture of corrupt accountant Lau in Hong Kong, The Joker's attack on the convoy transporting Dent (which introduces the Batpod), and the terrific tension that mounts surrounding the two evacuating ferries which are rigged with explosives (one containing civilians, the other prisoners).  Heath Ledger stole the show here of course (winning a posthumous Best Supporting Actor Oscar in the process for his memorable turn as The Joker), but mention should also be made of the performances once again of Bale, Oldman, Caine and, in this particular instance, Aaron Eckhart.  Freeman is rock-steady as Fox, as he was in Batman Begins, and the scene in which he raises genuine concerns regarding Bruce Wayne/Batman's employment of a sonar device which spies on the entire city touches on an important post 9/11 theme, namely, that of how far surveillance should extend in the interest of civil welfare and national safety.  'This is too much power for one person…spying on 30 million people isn't part of my job description,' he remarks to Wayne in one of the film's more telling scenes.  A box office smash upon its theatrical release, The Dark Knight is considered by many to be the greatest of all time in the superhero genre and was voted thus in a reader's poll conducted by Rolling Stone magazine in 2014.  In addition to Ledger's Oscar win, it also won in the category of Best Sound Editing, and received a further six Academy Award nominations.  The American Film Institute also voted it one of the top ten films of 2008.  Such accolades were indeed well deserved.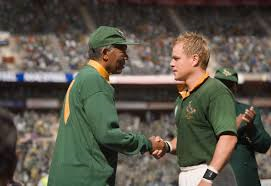 Invictus (Clint Eastwood 2009)
It's hardly much of a stretch to remark that the part of Nelson Mandela was a role Freeman seemed born to play.  Clint Eastwood's sports drama begins essentially in 1994 when the anti-apartheid politician is elected the first black president of South Africa, but, in spite of this momentous occasion and its historical significance, it is quite clear that the nation he assumes leadership of is still an immensely divided one with tensions simmering just below the surface.  Discerning such unease even within his own security detail (which is composed of established white officers and ANC recruits), Madiba quickly realises that a rallying point for these diverse groups and attitudes must be found.  He duly settles on the 1995 Rugby World Cup tournament, which is due to be hosted by South Africa itself, and meets with the Springboks captain Francois Pienaar (Matt Damon).  If you know your sports history, then you'll remember that South Africa went on to win that particular world cup despite the formidable All Blacks team (one Jonah Lomu figured prominently) they faced in the final.  The iconic moment when Mandela, donning a Springboks jersey, presented the Webb Ellis trophy to Pienaar is one of several opportunities which Eastwood utilises to maximise the emotional effect and resonance of the piece; other such instances include the team visiting Robben Island prior to the final game, the site of the former maximum security prison where the future president spent the first 18 of his 27 years in jail.  Invictus is manipulative cinema at its very best, but there's little doubting the sincerity it invests in its subject matter through Eastwood's assured direction and Anthony Pecham's straightforward script (based as it is on Playing the Enemy: Nelson Mandela and the Game that Made a Nation by journalist John Carlin).  Freeman – as one would expect – is absolutely first-rate as the elder statesman and he's well complemented by Damon in the role of Pienaar.  Clint's own son, Scott Eastwood, pops up in a supporting role as the Springboks' fly-half Joel Stransky, the man who kicked the winning drop goal in extra time.  Not surprisingly, Invictus steers clear of the allegations of deliberate food poisoning and other tactics of disturbance which were rife in the aftermath of the game and still persist to this very day.  But the moment when Mandela hands the Webb Ellis trophy to Pienaar is sheer magic.  Just as it was back on that eventful day in Ellis Park Stadium, Johannesburg in June 1995.