Movie Retrospective: A Midnight Clear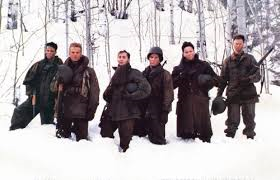 Keith Gordon's 1992 film A Midnight Clear is a fine and telling depiction of the futility of war and the comradeship that exists between brothers-in-arms.  Set in December 1944, as the Battle of the Bulge commences, A Midnight Clear begins with Ethan Hawke's Will Knott and Gary Sinise's Vance 'Mother' Wilkins as they man a foxhole in a snow-laden European terrain.  Wilkins, we are informed by way of Knott's voiceover, has recently learnt of the death of his child back stateside and is on the edge in terms of his mental stability.  As much is suggested as he takes a cross-country run tearing off all his clothes.  Knott decides to keep this incident from the rest of his group (he does tell them about it later) who are an intelligence and reconnaissance squad whose numbers have been reduced as the war and its attendant toll have progressed.  They are selected by the uninspiring and officious Major Griffin (John C. McGinley) to take up occupation of a deserted chateau near the German lines with a view to gathering information on enemy movements.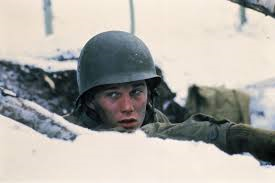 In an early voiceover (one of many which intersperse the narrative) Knott remarks on how he is unsure of what country he is in – be it Germany, France or some place else – and there is an accompanying sense of the surreal as the group of young GI's settle into the abandoned domicile and avail of its provisions.  Quite soon, however, they learn they are not alone.  A group of mostly young German soldiers are nearby and, at first, appear to taunt their American counterparts with snowball fights and other such bizarre calling cards.  As it turns out, the war-weary Germans are anxious for peace and eager to survive as much as Knott and his retinue.  Offering a cease-fire and surrender, the Germans have just one condition: they request that the Americans fake a skirmish with them so that their families back in the Fatherland will not be punished for what would be perceived as a capitulation.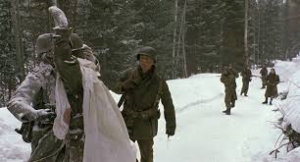 After some deliberation, Knott and his group decide to accept these terms, but, significantly, leave Wilkins oblivious of the particular details.  The subsequent skirmish (no more than several shots fired in the air) goes awry when the latter turns up and believes it to be a for-real engagement.  One soldier on the American side is killed, another badly wounded; all the Germans and their ageing NCO are shot dead.  The remaining survivors decide purposefully not to inform Wilkins of his error and are reprimanded by the visiting Griffin for the manner in which they have conducted themselves.  As Christmas approaches, the remaining four soldiers observe the festive season by having baths and washing the corpse of their departed fellow officer.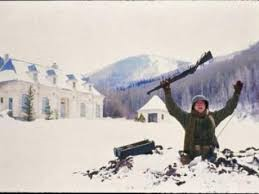 A Midnight Clear is anything but your typical WWII movie, but there is an undoubted resonance and quality to its story and setting.  Keith Gordon's script and direction are compassionate and deeply felt.  In an early flashback scene we see four members of the squad spend a night stateside with a young woman whose fiance has recently died.  Grief-stricken, she is intent on killing herself but agrees to sleep with each of them who have never been with a woman in this way.  It's one of several telling vignettes in the film and is powerfully counterpointed later on as the GI's meet their young German counterparts.  Elsewhere, there are more than a few fine performances.  Ethan Hawke was fast becoming an outstanding young actor in the early 1990s and he is surrounded by several other excellent players, including Frank Whaley, Kevin Dillon, Peter Berg and Arye Gross.  Gary Sinise is superb as the haunted 'Mother' Wilkins.  The score by American composer Mark Isham is suitably restrained, yet subtly powerful.  This is a war movie about soul and substance as much as it is about the eventual pointlessness of all such conflicts.  And it is a war movie well worth seeking out and viewing if you have never come across it up to now.  Extremely moving and highly recommended.