Movie Retrospective: My Favorite Year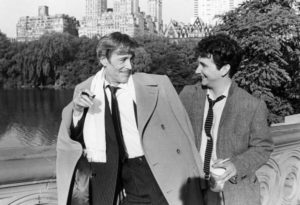 The late great Peter O'Toole enjoyed many memorable roles during the extent of his impressive career and one of these – which occurred in the early 1980s – has been overlooked somewhat with the passage of subsequent years.  1982's My Favorite Year is essentially a comedy which has O'Toole cast as a movie has-been named Alan Swann who is famous largely for his swashbuckling roles of yesteryear.  Set in New York City in 1954 (the 'Favorite' year of the title), the Richard Benjamin-directed film is also of interest with respect to its musings on the rapid ascendancy of television during this era and the nature of stardom generally.  That O'Toole's character is said to be based on Errol Flynn should come as no surprise and the parallels between the two are obvious from a viewing of the film.  Brooksfilms head honcho Mel Brooks (who co-produced the film) was a writer on the Sid Caesar show Your Show of Shows at an early point in his career when Flynn – no less – featured as a guest on one episode.  Although Brooks maintains that no real interaction took place with Flynn, the essential premise of the story was inspiration enough for writer Dennis Palumbo (who collaborated on the screenplay with Norman Steinberg).  To their great credit, the writers delivered a script with much comedy and not a little sentimentality for a bygone generation.  The medium of television was quite a different animal in the America of the mid-1950s and matinee idols such as Swann still commanded the gaze of the public eye.  It's quite a contrast to our modern age of internet, social media and reality TV shows with their fifteen-minutes-of-fame wannabes.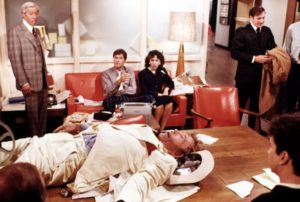 A definite feeling of nostalgia pervades My Favorite Year and this is no bad thing.  The film opens with Benjy Stone (Mark Linn-Baker), a junior comedy writer working on the NBC variety show called Comedy Cavalcade which stars Stan 'King' Kaiser (Joseph Bologna).  Swann (O'Toole) is due to guest star on that week's show and Stone (as narrator) is more than effusive in his praise and admiration of the star of many swashbuckling classics from the golden age of Hollywood.  There's one small hitch however; Swann has a strong propensity for the hard stuff and when he shows up at the television studios completely blotto, the producers consider letting him go with immediate effect.  Stone intervenes promising to keep his cinematic hero on the straight and narrow in the days leading up to the live show and the two become fast friends.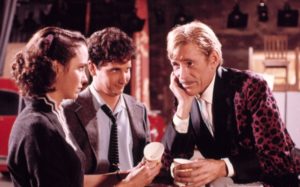 There's a gentle warmth at the very centre of My Favorite Year and it arises from the relationship between Stone and Swann.  The performances of Linn-Baker and O'Toole in particular are absolutely on the money.  The older man, the movie star who has seen better days, is more than willing to impart stories about himself and his many exploits on-screen and off – 'The women who are interested in me know exactly who I am and what they want and nine times out of ten they get it.'  In a very clear nod to Errol Flynn, Alan Swann is quite the ladies' man as he proves in a restaurant scene and when flirting with Benjy's romantic interest K.C. (Jessica Harper).  In one of my own favourite scenes from the film, Swann decides to use the ladies' room and is taken to task for this by the somewhat crabby wardrobe lady – 'This is for ladies' she informs him quite categorically, to which – without missing a beat – he replies 'And so is this ma'am, but sometimes I have to run a little water through it.'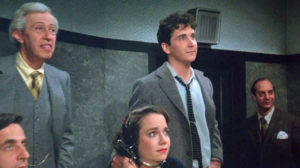 The week passes by with rehearsals for the show and the friendship between Stone and Swann grows.  The latter reveals the fact that he has a young daughter named Tess who is living in Connecticut.  Owing to the breakdown of his marriage in this particular instance (one of many as hinted by the script), Swann has had little contact with his child.  In spite of the razzmatazz and devotion which he still enjoys, a feeling of emptiness envelops Alan's heart.  This is further established when he visits Stone's family in Brooklyn and is gently chided for as much by Benjy's mother over dinner – 'Shame on you Swanny, shame on you.'  In a separate subplot, Swann helps the younger man to woo the object of his affections K.C. and a hilarious scene ensues as the two – more than slightly inebriated – attempt to gatecrash her parents' party by means of a fire hose reel.  Another subplot concerns 'King' Kaiser himself and the on-going 'Boss Hijack' sketch which he is pursuing on his show.  The object of his mockery and derision – a corrupt union boss by the name of Karl Rojeck (Cameron Mitchell) – is less than pleased with the unflattering portrayal.  His threat is as plain as the over-sized hat on his head – ditch the piece or else suffer the dire consequences.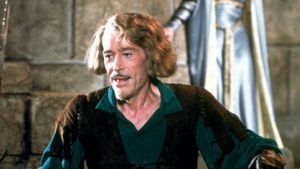 The denouement arrives on show night just as the television cameras are about to roll.  Discovering that he is to perform before a studio and live television audience, without the recourse to retakes, Swann flips and hits the bottle once more – 'I'm not an actor, I'm a movie star.'  A determined Benjy manages to remind him of who he is and the debt he owes to people such as himself who still revere him and his cinematic legacy – 'I need Alan Swanns as big as I can get them.'  On the television studio set itself, Kaiser is confronted by several of Rojeck's heavies who beat him up in front of the audience.  Believing this to be part of this week's sketch, they applaud, but Benjy and Swann know differently.  From the prominence of a balcony, the former swashbuckling star – who, incidentally, is attired as a Musketeer – swings into action and helps Kaiser overcome the hoodlums.  He receives a standing ovation then and graciously accepts this swinging his sword.  It's pretty much a perfect ending to a wonderful comedy.  O'Toole deservedly garnered an Academy Award nomination for Best Actor (he lost to Ben Kingsley for Gandhi) and his performance here is once again a reminder of his rare talent.  In other notable supporting roles are Adolph Green as Leo Silver and Bill Macy as Sy Benson.  Basil Hoffman plays Herb Lee, the comedy writer on the show who whispers almost everything he has to say (his character is said to be loosely based on Neil Simon) and Lainie Kazan (who plays Benjy's mother Belle) has the distinction of being the only cast member who reprised her role for the 1992 Broadway musical version.  Tim Curry played the part of Alan Swann for this short-lived version, but surely nothing could come close to O'Toole's performance.  One of the most undervalued comedies of the 1980s which I suggest you check out with immediate effect.