Movie Retrospective: On Golden Pond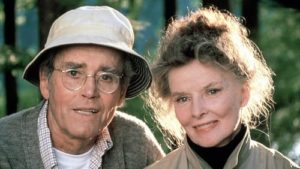 1981's On Golden Pond starring Katharine Hepburn and Henry Fonda remains one of the best and most touching cinematic meditations on the theme of growing old and impending mortality.  Based on the 1979 play of the same name by Ernest Thompson, the Mark Rydell-directed film begins as Norman Thayer Jr. (Fonda) and his wife Ethel (Hepburn) return to the titular Golden Pond where they have vacationed for many a summer.  An early exchange – which is impressively succinct on Thompson's part – tells us much about the central characters and their fundamental qualities.  Upon hearing the native loons, who are in close proximity, Ethel remarks as to how the aquatic birds are 'welcoming them home'; the seemingly untouched Norman, on the other hand, merely replies that he can't 'hear a damn thing.'  The scene which follows – as Norman surveys the dusty cottage with its photos from a bygone generation – takes us that bit closer to the heart of the matter.  Norman, a retired professor, is clearly the more fragile of the two in spite of his crabby disposition.  It's not quite evident at this early juncture, but this is a man who is only too aware of his underlying poor health and the implications involved.  The summer ahead might be his last one on Golden Pond and Norman realises as much.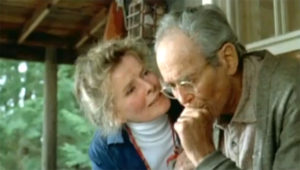 The late great film critic Roger Ebert referred to this film as a 'treasure' and he was pretty much on the mark with that summation.  A stage play by origin, On Golden Pond retains its charm and innate humanity to this very day thanks to the stellar work of several people on the movie version, not least the aforementioned Fonda, Hepburn, Rydell and Thompson.  The formula employed may be as old as the hills as story-telling goes, but the emotional pay-off is never less than absolutely compelling.  An early scene in which Norman (who has been dispatched by Ethel to pick berries) becomes lost in the woods is a copybook example of how to elicit audience empathy without becoming overly maudlin or ponderous.  Returning with not a berry to show for his troubles, Norman articulates the frustration and fear which arise when a place that ought to be well-known to an individual becomes a strange and slightly terrifying environment owing to advancing memory loss – 'I got to the end of our lane.  I couldn't remember where the old town road was.  I went a little ways in the woods.  There was nothing familiar.  Not one damn tree.  Scared me half to death.  That's why I came running back here to you.  So I could see your pretty face and I could feel safe and that I was still me.'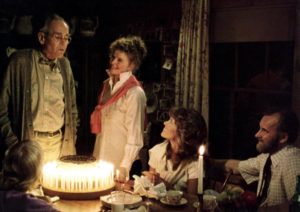 The arrival of the Thayer's only child Chelsea (Jane Fonda) coincides with the celebration of Norman's 80th birthday.  The relationship between father and daughter has been complicated we are told and is said to have mirrored the real off-screen dynamic between Jane Fonda and Henry Fonda (incidentally, the Klute and Coming Home Oscar winner had purchased the rights to Thompson's play with her father in mind for the role of Norman).  Accompanying Chelsea are her new boyfriend Bill (Dabney Coleman) and his son Billy Ray (Doug McKeon).  A wonderful scene takes place between the octogenarian and teenager in which the former is shocked that the latter has never read Treasure Island.  There's also a quite humorous exchange between Fonda and Coleman's character in which the latter asks for permission to sleep in the same room as Chelsea whilst staying on Golden Pond.  But tensions are just below the surface as evidenced the very next day when Chelsea alludes to her personal belief that Norman considers her a disappointment.  This may be on account of her failed marriage or it may go further back to her own childhood.  The ever-conciliatory Ethel advises her to move on, to forgive and forget the past.  The desirability, even the stark requirement, for change and personal evolution is one of the other main themes of On Golden Pond.  In this respect, Norman and Chelsea are the individuals who are intent on dwelling on the past.  In his case it appears to be a consequence of his age; in hers it is because of a long-festering resentment she holds concerning her father.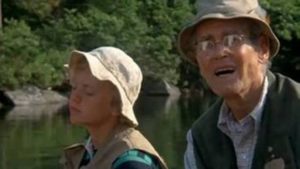 With plans to holiday with Bill in Europe, Chelsea asks if Billy Ray might stay with Norman and Ethel for a few weeks.  The teenager is initially disgruntled by this (being dumped as he refers to it), but an unmistakable bond soon forms between him and Norman.  Of particular hilarity is Norman's obsession with a fish named Walter who he has been trying to capture on the lake for many years.  The two have an accident on the Thayer's motorboat one evening whilst attempting to track Walter in a rock-laden cove.  Perhaps an even more affecting scene occurring before this suggests again the matter of a creeping dementia which is slowly becoming a fact of life for Norman – almost causing a fire in the living room, the older man turns on the teenager for no good reason.  Outside, afterwards, Ethel reminds Billy of Norman's age and the physical and mental frustration which goes hand-in-hand with this.  Norman wasn't shouting at you she tells him, he was shouting at life.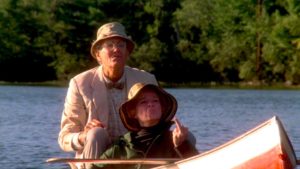 The third act of the film involves the return of Jane Fonda's Chelsea and the revelation that she has married Bill while on vacation in Europe.  Informed by Ethel that Norman and Billy Ray have got on much better than she ever expected, Chelsea once again returns to her age-old discontentment apropos her father; she even goes so far as to suggest that Billy Ray represents the son that Norman had always wanted.  Calling Norman (who is out on the lake fishing) a 'son of a bitch', Chelsea is reminded by Ethel that 'that son of a bitch happens to be my husband.'  It's a turning point in the story and causes Chelsea to face up to her father.  A reconciliation occurs and the two agree to speak and see each other more often.  The film's final scene – in which Ethel and Norman depart Golden Pond at the end of the summer – is a perfect combination of humour, pathos and tenderness.  Suffering chest pains not dissimilar to a heart attack, Norman quickly recovers and he and Ethel go out onto the lake one last time to look at the pair of loons who had appeared in the film's opening scene.  A jovial Norman remarks as to how their offspring have probably also grown up and moved to one of those places such as Los Angeles.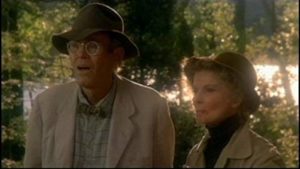 A performance-driven film in the first instance, On Golden Pond earned Oscars for its leading actors and a number of other nominations for the creative collaborators.  At the age of 76, Henry Fonda became the oldest winner in the Best Actor category in Academy Award history.  It was the only golden statuette of Fonda's career, whilst his co-star Hepburn won the fourth Best Actress Award of hers thereby extending her own record for the most acting wins (four in total).  Jane Fonda was also nominated for Best Supporting Actress, but lost out to Maureen Stapleton for Reds.  The third Oscar won by the film came by way of Ernest Thompson's Best Adapted Screenplay Award of his own play.  Composer Dave Grusin and cinematographer Billy Williams were also deservedly nominated for their respective work.  The film lost out in the Best Picture category to Chariots of Fire and Rydell lost out in the Best Director category to Warren Beatty for Reds.  On Golden Pond was the second-highest grossing film of 1981 (after Steven Spielberg's Raiders of the Lost Ark), but its most indelible feature is the affecting and intelligent way in which it approaches its delicate subject matter.  Without ever resorting to the depths of preachiness or becoming self-important in itself, the film teaches an essential life lesson which goes as follows – mortality is an inevitable thing for us all and old age is also a matter which many of us will have to contend with.  There is no right way or wrong way in terms of dealing with these universal certainties and the individual must make the best of it that he or she can possibly manage.  Less than five months after receiving his Academy Award for Best Actor, Henry Fonda passed away at the age of 77.  On Golden Pond proved to be his cinematic swansong capping a remarkable and illustrious acting career.  It was a fitting way for this great actor to depart the screen and his performance is one of the many memorable aspects of the film.  A gentle and rewarding reflection on one of life's most challenging passages.