Movie Retrospective: Ruggles of Red Gap (1935)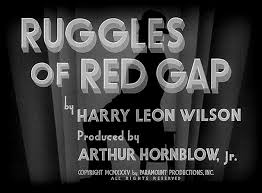 If you're ever in the mood for some old-fashioned comedy from yesteryear, then consider checking out the 1935 film Ruggles of Red Gap starring the great Charles Laughton.  Directed by Leo McCarey (Duck Soup, The Awful Truth, Going My Way, An Affair To Remember), and based on the 1915 novel of the same name by Harry Leon Wilson, this was in fact the third screen adaptation of the same story; it had turned up in silent versions in 1918 and again in 1923 (the latter starring the wonderful character actor Edward Everett Horton as Ruggles).  The central premise is quite simple really, but no less delightful in its execution.  Marmaduke Ruggles, a somewhat reserved English manservant, experiences a sea change in life and in his fortunes when his master, the Earl of Burnstead, loses him in a card game to nouveau riche millionaires Effie and Egbert Floud.  Effie, in particular, hopes that the mannerly and diligent Ruggles will have a gentrifying effect on Egbert who is still more than a little rough around the edges in spite of his wealth.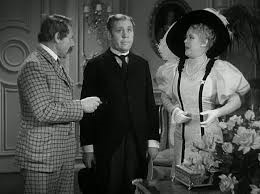 The main comedy of the piece is of course provided by way of the fish-out-of-water motif.  Ruggles is visibly horrified when first told of his new situation by Burnstead and envisages hostile territory and swarms of native American Indians in the Wild West.  He arrives on the shores of the New World – or more specifically in Red Gap located in Washington State – and is more than mildly bemused by his new environs.  Egbert addresses him as Bill whilst Effie continues to hope that Ruggles will have the desired effect on their household.  But events do not go quite to script for her naturally and the previously meticulous Ruggles begins to revel somewhat in this less stodgy atmosphere.  In one scene he gets drunk with Egbert and is subsequently scolded by Effie.  Any viewer watching this film should marvel here at Laughton and his timing generally as an actor.  Comedy was not his regular thing as a performer, but he displays some fine flourishes particularly when emoting his reactions to the rather bizarre new life he finds himself in.  Ruggles also attains a curious celebrity status for himself locally being mistaken for a wealthy retired English colonel.  He even gets an opportunity to recite Lincoln's famous Gettysburg Address.  Assimilation comes gradually but with the promise of some happy new circumstances as personified by Mrs. Judson, a widow to whom Ruggles takes an especial shine.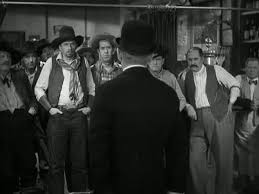 1935 was something of a seminal year in the career of Charles Laughton as a whole when one considers the two other prominent films in his screen oeuvre which were released then – Les Miserables and Mutiny on the Bounty.  He won the New York Film Critics' Circle Award for Best Actor for Ruggles and his part as Captain William Bligh in Mutiny.  Ruggles itself received an Oscar nomination for Best Film, but lost out to the eventual winner Mutiny on the Bounty.  The Oscar-winning actor himself (he won for 1933's The Private Life of Henry VIII) would subsequently go on to star in such films as Jamaica Inn, The Hunchback of Notre Dame, The Canterville Ghost, The Paradine Case, Hobson's Choice, Witness for the Prosecution and Spartacus (one of his final screen appearances).  In 1955 he made a one-time-only foray into the director's chair with the peerless and memorably spooky The Night of the Hunter starring Robert Mitchum.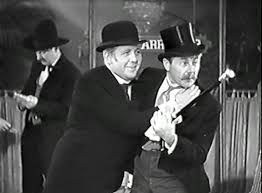 I recently watched Ruggles again (for the first time in blu-ray format) and also had the occasion to view an accompanying short interview with the English actor and writer Simon Callow.  Callow has written a biography about Laughton, which was first published in 1997, as well as a BFI Film Classics book on the aforementioned The Night of the Hunter.  His interview on the Masters of Cinema blu-ray throws some further light on Laughton's performance in Ruggles as he pays particular attention to the actor's background, raised as he was by parents who were in domestic service (hotel keepers in fact).  Callow suggests that Laughton's performance in Ruggles may well be tinged by his own memories of work in this field and also places emphasis on how Laughton as an individual came to utterly despise the English class system which he viewed as archaic and rather demeaning.  Bearing such details in mind – along with Laughton's decision to take American citizenship – one can perhaps understand why the role of Ruggles may well have appealed to him; consider again, for example, that Gettysburg Address scene which occurs roughly two-thirds of the way through, or the final moments of the film as Egbert and several others sing For He's a Jolly Good Fellow in honour of a highly chuffed and beaming Ruggles.  When one re-thinks the informative words of Simon Callow, one can indeed imagine Laughton the man taking great pride in such moments in the film.  Those smiles he displays may be more than just acting in this regard.  Ruggles's acceptance in the New World may well mirror that of his own.  The actor is still much revered to this day and is buried in Forest Lawn Memorial Park in Los Angeles.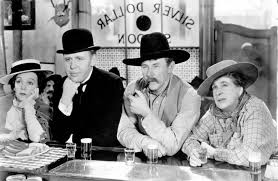 A fine supporting cast in Ruggles includes Charlie Ruggles as Egbert, Mary Boland as Effie, ZaSu Pitts as Mrs. Judson and Roland Young as the Earl of Burnstead.  Notable among the credits for the film is the editor Edward Dmytryk who would go on to direct films such as The Caine Mutiny, Crossfire and The Young Lions.  But the film really belongs to Laughton and McCarey, who coaxes from the actor a rare but nuanced – and somewhat touching – comic performance.  Famed French film director Jean Renoir was reportedly a huge fan of this particular film and Ruggles certainly remains something of a gem with respect to its performances, writing (screenplay adaptation by Walter DeLeon and Harlan Thompson) and warm direction by McCarey.  Unfortunately, Ruggles doesn't appear to turn up on television very much, so you might consider DVD or blu-ray formats in order to see it.  A fine addition for anyone who's a collector of comedies from old Hollywood of the 1930s and 1940s.