Movie Retrospective: The Beguiled (1971)
Don Siegel's The Beguiled opens with the seemingly innocent scene of a young girl in the woods collecting mushrooms.  We know what period of time this is as several pictures from the Civil War have been presented during the opening credits.  When the young girl Amy (Pamelyn Ferdin) comes upon a wounded Union soldier (Clint Eastwood), she immediately recognises him as the enemy and equates him to her own personal experiences of the conflict – 'My Daddy died that way,' we hear her think to herself, 'crawled off in the bushes and bled to death.  Maybe you were the cause.'  Nevertheless, she helps the bloodied man, whom she addresses as 'Mr Yank,' to his feet.  The soldier introduces himself as Corporal John McBurney or McBee for short.  As some Confederate troops pass close by, he enquires of the girl's age.  Amy replies that she is 12, but going on 13 in September.  'Old enough for kisses,' McBurney remarks as he does just that in order to save his own skin from the nearby enemy forces.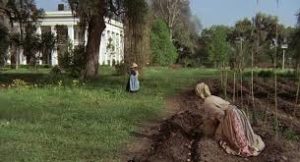 It's the first hint in the film as to McBurney's character and how he is fixed on self-preservation.  Helped back to the all-girls boarding school by Amy, he encounters its owner Martha Farnsworth (Geraldine Page).  'Grace of God in the form of this child,' he says as they carry him inside despite Miss Farnsworth's evident reservations.  'If this war goes on much longer, I'll forget I ever was a woman,' we hear her think to herself as she wrestles with her conscience.  As she and the coloured maid Hallie (Mae Mercer) undress McBurney, Siegel presents us with a telling flashback which more than infers an incestuous relationship between Miss Farnsworth and her brother.  The school itself has a population of just six students and a teacher named Edwina (Elizabeth Hartman).  Again, Miss Farnsworth debates with herself about McBurney as she speaks to a Confederate Captain at the school's gate.  Reasoning that he would most likely die of his injuries in prison, she decides on a course of mercy by keeping him in the school until he has recovered.  The implication here seems to be that he may then walk free to resume his services on the side of the Union.  In spite of his grateful demeanour, McBurney is a ruthless soldier who pillages and shoots other men in the back.  Siegel shows us this by way of two brief flashbacks during the film as McBurney contradicts his own words.  He may be a soldier, but he most definitely is not a man of honour.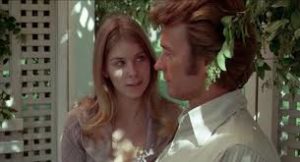 One of the central themes explored in The Beguiled, and the 1966 novel by Thomas P. Cullinan on which it is based, is that of latent sexuality and its various manifestations.  When Carol (Jo Ann Harris) – the prettiest student in the school – sees her teacher Edwina washing McBurney's body the thought she has to herself tells us much and also imparts some information about Edwina herself – 'At least it gives her an opportunity to learn what a man's body feels like.'  This is the first overt suggestion of lust and desire in the small community and it raises its head a short time later as Miss Farnsworth admires a brooch which Edwina is wearing – 'The Corporal seems to be having an effect on all of us.'  In spite of this, Miss Farnsworth reminds the recovering McBurney that he is not a guest of the establishment, but rather 'an unwelcome visitor.'  In a blatant lie, the soldier claims that he is a Quaker who has never borne arms in battle.  Siegel's well-placed flashback here tells us otherwise of course and we see just how clever McBurney is with respect to currying favour as he stumbles in front of Edwina on a set of crutches which has been provided by Amy.  The sensual Carol meantime is making her move as well as she steals into McBurney's room during Bible reading to plant a kiss on his lips.  McBurney enjoys such attention and realises how he may work this to his general advantage.  Identifying Edwina as the chaste and more suggestible adult, he begins to sweet-talk and endear himself with expressions of affection.  The character is again following a self-serving train of thought here, but why wouldn't he we think as his primary concern is to survive.  The rather naive Edwina appreciates this and the attentions of McBurney himself who is suitably attired now in clothes which used to belong to Miss Farnsworth's brother – who is said to be missing, presumed dead.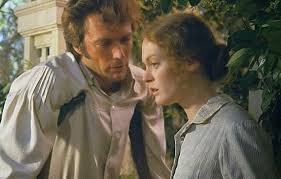 McBurney soon comes to realise the dangers of his own appeal and the resentfulness it may provoke.  Spotting him kissing Edwina in the garden, a spiteful Carol places a blue rag on the school gate to alert passers-by that something is amiss.  McBurney is spared on this occasion as Miss Farnsworth claims him to be her cousin.  She invites him to supper that same evening despite the objections of two of the girls who still view him as the enemy.  'Would you be interested in staying on here Corporal?' she asks him over a glass of wine as it becomes quite clear that she also finds him desirable.  The self-satisfied McBurney feels as if he has finally made it with so many admiring women at his disposal.  A dream sequence which follows involves him in a menage a trois with Edwina and Miss Farnsworth.  In a very deft move here, Siegel makes us believe that this is McBurney's dream; but it isn't.  The fantasy is that of Miss Farnsworth herself as she awakens in her bed.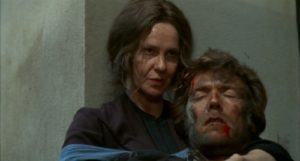 Matters take quite a turn when McBurney goes to Carol's room and is subsequently discovered there by Edwina.  'You're a filthy lecher, I hope you're dead!' she screams at him as McBurney tumbles down the stairs and is badly injured.  The girls and Miss Farnsworth carry his body downstairs and lay him out on a large table.  Rendering him unconscious with laudanum, Miss Farnsworth determines that it will be necessary to amputate one of his legs.  'Turn his face away from me,' she instructs Hallie as she begins the crude procedure.  'There is some frailty in you,' Hallie thinks to herself as she duly complies.  The operation is tantamount to an act of emasculation and McBurney is understandably less than happy as he discovers what has been done to him – 'You dirty bitch!' he shouts as he turns on Miss Farnsworth, 'just because I didn't go to your bed.  Just because I went to someone else's bed!'  An unmistakeable sense of malice and hostility replaces her desire and want of the night before as she tells him, 'I should have let you die screaming.'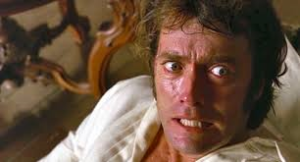 There are Union troops in the vicinity of the school and a vindictive McBurney seeks to turn this situation to his advantage.  Demanding certain privileges (including the right to bed down with whoever he pleases), the Corporal proceeds to get drunk and scoffs at the image of Miss Farnsworth and her brother which is contained in a locket.  'Why the hell didn't you just castrate me?' he yells in one of the film's less ambiguous lines.  By accident he kills Amy's pet tortoise and withdraws to his room apologising profusely.  Edwina takes pity on him and tells him she loves him.  But, unknown to them both, Miss Farnsworth – who also wishes to survive – has concocted her own plan for dealing with McBurney.  The aggrieved Amy is instructed to pick certain mushrooms and, knowing McBurney's love of these, the viewer realises that no good will come of this.  'I know just where to find them,' the young girl says as she quickly tunes into the scheme.  McBurney is invited to dinner at which he is served the poisonous mushrooms.  He announces that he will be leaving the next day and that he and Edwina are to be married.  The deadly conspiracy against him is soon revealed as Miss Farnsworth discourages Edwina from eating the mushrooms.  McBurney dies, his body is sewn up in a bag and he is carried away by the girls with Edwina and Miss Farnsworth.  An injured crow which was shown to us at the beginning of the film has also died and hangs from a railing on the balcony of the house.  It too came to briefly reside at the school and was, presumably, once the subject of some curiosity, perhaps even a little affection.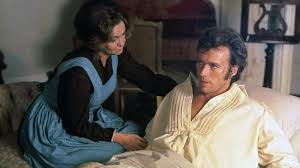 Released the same year as Siegel and Eastwood's most famous collaboration together – Dirty Harry – The Beguiled is notable for the way in which it turns the actor's macho image on its head.  The role was quite a departure for Eastwood and is in stark contrast to the persona he had attained for himself to this time in films such as The Good, the Bad and the Ugly, Hang 'Em High, Where Eagles Dare and Kelly's Heroes.  Coogan's Bluff (1968) and Two Mules for Sister Sara (1970) were previous works with Siegel and one can only admire such a radical break on the actor's part.  Not surprisingly, The Beguiled was not a commercial success in its day (grossing less than $1 million as opposed to Dirty Harry's sizeable $36 million) and Universal attempted to market it as some sort of hothouse melodrama – 'One Man…seven women…in a strange house!'  In such a vein the original theatrical poster features Eastwood in a familiar pose brandishing a gun.  The only occasion in which he uses a gun in the entire movie is that flashback which I alluded to earlier on – and it's of him shooting Confederate soldiers in the back.  Hardly the stuff of a hero.  The character of McBurney is most certainly not in the mould of a Dirty Harry or even the Man with No Name.  This is one of Eastwood's best and most complex performances and he's very well supported by the likes of Page and Hatman.  A Southern Gothic ambience pervades Siegel's film and some of the common themes of this sub-genre are evident by way of the deeply flawed characters and the backwoods setting of the school itself.  Most prominent is the theme of sexuality (as I previously mentioned) and the urges and impulses, but also ill-feelings and animosities, which it engenders.  A most atypical Eastwood film, but one of the star's very best.  His own directorial debut – Play Misty for Me – which was also released in 1971 – would explore some similar concepts such as the subversion of the so-called male macho character.  Watch all three films from this seminal year in his career and see how they compare.