Movie Retrospective: The Holly and the Ivy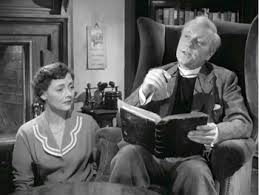 Director George More O'Ferrall's 1952 drama The Holly and the Ivy is not a film that readily comes to mind when considering festive screen offerings, but it is nonetheless worth catching at least once – preferably at Christmas of course – if you have the time and are so inclined.  Based on the play of the same name by the London-born dramatist Wynyard Browne (who co-wrote this adaptation with producer Anatole de Grunwald), it tells of a small family gathering at a Norfolk parsonage hosted by the Reverend Martin Gregory (Ralph Richardson) and his stay-at-home daughter Jenny (Celia Johnson).  The family members concerned are his son Michael (a very youthful Denholm Elliott), other daughter Margaret (Margaret Leighton), sister Bridget (Kilkenny-born actress Maureen Delany), sister-in-law Lydia (Margaret Halstan) and Richard Wyndham (Hugh Williams).  A few establishing scenes aside, the main drama of The Holly and the Ivy takes place in the parsonage house itself where some home truths are brought to light between Christmas Eve and Christmas Day.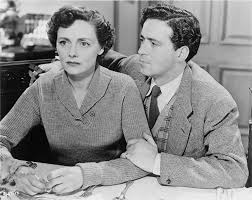 The kitchen-sink realism genre of British cinema (exemplified by such works as Look Back in Anger and Room at the Top) had not taken hold at this point in time and there was still a place for such traditional offerings as Browne's drama.  At an early juncture we learn that the seeming stay-at-home daughter Jenny has a boyfriend David Patterson (John Gregson), an engineer who has been offered a lucrative contract to build aerodromes in South America.  He wishes for them to be wed and for Jenny to accompany him on his travels.  Jenny is torn by her heart's desire and her deeply-felt obligation to look after her ageing father – who, incidentally, has recently been widowed.  Not one to be easily deflected, David argues that Jenny's sister Margaret – who writes a fashion column in London – ought to take her turn in terms of such domicile duties.  As it transpires, Margaret is well on her way to becoming a drunk owing to the loss of a child she had by an American serviceman during the war.  Margaret has kept the existence of a child a secret from her father and two siblings, and now also holds in her heart the pain of his death from meningitis.  Revelations ensue of course on Christmas Eve when she tells Jenny of the child and his passing, and later Michael when she apparently inveigles him to go to the pub.  Elsewhere the two aunts – Bridget and Lydia – learn of Jenny's dilemma and advise her to follow her heart and marry David.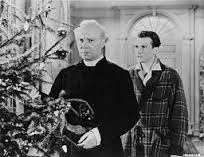 This is not a Christmas film replete with ornamentation, or indeed embellishment, but rather a thought-provoking story which examines themes such as the dangers of failure to communicate, family duty versus personal want, and the authority figure who has spread himself too wide and, subsequently, lost sight of problems closer to home.  Such a figure is the Reverend Martin Gregory himself and although he is portrayed, and played by Richardson, as a quite genial clergyman, he is also a man who must be brought face to face with the torments and secrets his children feel they must keep given his pious position within the small community.  In one such telling scene, which takes place on Christmas morning, a slightly hungover Michael presents his father with the painful facts concerning Margaret, and why she has stayed away from home for so long.  The man of God is confronted with the truth about his spiritual separation from his children, including Jenny, who has not told him of David's wish from them to be married.  Given that the producer and co-writer, in this case Anatole de Grunwald, was himself Russian-born, The Holly and the Ivy has often been perceived as having a Chekhovian-like inflection with respect to its evocation of social realism and subtexts of personal subterfuge and public facade.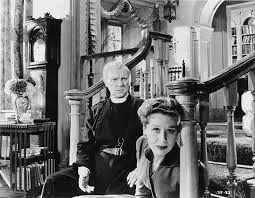 The Holly and the Ivy is not the cheeriest festive film you will ever see, but it is well worth catching for several reasons, not least its fine cast and performances.  Richardson is note-perfect as the amiable Reverend who must reconcile himself to a different opinion of his children and of himself.  Celia Johnson (perhaps best known to most for her remarkable turn in David Lean's timeless Brief Encounter) is well cast as Jenny and Delany and Halstan (both reprising their respective roles from the stage version) work well together as the elderly aunts.  Denholm Elliott is equally fine also, but the film perhaps belongs to Margaret Leighton as the grief-stricken Margaret, now seeking solace at the bottom of a bottle.  A fine actress in her own right, who was at one time married to fellow actor Laurence Harvey, Leighton's career was tragically cut short by her early death at the age of 53.  She won a BAFTA Award for Best Supporting Actress for the 1971 Joseph Losey film The Go-Between.  Her performance in this earlier film is a particular standout, but kudos must extend to the cast as a whole for lifting this adaptation above the trappings of its stage origins.  And I might add that there is a happy ending in all of this – pretty much in the final frame of the film as a traditional carol is sung in the nearby church.  The traditional British folk song of the same name also features naturally.  Well worth a look if you have the opportunity, The Holly and the Ivy is available on DVD and turns up every so often during seasonal TV.  At a brisk 80 minutes running time (or thereabouts) it doesn't hang about in terms of approaching the main elements of its subject matter.  Try and watch it this Christmas instead of some of the more flimsier entertainments on offer.