Movie Retrospective: The Last Detail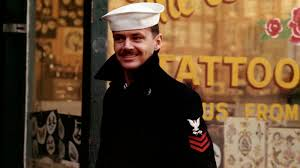 The great Jack Nicholson turns 80 in a few weeks' time (more to follow on that by the way), so it seems timely and appropriate to remind ourselves of what a fantastic actor he's been over the years and the many superb performances he's delivered.  It could be argued that the star was at the very height of his powers during the early to mid-1970s.  Bob Rafelson's Five Easy Pieces provided him with one of his best roles, Roman Polanski's twisty neo-noir Chinatown is absolutely second-to-none.  The actor would go on to win his first Oscar by way of 1975's One Flew Over the Cuckoo's Nest.  He was nominated also for his part in 1973's The Last Detail and won the Best Actor Award for the film at the Cannes Film Festival.  The Hal Ashby-directed film is one of the actor's own personal favourites and the role of Billy 'Badass' Buddusky is one of his signature performances.  In this slice-of-life comedy-drama Jack is a self-proclaimed lifer in the Navy who along with Gunner's Mate First Class Richard 'Mule' Mulhall (Otis Young) is given orders to transport a sailor to prison.  The young seaman by the name of Larry Meadows (Randy Quaid) is rather callow and has never experienced some of the better things in life.  Sentenced to eight years for the minor crime of stealing 40 dollars from a collection box of his CO's wife's favourite charity (as it turns out he didn't even succeed in this venture), Meadows appears resigned to his fate and somewhat oblivious of the harsh conditions he will face on the inside.
Buddusky and Mule realise that they have several days at their disposal before they need to present the young man for incarceration.  Determining that Meadows has not seen enough of life (or enjoyed enough of its pleasures), the two men decide to introduce him to such things as booze and women.  En route to the naval prison in Portsmouth, Maine, they stop off at various locations such as Washington, Philadelphia and New York City.  Meadows has grown on them both and Buddusky, in particular, is intent in his purpose that the kid – who is effectively about to lose 8 years of his life – should have the very best time.  To this end the trio get drunk in a hotel bedroom, go ice-skating in Rockefeller Centre, and visit a brothel.  They also call in to Meadows' home, but with the latter's Mom out and a plethora of empty whiskey bottles in plain sight, realise that the kid has not had the best or fairest of upbringings.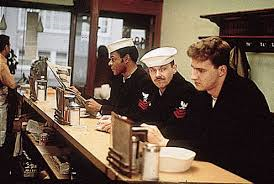 Shot in a grainy-style, documentary-like realism, The Last Detail is, by equal measures, tough yet poignant, stark but touching, with more than a sense of loss at the heart of its narrative.  This is not a pretty version of America that is portrayed, but instead a country replete with contradictions and some savage injustices.  Buddusky and Mulhall are rightly disgusted that Meadows is being sent down for something that amounts to very little in the greater scheme of things.  They equally appreciate the tough existence that is facing the kid in Portsmouth and this informs much of their decision to show him a good time before harsh reality comes to bear.  Visually the film is quite stark with exteriors of the north-eastern states in question during winter time with a noticeable absence of strong colour or warm hues.  Based on the 1970 novel of the same name by Darryl Ponicsan, The Last Detail was adapted by famed film scribe Robert Towne (Chinatown, Shampoo, The Two Jakes), a personal friend of Nicholson.  The much-in-demand actor was involved in the project from a very early stage and was instrumental in getting Hal Ashby employed behind the camera.  Nicholson greatly appreciated the latitude the director allowed him on set and repaid this faith with a scintillating performance.  In support Otis Young is very effective as well, and the then twenty-something Randy Quaid (also nominated for an Oscar) is highly affecting as Meadows.  Other actors who turn up in smaller roles include Carol Kane as a young hooker and Nancy Allen.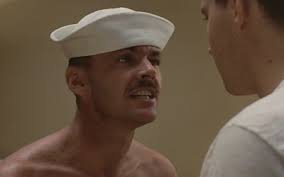 Filmed for the most part in chronological sequence, The Last Detail has had something of an unfair reputation owing to the frequent use of profanity throughout its 103-minute running time.  Obscene language is indeed a feature of Towne's script, but by today's standards it feels quite tame and far from excessive.  This is not a romantic vision of America, as I mentioned before, and Towne and Ashby's approach is not to suggest a country of impartiality or even-handedness.  The America which Meadows is leaving is one which is fragmented and weighed down by such recent events as the Vietnam War and the looming Watergate.  It's a film with fiercely committed performances from the lead actors and is significant also in that director of photography Michael Chapman (Taxi Driver, Raging Bull) graduated from camera operator to fully-fledged cinematographer in the process.  His influence is to be seen in the visual style which I've alluded to previously.  I recently watched this excellent film again (this time on blu ray) and my writing on it here is something of a precursor to an appreciation I will be posting in a few weeks' time about Jack Nicholson himself as he becomes an octogenarian.  Meantime, catch The Last Detail again if you have a chance and, if you haven't already seen it, then I promise you a real screen treat.