Movie Retrospective: The Sweet Hereafter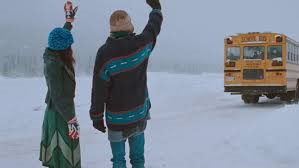 The Sweet Hereafter (Atom Egoyan 1997)
Based on Russell Banks' 1991 novel of the same name, Atom Egoyan's 1997 film, concerning a tragic bus accident involving schoolchildren, is a thoughtful and, at times, stark meditation on loss, anger and the individual secrets that lurk beneath the surface.  Banks' novel is a first-person narrative delivered by four central characters telling of their lives before and after the accident.  Three of them are locals to the area – bus driver Dolores Driscoll, Vietnam veteran and widowed father-of-two Billy Ansel, and Nicole Burnell, one of the survivors from the accident who is now paralysed from the waist down.  The fourth major character in Banks' novel is an outsider – Mitchell Stephens, a lawyer with a background of dealing with class actions in this field who has come to the small town with the express purpose of, as he puts it, 'directing the anger' of the victims' relatives.  For the film adaptation Egoyan chose to change the location of the main drama from Upstate New York to British Columbia, and the evocatice cinematography of Paul Sarossy suggests a landscape which is not entirely in harmony with the small-town ideals of its native occupiers.  The scenes preceding the disastrous school bus accident set in the harsh wintry landscape are especially pertinent in this regard.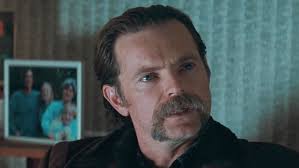 There is a very fine cast at work here which includes Ian Holm as the lawyer Stephens, Bruce Greenwood as Billy Ansel and a young Sarah Polley as the now wheelchair-bound Nicole Burnell.  Gabrielle Rose plays Dolores Driscoll.  Egoyan's general narrative approach is to play with time and to jump between past and present (i.e. before and after the accident) and he even brings us forward to a more present time as Mitchell Stephens chats with a former friend of his daughter's during an airline flight.  Stephens, as one of the main characters, has a dysfunctional personal history which is revealed to us early on in a car wash scene as he takes a phone call from his drug-addicted daughter Zoe.  The scene which takes place intermittently during the course of the film involving his conversation with Zoe's former friend is an introduced narrative device on director Egoyan's part, but functions importantly as one for Stephens to impart part of his own story to us the viewer.  He relates to the woman a story about how, as a young child, Zoe was bitten in bed by a nest of small spiders and how he was prepared to cut into her throat in order to keep her alive as she was taken to hospital by him and his ex-wife.  We also discover that Zoe has had a long history of drug abuse and rehab treatment and that she has now tested HIV positive.  Stephens, like so many of the other parents in this story, has also figuratively lost his child.
The film also examines the lives of Billy Ansel and Nicole Burnell in past and present contexts.  In the novel Billy Ansel perfectly summarises this when his character ponders, with attendant solemnity, that life is divided between 'before the accident and after the accident', and Egoyan employs the framework of the past to demonstrate the hidden, often sordid, lives that are below the veneer of the surface.  The widowed Billy Ansel, although much admired in the small community, is having an affair with Risa Walker who runs the local motel.  He employs Nicole Burnell to baby-sit his children whilst he sits in a darkened motel room waiting for Risa to steal away unnoticed from her husband.  In a latter-day respect, following the accident, Billy has taken heavily to drink – something which is not examined as much in the film as in the novel – and his affair with Risa, whose own son has perished in the icy accident, has come to an end.  In Nicole Burnell's case the examination is even more pointed.  A polished and seemingly immaculate image at face level, the teenager is being sexually abused by her father, a practice she appears to be allowing as suggested by a brief candlelight scene which takes place in a hay barn.  Following the accident, and her resultant incapacity, she becomes the main focus of Stephens' class action lawsuit against the town and school board, and whoever else he can find culpable in some way.  But, as per the novel, Nicole refuses to go along with the script and effectively sabotages any hopes of a successful outcome when, at the pre-trial hearing, she accuses Dolores Driscoll of speeding on the morning of the accident.  Her stony-faced father, having his own illicit secrets of which his daughter is only too well aware, can do nothing in the face of this, and there is a suggestion at the film's climax that Nicole now holds a certain power over her guilt-ridden father.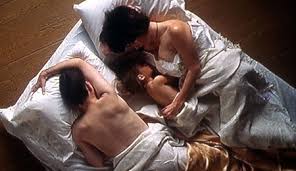 Egoyan's film introduces a number of subtle changes and amplifications to Banks' novel and the most notable of these are the frequent allusions to the Pied Piper of Hamelin.  In a flashback scene Nicole is shown reading the tale to Billy Ansel's children a number of times and the themes of that particular story, which also involves children being taken from a town, albeit by very different means, has a clear thematic relevance in Egoyan's narrative trajectory.  Nicole's relaying of the haunting tale emphasises in particular the character of the lame child who is now left behind after the Pied Piper spirits all the others away.  This character relates to her own in the present-day and the subject of a town bereft of its children is one which resonates throughout this very fine film.  In the novel especially Billy Ansel bemoans the state of the community now after so many of its young – the so-called next generation – have died in the bus disaster.  At one point he states that 'a town that has lost its children has lost its soul' and this is indeed a narrative thread Egoyan is also eager to explore.
The theme of moral fibre and conflict is another one of course.  The lawyer Stephens manages to persuade a number of the distraught parents – including the Walkers, the Burnells and the Ottos – to allow him to represent them in his planned class action suit.  Billy Ansel, whose own two children have been lost, is against such a suit arguing that the community ought to heal of its own accord and not pursue such a vengeful course of action.  In this respect Banks' novel and Egoyan's film question how loss and grief ought to be properly processed.  How can a protracted financial settlement possibly address personal loss?  Is there a certain element of exploitation involved in following such an action to the bitter end?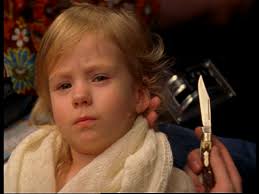 If you haven't already seen this quietly powerful and thought-provoking film, or read Russell Banks' novel for that matter, I would suggest you do one or the other, or even both, at some time in the not-too-distant future.  Egoyan's film lingers long after the final image of Sarah Polley descending the stairs in Billy Ansel's house and differs markedly from the conclusion of Banks' novel, which essays Dolores Driscoll's first public outing since the accident to the local fair, and demolition derby, with her own wheelchair-bound husband who is a stroke victim.  In both versions the reference to The Sweet Hereafter appears to be a vaguely ironic one insofar that all the characters involved, including Mitchell Stephens, realise that life following great personal loss will never be the same again.  There is in fact nothing sweet in such a scenario; only bittersweet perhaps.  In any event, check out this very fine film if and when you can.  I watched it again recently on DVD myself having read Banks' novel for perhaps the third or fourth time.  The author himself publicly stated that this is one of the few films that is actually better than its source material.  That's certainly high praise indeed.  And, ultimately, thoroughly deserved by all concerned.