Movie Retrospective: Magic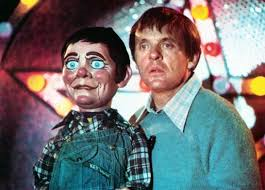 The late Richard Attenborough had a distinguished career in front of and behind the camera and this 1978 psychological-horror film proved that he was a more than adept director with the inward and intimate as well as the broad and epic.  Starring Anthony Hopkins, and adapted by Oscar-winning screenwriter William Goldman from his own 1976 novel of the same name, Magic tells the story of one Corky Withers, a rather withdrawn and affected magician whose humdrum career gets a much-needed shot in the arm when he adds a foul-mouthed ventriloquist dummy to his act.  We are first introduced to Corky at a moment of rock-bottom.  His performance in front of an indifferent audience has failed and he has committed the cardinal sin of losing his temper in this public place.  An exchange with his dying mentor Merlin that same evening is, at first, a series of lies.  'I did everything right,' Corky tells the ailing man when he enquires as to the success of the performance.  Attenborough – by way of flashback – cleverly shows us that this was not the case.  Merlin eventually calls Corky out on the lie and advises him to get a gimmick for his pitiful act.  A year later, Corky appears to be the toast of the town.  The puppeteered dummy named Fats gets all his best lines and is just the eye-catching novelty his performance has needed.  'Tell us about yours, I like short stories,' he mocks with reference to Corky's sex life, or lack of.  The device works and how – Corky's agent Ben Greene (Burgess Meredith) is absolutely confident he will acquire for his client a lucrative television show deal.  'We're going to be a star!' Fats remarks upon hearing the news.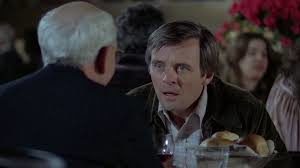 As predicted by Ben, NBC offer Corky a deal with appealing terms and salary.  One proviso in advance, however, stipulates that he must undergo a medical which he immediately balks at.  'It's network policy, it's legal policy,' Ben tells him.  But Corky has a disturbing secret and one he is afraid any professional examiner worth their salt will uncover – he converses with Fats as if he were real, he even takes advice from the inanimate object.  Fats, in truth, is Corky's id – that part of his mind in which instinctive impulses and uninhibited thoughts are to the fore.  Determining to avoid such a disclosure, and in order to avoid the pressing Greene for a time, Corky heads for the Catskill Mountains where he spent his childhood.  Taking a cabin in an isolated location, he is reunited with Peggy Ann Snow (Ann-Margret) whose husband Duke (Ed Lauter) owns the accommodation complex.  Peggy represents a high-school crush to Corky, the kind of girl he dreamed of, but never dared to woo.  But with Fats in tow, he is able to make significant overtures now and charm her with his dummy's wit.  'He's just as cute as he is on the tube,' the impressed Peggy remarks.  Over dinner that evening, Corky (without Fats) admits to her that he is in hiding from his agent.  'I had such a crush on you,' he tells her in a moment of truth.  Returning to the cabin later, he is ridiculed by Fats who, of course, knows full well how the dinner went – 'How was the orgy?  Did you score?'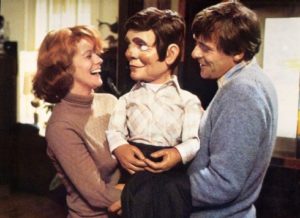 Corky's unsettled nature rears its ugly head as a card trick with Peggy does not quite go according to plan and he makes her do it all over again.  'I didn't fail,' he repeats as he picks the correct card.  They make love and Attenborough and his cinematographer Victor J. Kemper pick out some ominously-suggestive shots of Fats who is sitting in the very next room.  There are overtones of Hitchcock's Psycho throughout Magic with respect to a simmering jealousy which the disturbed single mind fosters as it houses more than one personality.  Fats is the 'mother' of the piece naturally with respect to his unrestrained manner and direct speech.  He has helped Corky overcome his innate shyness and win the girl, but feels abandoned when the latter's attention is diverted elsewhere and focused on another individual.  Matters become ever so more complicated when Ben Greene arrives having managed to track Corky down.  Suspecting that there is more than a little awry with his client, he recommends professional help – 'What I want is for you to see somebody.'  A suitably tense scene ensues as Ben challenges Corky to keep Fats quiet for five minutes; Corky only manages two.  Identifying Greene as the 'villain', Fats reminds Corky of his own fears as to what such professional help might entail – 'They'll put you somewhere deep and lonely.'  Using Fats as his blunt weapon, Corky attacks Ben, striking him several times on the head.  The agent comes to a short time later, but Corky finishes him off by drowning him.  He is now a murderer in the mould of a Norman Bates – driven by an inner voice in his head which is made manifest by the lifeless and deadpan-sounding Fats.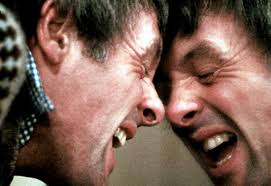 Seeming order is restored, but only temporarily.  Peggy's estranged husband Duke (whom Corky also knew during his high-school days) returns and senses that something has happened in his absence.  More worryingly from Corky's point of view, he discovers Greene's White Rolls-Royce, parked as it is close by.  There's a wonderfully executed scene in which he and Corky go out in a fishing boat and hook what the deranged magician fears is Ben's body.  The relief when this proves not to be the case is short-lived as Duke spots the washed-up corpse on the bank of the lake.  Finding no identification in the agent's clothes, Duke begins to suspect foul play and steals into Corky's cabin.  He discovers Greene's wallet and personal belongings and also notes – with some trepidation – the presence of the errie-looking Fats in the room.  Duke is not alone, however, and, as he approaches the dummy, he is stabbed several times by Corky who is concealed behind a curtain.  Once again – bearing the blood-stained knife on this occasion – the dummy is employed as the avatar for Corky's twisted side and psyche.  But there is a price and a point of leverage now which he calls upon as he threatens to tell everything if Corky takes up with Peggy on a permanent footing.  Informed by Corky that Duke is out hunting, she insists on remaining until his return so that she can tell him she is leaving.  A spiteful Fats reveals to her how Corky has used his card trick (the same one as earlier) as a ruse to seduce women.  'It's gonna stay you and me!!' he tells Corky as he instructs him to kill the upset Peggy – 'Take the knife on up the hill lover and kiss the girl goodbye.'  Affecting Fats's voice once more, Corky places a heart-shaped piece on the floor outside Peggy's room and waits with a knife for her to unlock it.  When he subsequently returns to the cabin, we assume that he has gone through with the deed as demanded by the increasingly assertive Fats.  Instead, Corky fatally stabs himself pronouncing that, 'We're dying, I put the knife deep in me.'  'I hope I don't die first,' Fats remarks as he too begins to feel faint.  'I think we'll go together,' Corky replies as he expires.  Outside the darkened cabin we hear Peggy as she approaches telling Corky that she has decided to leave with him after all.  At the very last moment of this speech, and supposed profession of affection, her voice takes on a peculiar aspect, not unlike that of a female-sounding Fats – 'You might not get this oppor-fucking-tunity tomorrow,' she calls into Corky as she playfully tosses the heart shaped piece in the air.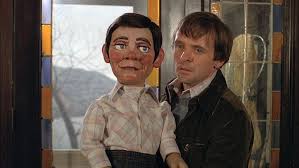 Positioned between Attenborough's 1977 A Bridge Too Far (which, incidentally, also featured Hopkins among the all-star cast) and the multiple Oscar-winning Gandhi (1982), Magic is not the type of film one would readily associate with a director who is perhaps best remembered for his epic scale and historical pieces (think Cry Freedom, Chaplin and In Love and War in this regard as well).  And yet this is the same man who also delivered 1993's Shadowlands in which Hopkins played the middle-aged C.S. Lewis who discovers love in the most unexpected and heartbreaking of ways.  Magic and Shadowlands are, of course, poles apart, but my point is that the director's scope was not just limited to theatres of conflict and the substantial endeavours of men of history.  A tale of personal conflict and deep-seated instability told in close quarters, Magic demonstrated how effectively Attenborough could stage a tight situation and a chilling environment.  There is no requirement for broad strokes here or panoramic sweeps of the camera.  It's a much much smaller cast as well, when compared with the likes of A Bridge Too Far and Gandhi, but Attenborough was blessed with some terrific performances from Ann-Margret, Ed Lauter and Burgess Meredith most especially of all.  The film understandably belongs to Anthony Hopkins as the emotionally-torn Corky and his other half, the amusing and constantly berating Fats.  Jerry Goldsmith – who had won an Oscar just a few years before for The Omen – also contributes a suitably spine-chilling score.  Underrated ever so slightly, and not as fondly remembered as it ought to be, Magic is a finely-executed psychological-horror that deserves to be revisited.  It's a tour de force by Hopkins, but perhaps the bulk of the credit ought to be reserved for Attenborough who broke with his own personal penchants and delivered a master-class in low-key terror.  Modest but most certainly not ordinary.