Movie Review: A Beautiful Day in the Neighborhood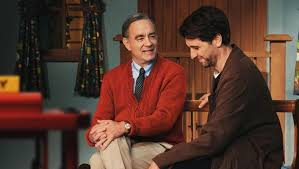 Based on the 1998 Esquire magazine article 'Can You Say…Hero?' by Tom Junod, A Beautiful Day in the Neighborhood essays the fleeting friendship between a cynical journalist and the much-beloved American television personality Fred Rogers.  Dealing with themes such as compassion, understanding and the overriding need for acceptance, the new film from Marielle Heller (The Diary of a Teenage Girl, Can You Ever Forgive Me?) is a delight from start to finish, tinged with moments of sadness and nostalgia.  It's 1998 and Esquire journalist Lloyd Vogel (Matthew Rhys) is somewhat jaded and washed-up.  Professionally, he has become quite toxic owing to his reputation as a cynical reporter who does not suffer fools gladly.  His personal life is also in a state of quiet crisis; a dust-up with his estranged Dad (Chris Cooper) at his sister's wedding emphasises Lloyd's abiding resentment and his anger management issues.  When his editor (Christine Lahti) assigns Lloyd the not-so-onerous task of interviewing Fred Rogers (Tom Hanks) for a series on heroes, the normally hard-hitting journalist immediately scoffs at the idea.  After all, this is the nationwide famous Fred Rogers of Mister Rogers' Neighborhood.  Understandably, Lloyd sees little dramatic opportunity in the article.  Rogers is the very personification of virtue and rectitude.  And so it appears to transpire – when the two first meet and Lloyd enquires as to the essential purpose of Rogers's show, the response he receives is suffused with principle and integrity – 'We are trying to give the world positive ways of dealing with their feelings' Rogers informs him.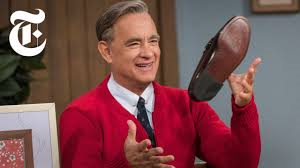 Viewers on this side of the Atlantic will not be familiar with Fred Rogers of course, but this should not detract from the value of the film in any way.  Book-ended by pieces to camera by the character himself (concerning his friend Lloyd Vogel who is referred to as 'sad' and 'hurt'), Marielle Heller's film provides us with many broad strokes regarding Rogers's world-view and the elementary lessons which he sought to impart.  Somewhere in there too is a layer of darkness which the fine script by Micah Fitzerman-Blue and Noah Harpster alludes to.  When Vogel converses with Rogers's wife Joanne (Maryann Plunkett), for example, the latter reflects on how her husband has had anger issues himself in the past and the means by which he keeps a lid on them now.  During one tense interview in particular, Vogel himself prods and pries when he suggests that Rogers's two sons must have had difficulties by having such a famous and recognizable father.  When Rogers maintains his cool and does not rise to the bait, the inquisitive journalist abandons the interview.  Frustrated by Fred's insistence on turning questions back on him about his own childhood and father, Lloyd marches out of the room vowing not to return.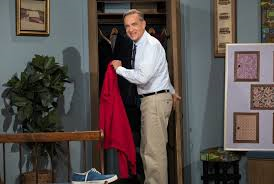 This is a story ultimately about redemption and movie-goers expecting to see a Tom Hanks vehicle will be somewhat disappointed.  The Oscar-winning actor (who received a nod for Best Supporting Actor for his work here) is not the principal character in spite of the title; the story instead focuses on Vogel's road to self-realisation and forgiveness apropos his own troubled childhood and fractured relationship with his father.  Welsh actor Matthew Rhys excels as Vogel and Chris Cooper is also a particular standout as his boozy father Jerry.  The film does belong to Hanks in the sense that he steals all of the scenes he appears in capturing the cadence and inflections of Rogers's speech, his mannerisms and his unmistakable disposition.  Fortunately, the film never meanders into the realm of the maudlin.  The excerpts from Rogers's iconic television show are framed in such a way that we the audience can appreciate the fundamental logic for their presentation.  Speaking in a sometimes halting voice and deliberate with his delivery, Hanks's Rogers tackles serious grown-up issues such as shyness, loneliness and mortality.  A later scene involving a terminally-ill patient is perfectly representative of Rogers's innate desire to educate and improve at every possible juncture – 'You know death is something many of us are uncomfortable speaking about' he observes.  That is certainly true and the characters in this space acknowledge as much with their respective reactions.  Hanks's performance is entirely on the money in this regard.  His Fred Rogers is not a perfect man by any means (as acknowledged by his own wife), but he is a man aspiring to a level of perfection in his everyday life.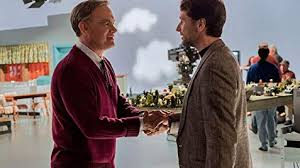 This is a life-affirming film (much in the vein of Rogers's own personal maxim) which does not resort to cheap tricks of sentiment to win us over.  Rather, the film-makers allow the story to unfold quite gracefully as Vogel pays more attention to the life lessons which Rogers offers him.  A later scene in a restaurant, in which the television star encourages Vogel to think about all the people in his life who 'loved him into being', does not seem remotely out of place or syrupy.  By now the film's design is apparent and we are accepting of Rogers's all-embracing mission statement – forgive the past and appreciate those who have helped you become the person that you are.  The 10,000-word article which Vogel subsequently pens about Rogers demonstrates that he has been reached and is a better individual for it.  A pertinent message for whatever age we live in.  Well done Fred.  Kudos to the cast and crew here as well.
Rating: B++