Movie Review: Allied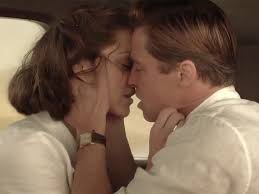 Robert Zemeckis' latest offering treads some very familiar ground in terms of wartime romance and subterfuge goings-on as Brad Pitt and Marion Cotillard are teamed as fictitious husband and wife who, later, become the real thing back in good old Blighty.  Allied begins promisingly enough with Pitt's Max Vatan, a Canadian intelligence officer, being picked up in a sandy clime where he is transported to the scene of his next mission.  He's allied (get it?) with Cotillard's Marianne Beausejour in a plot to assassinate the German ambassador in Casablanca, and in order to effect their infiltration of their subject's world, the two are required to pose as a married couple.  Complications arise of course and it's not long before Pitt and Cotillard find themselves in a dreamy English Patient-type scenario as a sandstorm conveniently blasts outside.  The subsequent assassination is carried out in rather ho-hum fashion and during the act of escape Max pops the question – again in a quite hackneyed manner.  This is one of several scenarios in Allied which never rises above cliche and it's all the more perplexing when one considers the talent behind the camera that is Robert Zemeckis.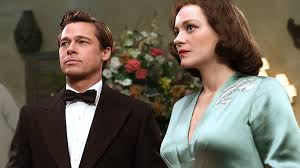 Max and Marianne return to wartime England to seeming wedded bliss.  There's a rather forced childbirth scene which takes place during an air-raid (lets not forget Zemeckis' affinity with CGI), but this aside, life appears to be settled and sedate as Marianne takes up her parental responsibilities with suitable gusto and Max ambles to headquarters each day.  But then an unwanted question rears its ugly head.  The beautiful Marianne may not be who she claims to be, but rather a German mole.  Max is tasked with the duty of blue-dyeing his own wife who will face execution if indeed she turns out to be a duplicitous agent.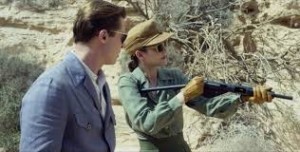 This, unfortunately, is where Allied becomes most threadbare and formulaic as Max rushes against the clock to prove his wife's innocence.  There's a not so terribly imaginative sub-plot concerning a resistance fighter in France who may be able to confirm the good lady's true identity.  It injects a modicum of action into the proceedings, but does nothing to offset the complete downer of an ending which, like the 1942 war classic, takes place on an airfield.  It's surprising really that Zemeckis and his screenwriter Steven Knight were not able to summon up something more imaginative, even epic than this.  Allied tries hard to capture some of the ambience of old school Hollywood war films, but falls well short in most departments.  Pitt and Cotillard are proper movie stars, but even they appear at odds with the material.  Which is not to say that Allied is a bad film per se; it's just a sheer disappointment when one considers the range of talent on display.  Lizzy Caplan and Jared Harris turn up in support.  Zemeckis' regular collaborator Alan Silvestri is on scoring duties.  Through the lens of Don Burgess and costumes of Joanna Johnston it all looks very beautiful.  There are worse things of course, but Allied is just not in the same league as the wartime classics it aspires to be.  An underwhelming run-of-the-mill for all concerned.
Rating: C-