Movie Review: Baby Driver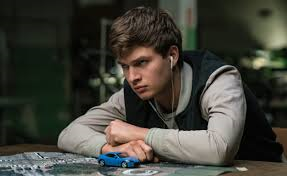 'Was he slow?' Kevin Spacey's Doc asks in an early scene with regard to the titular character of writer-director Edgar Wright's latest film Baby Driver.  'No, he wasn't,' responds Griff (Jon Bernthal), a bank robber currently in Doc's employ who has been directing some verbal abuse Baby's way.  Baby (Ansel Elgort), a bright twenty-something-year-old of few words, is also under Doc's wing (in a manner of speaking) on account of a previous transgression which he is making amends for by driving getaway for Doc's crews.  In an outstanding opening sequence, we see just how talented he is behind the wheel.  This is a man who might well beat Ryan Gosling's unnamed character in 2011's Drive if they went head-to-head.  But Baby relies heavily on music to sharpen his focus and keep his considerable reflexes in prime condition as he speeds away from pursuing cops.  He suffers from acute tinnitus owing to an automobile accident which claimed the lives of both his parents.  In telling flashbacks, Wright relates the strong bond Baby had with his mother whom he describes as having been an aspiring singer.  The suggestion elsewhere is that Baby had a troubled childhood.  He re-lives the accident which occurred as his parents were arguing in the car.  By his own admission, he has few friends and lives with his foster father Joe (CJ Jones) who is deaf and wheelchair-bound.  Joe has his suspicions as to Baby's activities and questions the small wads of cash which the latter keeps hidden under a floorboard.  Baby promises the older man he will soon be out without revealing what exactly that means.  His future life – after crime – looks most promising indeed as he meets a pretty waitress named Debora (Lily James).  The chemistry sparks between the two as they discuss names and music.  Baby suggests they get out of the diner where she works and hit the road.  But there remains the small matter of the work he must first complete.  He is far more than the chauffeur she assumes him to be.  A debt must be paid off in full and Baby must escape his past before he can begin to realise his future.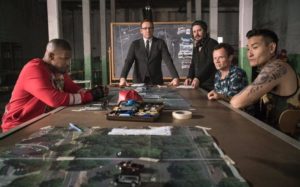 The narrative thread of that one last job is as old a cliche as the hills at this stage, but it matters naught in Wright's finely-constructed story with a winning protagonist in the foreground and shady, near-venomous characters populating the backdrop.  Shrewd as a criminal kingpin ought to be, Doc never employs the same crew twice and constructs his heists methodically with Baby the only constant figure in his projects.  There is a tentative respect between the two men and Doc defends Baby as Griff and – some time later – Bats (Jamie Foxx) take pot shots at his expense.  When that final job eventually rears its head, an elated Baby can only dream of the possibilities his life may hold.  His plan is uncomplicated and undemanding – take to the road with Debora with nothing more than a good pair of wheels and a killer soundtrack in tow.  Unbeknownst to Doc or anyone else, Baby records conversations which he then remixes into songs using his high-tech audio equipment.  The music employed in Baby Driver is a who's who of various artists ranging from several decades; but more pertinently it drives the story forward just as much as it provides an impulse for Baby's exploits behind the wheel.  When Debora sings the opening lyrics of Beck's Debra in the diner we feel we are practically in the realm of a jukebox musical.  Baby, for his part, responds with T. Rex's Debora.  Elsewhere, there is quite beautiful use of The Beach Boys' Let's Go Away for Awhile, not to mention familiar tracks such as The Commodores' Easy and Barry White's Never Gonna Give Ya Up.  I could go on in this vein, but I think you get the idea.  Fans of Wright's 2004 Shaun of the Dead will fondly recall that film's humorous employment of Don't Stop Me Now by Queen.  The British rock band are referenced again in his latest film by way of Brighton Rock.  But the most welcome aspect of all perhaps is that music is not used as a cheap ruse here by Wright; rather there are deep and tenderly-felt scenes involving Elgort, James and Jones in particular.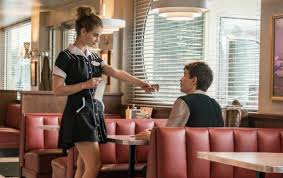 Baby's so-called final job is not short of its complications and distressing effects, but it gets done and – at Joe's insistence – he begins his new life as a pizza delivery boy par excellence.  He also take Debora out and their burgeoning romance takes several leaps forward.  But, as any aficionado of this type of genre will know, there is no such thing as the final job and it's not long before Baby finds himself under Doc's thumb once again.  The new assignment involves a post office in the heart of Atlanta and the motley crew include Bats, Buddy (Jon Hamm) and Darling (Eliza Gonzalez), Buddy's doting wife.  We fear, of course, that a no-good end will follow for many of them – perhaps even Baby himself – and events certainly take a dramatic turn as the group are involved in a gunfight with some dirty cops.  Hamm and Foxx play off each other quite well in these scenes and one can imagine the two veterans having great fun as they attempt to best each other in terms of malice and sleaziness.  Taking a break from his Frank Underwood character in House of Cards, Kevin Spacey dials it in somewhat as Doc and the character becomes a tad formulaic as he valiantly puts himself in harm's way for the sake of the young lovers.  The Red Hot Chilli Peppers' Flea turns up briefly as a bank robber named Eddie No-Nose.  James, for her part, does fine as Debora, but the film deservedly belongs to Ansel Elgort as Baby.  The Fault in Our Stars' leading man is suitably enigmatic at first, but finds a warmer and more amiable pitch as his life seems to get better under Joe's influence and Debora's spell.  Baby Driver is not short on action, but its most resonant moments come by way of its well-written characters who have tangible backstories and personal goals which we can root for.  In spite of his troubled past and compromised youth, this remains a coming-of-age story for Baby.  He has certain choices to make, particularly when Debora is drawn into his murky world (and subsequently threatened), and Wright's script signposts the steps he must take to become a better man; to atone for his past mistakes.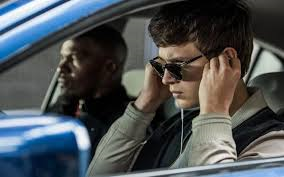 Unfortunately, the narrative comes off the rails somewhat in the last third of the film as Wright grasps for and labours the only possible resolution the story can have.  I don't propose to expand on the details here, but suffice to say that the last heist is not the success its perpetrators wish for leaving a rather messy denouement of retribution in its wake.  One certain scene does not add up at all and a final showdown in a parking lot smacks of an overkill by the writer-director as he forces the plot to its conclusion.  Storytellers often remark that endings are the most difficult of all and Baby Driver's finish is far from satisfying and feels hurried.  A slight quibble really in the overall context of a highly entertaining and – happily – character-driven film.  I mentioned the fine cast previously and kudos should also be extended to Wright's direction and script and the beautiful noirish-like cinematography of DOP Bill Pope (who previously collaborated with Wright on Scott Pilgrim vs. the World).  In a summer overstocked with rampaging robots and plundering pirates here – thankfully – is a film which has due regard to the indispensable ingredients of character and story.  All concerned should take a bow.
Rating: B +