Movie Review: Bohemian Rhapsody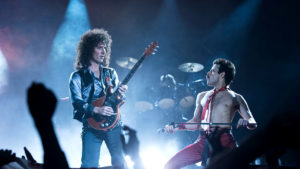 The complex persona and life story of Freddie Mercury is at the heart of this 2018 biopic film concerning the British rock band Queen who are famous for such well-known hits as Killer Queen, You're My Best Friend, We Are the Champions and the titular Bohemian Rhapsody.  Complex is generally a word which could be applied to the troubled production of this particular film.  Bohemian Rhapsody's original director Bryan Singer was fired after creative differences with the cast and crew.  Singer was replaced by Dexter Fletcher who – although uncredited (as per DGA conventions) – surely deserves much credit for the film's vim and vigour.  Beginning in 1970 – when the then Farrokh Bulsara first approached fellow band members Brian May and Roger Taylor – and concluding at the Live Aid concert in July 1985, Bohemian Rhapsody is certainly a busy biopic with regard to the events and incidents it crams into its 130-minute running time.  There are points during the film when you just wish there might be a little more detail or smidgen of exposition.  The inception of some of the band's more iconic songs, for example, feels a little contrived in places, conveniently explained away at best.  Of greatest interest of course is the circumstances surrounding what was arguably their most famous song and how some of the powers-that-be in the music industry initially resisted it on account of its uncommon length.  For the less familiar fans, there is also interesting elucidation regarding Mercury's personal life and, in particular, his long-time relationship with Mary Austin.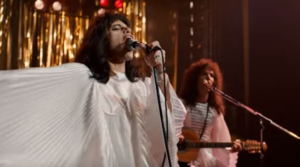 Mercury sadly passed away in November 1991 due to complications from AIDS and – to their credit – the filmmakers and script writer Anthony McCarten (The Theory of Everything, Darkest Hour) do not pull any punches as regards his often turbulent personal life.  Befriending Austin in the early 1970s and then becoming her lover, Mercury soon begins to question his own sexual orientation.  'I think I'm bi-sexual' he informs Austin in one of the film's more compelling and intimate scenes.  Bohemian Rhapsody does take a certain amount of poetic licence as regards his eventual diagnosis in the 1980s as AIDS became rampant in the western world.  McCarten and the filmmakers choose the eve of Live Aid as the moment when Mercury tells his fellow band members of his illness.  This, of course, makes good dramatic sense even if it is not necessarily true.  The suggestion also that Live Aid's revenue was in slight difficulty prior to Queen's performance that fine summer day is another example of the filmmakers playing fast and loose with the truth.  But, again, this ups the ante as regards the dramatic effect.  Naturally, there is a greater impact if we the audience believe that Mercury knew of his illness as he took to the stage that day; clearly there is a greater emotional resonance if we buy into the proposition that Queen single-handedly saved Live Aid.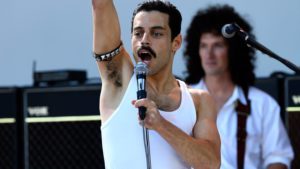 Charting a 15-year time period is never an easy task when there is so much material to choose from, but the filmmakers have wisely decided to focus on some of the bands more famous albums and singles as they rise to prominence during the early to mid-1970s.  A recurring theme in all of this is the contrast which existed between Mercury and May, Deacon and Taylor.  A post-tour party is especially pointed in this respect.  Flamboyantly dressed like a royal, Freddie celebrates until the wee small hours, whilst the other band members (settled in their domestic ways already it seems) leave early.  The sequence also infers the first meeting of Freddie and his eventual partner Jim Hutton.  'Call me when you like yourself' is his simple piece of advice to Mercury after they have shared a brief kiss.  For all its grandstanding stage sequences and recreations of live performances, Bohemian Rhapsody is, at its very core, at pains to emphasise the innate loneliness of Mercury's personal life.  The career and lifestyle he has chosen has alienated him from his Parsi parents.  In wealth and fame, he is surrounded by sycophantic hangers-on and conniving yes-men.  Austin is represented as the only steady personal relationship he has prior to the advent of Hutton.  But even she struggles to understand what the lead singer wants or desires in his life.  The central performance of Mr. Robot's Rami Malek has been rightly praised and is the very best thing about Bohemian Rhapsody.  To put it simply, Malek is superb in the role as he captures Mercury's energy on stage, as well as effectively conveying some of the more contradictory aspects of his personal life.  The supporting cast does well too – fellow band members May, Taylor and Deacon are well realised by Gwilym Lee, Ben Hardy and Joseph Mazzello.  Elsewhere, Lucy Boynton does just fine as Mary Austin; Aidan Gillen and Tom Hollander also fare well in their respective managerial roles.  Bohemian Rhapsody is by no means a perfect biopic with respect to its pacing and attention to detail, but it's entirely impossible not to feel a lump in the throat as Queen perform their set at the Live Aid concert at the film's end.  Mercury would live for another six years, but there's little doubt that this 20-minute set represented his personal apex and that of the band's.  It more than sufficed on that momentous day in July and this will do as a brief history of Queen the group and Freddie Mercury the man.
Rating: B