Movie Review: Café Society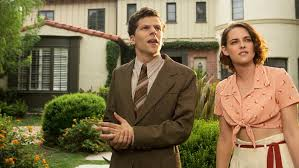 Woody Allen's 47th feature film is a nice entry in the writer-director's later canon which is at once an ode to old Hollywood and a love lost that will never be recaptured.  The film straddles between Tinseltown and New York City during the 1930s and begins with one Bobby Dorfman (a mannered and Woody-esque twitchy Jesse Eisenberg) as he arrives in the City of Angels hoping to forge a career for himself in the movie industry.  Bobby has an ace-in-the-hole of sorts in a distant uncle Phil (Steve Carell) who just so happens to be a powerhouse agent with many important contacts, but initially the young man's efforts to procure a meeting with his relative are frustrated by the latter's extensive work commitments.  There follows a nicely-observed scene in which Eisenberg calls a prostitute to his motel and then seeks to banish her as his sense of moral conflict sets in.  Eisenberg breezes through this scene very well indeed and reminded this viewer of a previous Woody surrogate, namely John Cusack in the director's 1994 offering Bullets over Broadway.  Indeed Café Society has many resonances with that earlier film insofar that there is also an underworld element at play here in the form of Bobby's older brother Ben (Corey Stoll), a small-town hoodlum with wider aspirations who surmounts any obstacles in his way with a not-so-healthy dose of cement.  Other Allen motifs abound also, not least that of the disparity between the worlds of New York and Los Angeles – a thematic strain the writer-director has examined many times before and most famously in his award-winning Annie Hall.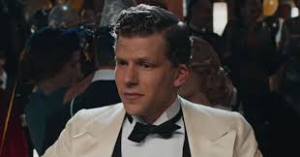 And so Bobby finally gets a sit-down with his uncle Phil and is introduced to the latter's secretary Veronica or Vonnie (Kristen Stewart beginning to look and sound every inch a movie star) and begins to learn the ropes of the business.  But, of course, there's a romantic snag.  Bobby falls for Vonnie in a very big way and, although she politely rebuffs him with the reason that she's already seeing someone, he nonetheless pursues her and love appears to conquer all.  Bobby proposes marriage and also suggests that they move back to his native NYC.  Being a true Woody creation he's not quite convinced the glamorous town is for him and, besides, he's confident big brother Ben will help further his career back home.  Such dreams hit the proverbial wall for the young man when it transpires that the other man in Vonnie's life is none other than uncle Phil who has finally steeled himself to leave his wife for the younger woman.  A crestfallen Bobby returns to the Big Apple where he proceeds to eke out a career for himself in Ben's high-end nightclub and meets a pretty divorcee played by Blake Lively.  The two marry and domestic bliss seems to beckon until Phil and Vonnie arrive in the city for an extended stay.  Despite his initial impression that Vonnie has cast off her previously endearing unpretentiousness and embraced a more shallow veneer, which she used to playfully berate, Bobby soon realises that he has deep feelings for his former amour and she, likewise, for him.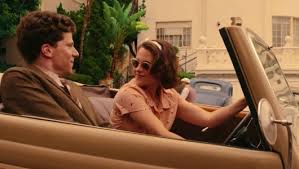 Café Society is good Woody, but not great Woody.  There is no new ground explored by the director as such and although it has its fair share of charm, smarts and impeccably-delivered one-liners, it simply is not in the same league as the director's best works such as Manhattan, Annie Hall and Hannah and Her Sisters.  But remember, it is later Woody and we should not be too harsh.  The director still employs change and adaptability even as he re-visits familiar settings and milieus.  Café Society is the first film of his shot in digital format and also represents his first collaboration with the great cinematographer Vittorio Storaro.  Unsurprisingly in that regard, Café Society has a beautifully textured and period feel to it.  Allen's choice of background music – mostly jazz as you would imagine – is on the money as always and the film greatly benefits from the spot-on central performances of both Jesse Eisenberg and Kristen Stewart.  The former Twilight actress in particular is continuing to exhibit her range in this and other recent cinematic outings, and she lights up the screen in every scene she appears in.  There's not much in the way of meaty roles for the rest of the actors in all of this, but Carell, Stoll and Ken Stott acquit themselves reasonably well.  Anna Camp fares well in her brief appearance playing opposite Eisenberg as Candy the first-time prostitute.  Elsewhere, former Sopranos actor Tony Sirico pops up as Vito, a restaurant owner who suggests activities for a night on the town to Eisenberg and Stewart. All in all so Café Society is a nice entry in Woody's later period which will please his devotees well, and perhaps may even draw in a few new ones by way of his likeable younger leads.  It's also his most deliciously shot film since 2011's Midnight in Paris.  Glad to say the Woodster still has much to offer in terms of his cinematic language and irrepressible observations.  Here's hoping his 80s see a continuation of his priceless contribution to cinema.
Rating: C