Movie Review: Call Me By Your Name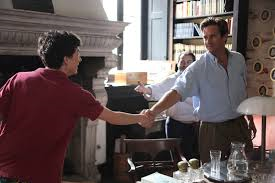 Set in Northern Italy during a typically sun-kissed summer of 1983, Call Me By Your Name is both a moving and a melancholy exploration of repressed feeling and burgeoning first love as a young man discovers himself and his own inherent sexuality.  To categorise Luca Guadagnino's latest film – based on the 2007 novel of the same name by Andre Aciman – as a coming-of-age-story is not to do it a disservice at all and aficionados of this sort of narrative will appreciate the subtle inflections which are set against a delicious and salubrious setting.  Elio Perlman (Timothee Chalamet) is a seventeen-year-old youth who speaks several languages and is mindful of his Jewish heritage.  The son of a laid-back professor (Michael Stuhlbarg) and a French mother (Amira Casar), Elio has all the attributes and skills to blend into any environment he might care to invest himself in, and yet he has no definitive identity or sense of self.  The fact of the matter – as we shall see – is that Elio has never truly experienced love or pain in his short seventeen years.  Flirtatiously involved with a French girl by the name of Marzia (Esther Garrel), Elio is reluctant to play the piano when asked to do so and readily admits that he has read too many books under the glare of the relentless and perfect sun.  When Mr. Perlman takes on an American assistant for the summer, Elio's interactions with the foreigner are a peculiar mix of politeness and slight resentment at first.  Oliver (Armie Hammer) is handsome in an almost mythical way and the self-confidence he possesses knows no bounds it seems.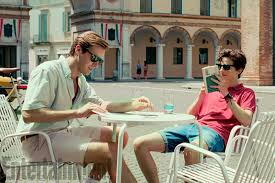 Perceiving the American's nonchalance as an acute form of indifference, Elio complains about the latter's propensity for use of the word 'later.'  It soon becomes a running joke among the principals, but does not detract from the high opinion others have of Oliver.  The local girls vocally remark on his beauty; Elio's parents treat him as a distant family relative.  Viewers expecting to see a variation on the fish-out-of-water standard here may well be disappointed.  Oliver is not in the least bit phased by the cultural differences which surround him; some early exchanges establish that he has a remarkable grasp of the lingo; Elio himself is taken aback when the debonair hunk joins a card game in a local bar.  Still in the throes of youth and unsure of his own sexual proclivities, Elio finds himself slowly gravitating towards the American.  There are moments of hesitation on his part of course – a touch of bare flesh causes him to recoil and question himself somewhat.  Later on, Oliver will reveal this to be an initial pass.  The young man moves closer and becomes more intimate with Marzia as his latent desire for Oliver grows.  For her part, Marzia warns him not to hurt her.  We sense that somehow she will eventually be sidelined by a far greater passion.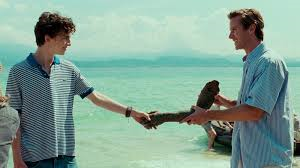 The third installment in Guadagnino's self-proclaimed Desire trilogy (following on from 2009's I Am Love and 2015's A Bigger Splash), this is – in the director's own words – a 'most calm' approach to the subject matter at hand and the characters who populate this beautiful world.  There are no overt conflicts here that one might expect, but instead an understated acceptance and acknowledgement.  Elio and Oliver's growing closeness is plain to see and remarked upon by several of the supporting players.  The young man's parents encourage the friendship; even the finally spurned Marzia tells him that she cannot possibly hate him.  A telling statement in this particular vein is Guadagnino's profession that this film for him is an 'homage to fathers.'  In one of Call Me By Your Name's best and most brilliantly acted scenes, Stuhlbarg's character reveals to his son how he has discerned the true nature of his relationship with Oliver.  'Nature has cunning ways of finding our weakest spot,' he comments before hinting that he may have been tempted in a similar way at one point in the past.  It's a remarkably played scene which is in keeping with the film's tone of compassion and overarching empathy.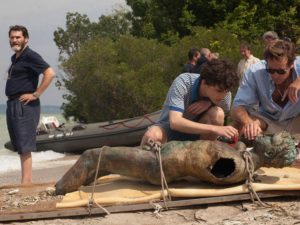 There are more than a few movie fans out there who will appreciate James Ivory's connection with this film.  The director half of the legendary Merchant Ivory team is credited as writer and co-producer here, but the tenor and ambiance of Call Me By Your Name will bring to mind past films of his such as 1985's A Room With A View and 1987's Maurice most especially.  But Call Me By Your Name is first and foremost a performance film and the chief kudos must be extended to Hammer, Chalamet and Stuhlbarg in this regard.  Armie Hammer first came to screen prominence in 2010's The Social Network (in which he played the Winklevoss twins); he's had his fair share of hits and misses in the interim period, but he was a standout supporting player in 2011's J. Edgar (in which he portrayed Hoover's ostensible life partner Clyde Tolson).  Hammer's considerable range is showcased to great effect in this instant film and he moves effortlessly between moments of candor and intimacy.  The film belongs to Timothee Chalamet however and this is a remarkable performance which lingers long in the memory after the end credits play out (you will see what I mean by this).  Critically lauded since the time of its premiere at the Sundance Film Festival, Call Me By Your Name is fully deserving of the praise it has received and should be in the reckoning for acting nominations as the awards season kicks into life.  Beautiful to look at, superbly played and heart-rending in its latter stages, this is one of the cinematic triumphs of 2017.
Rating: A