Movie Review: Cars 3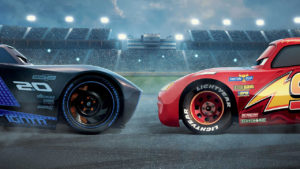 You really have to hand it to the good folk at Pixar Studios with respect to their powers of persistence with the Cars franchise.  2006's Cars was generally well received, but ultimately rated as something less than vintage Pixar.  2011's Cars 2 was a globe-trotting adventure which had little heart and even less focus.  A sub-plot pertaining to international espionage was thrown into the mix presumably in the hopes of appealing to an even wider audience.  The powers-that-be at the subsidiary of The Walt Disney Company need not have worried about this.  Cars was a box office hit at $462 million dollars worldwide; Cars 2's international haul was even more impressive coming in at $562 million.  The merchandising which accompanies the films represents a most lucrative source of income to say the least.  The kids lap up Lightning McQueen and his racing counterparts.  Some of the more discerning adults among us sigh and shrug just a little bit whenever Mater takes centre stage (as he did too often in Cars 2).  So, naturally, there was always going to be a sequel despite the generally poor reviews which the 2011 film received.  Kids who have grown up watching the first two films on TV and in other formats would just love to experience those talking speedsters on the big screen.  The House of Mouse and Pixar are well aware of this.  They like to satisfy the needs of their public.  They excel in the delivery of a vehicle like this (pardon the pun) which is backed up with a smart marketing strategy and oodles of merchandise to boot.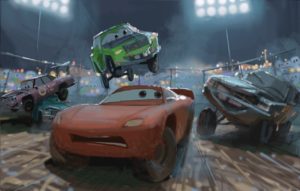 That's probably a little cynical on my part because the truth of the matter is that Cars 3 is not half bad and certainly a distinct improvement upon its predecessor.  In a clever move, the storytellers have decided to shift gear here and return the series to a more heartfelt narrative that is less busy and, consequently, less scattershot than Cars 2 was.  Lightning McQueen is continuing to hold court as the latest Piston Cup season develops.  We see him enjoying several victories as the film opens, and even a rare defeat.  But he has become somewhat soft in himself and is, in truth, defeating some mediocrities and has-beens whose time on the circuit is coming to a close.  When a cocky rookie named Jackson Storm (Armie Hammer) comes out of nowhere to steal yet another sure-fire win from his grip, Lightning is knocked off his perch and forced to face some harsh realities.  Perhaps his time is up as it clearly is for many of his contemporaries.  Storm enjoys rapid success owing to the technology which he and his team embrace.  Lightning, meantime, is old-school in his approach.  Of course he believes he can push himself and match the kid's speed.  Surely it's a case of mind over matter as he tells himself – 'I am speed.'  But the figures don't add up in his favour.  The experts on the sidelines say he is done.  Storm derisively addresses him as 'champ' as he romps to his latest victory.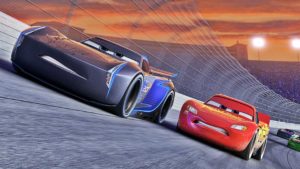 One horrific rollover crash later and Lightning seems to be heading for the hills.  He withdraws to Radiator Springs to recoup in an almost unrecognisable primer coat.  But the qualities of determination and grit have not deserted him entirely as he watches footage of his old mentor Doc Hudson (Paul Newman).  'I'll decide when I'm done,' he tells his girlfriend Sally Carrera (Bonnie Hunt).  The adults in the audience will no doubt engage here with the theme of the character who does not want to give up without a fight.  An impending race in Florida is held up as Lightning's last chance saloon.  Realising he cannot go on forever – as he tells Mater – the Piston Cup veteran has no desire to be remembered for his less-than majestic exit in the previous race.  And of course he wants to kick Storm's butt as well.  Arriving at a new racing centre owned by a rich business car named Sterling (Nathan Fillion), Lightning is given an opportunity to train in roughly the same fashion as his new arch-rival.  The hi-tech means are placed at his disposal and he acquires a new trainer named Cruz Ramirez (Cristela Alonzo).  But old habits die hard and it's not long before Lightning is searching again for that elusive game plan which he hopes will restore his vim and vigour.  The great Chris Cooper turns up in this regard as Smokey – Doc's former mechanic and crew chief who reveals to Lightning how the old-timer took such great pride and pleasure in training him.  Several life lessons are learnt along the way in the vein of 2006's Cars.  And there are pertinent questions asked in relation to the aforementioned theme of age.  Is it better to bow out with some sense of dignity rather than discredit one's self in a last desperate attempt?  When is it time to move aside and allow the next generation their place in the limelight?  Is Lightning selfish and egotistical for desiring this swansong of his?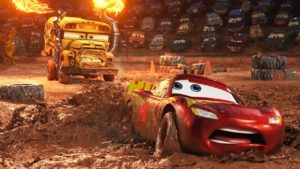 When I posted Part 2 of my summer 2017 movie preview a few weeks ago, I suggested that the premise of Cars 3 brought to mind the plot of a Rocky movie.  And so it does.  We have in this elements of several Rocky movies in fact, particularly those of Rocky 3 and Rocky 4.  You surely don't need to ask who the Sylvester Stallone character is here, but consider, if you will, Lightning Storm as the Ivan Drago of the piece.  Does Chris Cooper's Smokey vaguely ring of a Burgess Meredith type?  In a clear – and humorous – nod to the pugilistic series, one of Lightning's retiring peers is even named Cal Weathers.  It's not terribly subtle and it doesn't need to be so, but kudos to director Brian Fee and his writers for taking the Cars series to a better place following the pretty hollow shenanigans of Cars 2.  The series as a whole (if indeed there are more films to follow) is never going to be in the same league as an Up or a WALL-E, but this latest installment is diverting to say the least and provides us with a much more emotionally resonant story and characters to root for.  And the ending is very nicely weighed with a female empowerment subplot which is both welcome, but not overly laden with connotations.  Not vintage Pixar to be sure, but it will do quite well for the time being.
Rating: C+