Movie Review: Darkest Hour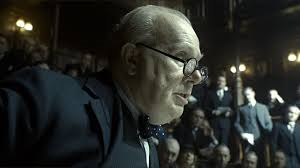 The early days of Winston Churchill's wartime tenure as British prime minister in May 1940 are essayed in director Joe Wright's new film which benefits greatly, at its core, from a scintillating performance by Gary Oldman.  Wright's film opens quite appropriately with a pivotal moment in the fortunes of a nation at war – an ineffectual leader who has sought to appease an inexorable tyrant must stand down in the face of public disapproval and a baying opposition.  But who is to replace him in the throes of such a crisis?  The man proposed by the opposition is, ironically, not a popular choice among his own political colleagues.  Throughout the film and at various points of Anthony McCarten's fine and dynamic script there are reminders of this man's failures in the past – most especially the ill-fated Gallipoli campaign during the First World War.  Winston Churchill is something of a gamble in many eyes, but his rhetoric and dogged determination are shown to be the very things required to motivate and inspire a nation which was virtually isolated during the seismic days of Dunkirk and the surrender of allies such as Belgium and France.  With the perspective of history we the viewer can quite readily appreciate the significance of Churchill's stance in the face of calls in his own party for a peace pact with Hitler which surely would have had detrimental consequences the world over.  It is a testament to the filmmakers here how well they document the internal struggle which took place and the fortitude of this historical figure who refused to bow to such pressure for compromise.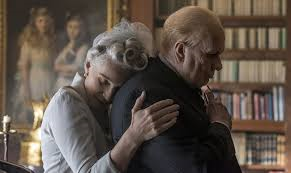 The chief proponents of such a negotiated settlement – a physically ailing Neville Chamberlain (Ronald Pickup) and a po-faced Lord Halifax (Stephen Dillane) – do not seem to grasp the lessons of the recent past.  Hitler is simply untrustworthy and has reneged on his word time and time again.  But a settlement appears to have credibility when weighed against the awful struggle and inevitable death toll which a prolonged struggle will surely exact.  And then there is the no-small matter of Dunkirk which, of course, was documented in Christopher Nolan's film of the same name in the summer of 2017.  The British Expeditionary Force is trapped and Churchill's decision to order Brigadier Claude Nicholson in Calais to engage in a virtual suicide attack to distract the enemy is questioned by the rank and file.  Are the lives of four thousand men justification enough in exchange for the safe passage of the BEF in Dunkirk which numbers 300,000?  It is these types of unenviable decisions which the leader must make under extraordinary pressure and in exceptional circumstances.  Apart from a few exteriors and aerial shots, Darkest Hour is a wartime story which largely takes place on the corridors of power and in personal quarters.  At one point the reigning monarch, King George VI, visits Churchill in his own domicile.  Whether such a meeting ever took place is secondary to the dramatic intent here – this is the moment when the reluctant and cautious King professes his support for his prime minster.  It's a game-changing moment one senses along with another scene which takes place as Churchill takes an unexpected ride on the London Underground (surely fictitious one would imagine).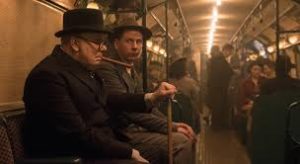 Darkest Hour inevitably has its moments of jingoism and there's nothing subtle about the accompanying score by Dario Marianelli which hits upon the emotive notes during the climactic 'We shall fight on the beaches' speech.  But on the whole it works well thanks to elements such as its fine production values, the superb cinematography of Bruno Delbonnel, the assured direction of Wright and the dramatic inflections of McCarten's screenplay.  In supporting roles the aforementioned Pickup and Dillane fare well as Chamberlain and Halifax respectively and Ben Mendelsohn is typically solid as King George VI.  Kristin Scott Thomas is well cast as Clementine Churchill and English actress Lily James is not out of place as Churchill's personal secretary Elizabeth Layton.  The success of such a character-focused film rests on the shoulders of its leading man and, in this latter regard, Gary Oldman's turn as the famous wartime prime minister is an unqualified success.  The physical transformation of Oldman is something to behold and he effortlessly captures the gait and mannerisms of the film's central character.  An Oscar surely beckons for the veteran actor.  It will be well deserved if it comes to pass.  V for victory one would imagine.
Rating: B