Movie Review: Despicable Me 3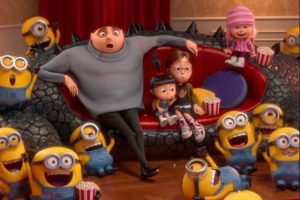 The problem with movie trilogies is that they come in threes as someone once said and the latest installment in the Despicable Me series is a little too broad in its range to be entirely satisfying employing, as it does, a random and haphazard approach to its subject and storytelling.  That's an adult's perspective on it at least; needless to say the kids – the primary target audience – should love it.  I will elaborate on this point just a bit more and clarify my position.  I thoroughly enjoyed 2010's Despicable Me because Gru (Steve Carell) was still a super-villain back then, but one, who we subsequently learnt, had a heart.  2013's Despicable Me 2 wasn't quite as fresh as its predecessor and it saw Gru attempting to tread a straight path in his dual role as legitimate businessman and doting Daddy.  I have to confess to not having seen 2015's Minions in which the frolicking servile yellow creatures enjoyed their own spin-off tale.  Suffice it to say here though that Minions was a monster hit at the box office and the characters are accorded even more time in this new film.  If anything, the Minions have a movie within the movie – parting company with Gru because he refuses to return to his life of villainy.  Despicable Me 3 opens with a bang as Gru and his wife Lucy (Kristen Wiig) pursue Balthazar Bratt (Trey Parker), a former child star from the 1980s who hasn't accepted a life of anonymity since then and is intent on his super-villain misdemeanours.  The mission to foil Bratt in his latest scheme (the theft of a priceless diamond) is not a complete success and Gru and Lucy are fired from the Anti-Villain League by Valerie Da Vinci (Jenny Slate).  Some soul-searching follows for both characters.  The Minions attempt to entice Gru back to his former ways with a humorous slideshow which suggests he has become overly domesticated and, consequently, boring.  When the latter declines, the majority of the gibberish-spouting ones depart for new horizons.  Lucy, on the other hand, is not quite comfortable in her role as adoptive Mom.  One senses imminent story arcs for each of the characters which are certainly provided, though not always in the most coherent manner.  The subsequent introduction of a twin brother Gru never knew he had is a concoction to move the plot along.  How will the former crook respond to his millionaire sibling?  Will the long-lost brother be an insufferable pain as such characters often prove to be?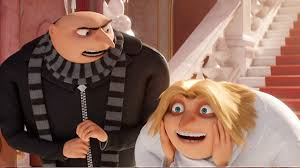 It's a formulaic-enough device that we've seen in other films, but the jokes aren't half bad and Carell (who voices both Gru and Dru) manages to sustain the original character as well as deliver a distinctive character in Dru as well.  The gag concerning Dru's healthy head of hair is well worked and, upon bonding with his brother, he reveals an innate desire to become a super-villain just as Gru once was.  In other sub-plots to the story, one of the girls dreams of owning a unicorn, whilst the oldest – Margo – somehow becomes bizarrely engaged for a brief time.  There's a little too much happening here for any of these narrative threads to be entirely effective or endearing.  As a default mechanism, the directors rely on the Minions for the all-embracing and the slapstick.  Adult viewers will appreciate the prison scenes as they put the fear of God in their fellow inmates; kids will love this sequence too for its sheer hilarity.  The character of Balthazar Bratt is somewhat more problematic in such a respect.  As written and played by Parker, the character has consigned himself to a time warp replete with 80s nostalgia and a desire to re-live past glories.  The soundtrack of Despicable Me 3 has some very recognisable tunes from that era – Bad, Take on Me, 99 Red Balloons and Madonna's Into the Groove.  One of the funnier moments of the film arrives when Bratt instructs his sidekick robot to play suitable heist music.  The mechanical device, not knowing any better, plays Berlin's Take My Breath Away which, needless to say, is quickly pulled by Bratt.  Younger viewers may find this funny, but they surely won't get the pop culture references associated with such things as the Rubik's Cube or the other paraphernalia which adorn Bratt's house.  None of them will be aware of the prior usage of the place name Freedonia where Dru resides (the fictional bankrupt country in the Marx Brothers' Duck Soup – I am showing my age here).  It's difficult to understand the intent of the writers in this regard, but one can only conclude that such in-jokes are positioned for the adults in the house.  The gags in Despicable Me 3 come thick and fast, but they don't all quite hit the spot.  Despicable Me 3 has the feel of a film that's directed by more than one person and written by two others.  The approach here, as I suggested earlier, is to be as broad and inclusive as possible, but the material does suffer somewhat as a result.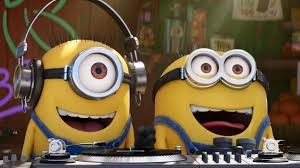 But none of this matters too much when all is said and done.  Despicable Me 3 has enough moments and visual gags to just get by and the performances of Carell and Wiig are more than up to the task.  Despicable Me 3 will, undoubtedly, be a box office smash and a Minions sequel – for better or for worse – is already pencilled in for 2020.  The only real quibble this reviewer has with the film is that the storytelling and slapdash approach does border at times on the lazy and formulaic and one wonders if the filmmakers are just a little too reliant on the obvious laughs and familiar pokes of humour.  Despicable Me 3 feels like the third film in a trilogy of this sort – there is the masquerade of exploring new themes and developing character by way of its narrative, but the impression this particular viewer is left with is that the filmmakers have, inevitably, reverted to the staples and comfortable motifs which have made its predecessors so financially lucrative.  They want their product to succeed after all and good luck to them in that design.  Expect more from Gru and his motley crew on that basis alone.  The kids will love this one.  Us adults, meantime, may be looking for something a tad fresher and just a bit more focused.
Rating: C