Movie Review: Elvis & Nixon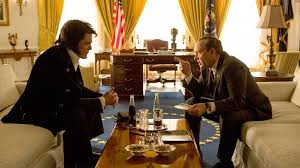 The most requested photo in the U.S. government National Archives forms the premise for this generally entertaining and somewhat hypothetical narrative of a December 1970 meeting between then U.S. President Richard Nixon and the King of Rock and Roll himself, Elvis Presley.  Kevin Spacey, currently playing a fictional president in House of Cards, essays Tricky Dick and the always excellent Michael Shannon is the King.  They are ably supported by a cast which includes Colin Hanks and Johnny Knoxville.  The film commences with a short prologue scene in which the incumbent of the Oval Office is given his itinerary for the first half of the day up to the time of his afternoon nap.  A gruff and slightly bloated Kevin Spacey waves his arms around dourly as Presley's name is mentioned and then he is gone from the screen for a good 45 minutes, in which time the viewer is given much exposition in the lead up to this unlikeliest of meetings.  It's pretty much Michael Shannon's movie on this basis alone as the title of Elvis & Nixon is somewhat a misnomer.  Shannon, however, is wonderful as a deeply conflicted man who has by all appearances begun to lose his direction and sense of purpose in the world.  He's out of the movie business for good, the famous '68 TV special is a distant memory, and Elvis meditates on the veneer of the image built up around him which has long outstripped the still quiet humble and polite man inside.  One of the most moving scenes in the film takes place immediately prior to his Oval Office encounter in which Elvis, left by himself temporarily, contemplates aloud the loss of his twin brother at birth.  Shannon ought to be congratulated for avoiding the temptation to merely mimic the iconic figure.  His voice is deliberately a pitch higher than Elvis's and the distinctive Memphis twang of the singer barely registers in his intonation.  His performance is just what it should be – an interpretation, rather than an attempt at copycat, and it's all the better for this reason.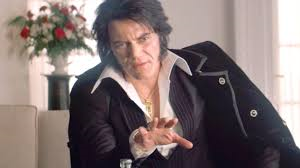 As for Kevin Spacey, well one can just imagine how he must have leapt at the opportunity of playing the famously corrupt politician.  He has far less screen time than Shannon, but his Nixon hits the right note in terms of not being overplayed and with just the requisite number of growls and derisive stares into the bargain.  The meeting between the two is something of a power play at first as Elvis digs into the President's M&M's and siphons his bottle of soda (having been warned in advance not to do so).  But the two men warm to each other and the Nixon of this film is one who is not entirely immune to the lure of celebrity it seems, in spite of his earlier protestations.  It appears also as if he gets Presley in some oblique way and can empathise with the latter's own weariness of his stardom.  The first half of the film plays with a number of gags in this regard as Elvis ambles out into the real world booking a flight for himself to Los Angeles and waiting in line at a café as those around him perform exaggerated double-takes and squeals of recognition.  It's worth bearing in mind that both men were their own worst enemy ultimately as the cult of personality possibly became too much; one perhaps considered himself untouchable, the other sank into a veritable mire of drugs and prescription medications as the decade wore on.  Ironically, Elvis visited the White House that day in December in the hope of acquiring for himself a new profession, that of an undercover agent in the Bureau of Narcotics and Dangerous Drugs.  That his own life spiralled out of control over his remaining six-and-a-half years remains one of showbiz's saddest stories.  In this film we can see that the fates are already starting to tell against him.  He bemoans the constant interference by those around him.  'A grown man should be allowed to spend his money,' he complains in a more profound moment.  And yet we see the emptiness of the jewellery and the piercing rose-tinted glasses.  The King here is a man who is already beginning to look down the tracks and is viewing a perpetual darkness.  So it would come to pass in his twilight years.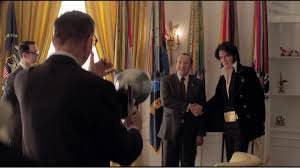 All that aside, it has to be said that Elvis & Nixon is a thoroughly entertaining piece which is mercifully short at just under 90 minutes.  The actual conversation between the two men was never recorded as Nixon had not yet engaged in such practice way back at the end of 1970.  Here the writers are required to furnish their own suppositions as to the nature of this and they mix it admirably with deft moments of humour and more introspective thought.  There are some sidebar stories in the wings as well involving Jerry Schilling, torn between his loyalty to his friend and fiancé; and Oval Office staff members Egil Krogh (Hanks) and Dwight Chapin (Evan Peters) who wish to jazz up their boss's image with the young and eligible voters come election year 1972.  But the film ultimately belongs to Kevin Spacey and Michael Shannon in particular and their hypothesised meeting is a real treat.  We don't learn a whole lot more about these historical figures than we already knew previously, but in the hands of such fine talent the seminal characters they play are imbued with a warmth and depth that other depictions of them have often lacked.  A fine balance of mirth and pathos in equal measures.
Rating: B