Movie Review: Emma (2020)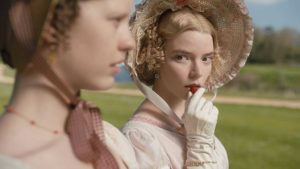 With reference to her famous 1815 novel, author Jane Austen declared that 'I am going to take a heroine whom no one but myself will much like.'  In this latest movie adaptation of the Austen novel, director Autumn de Wilde (in her directorial feature film debut) offers newcomers to the story a fine opportunity to view the heroine of the piece in all her glories and personal failings as well.  Cast in the central role is Anya Taylor-Joy who impressed so much in 2015's The Witch.  A splendid supporting cast includes such familiar faces as Bill Nighy, Miranda Hart and Rupert Graves.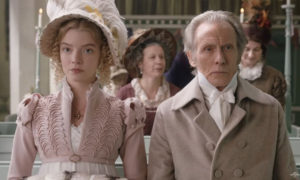 The premise of the Austen tale will be well-known to those versed with its source material.  'Handsome, clever, and rich' as the text informs us, the rather self-satisfied Emma considers herself something of an authority on human nature and intimate relations.  To be quite specific about it, the titular character feels that she has a definite proficiency when it comes to the matter of match-making.  Her attentions centre on one Harriet Smith (Mia Goth) a rather naive ingenue who is easily impressed and readily led by her new friend.  One of the central themes of Austen's novel (for this reviewer at least) is the consequence of one's actions and the effects that personal interventions can have on the lives of others.  At her basest level, Emma is an interferer who believes that she knows what is best for certain people.  With respect to her pet project (Harriet in this particular case), she thinks she spies a suitable match apropos the character of Mr. Elton (Josh O'Connor) – a socially-aspiring vicar who – as it turns out – has secret designs on Emma herself.  De Wilde moves the proceedings along at a suitably jolly pace and with attendant humour as misunderstandings accumulate and disappointments set in.  Like many of Austen's other works, Emma has quite an amount to say about the society it is focused on and the status of women among the landed gentry.  The central character herself cares not a jot for matrimony as she is already rich and secure, but – for a character such as Harriet Smith – marriage represents the ultimate opportunity to advance in the world and attain a modicum of happiness.  In such a vein, the aforementioned Mr. Elton seems to be a good choice on Emma's part until he is revealed to be less than sincere and certainly self-serving.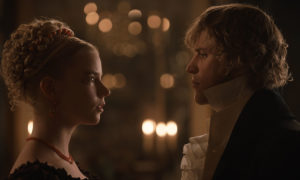 This is a comedy of manners with respect to proper etiquette and social dispositions, but moreover it is also something of a coming-of-age tale as the heroine learns some valuable life lessons and comes to an eventual higher sense of realisation.  A pivotal juncture in the novel and this new film (from my perspective at least) arrives when Emma carelessly insults the well-meaning Miss Bates (Miranda Hart) and is subsequently taken to task over it by George Knightley (portrayed here by Johnny Flynn).  Admirers of the novel will understand Knightley's critical place in the developing narrative – and the romantic denouement which transpires – but much of the fun here derives from watching these two central characters spark and barb off one another as their growing affection for each other suffers various setbacks and is inundated with countless miscommunications and mistakes.  Both actors deliver performances to enhance their respective CVs; Taylor-Joy in particular is a marvel from start to finish as Emma.  Stand-outs in the supporting cast include Bill Nighy (as the bemused and often befuddled Mr. Woodhouse), Miranda Hart (as the good-natured and vulnerable Miss Bates), Mia Goth (as Harriet Smith) and Rupert Graves (as Mr. Weston).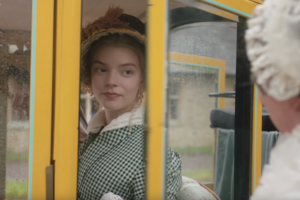 As with the recent screen version of Little Women, the question does arise here as to the relevance of a new adaptation and whether the filmmakers offer us anything in the way of fresh perspectives or new insights.  Greta Gerwig's take on the Louisa May Alcott story was certainly innovative with respect to its at-times non-linear narrative structure whereas de Wilde's approach here is more conventional with regard to its source text.  There are no new twists or novel devices on display here, but that is not to say that this new version of Emma is anything less than tremendous fun and utterly beguiling by the time of its heartfelt conclusion.  Sometimes the very best approach (as de Wilde and her screenwriter Eleanor Catton appear to grasp) is to respect the time-honoured template as your starting point and trust the material to perpetuate itself how ever much its target audience may have changed over the years.  In their more-than capable hands, this new Emma does not simply flourish, she positively soars.  A wonderful adaptation for fans and first-timers alike.
Rating: A