Movie Review: Fantastic Beasts and Where to Find Them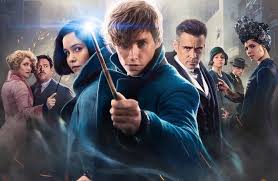 A spin-off prequel to the Harry Potter series, Fantastic Beasts and Where to Find Them is a beautifully-realised fantasy canvas of extraordinary visuals, finely-timed set-pieces and some terrific lead performances.  We are thrust back in time to 1920s New York.  The Wall Street Crash has not decimated the post-war boom yet and the Big Apple is a heady amalgam of new-world mass culture that oozes jazz and pizzazz in equal measure.  Enter one apparently diffident wizard/magizoologist named Newt Scamander (the excellently-cast Eddie Redmayne) who has a curious suitcase that unlocks itself at will and contains a host of the titular beasts.  Newt is en route west, but his journey is indefinitely delayed when his suitcase of creatures gets accidentally swapped with that of a lowly factory worker Jacob Kowalski (the equally splendid Dan Fogler).  Several creatures are liberated around NYC and Newt must devote his energies towards capturing and returning them to the incredibly spacious confines of that particular item of luggage.  In his pursuit, he enlists the help of the No-Maj Kowalski (that's someone like you and me who has no magical powers), and two sisters Tina Goldstein (Katherine Waterston) and Queenie (Alison Sudol), who most definitely do have such other-worldly capabilities in abundance.  Meantime, there are some shady goings-on in the Magical Congress of the United States of America (MACUSA) involving Percival Graves (Colin Farrell) who is intent on locating a destructive force known as an Obscurus in order to further his own malevolent ends.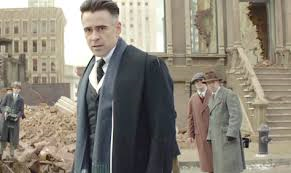 The great news here is that you don't need to be a fan of the Harry Potter film series, or all those books for that matter, in order to appreciate Beasts on its own very singular and satisfying merits.  The pacing of the film is spot-on from first-time screenwriter J.K. Rowling herself and director David Yates, who helmed the latter instalments of the boy wizard's exploits on screen.  The production qualities are what we've come to expect from such a marquee release at this time of year, but several distinctive stamps are worth noting as well such as the luscious cinematography of the great Philippe Rousselot, and a typically charming score courtesy of James Newton Howard.  The early breezy tone which is established as Scamander seeks to retrieve the peculiar creatures (including a very humorous one with more than a passing predilection for shiny objects) is offset somewhat as the latter half of the film delves into more darker hues.  We have the sidebar story of an abusive mother (Samantha Morton) and something of a twist involving the true identity of the aforementioned Obscurus.  Meantime, a prominent senator with considerable political aspirations is murdered in front of his newspaper Dad (Jon Voight).  The powers-that-be in the underground MACUSA fear retaliation and the uncloaking of their clandestine world.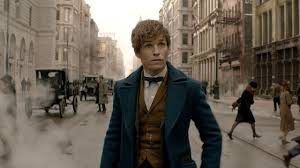 It's tremendous fun from first to last – interspersed with a few well-posited darker moments and some X-Men type reflections on the us-versus-them theme – but what gives Beasts its heart are the excellent performances in the foreground, particularly from the quartet of Redmayne, Fogler, Waterston and Sudol.  In supporting roles Ezra Miller turns up as Credence Barebone; Ron Perlman voices Gnarlack, a goblin gangster who just so happens to run a speakeasy club; and Johnny Depp making a brief late appearance as Gellert Grindelwald.  The emotional heart at the centre of Beasts is the affecting relationships which are established between Scamander and Kowalski, and their consequent interactions with the Goldstein ladies.  This is something that the Harry Potter films were missing amidst those countless games of Quidditch and (tediously) waiting for Voldemort; Beasts also benefits from a wonderful last scene, and frame, that leaves an impartial viewer, such as myself, wanting more.  So take a bow Newt Samander et al; the J.K. Rowling wizardry universe is at your disposal now.  Let's hope we don't have too long to wait for episode two.
Rating: B++