Movie Review: Fantastic Beasts: The Crimes of Grindelwald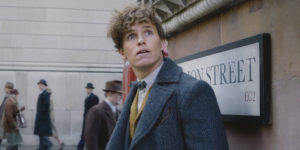 2016's Fantastic Beasts and Where to Find Them partially restored my tentative faith in the Wizarding World created by author J.K. Rowling.  I can't lay claim to have been the biggest fan of the Harry Potter series and actually skipped the final two films in that particular franchise; but the 2016 prequel – scripted by Rowling herself and directed by David Yates – gave me cause for hope.  Here was a forerunner which was invested with eminently likable characters and more than a smidgen of heart.  The four leads (Eddie Redmayne, Katherine Waterston, Dan Fogler and Alison Sudol) where perfectly cast in their respective parts; the 1920s urban milieu of New York City was lovingly recreated; the plot was lucidly developed and there was a palpable sense that this precursor could stand apart from its more famous cinematic universe.  Sadly, this new film – again directed by Yates and written by Rowling – gravitates much closer to Rowling's Wizarding World.  We begin pretty much where we left off at the end of the 2016 film.  It is 1927 and the Magical Congress of the United States of America is transporting the dark wizard Gellert Grindelwald (Johnny Depp) to London where he is to stand trial for his crimes in Europe.  En route, Grindelwald escapes of course and resumes his search for Credence Barebone (Ezra Miller) whom he has identified as a fledgling of great potential.  Meantime, Newt Scamander (Redmayne) is persuaded by others – including Albus Dumbledore (Jude Law) – to locate Credence in Paris where he is believed to be residing.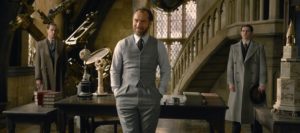 Rowling has previously stated her intention that Fantastic Beasts will comprise a five film series and, based on this assertion, one can understand the film's desire to introduce new characters and set certain narrative threads in train.  But the central problem here is that there is far too much going on in this new film and an obvious amount of clutter as the filmmakers seek to position plot points for future films and cement character motivations by way of personal choices and selected loyalties.  The central characters from the previous film suffer in this overly-busy arena.  Waterston, Fogler and Sudol are simply not given enough screen time to develop their respective personas any further; Eddie Redmayne's Scamander meanwhile has frankly become something of a bore with his various facial tics and idiosyncratic mannerisms.  The more interesting moments of this new film actually occur when Yates and Rowling choose to tell some backstory by way of flashbacks, particularly at Hogwarts.  Jude Law does well enough as a younger Dumbledore and there is some genuinely interesting exposition concerning his character's former friendship with Grindelwald.  The background narrative also introduces us to the character of Leta Lestrange, who is portrayed in the present day by Zoe Kravitz.  Elsewhere, Ezra Miller is given little latitude to do a whole lot with his Credence Barebone aside from looking perpetually glum.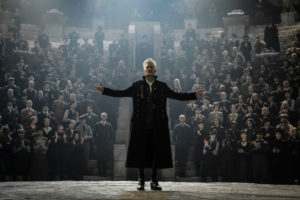 The central plot (if one can call it that) which eventually becomes clear in this tangled web is that Grindelwald has designs to foster pure-blood wizards to dominate and rule over all non-magical beings (No-Majs as they are designated in this world).  To this end, Grindelwald presents future images of World War II to hammer home his message – ordinary human beings are bent upon their own destruction; the wizarding class must be called upon to save them from themselves.  There is an overarching plan at play here and the word populism may enter some viewers heads as they listen to Depp's speech.  The climactic battle which ensues as he seeks to destroy the city of Paris is, however, devoid of any real excitement or dramatic punch.  And the film's ending is a fairly telegraphed lead-in to the undoubted next installment in the series.  That is said to be on its way to us in the year 2020.  If box office figures are to be believed, then Rowling's Wizarding World shows no sign of flagging just yet.  A disappointing sequel to a prequel series which – initially – seemed to be displaying great promise.  Perhaps the day will come when this particular reviewer will give up on these films just as he did with the Harry Potter ones.  Not very original and certainly not smacking of a great deal of magic.
Rating: D