Movie Review: Finding Dory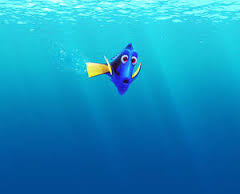 The sequel to Pixar's 2003 Finding Nemo is a warm, poignant and funny story that more than complements its predecessor whilst adding another layer of meaningful narrative and memorable characters.  Dory (as again voiced by Ellen DeGeneres) is the amnesiac regal blue tang who assisted Marlin (also a returning Albert Brooks) in his search for his son Nemo and approximately a year later she has a memory burst and becomes anxious to find her parents.  Accompanied by Marlin and Nemo, Dory rides a water current to California and, following the lure of Sigourney Weaver's voice, she is rescued at the surface and transported to the nearby Marine Life Institute.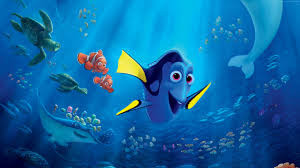 Upon arrival at the facility, Dory is sent to the quarantine section where she encounters a crusty seven-legged octopus by the name of Hank (a standout performance by Ed O'Neill) who is most anxious to obtain the tag which has been attached to Dory as this would be his ticket to a supposed idyllic aquarium in Cleveland.  In exchange for the prized tag, Hank agrees to help Dory find her parents whom she believes are residing in the institute.  Meantime Marlin and Nemo have also arrived at the institute intent on reuniting with their friend and returning with her to the ocean.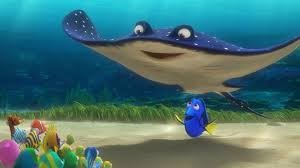 There's nothing terribly original in all of this, but that's quite ok because Finding Dory does not need to break any new ground in terms of storytelling or animated effects, it rests quite easily, and often quite poignantly, on its own merits.  The climax of the tale as Dory is reunited with parents and also, with Hank's assistance, manages to rescue Marlin and Nemo is a tad overwrought perhaps, but it is extremely funny and involves a literal splash in the ocean.  There's a fine consistency at the heart of Finding Dory as Andrew Stanton who directed Finding Nemo is a returning member of the creative team, and once again he is also on writing duties with Victoria Strouse.  A Pixar film is never a Pixar film without an array of splendid characters and side-splitting cameos and Finding Dory more than delivers in that department as well.  Along with the aforementioned actors above we have Diane Keaton and Eugene Levy as Dory's parents Jenny and Charlie; Kaitlin Olson and the always-excellent Ty Burrell respectively as Destiny, a near-sighted whale shark, and Bailey, a beluga whale; the seemingly ubiquitous Idris Elba is joined by his Wire co-star Dominic West meantime as sea lions who laze about and berate a hapless Gerald who wishes to perch on their rock.  Sigourney Weaver plays herself of course.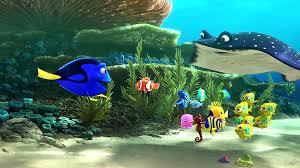 Finding Dory then is an expertly crafted well-told tale which has its fine share of laughs and some thought-provoking moments and it's more than a worthy entry in Pixar's overall canon.  It's not quite as good as its predecessor I would suggest, but then again a further film in this particular series would be no bad thing.  If the good people at Pixar can do it with Toy Story, then they can similarly expand in this universe as well.  Director Stanton has indeed hinted at this.  Any such sequel should properly have Dory centre stage again.  She's a wonderful creation, the very heartbeat of the film, and DeGeneres deserves kudos for her excellent voice performance.  Well worth checking out; as is the lovely short film titled Piper which is theatrically shown just before this.
Rating: B+