Movie Review: Hell or High Water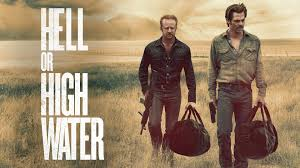 Scottish director David Mackenzie's heist movie about two brothers robbing banks in order to save their West Texas family farm is one of the best films of 2016 so far and will doubtlessly and deservedly feature on many a top ten list at year's end, this reviewer's included.  Starring Chris Pine (never better as the quietly resolved Toby) and Ben Foster (a perfect fit as the unpredictable and somewhat enigmatic Tanner), Hell or High Water has many shades of the Coen Brothers No Country for Old Men to it as it depicts a rural America in some decay where passing signage frequently refers to debt relief and small towns have long since passed into a dusty and abandoned sort of squalor.  It is exactly in such small towns that the collaborating brothers are targeting their banks, a chain which is shortly due to foreclose on their mother's property, a ranch where oil has recently been discovered.  The practical-minded Toby has orchestrated the series of heists required to pay off this debt and interest and has enlisted his older brother who has served time on the inside.  Toby's motivation also extends to his ex-wife and two estranged sons, whom he wishes to settle on the ranch and provide the sort of upbringing he and Tanner have not had.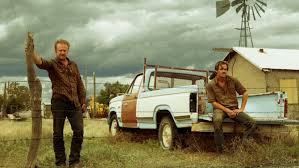 The pair commit two robberies on the first day of their tight campaign and attract the attention of Marcus Hamilton (a weary and sardonic Jeff Bridges, reminiscent of his role in the Coens' True Grit), a Texas Ranger, and his partner Alberto, who is of Comanche and Mexican extract.  Hamilton in his wisdom is fairly sure he can discern a pattern to the crimes and talks his reluctant partner into sitting outside a bank at which he is certain the next robbery will take place.  There is some nicely-timed and humorous barbing which takes place here between the peerless Bridges and co-star Gil Birmingham.  Meantime Toby and Tanner have effectively laundered the money at a casino and, in a fine piece of irony, intend to use the proceeds to pay back the precise bank from which they have stolen it.  Toby, for his part, seeks out his ex-wife and tells her of the oil and his mother's recent passing.  In a very finely played scene between Pine and Christopher W. Garcia as one of his sons, the excellent Pine implores the young man not to become like him or his uncle Tanner.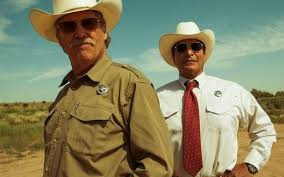 But there's a hitch to all of this of course and it soon comes when the brothers are forced to change their carefully arranged schedule and rob a bank in the town of Post, one which is a much bigger branch than the methodical Toby cares for.  A shoot-out occurs and Tanner is forced to kill a security guard and one of the customers who has been concealing a firearm.  Escaping from the scene, Tanner chooses to sacrifice himself to help effect his brother's evasion of the law.  But there are consequences which follow his actions as he takes potshots with a sniper rifle and the shortly-to-retire Hamilton is only too happy to accept the help of a local resident in order to steal a beat on the crazily spraying ex-con.  A wounded Toby successfully negotiates a checkpoint and manages to pay the bank in full just prior to its foreclosure on his mother's ranch.  We skip forward a little in time then as an idle Hamilton continues to mull over the events of the heists; chiefly of concern and personal rancour to him is the fact that Toby has not been implicated in the crimes as law enforcement has been unable to establish a motive or link to his dead brother.  There follows a very fine final scene between Bridges and Pine which, I won't divulge here, as I implore any ardent cinema fan to go watch this riveting and superbly acted film.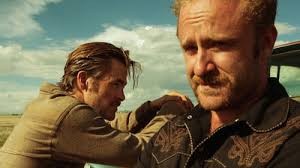 All players acquit themselves very well, but kudos in particular to the aforementioned Bridges and Pine.  We all know what Bridges is capable of, and he does not disappoint with his wheezy voice and half-acerbic barbs, but Pine is his equal with his soft tones and steely gaze.  Foster deserves his share of praise as well and there are resonant touches of brotherly love and play-acting between him and Pine.  Nick Cave and Warren Ellis provide a rich and atmospheric score to perfectly complement the mood of the piece and the photography by British cinematographer Giles Nuttgens (albeit of Eastern New Mexico as opposed to West Texas) evokes a landscape and milieu that are in sync with the film's observations on post-crash America.  As for the script by Taylor Sheridan, it's little wonder that this won the 2012 Black List Award.  Filled with dark humour and humane observation, Sheridan's writing provides a foundation that no filmmaker could possibly mess up, but this is not to detract from Mackenzie's helming of the piece which is assured and committed throughout.  As I recommended earlier, this is a film you won't want to miss for its writing, direction, acting, and score.  If necessary, go through hell or high water to see it.
Rating A+