Movie Review: Jackie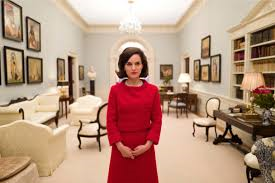 The aftermath of the JFK assassination and the impact on his bereaved widow Jackie is the main focus of Chilean director Pablo Larrain's biopic-drama featuring an all-encompassing performance from Natalie Portman.  For the vast majority of us there is Jackie the public persona which, quite rightly, evokes thoughts and sentiments of great beauty, endearing charm and seamless grace.  Here was a woman who became the First Lady of the USA at a relatively young age in 1961 and was widowed less than three years later when her husband was assassinated in downtown Dallas.  What Larrain's film, Portman's performance, and the script by Noah Oppenheim manage so effectively to do is take us behind this public image and show us Jackie the person as she alternates between moments of vulnerability and understandable anger.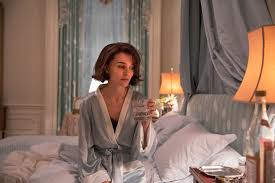 The film opens with some grainy shots of the motorcade as it speeds away from Dealey Plaza, but then pushes forward approximately a week later as a somewhat defensive Jackie receives a journalist – presumably Theodore H. White (Billy Crudup) – to her temporary residence at Hyannis Port, Massachusetts.  Jackie has invited the journalist here for a few good reasons and one or two of them are deeply personal to her.  'I'm starting to lose him myself,' she laments later in the film and her purpose in allowing this interview is to forever frame the president's relatively short tenure in the White House in almost mythical terms, as much as it is to place a narrative structure on their own lives together.  And so the finished article would later conclude with those famous lyrics from the Alan Jay Lerner song.  The solitude of the Kennedy Compound, where the former First Lady answers questions with no little directness and some self-evident suppression, is counterpointed with the eerie bustle which attends the aftermath of the political murder.  Still wearing her blood-stained dress on the return flight to Washington, Jackie is adamant that she will exit the plane in the normal fashion rather than by the back as suggested by the secret service.  'I want them to see what they've done,' she insists and this she extends also to her wish that her children, Caroline and John Junior, are not hidden from the media as the funeral cortege departs the White House.  But in spite of such commotion, and a distinct emphasis on the male-dominated world of the secret service and upper echelons of the political corridors inside the iconic residence, the inflection here is towards the titular character herself and the impeding aloneness that she must face.  French cinematographer Stephane Fontaine isolates Jackie in stark close-ups with other characters and wide shots as she wanders through the rooms of the place she calls Camelot.  Indeed we hear that very music as she drinks heavily and ambles past historic pieces of furniture and her own personal possessions.  She later comments as to how Jack will also one day have an oily painting on one of these corridors.  This is a lady who is all too aware as to how the moment has been snatched from her and that history will too consign her to its annals as it is already doing to the slain president.  Bobby Kennedy (Peter Sarsgaard) bemoans how little he believes the Kennedy era has achieved.  Then he duly apologises for such an abrupt sentiment.  Throughout this considered snapshot Larrain and Oppenheim emphasise a country, a political climate, and, most especially, a life that has been thrust into violent transition.  At an advanced point in its 100-minute running time the titular character confides to John Hurt's priest that she has been hoping for a sudden death.  She feels of little use even to her own children.  And America may well forget her and its fallen leader as well unless she can stage this media intervention, not terribly unlike her televised tour of the White House in 1961.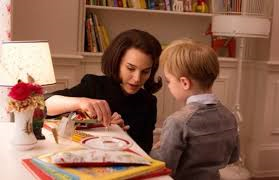 Natalie Portman delivers the best performance of her career to date as she seeks out and uncovers the many facades to this thoroughly fascinating and iconic character.  There are several layers to the former First Lady, as Oppenheim's script posits, and the actress perfects the mannerisms and vocal intonations of the public and private Jackie.  A somewhat diffident yet enthusiastic debutante, as suggested by the famous CBS News tour, Jackie is also presented as feisty and even difficult in her private sphere.  Portman takes us through a vast range of her emotions as she struggles to comprehend the traumatic events laid at her doorstep.  Jackie vacillates in her decision to march behind her husband's flag-draped coffin amidst concerns raised by aides and security.  Eventually, she determines to put her grief on show for America and the world at large to see.  This is a performance that does not wallow in gross sentiment, nor does it leave us in little doubt as to the sizeable abyss the real character faced as she departed the White House following the burial at Arlington Cemetery.  Sadly, in one of the film's final sequences, she watches as mannequins in her own image are carried into a department store.  There is an undoubted style and verve she has set in her years in the public eye, but will this be sustained she may very well wonder.  The following years would of course answer this question, but during those dark days in late 1963 there were no such certainties.  Jackie is by herself at the film's conclusion; a memory of dancing with Jack is precisely the abstract of history which Larrain has been suggesting to us.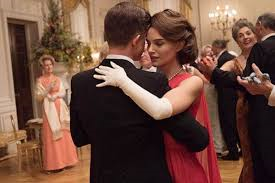 It's terrifically mounted as one would expect and full kudos to the costumes of Madeline Fontaine, set designs of Veronique Melery and art direction of Jean Rabasse.  A fine supporting cast includes the aforementioned Hurt, Crudup and Sarsgaard.  John Carroll Lynch turns up as Lyndon B. Johnson; Richard E. Grant as Kennedy adviser William Walton; Greta Gerwig as social secretary Nancy Tuckerman.  The score by Mica Levi is sparse in terms of its instrumentation, but sweeping and with melancholic range with respect to its broad motifs.  Like so much of Jackie the film itself, it paints a picture of a life which has lost something that it can never possibly reclaim.  Levi's themes are unconventional in their express emotion, somewhat like the central character herself.  Jackie is a film well worth seeing and will add to many a viewer's understanding and respect for its subject matter and principal subject.  Portman, Larrain and Oppenheim deserve especial praise for amplifying her legacy, just as she sought to do with her husband's in late 1963.  A very fine character study.
Rating: B+