Movie Review: Jojo Rabbit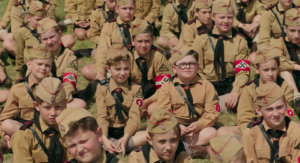 Taika Waititi's new film Jojo Rabbit (based on the Christine Leunen book Caging Skies) poses many questions in social and behavioral contexts, but the central one of these is as follows: how should a young boy who is coming of age act in a desperate world which is falling down all around him?  Should he fall in line like so many others his own age and succumb to the forces of propaganda and nefarious persuasion?  Can he possibly find a good deed or kind act which might set him apart from a general herd mentality?  It's the latter stages of the Second World War in Nazi Germany and 10-year-old Johannes Betzler (Roman Griffin Davis) is enthralled by the Third Reich and its leader Adolf Hitler.  Jojo is a member of the Hitler Youth along with his best friend Yorki (Archie Yates) and he lives with his now single mother Rosie (Scarlett Johansson).  There are allusions to his missing father who is said to be fighting on the Italian front.  As a mechanism to either convince himself of his loyalty to the party or to reinforce such allegiance even further, Jojo has an imaginary friend in the shape of Der Fuhrer himself (Waititi also on acting duties).  Jojo's Hitler is a childish construct of course; inclined to encourage and praise, but also quick to scold when the youngster's commitment appears to be waning.  When Jojo fails to kill a rabbit at a Hitler Youth training camp (hence the moniker of the title), the Adolf of his mind urges him to prove his courage in another respect.  The result is a horrible accident which leaves the child with permanent facial scarring and a limp.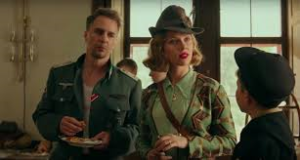 Undeterred by this misfortune, the young boy accepts a menial position under Captain Klenzendorf (Sam Rockwell) which involves tasks such as collecting scrap metal for the war effort and distributing propaganda leaflets in his home town.  Returning to his empty house one day, Jojo discovers that a Jewish girl by the name of Elsa Korr (Thomasin McKenzie), a former classmate of his deceased sister, is hiding inside the wall of a bedroom.  It's not clear how long Elsa has been a refugee in the house, but the similarities to the plight of Anne Frank come immediately to mind.  The principal quandary which arises for Jojo is readily apparent.  Does he give the teenager up as his sense of duty to the Fatherland tells him to?  The Hitler of his mind is in no doubt about this.  But Elsa is resourceful and she reminds the younger one that his mother will be implicated to her own detriment if he runs to the authorities.  An uneasy alliance gradually forms, much to the chagrin of Jojo's Hitler.  The boy agrees to keep the teenage girl secret on the proviso that she reveal her 'Jew secrets' to him so that he can write a book on this very topic.  He does not speak to his mother on the matter in spite of the evident fact that Rosie has agreed to harbour Elsa from the powers-that-be who would have her on the next transport to a concentration camp.  When Jojo berates his mother for being unpatriotic and welcoming the imminent defeat of the Nazis, Rosie in turn imparts the lesson that optimism should prevail over oppression.  Imaginary Hitler still looms nonetheless in the background.  As Jojo continues to soften towards Elsa, Der Fuhrer reminds him that he is ten years old and should start acting his age.  A humorous aside one might initially think, but then we later shudder at the scenes in which party members hand weapons to children in the streets as the Russians invade.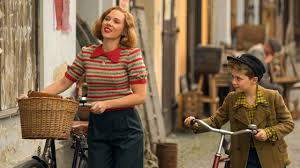 Any film which deals with this type of subject matter is bound to be controversial and Waititi's work has certainly elicited some pointed reaction with regard to its satirical thrust and comedic undertones.  The director's own portrayal of Hitler is one of the more prominent of these.  This is most certainly not the Bruno Ganz of Oliver Hirschbiegel's excellent 2004 film Downfall.  Waititi's Der Fuhrer is prone to sulking and he does not exude any sense of real power or authority.  But let's remind ourselves that he is the creation of Jojo – how Jojo perceives the leader of his nation if he were his own best friend.  The moral dilemma which the young boy faces is an entirely fascinating one, but the narrative drive of the story does not really allow Waititi (also screenwriter here) to sustain it for very long.  Without giving too much away, the clue is in that phrase once again – coming-of-age.  A pivotal moment which occurs in the town square towards the end of the film's second act leaves us in little doubt as to how Jojo will proceed and act from here with respect to Elsa.  If there is an inherent weakness in the film's final act, it may well be that the maudlin is eventually favoured by Waititi.  There are some strains of Roberto Benigni's Life Is Beautiful in this latter section.  Like that earlier film, Waititi's work has also been the subject of some criticism for its use of this particular subject matter for comedic purposes.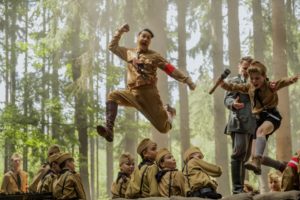 This is a film which has divided audiences and critics to date, but this reviewer has to say that – by and large – he loved every moment of it in spite of the sentimental strain which became more prominent as the movie progressed.  The director of 2017's Thor: Ragnarok once again proves himself to be most astute apropos outlandish humour and he is aided and abetted here by a fairly remarkable cast.  In supporting roles, Sam Rockwell is in typically fine form as the aforementioned Klenzendorf, an Army officer who is clearly paying lip service to the party despite his own sense of cynicism as defeat looms.  Rebel Wilson is also effective as Fraulein Rahm, a devoted instructor of the Hitler Youth who claims to have delivered 18 babies in the service of the Fatherland.  Waititi fares well also in the problematic role of Hitler and a special mention must be made of Archie Yates as Jojo's best friend.  Scarlett Johansson meantime confirms that this is the best year of her career to date in the wake of her exceptional performance in Marriage Story.  The performances of the film however belong to Roman Griffin Davis as the titular character and Thomasin McKenzie as Elsa and it is in this particular facet that the film derives much of its power and abiding emotion.  The scenes and exchanges between the two young actors are genuinely moving, full of humor and well-judged pathos in equal measure.  The world they inhabit in this certain instance is one replete with horror and the utter absurdity of war.  Waititi's film may not be to everyone's taste, but its critical message with respect to anti-hate is one that no rational person can deny.  There are many moments of high comedy in this particular universe and they serve to highlight the preposterousness of a world gone crazy and given over to an establishment of hate.
Rating: A