Movie Review: Knives Out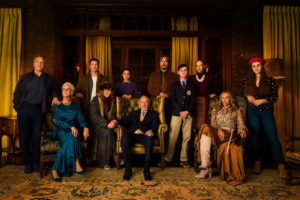 There's a scene approximately half way through Rian Johnson's new mystery film Knives Out in which a mother and daughter watch an episode of Murder, She Wrote in the Spanish language.  The much-loved television series starring Angela Lansbury which aired for 12 seasons in the 1980s and 1990s would definitely tip its hat to Johnson's generally fun and scintillating take on the genre.  Knives Out is replete with references to Agatha Christie and the whodunit murder plot as a whole.  A dysfunctional family is unsurprisingly at the core of the drama; there is an outside caretaker whom they all profess to love until they have one substantial reason to hate her; and most especially of all, there is a famous private detective with a very distinctive accent.  Think you've seen this kind of film before?  Chances are that you have.  But the director of Looper and Star Wars: The Last Jedi has put his own stamp on the film and he takes us on a narrative journey full of twists and turns.  That's what the very best whodunits in the mould of 1972's Sleuth are all about.  Pile on those unexpected developments galore and leave your audience wanting more at the finale.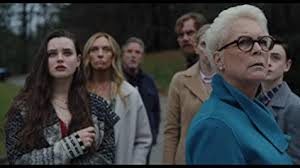 Famed crime novelist Harlan Thrombey has invited his extended family to his countryside mansion for the occasion of his 85th birthday.  Still robust, in spite of his age, the wealthy writer has a love/hate relationship with his children Linda (Jamie Lee Curtis) and Walter (Michael Shannon).  In spite of his own belief that a person ought to build themselves up from the ground, he has given financial support to his son and daughter, and also – by extension – to his son-in-law Richard (Don Johnson), daughter-in-law Joni (Toni Collette) and his grand-children who include Ransom (Chris Evans).  Some home truths are expressed during the course of the evening and – in flashback mode – we learn that several characters may have motives with respect to the old man's demise.  Johnson begins his film with this very fait accompli – Thrombey is already dead and the respective family members are weighing up the consequences of his passing and wondering at the contents of his last will and testament which are due to be divulged.  Enter the police of course and a charismatic detective by the name of Benoit Blanc (Daniel Craig).  Bearing a strong Southern accent, but a generally benign demeanour, Blanc is genuinely puzzled at his own involvement in the case (supposedly a suicide) – inexplicably he has been sent a wad of cash and instructed to pursue a certain line of investigation.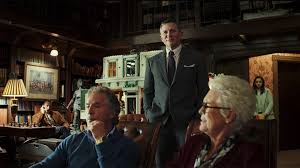 The ensuing action unfolds with appropriate gusto and Johnson piles on the various tricks and devices with much aplomb.  A central character in the investigation emerges in the form of Thrombey's dutiful caretaker Marta Cabrera (Ana de Armas) who has a strange physical penchant for vomiting whenever she tells a lie.  A particular favourite of Harlan's on account of her sincerity and attentiveness, Marta is respected by the other family members to a certain point: high-class in their manner and notions, a few of the clan have their own narrow take on the position of the immigrant in American society.  In this latter respect, Johnson pokes fun at individuals who assume their wealth and status automatically makes them better than those who are below them in so-called social standing and even from a different country.  On more than one occasion, Marta's nationality is mistaken – the only thing for certain is that she hails from somewhere in South America.  This class sidebar aside, Knives Out is primarily focused on the whodunit aspect of its story and writer-director Johnson is fully intent on paying homage to the genre whilst he ushers us on a most spirited ride.  The cast of actors he has chosen for this piece are fully on-board in this regard – one senses that the likes of Jamie Lee Curtis and Don Johnson are having tremendous fun with their respective roles; the wonderful Michael Shannon meantime is suitably dour as Harlan's youngest son who feels aggrieved after his father fires him from his publishing company; the evergreen Christopher Plummer (now fast-approaching his 90th birthday) is warm and stern in equal measure as the murder victim Harlan.  There is typically fine support also offered by Toni Collette, Frank Oz, Chris Evans and Katherine Langford.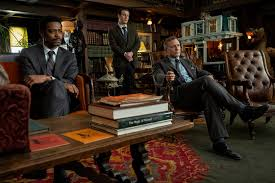 The film belongs to the principal players in the shape of Daniel Craig and Ana de Armas.  The James Bond actor proves himself likable and enigmatic and his Benoit Blanc has a genuine fervour about him which is impossible to resist.  Blanc's most appealing feature is his sense of duty and care towards Marta and many of the film's best scenes involve Craig and de Armas.  The Cuban-born actress fills her character out with a perfect balance of vulnerability and vigour when required.  Although eventually turned upon and chastised by many of the clan members, Marta never quite loses her poise, nor does she wilt in the face of some unenviable odds.  The film's closing scene certainly suggests that she will grow and evolve into a force to be reckoned with.  A thoroughly-entertaining whodunit that benefits from its strong ensemble cast.  Go and see it before you chance upon any of those dreaded spoilers.
Rating: B