Movie Review: La La Land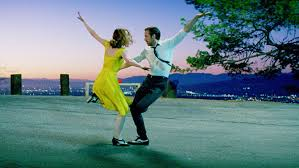 'People love what other people are passionate about,' Mia Dolan (Emma Stone) tells Sebastian Wilder (Ryan Gosling) at a pivotal moment and the good news is that you don't necessarily need to be a lover of musicals to appreciate La La Land which is far more than just a song-and-dance story about star-crossed lovers.  If anything, in fact, La La Land is a considered examination of dreams versus reality; love sacrificed in the face of ambition.  But lets not give too much away about that wonderful ending (and breathless set-piece) which has divided some audiences and critics.  To the plot first so, and it seems achingly familiar at first.  Mia Dolan is an aspiring actress who daylights as a studio barista.  Six years of auditions have not proven fruitful and she appears to have the worst luck in the world when it comes to those nerve-wracking readings.  Whether she is actually good enough or not is a question which writer-director Damien Chazelle (Whiplash) chooses deliberately to leave vague initially.  Sebastian Wilder, on the other hand, is a jazz pianist whose inherent talent is undoubted.  But he's difficult and somewhat moody.  He believes in jazz music in its purest form and derides any watering-down of this art form as much as he fears its eventual demise.  Despite a shaky start (an early incident of road rage and a curt brush-off in a club) the two are naturally drawn to each other and express their evolving passion in…yes, you guessed it, a good old-fashioned song-and-dance routine.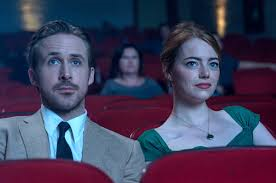 Sebastian invites Mia to a screening of the James Dean classic Rebel Without a Cause (one of many movie references peppered throughout) and a magical sequence follows at the Griffith Observatory where part of that 1955 film took place.  The couple move in together, but their respective fortunes begin to diverge at this point in time.  Quitting her job at the coffeehouse, and encouraged by her boyfriend, Mia decides to follow her heart and write a single-actress play.  Meantime, Sebastian is approached by an old high school classmate (singer-songwriter John Legend) to join his jazz band which, as it turns out, has a fairly hybrid approach with respect to its musical source.  But Sebastian, cognisant of the fact that he now has certain responsibilities, chooses to bury his own private revulsion for the music he partakes in.  Much to the dismay of Mia, who accuses him of just this and wonders aloud at why he is suppressing his real ambition – that of starting his own jazz club one fine day in the ideal world she still believes in.  Reality, however, comes crashing down for Mia as well when her play does not go to script.  One fraught exchange later and she is one her way back to Boulder City, Nevada.  But surely this is not the end for the Hollywood couple?  Fate and circumstance must intervene.  The City of Angels is not quite finished with them yet.  Another catchy tune and amends will be made, right?  Well, sure…somewhat.  But this reviewer does not want to give too much away.  Particularly with respect to that ending.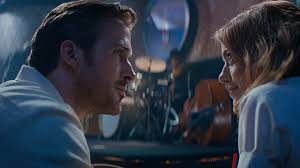 La La Land as a film is many things and one of these, of course, is a loving reverence for a bygone era in Hollywood film-making.  Chazelle, as I mentioned, chooses to populate his compositions with knowing allusions to musicals such as Singin' in the Rain and An American in Paris.  Other movie genres are also drawn upon.  The wall of Mia's bedroom contains a large image of Ingrid Bergman; there's a brief shot of the Burt Lancaster film The Killers; later on Mia mentions such classics as Casablanca as she and Sebastian wander the streets of Los Angeles.  Some mention has to be made here about the way in which Chazelle frames that particular metropolis.  Rather than seeking to portray this particular urban landscape as an idyllic one, Chazelle instead chooses to embrace its sprawl and its eclectic environs.  The opening set-piece occurs on a congested highway to the strains and balletic movements of 'Another Day of Sun.'  Other locations such as the aforementioned Griffith Observatory lend themselves seamlessly to Linus Sandgren's effusive photography.  The iconic west coast city has perhaps never been shot in such contrasting tones before.  The viewer is left in no doubt as to its utilitarian facades; but there's a quality to all of this as well, just as there is a real substance to Mia and Sebastian's hopes and dreams for each other.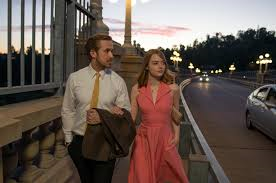 As to the cast itself, it has to be said that Chazelle has written star-making roles for two individuals who are already and, quite rightly, stars.  Ryan Gosling has always exuded cool and persona, but sometimes in an over-abundant supply and to the detriment of his overall performance.  Happily here restraint is the order of the day and his Sebastian is endearing, vulnerable and, ultimately, quite nostalgic in the alternative universe he co-conceives at the film's climax (I know, I know – I promised not to give too much away about that ending).  The real star of this show though is Emma Stone.  Building on the fine character performances she has delivered over the past few years, she is now one of the most natural and gifted actresses of her generation.  The sky is the limit for her in the same way her character Mia has designs to be.  In supporting roles John Legend and a brief J.K. Simmons do what they have to do.  But this film ultimately is all about Gosling and Stone.  The two actors push La La Land into the stratosphere with their deft exchanges and committed executions of song-and-dance numbers.  As does Chazelle's assured direction and the panoramic perspective he and DOP Sandgren adapt.  And, finally, to the music itself and full kudos to Chazelle's longtime collaborator Justin Hurwitz in this regard.  From the melancholy bars of Mia and Sebastian's theme, and discreet City of Stars, to the more expansive A Lovely Night, and properly bombastic Start a Fire, Hurwitz takes us through a vast and pleasing plethora of musical styles and emotions.  It's a positively wonderful accompaniment to a film which transitions to true greatness in its final few moments.  Watch all that happens before as well and see if you agree with me.  Highly recommended.
Rating: A