Movie Review: Lady Bird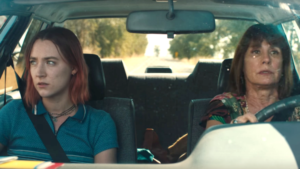 The opening moments of Greta Gerwig's semi-autobiographical film Lady Bird tell us that we are not just in another movie about teen angst and coming-of-age.  There is a shot of a mother and daughter lying side by side on a bed.  In the very next scene (as they take a road trip together to view prospective college campuses), the mother and daughter argue intensely after having just listened to an audio recording of Steinbeck's The Grapes of Wrath.  'The only exciting thing about 2002 is that it's a palindrome,' the daughter pronounces as she rails against her circumstances and her mother's wish that she lower her expectations somewhat.  When the maternal figure counters with a sarcastic tirade about community college and prison time, the daughter simply flings herself from the moving car.  This is no ordinary Mom-daughter dynamic we quickly realise.  These are two robust personas struggling to find themselves just as they seek to establish common ground to mitigate the antagonism which dominates their relationship.  The daughter's wise Dad points out this patent fact in a much-later scene – 'You both have such strong personalities,' he says.  Gerwig's film never leaves us in doubt as to the deep-seated love that exists between mother and daughter.  But they both have some way to go to express it she suggests.  The Mom has to learn to let go and discard some of her long-held beliefs; the daughter, on the other hand, has much to learn about everyday human interactions.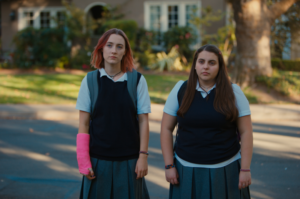 As regards the story's origins, Gerwig has sought to downplay the semi-autobiographical aspects by stating that, 'nothing in the movie literally happened in my life, but it has a core of truth that resonates with what I know.'  A famous maxim often given to first-time and aspiring authors is to write about what you know.  Gerwig's tale is set in her hometown of Sacramento – a city which Lady Bird (Saoirse Ronan) refers derisively to at one point as 'the mid-west of California.'  The central drama (such as it is) which Lady Bird focuses on is its titular character's final few months in a Catholic high school.  College days are looming large and she longs to escape her environs.  The east coast appeals to her as a seeming repository of culture and higher purpose.  Her hard-working Mom, Marion (Laurie Metcalf), tries to ground her in more realistic thinking.  A pivotal exchange occurs one evening when the wayward Lady Bird comes home late and Mom decides to tackle her about the untidy state of her room.  Fold your school uniform properly she tells her just as she reveals the fact that Lady Bird's father (Tracy Letts) has been made redundant.  The mother's concern is valid and rings through in a general sense – an unkempt daughter will only serve as visual confirmation that the family is currently hard-pressed and down on its luck.  Marion has to work double shifts just to make ends meet.  An expensive college (Lady Bird's yearning) would surely be too much for their depleted finances.  Her daughter must learn to appreciate the limits of her class and place in life.  Hankerings are all well and good, but they do not put food on the table.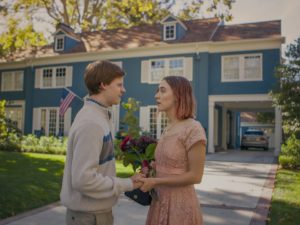 The central relationship of the film is well supported by other episodic events which take place over the few months of Lady Bird's life which Gerwig allows us to see.  The invitation here is an appealing one, even if it is awkward at times.  A charming boy (Lucas Hedges) Lady Bird meets through the school theatre programme turns out to be gay to her considerable disappointment.  Her relationship with her best friend Julianne Steffans (the excellent Beanie Feldstein) hits a rocky patch as Lady Bird ingratiates herself with the so-called cool girl of the class.  A young musician, Kyle (Call Me by Your Name's Timothee Chalamet), whom she meets while working, does not turn out to be the romantic interest she'd hoped he'd be.  Lady Bird also learns some home truths – her placid Dad has been taking pills for the depression which he's been battling for years.  Reflecting on her increasingly proactive role within the family dynamic, Marion comments on how she has to play bad cop all the time.  Her position in so many ways is unenviable – damned if she does and damned if she doesn't.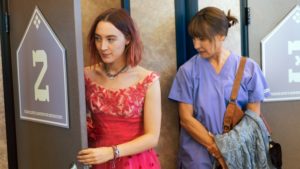 Gerwig's assured direction and bittersweet script manage a deft balance.  Both viewpoints get a proper airing and we are left in little doubt as to the rationality that shines through.  A potentially maudlin (and very-Hollywood moment) is avoided at an airport late on as Marion returns to bid her daughter farewell as she heads to college in New York.  But there is no such gushing goodbye – she's simply too late as Lady Bird has already departed.  The element of distance and separation augurs well for the future Gerwig suggests in the film's final few moments.  We get the sense that, given its time period (2002-2003), this is a story which is being told from a more objective present-day setting.  But, thankfully Gerwig resists the temptation of an overarching voiceover.  An apology and expression of love delivered by means of a modern-day communications device sums up one of the essential points of the story.  Human beings – particularly family members – struggle to articulate what they feel towards one another.  And they hurt those they love countless times over before an insightful wisdom sets in.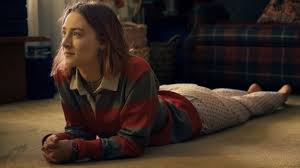 Kudos therefore to Gerwig's script and direction in the first place and, then, plaudits to her stellar cast.  This is Saoirse Ronan's best work to date and she's ably supported by the excellent Metcalf and the likes of Lucas Hedges, Beanie Feldstein and Tracy Letts.  Veteran actress Lois Smith is utterly winning as an elder sister at the Catholic high school which Lady Bird attends.  Stephen Henderson also captures the eye as the quietly grieving Father Leviatch.  Similar on many levels to 2016's The Edge of Seventeen, Lady Bird is a bittersweet treatise on the subject of growing up which, mercifully, pulls few punches.  Adolescence – the progress towards maturity – has rarely been depicted in such a mature and measured way.  High praise indeed for Gerwig and her wonderful cast.
Rating: A