Movie Review: Lean on Pete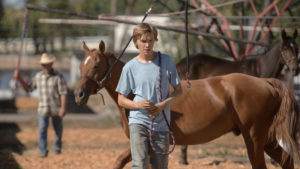 Based on the 2010 novel of the same name by Willy Vlautin, Lean on Pete is an elegiac coming-of-age story featuring a remarkable central performance from the fast-emerging talent that is Charlie Plummer.  Plummer plays Charley Thompson, a young teen who has moved around quite a bit and never known his mother.  His father Ray (The Vikings' Travis Fimmel) is not an abusive parent, but he's not exactly an ideal guardian either as we soon learn.  Charley spends his days running and watching television.  Ray brings home a new girlfriend and advises Charley not to wait up for him.  When the youth happens upon a nearby racing track in Portland – where he now lives – a chance encounter with the unsentimental Del Montgomery (Steve Buscemi) earns him a job caring for race horses and the titular Lean on Pete – a five-year-old quarter horse.  It's not long before the somewhat impressionable Charley has formed a bond in his mind with the chestnut-coloured horse.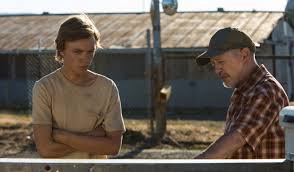 Montgomery begins to take Charley on the road with him as he attends two-bit race meets in various out-of-the-way locations.  Writer-director Andrew Haigh (Weekend, 45 Years) reminds us of the vastness of America and the forgotten towns and terrains which make up so much of its landscape.  There are characters and characterizations which are familiar, yet rendered fresh and compelling by Haigh's screen adaptation.  Buscemi – as we know – emotes cynicism and general world-weariness as if they are innate parts of his make-up.  He introduces Charley to Bonnie (Chloe Sevigny) – a female jockey who has broken more bones than she would care to remember.  Bonnie perceives the raw decency of Charley whom she treats like a younger brother; but, crucially, she warns the youth not to become too attached to the horse.  'It's not a pet' she tells him in a foreshadowing of the fate that may await Lean on Pete.  A harsh reality soon dawns on the honest-to-goodness Charley – Lean on Pete is already past his prime and of little use or value to Montgomery.  The horse-dealer has it in his mind to send Pete to Mexico which effectively equates to the slaughterhouse.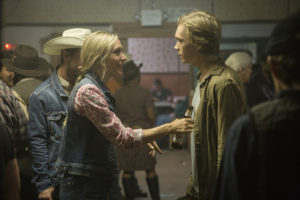 When Charley's domestic situation deteriorates, the teen decides to crash at the stables unbeknownst to Montgomery and Bonnie.  His sense of isolation and lack of parental care become more manifest as he begins to confide in the horse.  Haigh avoids any mawkish sentimentality here and foregrounds some of the traumas which have been suffered by Charley during his young life to date.  His mother deserted the family before he was old enough to make any memories of her; his father is essentially an alcoholic who has a proclivity for getting into trouble with the wrong sort of people.  An aunt by the name of Margy appears to represent Charley's best hope for survival and emotional attachment in this world which is so often harsh and unforgiving towards the young man.  But Margy has become estranged from Charley's father and now apparently resides somewhere in Wyoming.  When Montgomery announces his decision to dispense with Pete, Charley's determination to trace his aunt takes on a new sense of purpose.  Setting out on the road with Pete, his focus is to find a better life for himself and the ailing racehorse.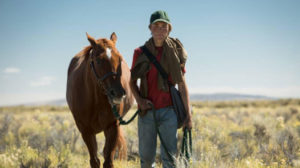 On the road together, the youth and the horse encounter a number of people who seem to epitomise a broken-down version of the American dream.  There are the two war veterans who reside in a remote location and spend their time playing video games and swilling beer.  There is the overweight daughter of a verbally-abusive father who is good-natured at heart, but entirely bereft of any sense of ambition or desire to escape her paltry circumstances.  There is the alcoholic Silver (Steve Zahn) who becomes violent when he has imbibed too much.  None of these individuals are pretty in appearance or temperament and they serve to confirm Haigh's vision of an America that is all too often inhospitable with respect to its environs and inhabitants.  The previously inoffensive Charley is forced into an act of violence when one of these people take the money he has earned painting.  At the risk of giving too much away about the plot, a far from happy denouement awaits Charley and Pete as they attempt to locate Aunt Margy.  This is not Disney territory, nor does it amount to the surging optimism of The Black Stallion.  Haigh's work as writer and director is second-to-none and the photography of Magnus Joenck is impressive as it juxtaposes the wide vistas of the Pacific Northwest with the tighter urban milieus of Portland and Burns, Oregon.  The supporting cast of Buscemi, Sevigny and Zahn acquit themselves in admirable fashion, but the film belongs entirely to Charlie Plummer who is note-perfect as the relatively naive and downtrodden central character.  Plummer's performance elevates Lean on Pete and grounds the film in its inherent sense of humanity.  All in all, an affecting tale of a young man seeking out a deserved and more promising future for himself.
Rating: A