Movie Review: Little Women (2019)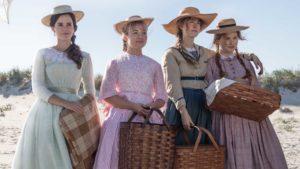 The seventh film adaptation of Louisa May Alcott's much-loved 1868 novel of the same name is a joyful re-working of its source material which combines familiar themes set out by the author in her original text as well as infusing some modern-day sensibilities.  Fans of the book and the several television and cinema adaptations, which have been produced down through the years, will appreciate the fundamental story and the central characters which populate it.  But the real innovation which writer-director Greta Gerwig has introduced in this version is the way in which she expertly manipulates chronology and utilises a non-linear structure to the overall benefit of her interpretation.  Aficionados of the Alcott story will not be unduly offended by this; first-timers to the tale of the March sisters should be suitably hooked once the unconventional structure takes hold and makes thematic sense.  Set primarily during the early days of the American Civil War (1861) and then the later 1860s, Little Women as most of us know is essentially a coming-of-age-story concerning the four March sisters – the titular characters with contrasting personalities who find that they must grow up quickly and adapt in a world of radical change.  For the benefit of this review, a short re-introduction to them will suffice here: there is the tomboyish and feisty Jo (Saoirse Ronan), the more level-headed and romantic Meg (Emma Watson), the somewhat self-serving but ultimately redeemed Amy (Florence Pugh) and the compassionate and kindly Beth (Eliza Scanlen).  An excellent supporting cast includes Laura Dern as Marmee March, Timothee Chalamet as Laurie, Meryl Streep as Aunt March and Chris Cooper as Mr. Laurence.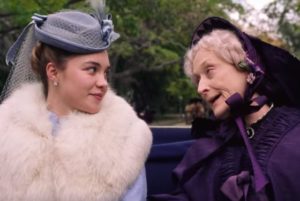 Gerwig's approach – happily – is to draw upon the novel's greatest strengths with regard to themes and types and reinvigorate them with a keen contemporaneous perspective which serves to make the story feel immediate and relevant despite its period setting.  The headstrong and independently-minded Jo is unsurprisingly the main focus here as she is in Alcott's original text.  When we first meet her, Jo is an aspiring writer living in New York City who ekes out an existence as a teacher in order to make ends meet.  In an amusing opening scene, Jo approaches an editor by the name of Mr. Dashwood (Tracy Letts) with a short story purportedly written by a 'friend.'  Just like any downcast writer, she watches on in despair as the hardened editor cuts her work to shreds and instructs her to conclude her feminine narratives with either a marriage or a death.  Both such eventualities will befall principal characters in the story as we shall see.  In the past (1861 in Concord, Massachusetts to be precise), we learn more about the four sisters' formative years as the Civil War engulfs the entire country.  There is a deeply-felt scene on Christmas Day in which their mother (Dern) prevails upon them to give up their breakfast to an impoverished family nearby.  A chance encounter occurring between Ronan's Jo and Chalamet's Laurie sets in train one of the romantic threads of the story.  All the while Gerwig's adaptation and structuring of Alcott's classic tale remind us the viewer of the consequences of choices made and courses determined upon.  When Jo reacts badly to some constructive criticism on the part of the admiring Friedrich Bhaer (Louis Garrel) in the more present timeline, the viewer naturally mulls on the strong possibility that this is an opportunity and personal chance for happiness spurned by the heroine.  In a similar vein – and another timeline presented in Gerwig's version – we also see Jo reject Laurie's awkward proposal of marriage.  When the robust central character suggests to Meg that they should run away together on the latter's wedding day so as to escape a life of domestic servitude, as she perceives it, the older sister lectures her on the importance of happiness and harmony to herself.  It's one of the film's more striking exchanges and perfectly captures the spirit of Gerwig's re-imagining.  The pivotal point here is that a strong and truly independent woman has the right to make up her own mind; just because Meg is choosing matrimony above other considerations does not render her the lesser woman of the two.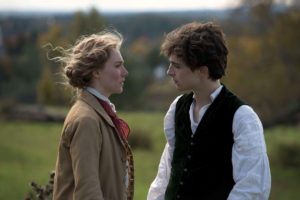 It helps proceedings greatly of course that Gerwig has surrounded herself with a fairly remarkable cast and crew of no small talent.  The production design and cinematography (Yorick Le Saux) are of a suitably high standard as they should be and the Oscar-nominated work of Jacqueline Durran (costume design) is a visual joy to behold.  The same can be said for the score by Alexandre Desplat which appears to inform every scene without overwhelming or unduly distracting attention.  As regards the acting stakes, the work of Ronan in the lead has been recognised by the Academy, but the scene stealer here (to this reviewer's mind at least) is Florence Pugh as Amy.  Following her stellar work in 2019's Midsommar, Pugh confirms that she is indeed a talent on the rise; her Amy is brattish, selfish but finally endearing in an uncompromised way.  In supporting roles, Chalamet, Dern, Cooper and Streep are every bit as good as we expect them to be.  One of the film's more poignant sidebars (as in the novel) is the relationship which is struck up between Cooper's somewhat haunted Mr. Laurence and Eliza Scanlen's doomed Beth.  In a deeply-felt scene, the latter thanks her rich neighbour for the generous present of a piano.  Following her character's demise, Beth is described by one of her sisters as 'the best of us.'  Again, here is an instance whereby Gerwig has sensibly retained the source novel's underlying spirit of humanity and hope.  In adapting Alcott's book in this way and infusing it with an unconventional structure (as I noted earlier), the Lady Bird director proves that she is a storyteller of some depth as well – good storytelling is about making the right choices as much as it is about innovative ideas and inflections and Gerwig has made lots of right choices during the course of her film.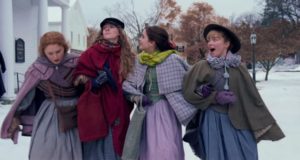 This reviewer freely admits that he has not seen all of the previous film adaptations of Alcott's novel (which include two silent versions and a 1933 pre-Code adaptation starring Katharine Hepburn).  The fact that my interest in the book is piqued by this new version is certainly a testament to the efforts of Gerwig on both script and directorial duties.  This is a wonderful period piece which deftly balances sensitivity with humour, a smattering of pathos with an enveloping sense of warmth (in spite of the numerous scenes set against the backdrop of a New England winter).  A winning cast and Greta Gerwig's work behind the camera are the principal elements which make Little Women a pertinent story once again for our modern-day age.
Rating: A