Movie Review: Logan Lucky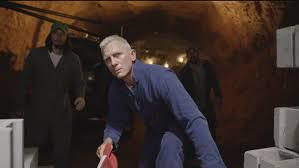 It's a case of never say never as director Steven Soderbergh returns to the big screen after a four-year hiatus since the release of 2013's Side Effects and Behind the Candelabra.  A heist crime comedy which is reminiscent of his earlier Ocean's 11 – but without the attendant glamour and sense of sheer abandon – Logan Lucky is set in the Mountain State of West Virginia, one of the smaller of America's 50 which also, incidentally, has the second lowest household income.  There are no suave figures here in the form of a George Clooney or a Brad Pitt; instead we are presented with characters who are trying to get by and sustain themselves as best they can.  Jimmy Logan (Channing Tatum) is a construction worker in such a mould.  Once a promising football player, he is now a blue collar worker who is currently employed beneath the Charlotte Motor Speedway.  A residual site fault is being rectified, but Jimmy is laid off on account of a lingering physical defect of his own.  His boss apologises profusely for this; a pesky individual from the company's HR department has spotted Jimmy's limp and an insurance liability concern deems that he must be let go.  A steady source of employment is of some importance to the former ball player – he has a young daughter whom he wants to continue seeing.  But his sullen ex-wife (Katie Holmes) is planning to move to Lynchburg which does not sit well with Jimmy.  When a pretentious English businessman (Seth MacFarlane) ridicules him and his brother Clyde (Adam Driver) on account of their physical impairments (Clyde, an Iraq War veteran, has lost part of his arm), this is the straw that breaks the camel's back.  Employing a code word, which only Clyde recognises, Jimmy vows to put himself back on an even footing with the world at large.  Life, it seems, has thrown him far too many curve balls.  Now he simply wishes to better his own prospects for the future and those he cares for.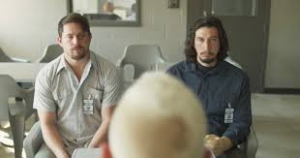 Imparting his elaborate plan to a seemingly devoted Clyde, Jimmy tells of what he has seen beneath the surface of the Charlotte Motor Speedway.  A pneumatic tube system is utilised to move the takings of the motorsports complex.  Tap into this and the financial possibilities are highly lucrative.  But Jimmy and Clyde need help for such an ambitious heist.  A currently imprisoned explosives expert by the name of Joe Bang (Daniel Craig) is pivotal to their design.  Also employed is their own sister Mellie (Riley Keough).  Jack Quaid and Brian Gleeson are suitably gormless as ancillary members of this unlikely bunch.  It's pleasing to bear in mind throughout that Soderbergh has ventured into similar territory before.  The aforementioned Oceans 11 (2001) was an exercise in precision film-making and ultra-slick entertainment.  Its two sequels – Ocean's Twelve (2004) and Ocean's Thirteen (2007) – were similarly constructed and informed by Soderbergh's visual aesthetic.  The affable tone which permeated these films, as well as the director's 1998 Out of Sight, is happily a prominent feature of Logan Lucky as well.  Jimmy – as played by the effortlessly charming Tatum – is the sort of ordinary Joe we can definitely root for.  There is no malice in his disposition and no ulterior motives beyond the immediate.  Once the job is done, his only thought is to attend his daughter's beauty pageant.  It's of no great surprise that Soderbergh has managed to populate his cast with some terrific character actors.  Tatum – a Soderbergh regular almost by now – is perfectly cast and Adam Driver – though not greatly stretched – is nonetheless pleasing as the doleful-looking Clyde.  Elvis's granddaughter Riley Keough exudes definite star quality and Katherine Waterston features briefly (but to great effect) as a former high school classmate of Jimmy's.  The star of the show is Daniel Craig who affects a credible accent and a demeanour which alternates between the surly and the vaguely comic.  Craig is miles away from his James Bond persona here and the freedom accorded to him is something he evidently relishes.  Two-time Oscar winner Hilary Swank also features as a meticulous FBI agent who is determined to unearth the truth concerning this so-called redneck robbery.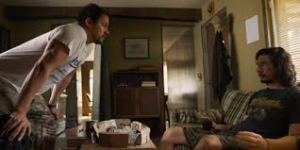 There's nothing incredibly original about Logan Lucky, nor does it break much new ground in the sub-genre that is the heist movie; but it does work and work very well and kudos ought to be extended in this regard to Soderbergh and his dedicated cast.  The screenplay – credited to one Rebecca Blunt – is most likely a pseudonym for Soderbergh or his wife Jules Asner and the director – as usual – acts as both his own director of photography and film editor.  With respect to this latter duty of his, Soderbergh moves proceedings along at a familiarly brisk pace accompanied by a groovy soundtrack which will again remind many of the Ocean's movies and Out of Sight.  The ending, in particular, I would suggest, is very similar to the first outing of George Clooney and his motley crew.  A standout scene – which might remind some of the plot of Little Miss Sunshine – involves Jimmy's daughter delivering an acapella rendition of the John Denver classic Take Me Home, Country Roads.  It's great to have a director of Soderbergh's quality back because here indeed is a filmmaker who aims to entertain yet subtly edify with respect to his subtexts and nods to other classic films.  There's a generation of film-goers now who probably have never seen his earlier Ocean's films and they might well choose to pick these up having viewed this latest entry in his cinematic resume.  A director of real class and distinction returns.  Logan Lucky may not be Soderbergh's most prized gift to us, but it is a timely reminder of his undoubted prowess behind the camera.  Here's hoping that there will be no further breaks or gaps as regards his professional output.
Rating: B