Movie Review: Loving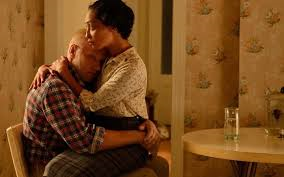 The subject of interracial love and a just cause for one of the most basic of civil liberties is the focus of writer-director Jeff Nichols' new film starring Australian actor Joel Edgerton and Ethiopian-Irish actress Ruth Negga.  It is 1958 in Caroline County, Virginia.  Richard Loving (Edgerton), a humble bricklayer, and Mildred Jeter (Negga) are determined to get married in spite of the state's anti-miscegenation laws which prohibit such a union.  Mildred is pregnant with Richard's child and the two travel to Washington DC to wed in the hope that such an avenue of approach will not run contrary to the tenets of the legislation.  Upon returning to their home county – where Richard has purchased a site to build a house for them – the two are incarcerated for breaking the law.  A deal is subsequently brokered by which the couple plead guilty and receive a suspended sentence on the proviso that they not return to Virginia together for a period of 25 years.  Richard and Mildred agree to this, but it comes at the significant price of tearing them away from family and loved ones.  They move to Washington, where Richard finds a new job, but secretly return home for the birth of their first child.  An unidentified informant once again tips the authorities off to their presence and the Lovings find themselves back in court facing the same judge.  Fortuitously for them their astute lawyer pleads leniency on their behalf, but warns them not to repeat such a covert act of defiance again.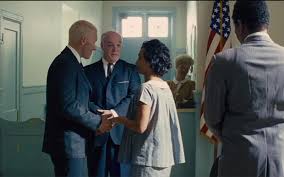 The implications of these words is quite clear and the Lovings resume their lives away once more from the place of their upbringing.  Several years pass and two more children join their close-knit family.  But Mildred most especially is unsettled and longs to introduce her kids to the freedom and insouciance of country living.  In one of the few overtly political references in Nichols' film she watches the historic 1963 March on Washington and, subsequently, writes to then Attorney General Robert Kennedy.  Kennedy arranges contact with the American Civil Liberties Union (ACLU) leading to representation by lawyer Bernard S. Cohen (Nick Kroll) and constitutional law specialist Phil Hirschkop (Jon Bass).  The two men are quietly confident that the repressive law can be taken all the way to the Supreme Court and lead to a widespread revocation.  Throughout such advice and discussion Mildred is openly in favour of such a noble-minded challenge, whereas Richard has his inherent doubts.  He is particularly wary of the publicity which their case engenders in the form of news cameras, scribing reporters and photographers, as personified by Life Magazine's Grey Villet (Nichols' regular cast member Michael Shannon).  By this time Mildred, Richard and their three kids have discreetly returned to Virginia as the case gathers momentum and moves inexorably towards the federal Supreme Court and a landmark ruling.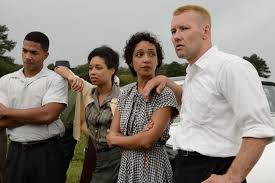 This is a moving tale told in a most understated way to be savoured for its thoughtful direction and wonderful central performances.  The screenplay by Nichols himself focuses for the most part on the two central players and emphasises the deep bond that existed between them.  The larger socio-political landscape is not so much ignored as it is paid deference to in more subtle flourishes.  There is the aforementioned reference to that 1963 March; both Cohen and Hirschkop point to the seismic possibilities should the Supreme Court find in the couple's favour; Richard discovers a copy of the Life Magazine article ominously wrapped in a brick in his car, but yet there is no direct bigoted confrontation.  Nichols' considered approach is premised on the more intimate moments which inform the couple's keenly felt relationship and the importance of family in this dynamic.  Intermittent shots of the Supreme Court, as Cohen and Hirschkop present their respective arguments, are juxtaposed with domestic scenes of bliss and togetherness.  A closing bedroom door at night-time perfectly encapsulates Nichols' overall design here.  This is a story of two very ordinary people who merely wished to live their lives and share their mutual love.  In the articulation of such affection they helped dismantle an entirely odious piece of legislation.  This is a narrative that deserves a captive audience in the present day more than ever.  Full kudos to Nichols and his producers for having placed it in such a widespread medium.  The central performances of Joel Edgerton and Ruth Negga are note-perfect.  Shy manner and clipped accent in tow, the Australian actor has rarely been better and he can consider himself somewhat unlucky to have missed out on a Best Actor Oscar nomination.  Ruth Negga has of course received a well-deserved nomination in her category and this is a performance that should lead to further fine roles in the years ahead.  The Limerick-raised actress has an innate ability onscreen which amplifies the film's themes of love and trust.  This is one of several good reasons to take the time out to watch it.
Rating: A