Movie Review: Manchester by the Sea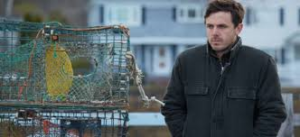 Kenneth Lonergan's drama, which premiered at the Sundance Film Festival way back in January 2016, may not be to everyone's taste, but it is an affecting character study with some top-notch performances and subtle undertones that elevate it as an iteration in this particular genre.  Lee Chandler (Casey Affleck) is a taciturn janitor based in Quincy, Massachusetts who lives by himself and purposefully, it seems, has little interest in everyday human interactions.  We see him first as he goes about his duties carrying out various menial tasks.  A blocked toilet requires his attention; there's a leak in a stroppy resident's bathroom; the daily snowfall has to be cleared from the footpath.  But there's an explosive side to his character as well which rises to the surface when he hits the hard stuff.  We see him pick a fight in a bar for no good reason.  The guy appears to be directionless and weighed down by something from his past.  Then a phone call comes with some bad news.  Lee's brother Joe (Kyle Chandler), who we learn in a flashback suffers from congenital heart disease, has suffered a serious heart attack.  He dies before Lee can reach the hospital, leaving the younger brother with the onerous task of breaking the news to Joe's only child Patrick (Lucas Hedges).  To this end he must return to his hometown, the titular Manchester-by-the-Sea.  But there are many memories there for him and inner demons he has not been able to subdue.  Through the employment of further flashbacks, writer-director Lonergan takes us through these and gives a taste of what Lee's life was like before tragedy struck.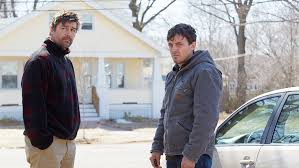 The reserved uncle is even more taken aback when details of his late brother's will are revealed to him.  Joe has decreed that Lee act as Patrick's guardian until he is of the appropriate age.  The two disagree on Lee's plans to relocate them both to Boston where he hopes to find a new source of employment.  The 16-year-old Patrick is a popular student who has two girlfriends and is on the ice hockey and basketball teams.  He rails at the suggestion of moving from his domicile and reminds his uncle that he has a life in Manchester.  He also wants to keep his father's boat despite the fact that this will incur a heavy cost, particularly since the vessel requires a new motor.  Meantime, we learn about the very core of Lee's torment.  A father of three children in the past, he got loaded one night with some friends and inadvertently caused a fire in his own home.  The three kids perished and only his ex-wife Randi (Michelle Williams) escaped the blaze.  Beyond a heartfelt confession to the authorities afterwards, and a suicide attempt, we are not made privy to the couple's subsequent breakup or the recriminations that surely have followed.  Lonergan chooses to point to this in a later scene which occurs in the present day.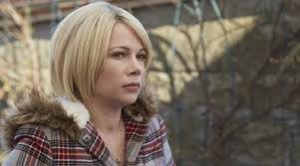 Joe's body cannot be buried until the springtime owing to the harsh icy conditions prevalent in the small Essex County town.  Lee decides to remain on until this time and he and Patrick form an uneasy relationship which is punctuated by some moments of warmth and others of gaping distance.  Patrick's estranged mother (Gretchen Mol), a recovering alcoholic, makes contact with him, but the resulting visit to her new partner's house does not quite go to plan.  And then there's that scene and exchange which takes place between Lee and Randi – who is now a mother again with her new partner/husband.  I never saw the trailer for this film, but there were suggestions by other reviewers that Michelle Williams' role – brief as it is – was rather overstated in that particular bit of publicity (in fairness she does turn up earlier in the film in an extended flashback and is also seen attending Joe's delayed funeral as springtime takes hold).  What ever the duration of her time onscreen, Williams makes it count in this telling scene and acting kudos must also extend to Lucas Hedges in the role of Patrick.  Popping up also in support are Tate Donovan as a hockey coach and Matthew Broderick as an evangelical Christian.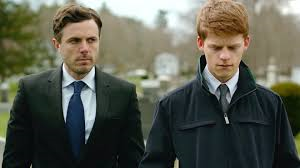 There are certain films which pivot on the performance of the main actor and Manchester by the Sea relies ostensibly on the talents of its leading man.  Anyone who has followed Casey Affleck's career will have little doubt as to his abilities onscreen and Manchester by the Sea provides further evidence of these.  It's a very understated and unshowy piece of acting, and some may very well wonder what exactly is so terrific about the star's plethora of facial tics and muted expressions.  But all this inner conflict is brought to the surface with great skill and in two scenes in particular: the aforementioned exchange with Williams; and a significant conversation with Hedges.  Softly intoning the words, 'I can't beat it, I can't beat it,' Affleck demonstrates what a superb actor he really is and he may very well go on to nab a Best Actor Oscar for his troubles.  Lonergan, Hedges and Williams are all nominated in their respective categories as well and Manchester by the Sea will compete in the prestigious Best Picture category.  It's unlikely to win the big prize as it's far from being a happy film, and one criticism I would profer is that it's a little one note in respect of its melancholic tone.  When Casey Affleck instigates yet another bar fight there is a sense that Lonergan is bludgeoning us a tad with his message.  Yes, we do understand that this guy has an inexorable pain inside which no amount of liquor will quell.  That one thing aside, this is a film more than worth catching for its performances and Lonergan's excellent screenplay and direction.  Just don't expect any song and dance routines here.  Nevertheless two hours well spent at the movies.
Rating: B+