Movie Review: Mary Poppins Returns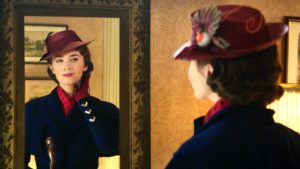 The 2018 sequel to 1964's Mary Poppins is a practically perfect mixed bag with respect to its premise and the entertainment it delivers.  As a film judged on its own merits, it's a perfectly acceptable piece with some nicely-weighed performances, dance sequences and a colourful visual style in terms of its art and set direction.  However – and this is a very big however mind you – when compared to the original – which starred Julie Andrews – it pales in comparison in relation to its songs and general magical aura.  The fact that a 54-year gap divides this new film from its predecessor should not be lost upon us of course and allowances should be conceded to director Rob Marshall (Chicago) and his co-writers.  Upon Marshall's shoulders is foisted the unenviable task of winning over a new generation of audiences to the eponymous heroine of P.L. Travers's books, as well as satisfying an older crowd (this reviewer included) who still delight at the 1964 film.  It's certainly no easy job in that regard and – in fairness – the Chicago helmer throws everything at it bar the proverbial kitchen sink.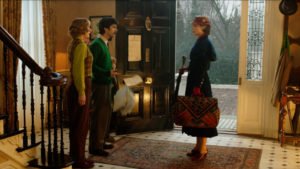 The filmmakers have very sensibly decided to return us to the setting of the original film, albeit some years after the events which occurred in 1910.  It's 1930s London now and the English capital and world at large are beset by the 'Great Slump' as it's generously called.  Hard times have fallen upon Michael Banks (Ben Whishaw) who still lives in the house he had previously occupied with his parents.  A widowed artist with three children, the young man has taken on far too much debt and put his family holding at risk.  Unless he pays the loan in full by midnight on Friday, he and his children will be thrown into the street.  His sister Jane (Emily Mortimer) meanwhile plies her trade as a labour organiser in much the same way as her mother was a spirited supporter of the suffragette movement.  The similarities drawn between the two characters and their parents from the first film (remember the wonderful David Tomlinson as George Banks and Glynis Johns as Winifred Banks) is not subtle in the least.  Although not in financial peril like her brother, the implication seems to be that Jane has yet to find her true personal calling (hence some romantic allusions which are dispensed by the writers in due course).  In a similar manner, Michael appears to have lost his sense of wonder and is easily irked by his own children.  The scene is therefore set for a return of the nanny who previously saved their family and delivered them a more complete childhood.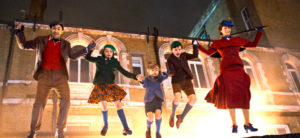 It's easy to see why Emily Blunt was such a natural choice for the titular character and she fits the role very well.  She's not a bad singer, can dance pretty well and audiences will be familiar with her range onscreen as demonstrated in recent films such as A Quiet Place and Sicario.  In terms of performances, Blunt is certainly the very best thing about Mary Poppins Returns and there would have been a serious problem if she were to lag in any way in the role.  It would be unfair to compare her performance to that of the Oscar-winning turn by Julie Andrews in the original because their styles are very different with respect to the character herself.  Where Andrews was more mannered in the role, Blunt allows the facade to drop at several points suggesting a more sportive dimension.  She's not in the same league as Andrews as regards her singing voice, but her performance hits the mark in pretty much every other respect.  The same cannot be said for Lin-Manuel Miranda who does his best in the rather limited role of Jack, a cockney lamplighter.  Give me Dick Van Dyke any day of the week in this supporting role – I can forgive that dodgy accent.  As the grown-up children, Ben Whishaw and Emily Mortimer fare just fine in their respective parts and the three children (played by Pixie Davies, Nathanael Saleh and Joel Dawson) are very well cast.  Viewers of a slightly older generation – and with a longer memory – will of course delight at the casting of screen greats Angela Lansbury and Dick Van Dyke (who plays Mr. Dawes Jr. this time around).  Elsewhere, David Warner takes on the role of Admiral Boom (played by Reginald Owen in the original) and Julie Walters plays Ellen the housekeeper (previously played by Hermione Baddeley).  Colin Firth is reasonably fiendish as the current manager of the Fidelity Fiduciary Bank and Irish audiences might spot Jim Norton as Mr. Binnacle, Admiral Boom's loyal first mate.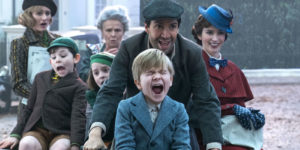 We come then to the central problems of Mary Poppins Returns and how it compares to the vastly superior original.  The new film is essentially a reasonable rehash which follows the template very closely whilst attempting to re-capture the aura and magic of its predecessor.  It's a summit much too high to reach and the filmmakers have resorted to some highly visual set-pieces to compensate for this (which, like the original, marry live action and animation).  The story – such as it is – is constantly padded with these diverting moments and the eventual denouement smacks every so slightly of a contrived solution which the makers of the 1964 film would probably have considered flabby to say the least.  One of the most prominent problems is that the songs written by Marc Shaiman and Scott Wittman are nowhere in the same league as those composed by Richard and Robert Sherman.  There is no memorable piece here in the mould of the Oscar-winning Chim Chim Cher-ee or A Spoonful of Sugar.  Moreover, there is a dearth of memorable dialogue and words such as the unforgettable Supercalifragilisticexpialidocious.  It's a case of something new trying vainly to emulate something old and gold and there's nothing so very super about that.  A dignified effort by all and sundry, but do yourself a favour and revel in the original which rightly ranks as one of Disney's best films of all time.
Rating: C